Last week I was in vacation mode, although I worked 4 of the 5 work days. But I was on a family trip to Branson, MO, which was a great time. I know I'm not the first person who struggles a bit when it comes to eating and working out on vacation. And as it tends to be when I'm on vacay, the instant I come back I'm wanting to eat healthy. Making a salad was certainly on my radar, and this Chicken Quinoa Blueberry Salad happened. However my birthday is this weekend, so it won't be all healthy eating. 😉
There's a whole lot of goodness packed in to this Chicken Quinoa Blueberry Salad, so I'm pretty excited to share this recipe with you. It was the perfect way to try to get back on track, because I definitely allowed myself to indulge last week. There was a trip to Hurts Donuts, because yum. And then I majorly enjoyed killer sushi at Momo and ALL the food at Osage Restaurant at Top of the Rock.
So I'm back at it this week making healthy choices when I can, and it all starts with my Chicken Quinoa Blueberry Salad recipe. And note that this recipe is for one salad, because I don't really like making a ton of lettuce-based salad at a time. I'd rather make it fresh when I can, but you're welcome to double or triple it.
Let's talk about what's in this Chicken Quinoa Blueberry Salad:
Chicken – I made mine in advance and then I could just chop up what I needed.
Quinoa – Another thing I made in advance, and then I added that to the salad.
Romaine – Wash what you need, and save the rest for the next day.
Veggies – Throw in what you have on hand and enjoy, so in this case it's grape tomatoes, cucumbers, and avocado (which technically is a fruit, I know).
Fruit – I had fresh blueberries on hand, so in they went!
Dressing – You can use your favorite dressing, and I went with this cashew cream dressing that is super versatile. It's creamy yet healthy, and you can really play with flavors, so in this case I went all lemon and garlic.
I mentioned this in a recent post, but I think I've been eating on autopilot a bit. Lately I kinda eat only because it's time for a meal, but I realized that I think I've been overeating. I found I was diving into a big lunch or making a meal after work and I wasn't actually all that hungry. So I've been eating 2 big meals or several snacks more often than not.
This Chicken Quinoa Blueberry Salad ended up being kind of a late lunch/early dinner situation, which is perfect. The salad fills you up and satisfies you for hours thanks to all of the good-for-you, clean ingredients.
And if you haven't tried this cashew based cream/crema/dressing recipe yet, well you must. If you have a high powered blender, then it's a cinch to throw together. And if you don't, just soak the cashews for a bit so they are easier to blend. But I love it in salad, on tostadas, flautas, and more. It's perfect for a dairy free sauce that still tastes satisfying.
Another thing that's great about my Chicken Quinoa Blueberry Salad is how versatile it is. Let this recipe be a great starting off point or inspiration for what you make.
Substitution ideas:
If fresh fruit isn't in season, then use dried cranberries or chopped up dried mangos or apricots.
Mix and match with your favorite veggies, so add in bell peppers, onions, corn, beans, etc.
Make it meat free by then swapping chicken for crispy tofu like this recipe or hearty beans like black or garbanzo.
Try the lime version of my cashew dressing or add Sriracha so you have a spicy salad.
Add your favorite grains, and I love quinoa and how flexible it is, so it's usually my go to. Plus it's insanely good for you.
This salad just works, and it's because this combo of ingredients all brings something different to the table. The chicken makes it hearty and adds savory notes, and you've got great crunch and texture from the lettuce, cucumbers, and almonds. I love the pop of tartness from the tomatoes and blueberries, which are also slightly sweet too. The avocado adds a touch of creaminess along wit the mellow cashew dressing that has hints of lemon and garlic. And finally the quinoa adds another layer of texture and heartiness.
If you want to make this in advance, then you can combine the lettuce, quinoa, chicken, avocado, cucumber, and dressing. Add the tomatoes and blueberries when you're ready to eat, then top with some nuts like almonds or sunflower seeds. A little planning goes a long way to helping you fight the urge to eat something on the go over your lunch break.
I can't wait for you to try this Chicken Quinoa Blueberry Salad for yourself, so click that link for the step by step photos. And you can make the dressing in advance, and in this case I just halved my original recipe and added more lemon and no lime for something new and different. Happy salad eating!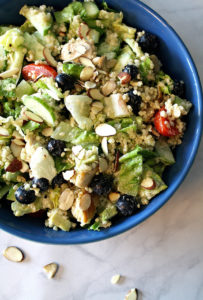 Print
Blueberry Quinoa Chicken Salad
Yield 1 salad
This salad when you're wanting to eat healthy but don't want dinner to be a hassle. Easy, versatile (use what you have), and good for you!
Ingredients
Salad Ingredients:
4 oz Chicken, cooked (I used 2 tenders for this recipe)
1/2 c. Quinoa, cooked
1-2 c. Romaine Lettuce, washed & chopped
1/2 Avocado, diced
1 Persian Cucumber, diced
5-6 Grape Tomatoes, washed & sliced in half
1/2 c. fresh blueberries, washed
Add-Ons:
Your favorite dressing (I went with this Cashew Based One but used only lemon and no lime)
Optional: 1-2 T. Nuts (almonds, sunflower seeds, pumpkin seeds, pine nuts, etc.)
Instructions
Prep all of your veggies, quinoa, and chicken first, so they're ready to go.

 

In a bowl combine the lettuce, chicken, quinoa, avocado, and cucumber with 1-2 tablespoons of dressing. Then add the tomatoes and blueberries and gently combine.

 

Serve right away topped with 1-2 tablespoons of your favorite nuts. Enjoy!
Notes
Quick Tip #1: Use what you have on hand, because the flavors are easy to transform.
Quick Tip #2: Remember that salads can quickly become unhealthy when you choose a high calorie dressing and use too much.
Note: The nutrition info doesn't include the cashew cream/crema in case you use your favorite one. But you should definitely try that dairy free sauce sometime, because it's super versatile!
Courses Main Meal
Cuisine Salad
Nutrition Facts
Serving Size 1 recipe
Amount Per Serving

Calories 356

% Daily Value

Total Fat 11 g

17%

Saturated Fat 1 g

5%

Unsaturated Fat 1 g

Cholesterol 51 mg

17%

Sodium 122 mg

5%

Total Carbohydrates 38 g

13%

Dietary Fiber 8 g

32%

Sugars 10 g

Protein 29 g

58%
* Percent Daily Values are based on a 2,000 calorie diet. Your daily values may be higher or lower depending on your calorie needs.
A look back:
One year ago: Top Heavy Chicken Making Me Nostalgic!
Two years ago: Feeling Italian with Ricotta Gnocchi
Three years ago: Tomato Strawberry Gazpacho . . . Take That, Summer!
Four years ago: Pesto Shrimp with Snow Peas over Quinoa = Healthy & Fast!
Five years ago: It's Pad Thai Time!
Six years ago: Mini Frittatas = Maximum Cuteness
Seven years ago: Learning to Love Salad – Part 1: Greek Salad
0