(Blueberry Quinoa Chicken Salad is my way of liking salads a bit more, and check out this recipe for another similar salad with quinoa and lettuce.)
Step by Step Instructions:

You can make this Blueberry Quinoa Chicken Salad fit with whatever veggies you have on hand, but here's what I used: Romaine Lettuce (3-4 leaves per serving), Cashew Dressing (recipe here), Quinoa, Grape Tomatoes, 3-4 ounces of cooked Chicken, 1/2 cup of Blueberries, a Persian Cucumber (ie- smaller in size), and 1/2 an Avocado.

I like my salads made pretty fresh, so I am doing one serving of this Blueberry Quinoa Chicken Salad, but feel free to double it or trip it if you'd like. I washed and chopped up 1 cup or so of romaine lettuce, which is about 3-4 leaves.

Then I washed my cucumber and sliced it into bite-sized pieces. You can use the whole thing or half of it depending on what you're in the mood for, so do what you like!

For the avocado, I first removed the seed with a knife and discarded it.

Then I used my knife to carefully cut up the avocado into a grid. You'll use a large spoon so you can gently scoop out the avocado from the skin.

Now in a medium sized bowl start to put together the Blueberry Quinoa Chicken Salad. So add 1/2 cup of quinoa, the cooked chicken, along with the chopped cucumbers and avocado.

Then wash, dry and slice the grape tomatoes in half.

Add 1-2 tablespoons of dressing to the ingredients, and then stir really well. I love the cashew dressing for a healthy, low-fat option, so I highly encourage you to give it a try!

Now add the sliced tomatoes to the bowl.

Finally add the blueberries, and our Blueberry Quinoa Chicken Salad is almost complete!

Stir up the salad gently and once everything is lightly coated in dressing, serve it right away and top with your favorite nuts. For this Blueberry Quinoa Chicken Salad version, I used sliced almonds but pine nuts, pumpkin seeds, and walnuts would all be great! So happy salad eating!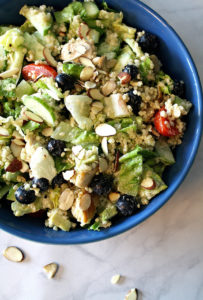 Print
Blueberry Quinoa Chicken Salad
Yield 1 salad
This salad when you're wanting to eat healthy but don't want dinner to be a hassle. Easy, versatile (use what you have), and good for you!
Ingredients
Salad Ingredients:
4 oz Chicken, cooked (I used 2 tenders for this recipe)
1/2 c. Quinoa, cooked
1-2 c. Romaine Lettuce, washed & chopped
1/2 Avocado, diced
1 Persian Cucumber, diced
5-6 Grape Tomatoes, washed & sliced in half
1/2 c. fresh blueberries, washed
Add-Ons:
Your favorite dressing (I went with this Cashew Based One but used only lemon and no lime)
Optional: 1-2 T. Nuts (almonds, sunflower seeds, pumpkin seeds, pine nuts, etc.)
Instructions
Prep all of your veggies, quinoa, and chicken first, so they're ready to go.

 

In a bowl combine the lettuce, chicken, quinoa, avocado, and cucumber with 1-2 tablespoons of dressing. Then add the tomatoes and blueberries and gently combine.

 

Serve right away topped with 1-2 tablespoons of your favorite nuts. Enjoy!
Notes
Quick Tip #1: Use what you have on hand, because the flavors are easy to transform.
Quick Tip #2: Remember that salads can quickly become unhealthy when you choose a high calorie dressing and use too much.
Note: The nutrition info doesn't include the cashew cream/crema in case you use your favorite one. But you should definitely try that dairy free sauce sometime, because it's super versatile!
Courses Main Meal
Cuisine Salad
Nutrition Facts
Serving Size 1 recipe
Amount Per Serving

Calories 356

% Daily Value

Total Fat 11 g

17%

Saturated Fat 1 g

5%

Unsaturated Fat 1 g

Cholesterol 51 mg

17%

Sodium 122 mg

5%

Total Carbohydrates 38 g

13%

Dietary Fiber 8 g

32%

Sugars 10 g

Protein 29 g

58%
* Percent Daily Values are based on a 2,000 calorie diet. Your daily values may be higher or lower depending on your calorie needs.
0