I've been eating out a lot lately, so making a clean, healthy bowl of food this week was a must. My body has been yelling at me for all of the pizza and beer I've consumed in the past few days, so I focused a lot on clean eating when I was at home. But to me, that's how life should be. A balance of fun and adventure with a healthy approach the majority of the time. And that's how this Dijon Turkey Meatball Buddha Bowl came to be.
Let me back track a tad, because Sunday was a fun day. My boyfriend suggested a trip to Lawrence, Kansas, which to my fellow Mizzou friends out there…I'm sorry but we did have fun. (Our school rivalry in college with KU was a very real thing, but I'm happy to say that I've yet to be run out of town.)
We headed to Free State Brewery, which is always a favorite spot when I go there. They have a guava sour beer that was fantastic, so look for that! And then it was all about exploring new places I've never been. So I perused a kitchen store where I saw ALL the things I wanted, and then met him at a record store and flipped through 45s. Then we went to lunch at Limestone Pizza for more beer and pizza of course. Then we barhopped for a few hours, and then finished off our trip with a stop at Taco John's which is one of our favorite, hard-to-find-in-KC  fast food spots. A lovely day!
But after all that "fun", my body has been screaming for healthy food. So I've made smoothie bowls, eggs with veggies, and tried to keep my meals pretty light. I was also trying to figure out what to feature this week, and suddenly "turkey meatballs" popped into my head…my head is clearly a weird place!
I did some recipe testing to figure it all out, and this Dijon Turkey Meatball Buddha Bowl was born! I hadn't made a buddha bowl in ages, and I wanted to do a meat version, so this seemed like the perfect vehicle for my turkey meatballs. Buddha bowls are essentially a bowl of grains, proteins, raw and cooked veggies, and then a sauce or nuts or whatever you like. The possibilities are endless, which is why they're fun to create.
You've got 4 parts to this Dijon Turkey Meatball Buddha Bowl:
The turkey meatball, of course, which is ground turkey, dijon, and fresh herbs.
A dijon sauce with EVOO, lemon, and more herbs, so it ties the dish together.
Sautéed veggies that get beautifully caramelized so they're sweet and tender.
Individual components like brown rice (or your favorite grain), tomatoes, and avocado to keep it fresh.
I decided for my Dijon Turkey Meatball Buddha Bowl that I wanted to make mini meatballs, so they were bite-sized and easier to eat. And I didn't want them to taste heavy, so the dijon kept the meat bright and the fresh herbs lightened them a bit. And wow am I going to keep experimenting with this recipe and finding all sorts of uses for my meatballs, because damn they are delicious!
When it came to the veggies and herbs, I wanted to use what I had on hand. My mom had sent me home after Father's Day with zucchini and tons of fresh herbs. I may have to do a post all about storing my herbs, because they're still fantastic nearly 2 weeks later! But I digress, what's great is that you can use what you have on hand. So I didn't want the herbs to overpower anything so I used parsley and tarragon, which work SO well with turkey and dijon. I used them in both the sauce and turkey to carry through their flavors.
This Dijon Turkey Meatball Buddha Bowl truly is a flavor explosion, because you've got brightness from the dijon sauce. Then the tomatoes are pops of tartness, along with sweetness from the caramelized veggies. The brown rice adds a grounded sort of quality, and the turkey mini meatballs really are the heart of the recipe. Finish it with creamy avocado to calm down the bright dijon, and you're on your way to healthy eating heaven!
There's nothing better to me than enjoying a bowl of healthy ingredients, and I think it's why I'm loving this Dijon Turkey Meatball Buddha Bowl recipe so much. Every bite is a new experience as you combine different components on your fork. They really do allow you to go from tart to sweet to creamy to savory as you explore the buddha bowl.
So you've got to try this Dijon Turkey Meatball Buddha Bowl as you're on your healthy cooking journey! Click that link for the step by step directions and recipe, and you'll be relishing in all of the fresh produce and herbs from the season! Happy eating!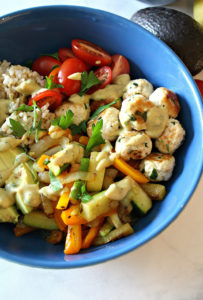 Print
Turkey Meatball Dijon Buddha Bowl
Yield 2 servings
This healthy dish is packed with flavor and will have you full and happy without the guilt!
Ingredients
Turkey Meatballs:
8 oz. Ground Turkey (I prefer the leanest kind)
2 t. fresh Parsley, chopped
2 t. fresh Tarragon, chopped
1-2 T. Dijon Mustard
1 t. Onion Powder
Salt & Pepper, to taste
1 Garlic Clove, minced
Dijon Sauce:
3 T. Dijon Mustard
1 T. Extra-Virgin Olive Oil
Lemon Juice (about 1/4 or 1/2 of a lemon depending on taste)
1 t. fresh Parsley, chopped
1 t. fresh Tarragon, chopped
Salt & Pepper, to taste
Bowl Add-Ons:
1 cup Brown Rice, cooked
Zucchini, sliced
Yellow Bell Pepper, sliced
1/4 Onion, sliced
1 T. Avocado Oil (for cooking above veggies)
1 Avocado
10-12 Grape Tomatoes, sliced lengthwise
Nuts, optional (Sunflower seeds, pine nuts, pumpkin seeds, etc.)
Instructions
Food Prep: You want veggies that caramelize well, so be sure to slice the onion, pepper, and zucchini to be in similar slices so they cooke evenly. Then grab a nice handful of parsley and tarragon leaves, wash them, and then roll them up and finely chop them. Next divide them in half and add a little more to one pile, which will be for your turkey (no need to measure strictly).

 

Dijon Sauce: In a small bowl whisk together all of the sauce ingredients and then set aside until you're ready to serve.

 

Turkey Meatballs: In a bowl add all of the turkey ingredients and then use your hands to make sure the mixture is well combined. Then heat a pan over medium heat with 1 T. avocado oil (or oil of choice). While the pan heats, form the turkey into meatballs. I wanted mini-sizes, so I rolled about 1/2 T. of meat into a ball and set it on a piece of waxed paper. I got about 20 mini meatballs out of this recipe. Then cook the meat in a pan for about 2 minutes per side or until they are browned and cooked through (to at least 165 degrees Fahrenheit). Set the meatballs aside until you're ready to serve.

 

Sautéed Veggies: Heat a large non-stick skillet over medium high heat along with 1 T. of avocado oil. Once the oil is hot, add the onions, peppers, and zucchini and spread them in an even layer. You want the veggies to caramelize, so don't stir too frequently. Once the veggies are nice and brown, transfer them to a dish until you're ready to eat.

 

Finish: In a large bowl (one for each serving), add half the turkey meatballs, veggies, and 1/2 cup of rice, and then add a sliced up avocado half and the tomatoes. Finally top with half of the dijon sauce and some nuts and enjoy!
Courses Main Meal
Cuisine Healthy
Nutrition Facts
Serving Size 1/2 recipe
Amount Per Serving

Calories 608

% Daily Value

Total Fat 40 g

62%

Saturated Fat 6 g

30%

Unsaturated Fat 18 g

Cholesterol 91 mg

30%

Sodium 142 mg

6%

Total Carbohydrates 40 g

13%

Dietary Fiber 6 g

24%

Sugars 8 g

Protein 27 g

54%
* Percent Daily Values are based on a 2,000 calorie diet. Your daily values may be higher or lower depending on your calorie needs.
A look back:
One year ago: Tropical Fruit Leather – Feeling Like a Kid Again!
Two years ago: Learning to Love Salads – Part 20: Pesto Quinoa Salad
Three years ago: Whole Wheat Chocolate Chip Pancakes Make Breakfast a Whole Lot Better!
Four years ago: Feeling Like Popeye: Spinach with Feta and Pine Nuts
Five years ago: Blueberry Scones – Don't Mind if I Do!
Six years ago: Crab Rangoon for Everyone!
Seven years ago: Learning to Love Salads – Part 3: Basil Chicken Salad
0