For some reason lately I've been craving chocolate chip pancakes. And I knew if I was going to make them, I had to find a recipe that was on the healthier side so I wasn't filled with regret after eating them. That's where Sally's Baking Addiction came in with this awesome recipe for Whole Wheat Chocolate Chip Pancakes!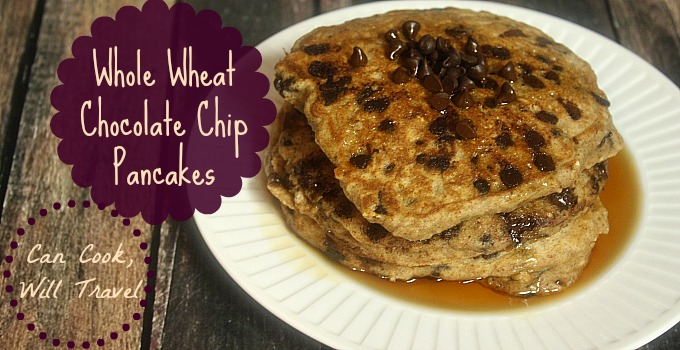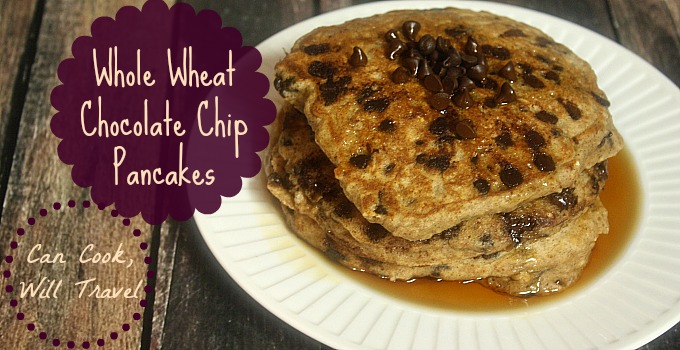 I love the site Sally's Baking Addiction! For anyone who loves to bake, you must start following it. It has a delightful chocolate chip cookie recipe that I have baked quite often resulting in soft, fluffy cookies. And the monster cookie recipe that I made that is SERIOUSLY AMAZING came from the site too. So when I saw that she had a chocolate chip pancake recipe AND it was healthier, I never looked back.
The pancakes were really easy to throw together. Just whisk together whole wheat flour, quick oats, salt, baking powder, and cinnamon. Then in a separate bowl whisk together an egg and milk. I went with almond milk, which I always prefer to use when I can to cut down on fat, sugar, and calories, and it worked wonderfully! Then whisk in brown sugar and Greek yogurt. Once that is lump free, add vanilla bean paste (or extract). Carefully mix the wet and dry ingredients together and then add in the chocolate chips. I went with mini chocolate chips because they're not only cute, but they ensure little bits of chocolate throughout.
Then just cook the pancakes over medium heat, flip, and you're done! My biggest takeaway when cooking the pancakes was not to get the pan too full of pancakes. I'd cook 1-2 pancakes at a time, so that it's easier to flip them. Unlike traditional pancakes, once the pancakes are ready to flip, they are a bit more delicate. Use a large spatula to flip them and you'll be all set.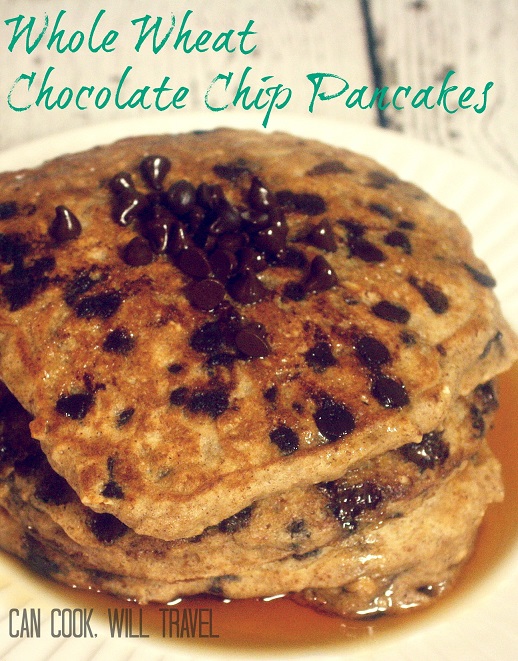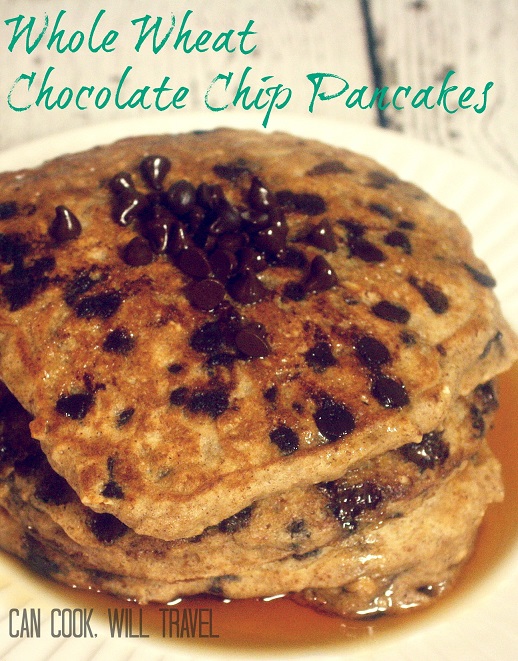 I topped my pancakes with maple syrup and a sprinkle of extra mini chocolate chips and they were simply delicious! I would say 2-3 pancakes is plenty for a serving. I loved the texture and the flavor. They were hearty, but still fluffy and the bits of chocolate throughout made it a little more rich tasting so you're not thinking about how the whole wheat flour and Greek yogurt lightened up this meal. I cannot wait to make these pancakes again!
Be sure to add these Whole Wheat Chocolate Chip Pancakes to your breakfast recipe arsenal. They are so good!! Happy flipping!
A look back:
One year ago: Feeling Like Popeye: Spinach with Feta and Pine Nuts
Two years ago: Blueberry Scones – Don't Mind if I Do!
Three years ago: Crab Rangoon for Everyone!
Four years ago: Learning to Love Salads – Part 3: Basil Chicken Salad
0