Hello, my name is Kelli and I have a scones problem. The problem is that I LOVE them so much, and can never make enough of them. And boy this week I really wanted to do some baking, so these Mixed Berry Scones were the perfect recipe to feature!
Here's the thing: it's flipping cold here in the Midwest. When I went home for Easter this weekend, we got 4-5 inches of snow – on freaking Easter?! I'm pretty sure every time I looked out the window, I said: This is stupid. It's warmed up a little since, but now we have more snow in our forecast.
So in an effort to stay warm, I was channeling my mom and wanting to turn on the oven to help heat the house. And baking is so fun, so off I went.
I'm pretty sure no one else in my life has a love for scones like I do, but perhaps that's because it's a tad unnatural. But that didn't stop me from whipping up Mixed Berry Scones this week. I had an idea of what I wanted to do but had to improvise when the stores didn't carry what I wanted.
And since strawberries and blackberries were crazy on sale and looked gorgeous, I decided Mixed Berry Scones were on the menu. I had a few ideas though of things I needed with these scones, so I was off to experiment.
Here were my Mixed Berry Scones decisions:
I wanted to use the same technique I did with the blueberry scones I made years ago.
I wanted my scones to be dairy free, so substitutions were in order.
They also needed to be free of refined sugar, so I was about to see how well coconut sugar worked in place of granular sugar.
These Mixed Berry Scones became a hybrid of my blueberry scones and cranberry scones I've made in the past. Because I knew I could make the cranberry scones dough work for my dairy free and refined sugar needs. But I also wanted to use the technique from the blueberry scones, because it works SO well with fresh fruit.
Holy perfection, Batman, this Mixed Berry Scones recipe is the BOMB! First off, all my substitutions worked out. I used coconut sugar which gave a caramelized flavor that isn't uber sweet, which I love. And then I used vegan butter and canned coconut milk in place of butter and half and half.
I'm thinking you really could do this with any berries you like, so go for it! The dough basically gets rolled like a cinnamon roll around the fresh berries, so they are mixed throughout the scone and don't get crushed and bleed into the dough.
Let's talk about this flaky pastry, shall we?! First off, I was a little nervous it was too tender and wasn't going to work. But that's kinda the best thing about scones is they are VERY forgiving. I kneaded it and then rolled it into a 12×12-inch square. Then it gets folded in on itself, and chilled in the freezer so it can be rolled out one more time. This method makes the pastry flaky without being dry.
With each bite into the Mixed Berry Scones, the fresh fruit juices burst and add a slightly tart bite. This both adds interest to the treat and also balances out any sweet notes too. The coconut sugar, again, isn't super sweet, but it does make the dough a little darker, which I really loved.
Before baking the scones, I brushed coconut milk over them, and then sprinkled them with coconut sugar. And definitely be sure you use canned coconut milk here, because it's better to bake with.
These Mixed Berry Scones are gorgeous with their red and dark purple hues that totally make your mouth water. I'm counting down the minutes until I can have another one with a cup of Earl Grey, because yum!
I can't wait for you to try this Mixed Berry Scones recipe, too, so click away for the step by step photos and full recipe. Have a feeling you'll be in pastry heaven in no time, so happy baking!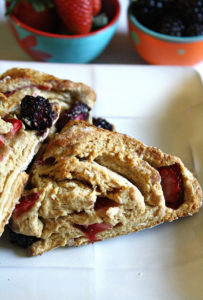 Print
Strawberry Blackberry Scones
Yield 8 scones
You need these scones in your life for a sweet treat that is also dairy free and free of refined sugar. Gotta love that!
Ingredients
Scones Ingredients:
2 cups All-Purpose Flour
1 T. Baking Powder
5 T. Coconut Sugar (plus 1 T. for topping)
1/2 t. Salt
6 T. Vegan Butter, diced and frozen
2/3 c. plus 1 T. canned Coconut Milk (stirred really well)
1/3 c. Strawberries, sliced
1/3 c. Blackberries, sliced
Instructions
Preheat the oven to 425 degrees.

 

Add the flour, baking powder, coconut sugar, and salt to a large bowl, and then whisk to combine.

 

Add the cold butter to the dry ingredients and then use your hands to work the butter into the flour until it resembles coarse bits. Then stir in the coconut milk until it's incorporated.

 

Liberally flour your work surface, and then pour the dough onto the counter. Flour your hands and then knead the dough 5-10 times. Then flour your rolling pin and roll it into a 12" x 12" square.

 

Fold the sides in like a letter in thirds, and then fold the top down and the bottom on top of that so you form a square. The dough will likely be be sticky, so a bench scraper and lots of flour will be your friend to ease the dough off the work surface. Freeze the dough for 5-10 minutes or until it's chilled, and then roll it into a 12" x 12" square again.

 

Then gently press the fruit into the dough so it's spread throughout. Then using a bench scraper, if necessary, gently roll the dough from the top towards you like you're making cinnamon rolls. Slice off the ends if they are kinda puny, and then cut it into 4 equal segments. Next cut each of those in half in a triangle shape.

 

Transfer the scones to a lined baking sheet, and brush some coconut milk over the top and sprinkle with more coconut sugar. Then bake for 14-20 minutes or until the scones are golden brown. Remove from the oven and let them sit on the cookie sheet for 5 minutes, then transfer them to a wire cooling rack to cool completely. And then enjoy!
Notes
Quick Tip: Use what berries you have on hand, and customize it to your favorite flavors!
Courses Breakfast
Cuisine Healthy
Nutrition Facts
Serving Size 1 scone
Amount Per Serving

Calories 253

% Daily Value

Total Fat 12 g

18%

Saturated Fat 6 g

30%

Unsaturated Fat 6 g

Sodium 188 mg

8%

Total Carbohydrates 30 g

10%

Dietary Fiber 1 g

4%

Sugars 8 g

Protein 3 g

6%
* Percent Daily Values are based on a 2,000 calorie diet. Your daily values may be higher or lower depending on your calorie needs.
A look back:
One year ago: Herb Filled Popovers are oh-so-good!
Two years ago: Bacon Cheddar Chive Scones Just Make Life Better
Three years ago: Granola Goodness – Part 2: Coconut Oil Honey Almond Granola
Four years ago: Cauliflower and Parsnip Soup = Healthy, Guilt-Free Meal!
Five years ago: Tasty & Tangy Hummus Crusted Chicken
Six years ago: Fun with Quinoa
Seven years ago: The Life and Times of the Biggest Butternut Squash Ever. . .
0