You may have already caught onto this by now, but I'm starting to realize that I'm a scone-aholic. And it's funny, because I really didn't eat them all that much before starting my blog. The occasional blueberry scone at Starbucks made the cut but it wasn't an obsession. However considering the number of scone recipes I've whipped up over the past 5+ years here, I think it's safe to say I might be a bit obsessed. And the idea of Bacon Cheddar Chive Scones seemed like the right thing to do for everyone's sake.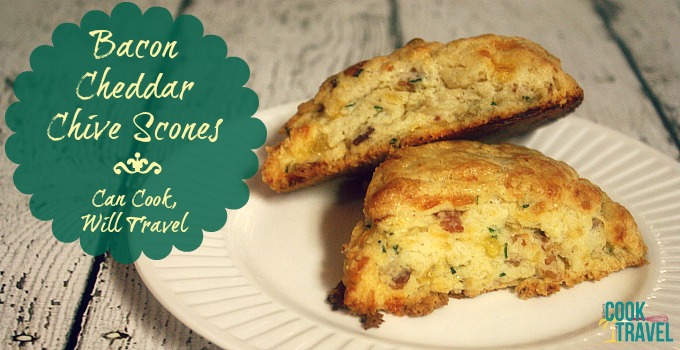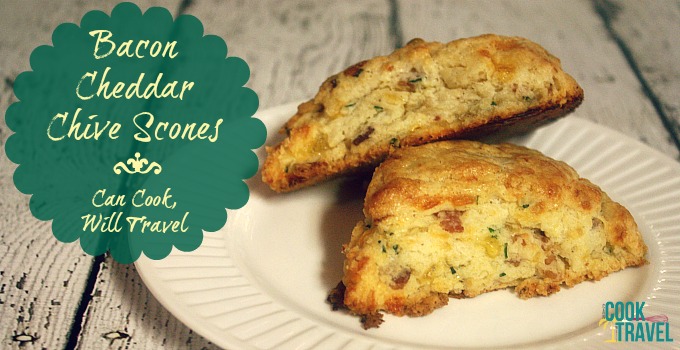 As many scone recipes as I've tried out, I think this may be my first savory scone attempt. And it comes from Cooking Light, which just the sound of it makes you at least feel like you're doing what you can to eat healthy. Now the fact that butter and heavy cream are involved in this one could make you think the opposite, but you aren't drowning the scones in either, so I consider it a win.
Everything in moderation . . . she tells herself as she's already dreaming of when she can eat another one.
The overall prep of these Bacon Cheddar Chive Scones is pretty minimal. Cooking the bacon took the longest. Then I shredded the sharp cheddar cheese and cut the fresh chives. Not bad at all.
Let's talk butter. For uber good scones, you really need your butter to be as cold as possible. What I like to do is cube up my butter first and then pop it in the freezer while I prep the rest of the ingredients. That way it's very chilled when it's time to put together the dough. And if you want it really flaky, use a pastry blender to work in the butter so that it stays cool, although I have used my hands before and it just warms up the butter a bit more. This recipe also recommends that when you cut the butter into the dry ingredients, that you then put the flour/butter mixture in the freezer for 5 minutes or so.


Then you mix in the cream, bacon, cheddar cheese, chives and pepper until it's just moistened. Beware that his dough is extremely crumbly. Typically scones get shaped pretty easily, so just know to gently form the scones and it may take a bit of extra effort. But it will come together.
When I transferred my scones to the baking sheet, I had to gently press the dough together a bit so it wasn't super crumbly. They'll be great if they are crumbly, as this will help the scones to be nice and flaky. But transferring them from your work surface will require a little extra attention. It's totally worth it though!
Now I laugh that these aren't exactly packed with healthy ingredients, but when you think about it, it's not that bad. Each scone has about a tablespoon of butter, a couple of tablespoons of cream, and 1/2 a slice of bacon. That doesn't seem too crazy to me at all, when you break it down. So yay – healthy, kickass savory scones for all!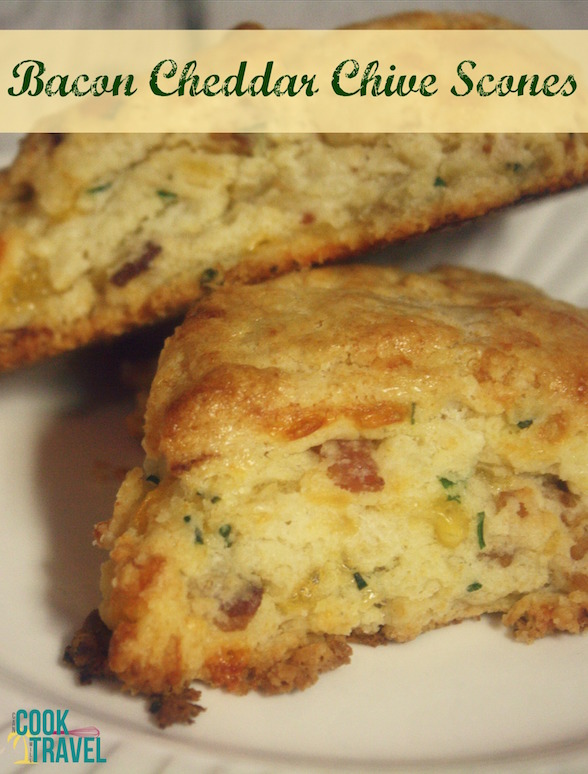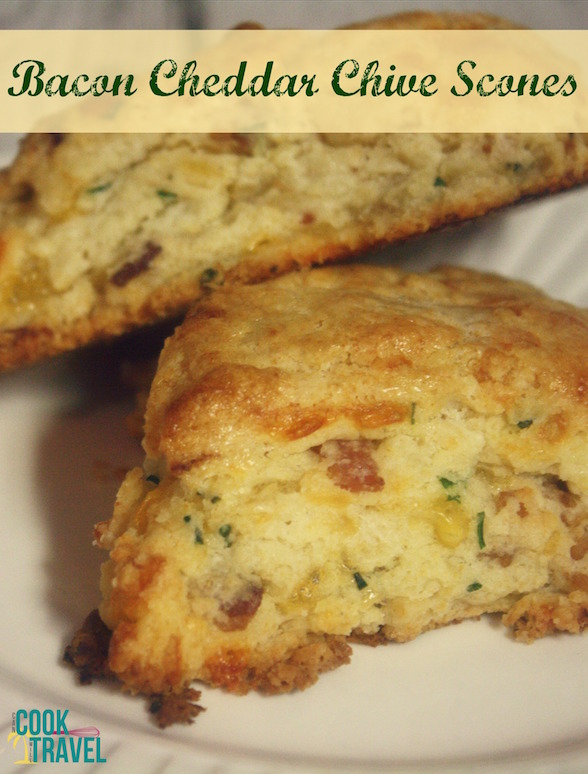 I made these Bacon Cheddar Chive Scones around Easter, so our whole family got to partake. (They are all SO glad they did too.) So I asked for some words to describe these little gems, and breakfast, bacon-y, yummy, and family approved were a few that came my way. And if you love those cheddar biscuits from Red Lobster, then you will adore these Bacon Cheddar Chive Scones! They taste just like those biscuits with the added treat of bacon . . . so dare I say they may be even better?!
So what are you waiting for?! Go add this Bacon Cheddar Chive Scones recipe to your "must make ASAP" queue straight away. Trust me, you'll thank me for this. Click that link for the recipe and step by step instructions. Happy scone-ing!
A look back:
One year ago: Granola Goodness – Part 2: Coconut Oil Honey Almond Granola
Two years ago: Cauliflower and Parsnip Soup = Healthy, Guilt-Free Meal!
Three years ago: Tasty & Tangy Hummus Crusted Chicken
Four years ago: Fun with Quinoa
Five years ago: The Life and Times of the Biggest Butternut Squash Ever. . .
0