(These Strawberry Blackberry Scones are inspired by a cranberry scone and a blueberry scone, so if those sound appealing, check them out!)
Step by Step Instructions:

You'll be enjoying these Strawberry Blackberry Scones in no time, so here's what you'll need: Salt, 2 cups of AP Flour, Coconut Sugar, Baking Powder, 6 T. Vegan Butter (or regular butter) diced and then frozen for at least 30 minutes, 2/3 cup (plus 1 T.) canned Coconut Milk, and 1/3 cup each of fresh Blackberries & Strawberries.

Start by preheating the oven to 425 degrees, and then place the flour, 5 tablespoon of coconut sugar, 1 tablespoon baking powder, and 1/2 teaspoon of salt in a large bowl.

Then whisk the ingredients together.

Now add the butter to the bowl.

It'll take a few minutes, but use your fingertips to work the butter into the flour mixture until the butter is broken down into tiny pieces like you see here. This step helps make the Strawberry Blackberry Scones fluffy, so don't skip it.

Now add the coconut milk to the bowl.

Use a spoon to combine the milk into the dough, and it will be quite sticky.

Flour your works surface, hands, and rolling pin liberally, and then pour out the dough. Knead it 5-10 times and then roll it into a 12" by 12" square.

Now fold 1/3 of the right side over and then fold the left side over as you see here. Keep in mind the dough is fragile, so you may need a bench scraper to help ease it off of your work surface.

Now fold the top third down and then fold the bottom third over it to form a small square.

Then put it on a plate and freeze it for 5-10 minutes.

Once it's chilled, transfer the dough to a well-floured work surface and roll it into a 12" x 12" square again.

Finally these Strawberry Blackberry Scones are coming together, so add the berries to the dough. Then lightly press them into the surface.

Start from the top and then gently roll the dough towards you like you're making cinnamon rolls.

You'll have a log-like shape now, and you can chop off the ends if there isn't much to them.

Now cut the dough into 4 even pieces.

Then cut each of those pieces into two triangles from corner to corner.

Transfer the Strawberry Blackberry Scones to a lined baking sheet (I love my Silpat), and then brush with more coconut milk and sprinkle with coconut sugar. Bake the scones for 14-20 minutes, so that they are nicely golden brown.

Once the Strawberry Blackberry Scones are done, then let them sit on the cookie sheet for 5 minutes.

Then let them cool completely on a wire cooling rack, and enjoy these Strawberry Blackberry Scones for breakfast or a snack! So happy baking!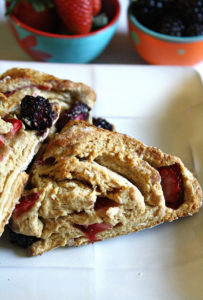 Print
Strawberry Blackberry Scones
Yield 8 scones
You need these scones in your life for a sweet treat that is also dairy free and free of refined sugar. Gotta love that!
Ingredients
Scones Ingredients:
2 cups All-Purpose Flour
1 T. Baking Powder
5 T. Coconut Sugar (plus 1 T. for topping)
1/2 t. Salt
6 T. Vegan Butter, diced and frozen
2/3 c. plus 1 T. canned Coconut Milk (stirred really well)
1/3 c. Strawberries, sliced
1/3 c. Blackberries, sliced
Instructions
Preheat the oven to 425 degrees.

 

Add the flour, baking powder, coconut sugar, and salt to a large bowl, and then whisk to combine.

 

Add the cold butter to the dry ingredients and then use your hands to work the butter into the flour until it resembles coarse bits. Then stir in the coconut milk until it's incorporated.

 

Liberally flour your work surface, and then pour the dough onto the counter. Flour your hands and then knead the dough 5-10 times. Then flour your rolling pin and roll it into a 12" x 12" square.

 

Fold the sides in like a letter in thirds, and then fold the top down and the bottom on top of that so you form a square. The dough will likely be be sticky, so a bench scraper and lots of flour will be your friend to ease the dough off the work surface. Freeze the dough for 5-10 minutes or until it's chilled, and then roll it into a 12" x 12" square again.

 

Then gently press the fruit into the dough so it's spread throughout. Then using a bench scraper, if necessary, gently roll the dough from the top towards you like you're making cinnamon rolls. Slice off the ends if they are kinda puny, and then cut it into 4 equal segments. Next cut each of those in half in a triangle shape.

 

Transfer the scones to a lined baking sheet, and brush some coconut milk over the top and sprinkle with more coconut sugar. Then bake for 14-20 minutes or until the scones are golden brown. Remove from the oven and let them sit on the cookie sheet for 5 minutes, then transfer them to a wire cooling rack to cool completely. And then enjoy!
Notes
Quick Tip: Use what berries you have on hand, and customize it to your favorite flavors!
Courses Breakfast
Cuisine Healthy
Nutrition Facts
Serving Size 1 scone
Amount Per Serving

Calories 253

% Daily Value

Total Fat 12 g

18%

Saturated Fat 6 g

30%

Unsaturated Fat 6 g

Sodium 188 mg

8%

Total Carbohydrates 30 g

10%

Dietary Fiber 1 g

4%

Sugars 8 g

Protein 3 g

6%
* Percent Daily Values are based on a 2,000 calorie diet. Your daily values may be higher or lower depending on your calorie needs.
0