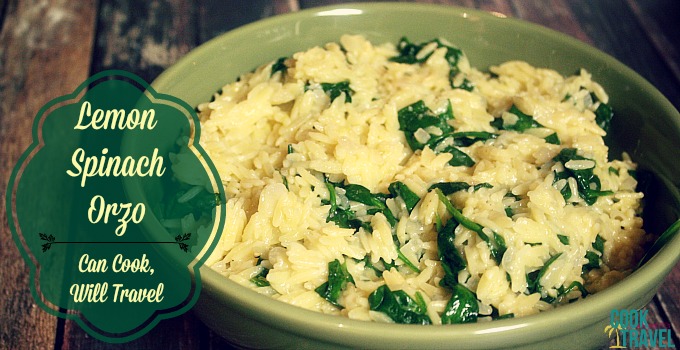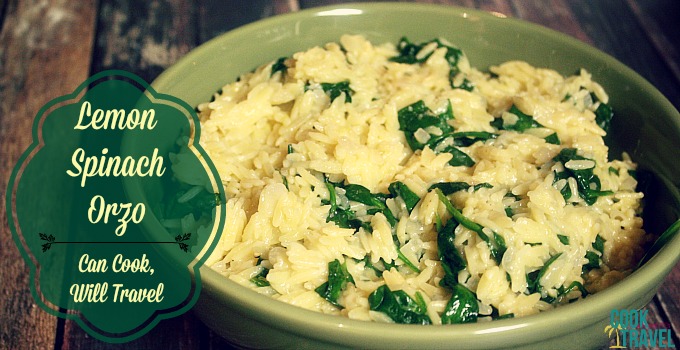 (Lemon and Spinach Orzotto recipe can be found on the site PureWow here.)
Step by Step Instructions:

Say hello to Lemon and Spinach Orzotto in about 30 minutes. Here's what you'll need: Pepper, Parmesan Cheese, White Wine, Olive Oil (I used a butter-flavored olive oil … cuz, why not?), 1 Lemon, Butter, 3 Shallots, 1 Garlic Clove, Orzo Pasta, 4 cups of Baby Spinach, 3 cups of Chicken Broth, and Salt.

Start off by prepping your food. First off is mincing one garlic clove.

Next up mince your 3 shallots. Mine were mega-sized shallots!

Grab a medium-sized pan (mine was 3.5 quarts) and heat it over medium heat. Add a tablespoon of olive oil to your pan.

Then add the shallots to the hot pan and stir for a couple of minutes or until the shallots start to become translucent.

Add the garlic to the pan and cook for about 30 seconds or until you can smell it.

Then add a cup and a half of uncooked orzo and stir really well so the pasta gets coated with oil.

Add 1/2 cup of white wine to the pan. It's hard to see in this photo since there's only half a cup. Stir it really well and cook for a couple of minutes until the wine gets absorbed.

Now it's time to pour in the broth but you want to do it in stages. Think of this part like you were making risotto. Add about a cup of broth, then stir regularly until the broth is absorbed. Then add the next cup of broth and repeat until all 3 cups are absorbed into the pasta. You'll want to be careful that the pasta doesn't get stuck to the bottom of the pan for too long, so be sure you stir pretty regularly.

Once the broth is absorbed, you can see that the orzo gets cooked in the process. It's a really cool way to make your orzo and flavor it really well.

I added my spinach in 2 batches. Just add the spinach and stir until it wilts and add the second batch.

Here's the spinach incorporated into the orzo. It's amazing how much greens can wilt down into a dish.

Then add the zest of one lemon, the juice of that lemon, 1/3 cup of Parmesan cheese, and the 1 1/2 tablespoons of butter along with salt and pepper to taste. (Note: I cut the butter in half here to make it a little less guilty. You can add 3 tablespoons if you'd like, but the 1 1/2 tablespoons worked really well.)

Here is the Lemon Spinach Orzotto (see what we did there … orzo + Risotto!!) in all it's cheesy, lemony glory. This was seriously so good. I think I'd love it with a steak, chicken, or even a fish filet. Yum, yum! Hope you enjoy and happy "orzotto" making!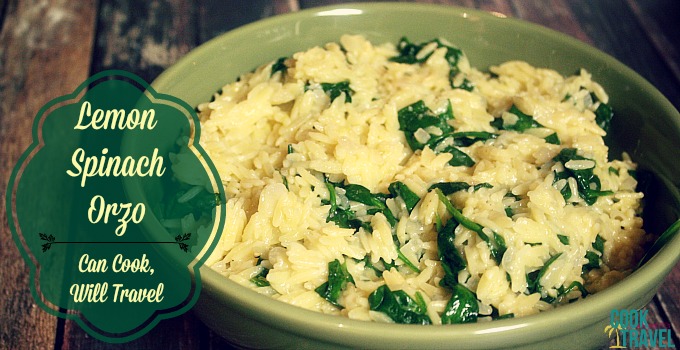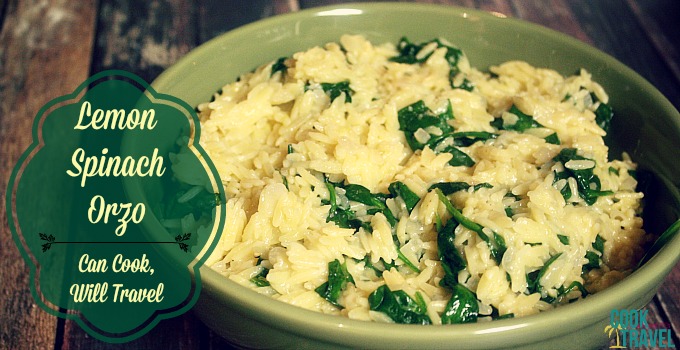 Lemon Spinach Orzotto
Say hello to your new favorite pasta dish. It pairs so well with so many meats. From steak, pork and chicken to fish and seafood - yum! I'm a big fan of this side!
Ingredients
1 tablespoon olive oil (I used a butter-flavored oil)
3 shallots, minced
1 garlic clove, minced
1½ cups orzo
½ cup white wine
3 cups chicken or vegetable broth
4 cups baby spinach
1 lemon, zested and juiced
1½ tablespoons unsalted butter
⅓ cup grated Parmesan cheese
Salt and freshly ground black pepper
Preparation Instructions
Once all of your veggies are prepped, heat a medium-sized sauce pan (I used a 3.5 qt pan) over medium heat and add the olive oil.
Once the oil is hot, add the minced shallots and cook for 1-2 minutes or until the shallots are beginning to get translucent. Add the minced garlic and stir for 30-60 seconds. Then add the uncooked orzo and stir it with the shallots and garlic until it's well coated.
Add the white wine to the pan and stir regularly until most of the wine is absorbed. Then add the broth a cup at a time stirring regularly until the broth is full absorbed by the orzo before adding the next cup.
Once all of the broth is absorbed, you can add the baby spinach. I added mine in 2 batches, stirring really well until the spinach is wilted. Then add in the lemon juice and lemon zest, the butter, Parmesan cheese, and salt and pepper to taste.
Stir the orzo mixture really well and serve right away. This dish makes such a great side to so many meals. Enjoy!
0