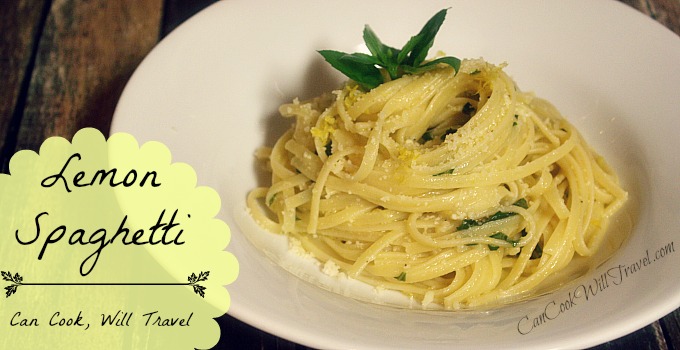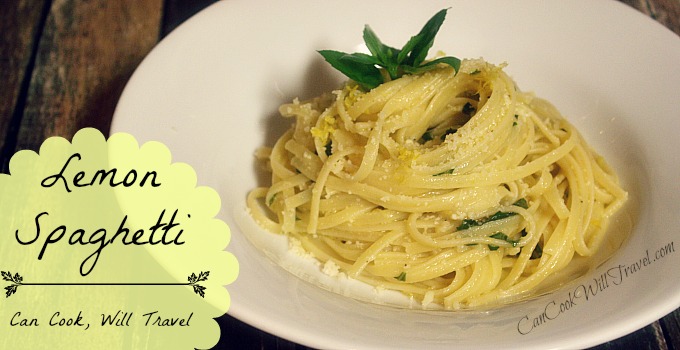 (Recipe can be found on Giada de Laurentiis' site here.)
Step by Step Instructions:

Lemon Spaghetti will be on your table in no time! Here's all you'll need: Freshly ground Pepper, Olive Oil, 1 pound of Pasta of Choice (Spaghetti or Linguine are both wonderful choices here), 2/3 cup of grated Parmesan Cheese (I was using some Parmesan I grated in the Vitamix and it was soooo good in this recipe), Kosher Salt, 2-3 Lemons, 1/3 cup of Fresh Basil.

Grab a large bowl and add 2/3 cup of olive oil to the bowl.

Then grab that handy-dandy microplane grater and zest 2 lemons. You will need a tablespoon for the pasta and any leftover zest can be used for topping the dish when serving it.

Then juice both lemons. You'll need 1/2 cup, and my lemons were on the small side, so I need 2 1/2 lemons to get 1/2 cup.

Add the Parmesan cheese, lemon juice, 3/4 teaspoon of kosher salt, and 1/2 teaspoon of freshly ground pepper to the oil.

Then whisk, whisk, whisk away! Be sure to break up any clumps of cheese. Give it a taste and adjust the salt and pepper, if needed. And as you're cooking the pasta feel free to give the sauce an occasional whisk.

Next fill a large pot with water and bring the water to a boil.

Once the water comes to a boil, add a couple of teaspoons of kosher salt (no need to measure, just sprinkle it in) to the water to season the water.

Then add the pasta and follow the cooking directions on the package, and cook until the pasta is al dente (meaning it's cooked but has a slight bite…overcooked pasta is no bueno).

While the pasta is cooking, chop the fresh basil and set it aside until you're ready for it.

Measure out 1 tablespoon of the lemon zest and set the remaining zest aside for serving. (It really helps make the dish look super fancy with a finishing touch, if you're cooking to impress.)

Once the pasta is cooked, transfer it to the large bowl with the lemon sauce.

Then add the tablespoon of zest and chopped basil to the pasta.

I find tongs to be a great way to toss the pasta and sauce together. Toss until the pasta is well combined and the zest and basil are throughout. Then you're done! Serve it up right away and top it with some freshly cracked pepper, extra zest and basil, and a little bit more Parmesan and voila, you're done! Happy pasta eating!!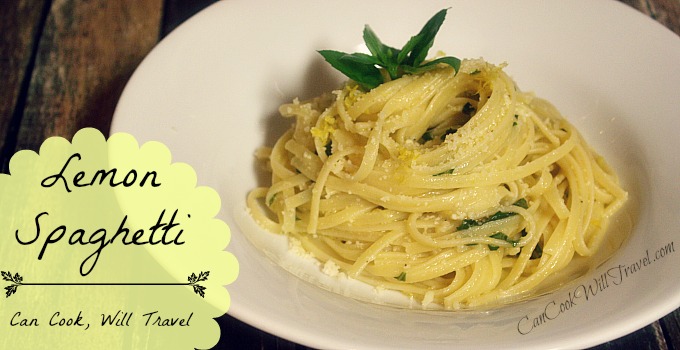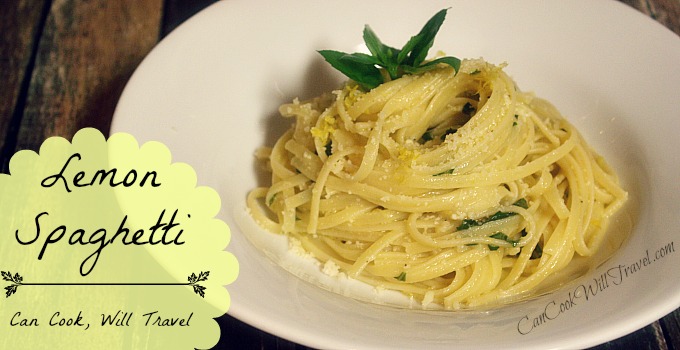 Makes 4 main course servings or 6 side dish servings
Ingredients:
2/3 cup olive oil
2/3 cup grated Parmesan cheese
1/2 cup fresh lemon juice (from about 2-3 lemons)
3/4 teaspoon salt, plus more to taste
1/2 teaspoon freshly ground black pepper, plus more to taste
1 pound spaghetti
1/3 cup chopped fresh basil
1 tablespoon lemon zest (from about 2 lemons)
Preparation Instructions:
1. Begin by combining the olive oil, grated Parmesan cheese, lemon juice, salt and pepper together in a large bowl. Whisk the mixture really well so there are no lumps. Set the sauce to the side. You can make it in advance and refrigerate (up to 8 hours, Giada suggests), but be sure to bring the sauce back to room temperature before making the dish.
2. When you're ready to put the meal together, grab a large pot and bring water to a boil. Once boiling, salt the water and add the pasta. Cook the spaghetti according to the package directions (typically 9-11 minutes).
3. Once the pasta is al dente, transfer it to the bowl with the lemon sauce. Add a tablespoon of lemon zest and the chopped basil to the pasta and toss the dish together until the it's well combined.
4. Serve immediately. I like adding a little extra grated Parmesan cheese, a pinch of lemon zest, a bit of freshly-cracked pepper and some fresh basil. Sigh, this really is delightful! Enjoy!
0