Yep, you read that right – Healthy Brownies! I'm a total chocaholic, so creating a dessert that wasn't totally guilty makes me so happy. And that's exactly what is happening with this recipe, and I'm pretty excited to share it with you.
So I've been playing around testing this recipe the past week, and wow are they good. I mean not only are they insanely easy to make, but they're also a great little snack or bit of sweetness for dessert.
I've heard about black bean brownies for a while, and that's what these guys are. They're flourless, gluten and dairy free, and you won't believe any of that after one bite. I've been loving following Laura Lea Goldberg and here site LL Balanced, so I used her recipe as an inspiration for mine.
Here's the thing, if you love chocolate, then you'll love this recipe. And if you have people who aren't big sweet fans or into chocolate like I am, odds are good they'll still like these healthy brownies.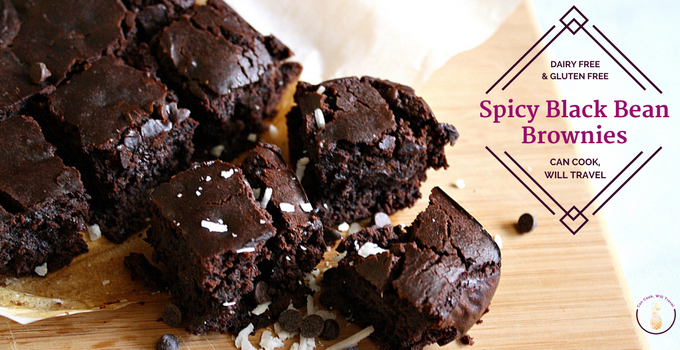 Case in point is my boyfriend who really doesn't like sweets, but we can't judge, can we?! However with these little guys in front of him, trust me that he still enjoyed them. And they are pretty rich and chocolate-y, so one little piece is enough to satisfy you. They've lasted quite a while around me, which says a lot about how filling they are.
Back to making this recipe, because as I mentioned it's very fast and easy. Just grab a blender or food processor, because it all gets blended up. You'll combine (drained and rinsed) black beans, maple syrup, honey, almond butter, cocoa powder, salt, baking soda, vanilla, cinnamon, and cayenne and blend until it's all mixed together. Then stir in some chocolate chips, and I use the dairy free kind from Enjoy Life that I talk about ALL the time it seems.
One thing I did was add some spice to these healthy brownies, so you can certainly skip that if you want. With the addition of some cinnamon and cayenne to the brownies, the flavors amp up a bit with more dimension. Now I know the thought of cayenne might freak you out, but I was inspired by one of my favorite chocolate bars – dark chocolate infused with chili. Oh hell yes!
Adding the cayenne simply gives the brownies a bit of warmth and interest, so don't be afraid. And then bake the brownies in a lined loaf pan for 50-55 minutes or until they're baked through. My oven is pretty good but usually takes a bit longer, so I baked mine about 52 minutes, and you'll find that a toothpick won't come out totally clean due to the chocolate chips.
Then let them cool in the loaf pan for at least an hour so they hold together better. Slice them up and dig in. They're ooey, gooey, rich, chocolate-y, and the perfect sweet treat!
Now keep in mind with these healthy brownies, it's not like they're really good for you, because there's still plenty of sugar. But it's all from the maple syrup, honey, and then chocolate chips, so it's not horrible depending upon what kind of chips you use. But you do get some fiber and protein, so that's a plus! The whole idea is that they're a great way to satisfy your sweet cravings without going overboard. And I like to cut them into small pieces, so that I don't overindulge.
So I highly recommend checking out this healthy brownies recipe for yourself. Click that link for the step by step instructions and recipe, because it's the right thing to do for your sweet tooth. Happy baking!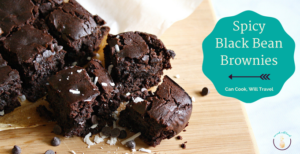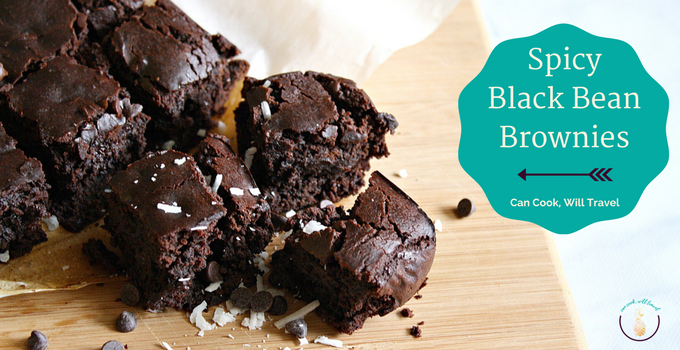 Print
Spicy Black Bean Brownies
Yield 15 brownies
You'll love this flourless brownie that is crazy indulgent and easy to whip up! Chocoholics in your life will be thank you for making these!
Ingredients
Brownie Ingredients:
15 oz can of Black Beans, rinsed and drained
6 T. Cocoa Powder
1/4 cup Almond Butter
1/2 cup Maple Syrup
1/4 cup Honey
2 t. Vanilla Bean Paste (or extract)
1 t. Cinnamon
1/2 t. Cayenne Pepper
1/4 t. Salt
1/4 t. Baking Soda
3 oz. Chocolate Chips (I like the mini chips from Enjoy Life for a dairy free option)
Instructions
Prep Work: Preheat your oven to 375 degrees, and then grab an 8 1/2" loaf pan. Spray the loaf pan well, then cut a piece of parchment to run the width of the loaf pan with about 5 inches of overhang on each side. Finally make sure your beans are drained and rinsed, and you're ready to make it!

 

Make Batter: Add all ingredients except the chocolate chips to a high speed blender, and I like to add them in the order listed above. Then blend until smooth. Transfer the batter to a bowl and fold in the chocolate chips, and then pour the batter in the lined loaf pan. Give the pan a shake side to side to help it level itself.

 

 

Bake: Bake for 50-60 minutes depending on your oven until a toothpick comes out mostly clean. Note that the chocolate chips will be melty, so you won't have a totally clean toothpick. My oven is pretty decent, but it takes about 52 minutes.

 

Cool: Let the brownies cool in the loaf pan for at least an hour so they hold together well. Then you can cut right away or if you have time, refrigerate and then cut so the pieces stay in tact. The brownies keep about 5 days in the refrigerator, and I like to heat them up for about 10 seconds in the microwave and they're rich and chocolate-y perfection. Enjoy!
Notes
Quick Tip: To ensure the brownies stay together and cut easily, let them cool in the pan for at least an hour. And if you can refrigerate them, then I find they cut well. My favorite method is to cut them with a pastry scraper if you have one!
Courses Dessert
Cuisine Sweets
Nutrition Facts
Serving Size 1 brownie
Amount Per Serving

Calories 134

% Daily Value

Total Fat 5 g

8%

Saturated Fat 2 g

10%

Unsaturated Fat 2 g

Sodium 732 mg

31%

Total Carbohydrates 22 g

7%

Dietary Fiber 3 g

12%

Sugars 15 g

Protein 3 g

6%
* Percent Daily Values are based on a 2,000 calorie diet. Your daily values may be higher or lower depending on your calorie needs.
A look back:
One year ago: Learning to Love Salad – Part 20: Asian Pasta Salad
Two years ago: Broiled Grapefruit Heats Up Breakfast!
Three years ago: Learning to Love Salads – Part 17: Quinoa and Kale Salad
Four years ago: Well Hello Cheesy Quinoa and Broccoli Patties!
Five years ago: Cauliflower Couscous … Minus the Couscous … Just Trust Me
Six years ago: Peanut Butter Kiss Cookies … A Delicious Trip Down Memory Lane
Seven years ago: Rooting Around
1