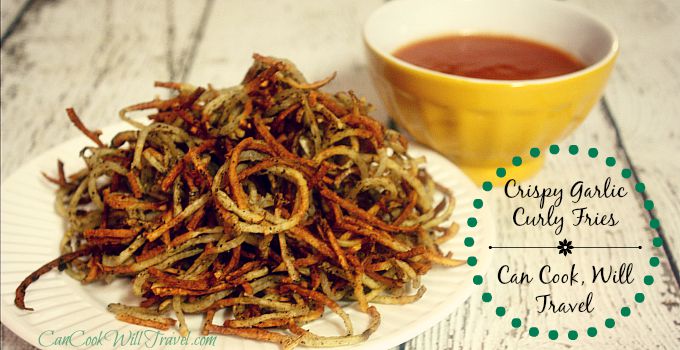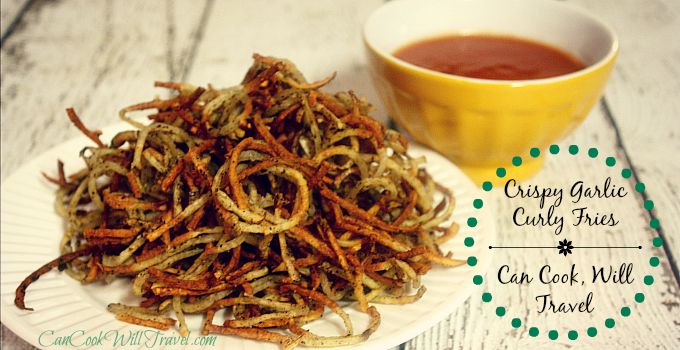 (Recipe found on the site With Salt and Wit here.)
Step by Step Instructions:

Crispy Garlic Curly Fries are going to be on your table in no time. Armed with your trusty spiralizer, here's all you'll need: Pepper, Olive oil, Marinara Sauce (for dipping or whatever you want for a dipping sauce like ketchup or Ranch dressing), 2 large Potatoes, a head of Garlic, and Salt (I used Truffle Salt here or Garlic Salt would be great too).

Start off by preheating your oven to 400 degrees. Then let's say hello to the spiralizer! I've got the first potato loaded and ready to go. It's suctioned well to the counter so it's really stable. Then I have a cutting board next to the spiralizer to catch the potato.

I'm about halfway through the potato here, and you'll see that this is the end product. Have some kitchen shears nearby so you can periodically cut the potato strands into manageable lengths. Also be sure you read your manual in case you have a different model than this one.

When you finish with the first potato, you'll basically have a core of it left. It easily pulls out of the spiralizer and you can pop the next potato on and repeat.

Here are the finished potatoes. Pretty cool, right?! Transfer them to a bowl.

Remove the peel from a head of garlic. Yep, the whole thing! And mince all of the garlic using your preferred mincing method. I love this green garlic mincer here.

Add the minced garlic, a couple of tablespoons of olive oil, and anywhere from 1 to 2 teaspoons of truffle salt and ground pepper to the potatoes. I did 2 teaspoons of each here, but it was pretty peppery. Next time I'll probably do about a teaspoon.

Then toss the potatoes with the seasonings until they are mixed throughout. The potatoes really look like pasta here, don't they?!

Grab 2 baking sheets and line them with nonstick foil, parchment paper, a Silpat…whatever you prefer. And put half of the potatoes on one baking sheet and the other half on the other sheet. You want them to have plenty of room, so they aren't over crowded and don't steam. If they steam, you're left with not-so-crispy fries.

After only 20 minutes, my potatoes were done. So definitely keep an eye on them (and use your nose too!) so that they don't burn. You want them to be browned and crispy but they can quickly burn. Serve them up right away and serve with your favorite sauce or dressing!! Enjoy!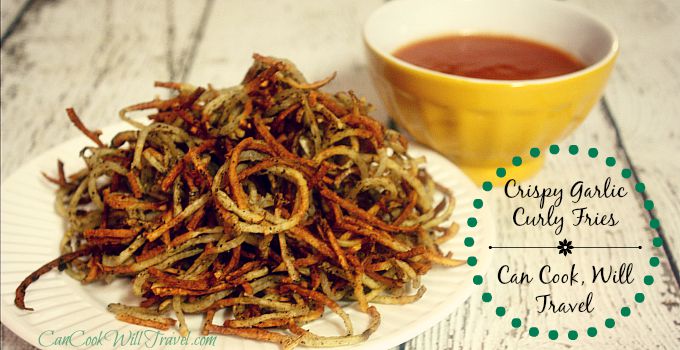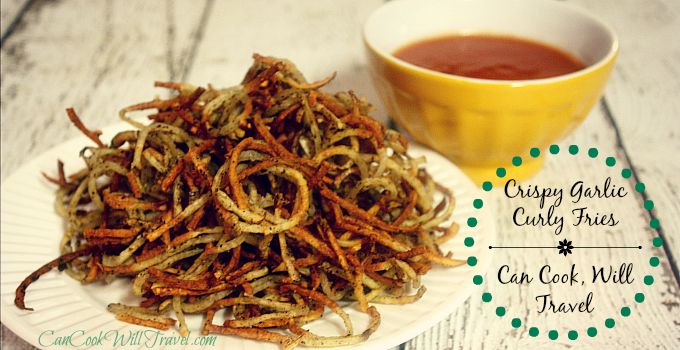 Crispy Garlic Curly Fries
These baked curly fries are super easy to make. All you'll need is a spiralizer and you're all set!
Recipe type:
Healthy Snack
Ingredients
2 large Russet Potatoes
2 tablespoons of Olive Oil
1 head of Garlic, minced
1-2 teaspoons of ground pepper
1-2 teaspoons of truffle salt (or garlic or regular salt)
Marinara or your favorite sauce or dressing for dipping
Preparation Instructions
Start by preheating your oven to 400 degrees.
Wash and dry your potatoes. Then use your spiralizer on the potatoes. Use kitchen shears to cut the potato "noodles" periodically so they aren't too long.
Mince a head of garlic.
Toss the potatoes with the garlic, olive oil, salt and pepper.
Divide the potatoes between 2 lined baking sheets (using nonstick foil, parchment paper, or a Silpat) and allow them to have plenty of room on each baking sheet so they don't steam.
Bake in the oven until the potatoes are golden brown and crispy. Depending on your oven it can take 20-35 minutes. Mine was closer to 20 minutes, since I used a convection oven.
Serve while warm with your favorite dipping sauce like marinara, ranch, french onion dip, ketchup, etc. Enjoy!!
0