Apparently I'm on a garlic kick lately, but I'm totally okay with that! First it was the Basil Garlic Popcorn, which is delicious, and I had these Crispy Garlic Curly Fries in my sights this week.
I was pretty excited this week to try out this recipe. It gave me a chance to use my mom's spiralizer, which is such a cool kitchen tool! You pretty much suction it to the counter, stick your veggie of choice on one end and then start pushing and cranking to create these fun, long noodle shapes. So far we've experimented with potatoes and zucchini.
A few tips for the spiralizer. First, make sure it is well suctioned so it doesn't move around on you as you're doing your spiralizing. Second, take some kitchen shears and periodically cut the veggies so you don't end up with super long, difficult-to-manage strands. Third, be careful with those blades. Like a mandolin, they are pretty sharp.
This recipe was pretty quick to throw together. Just spiralize (love that word!) 2 large potatoes. Then toss the potatoes with a whole head of garlic that you minced, some olive oil, pepper and salt.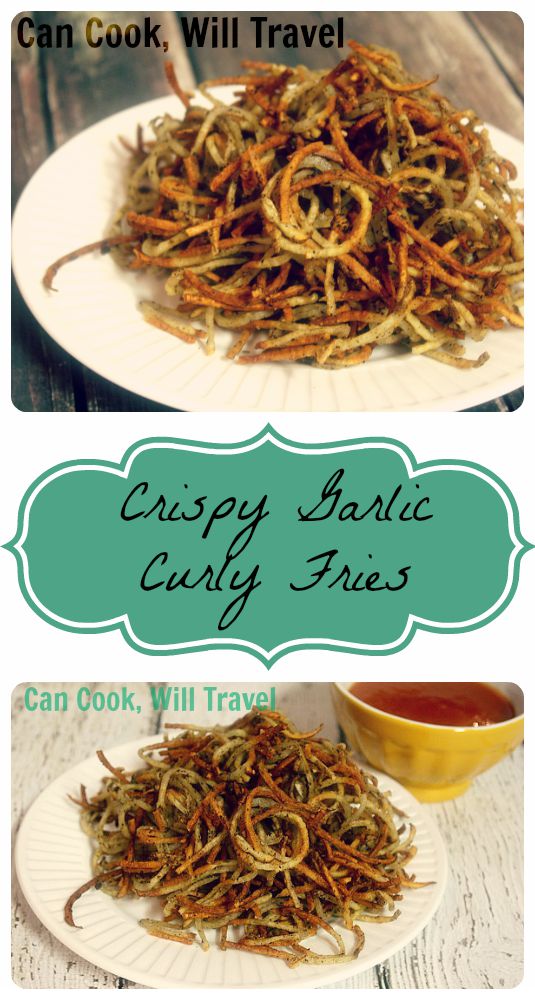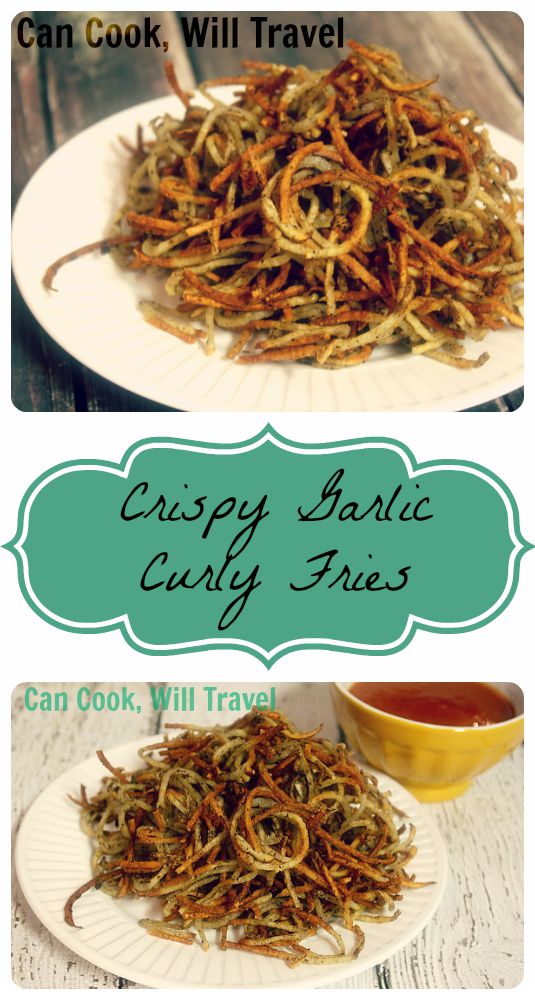 The recipe originally called for garlic salt. I decided to fancy it up with truffle salt instead. I was pretty happy with this executive decision. You add equal parts salt and pepper. Next time I'll probably reduce the pepper a little as it was pretty spicy … and we all know I love spice!
Then bake the potatoes on 2 baking sheets, so they have plenty of room to bake and not overcrowd each other. You can bake them on parchment paper, nonstick foil, a Silpat, or whatever you prefer. I went with nonstick foil this time.
Our oven baked these in about 20 minutes rather than the 35-40 minutes the recipe suggests. So be sure you keep an eye on them, because they can go from perfectly crispy to burned in no time at all!
Serve them up with marinara sauce, ketchup, Ranch dressing … whatever you choose will be perfect!
I can't wait for you to try these Crispy Garlic Curly Fries! So yummy, and they're a great way to make a side that is healthy, and packed with flavor. Be sure to click that link for the recipe and step by step instructions!
A look back:
One year ago: Smokey Roasted Chickpeas Make Snack Time Uber Healthy
Two years ago: Firecracker Chicken with a Side of Yum!
Three years ago: Oat Cake Treats – Trust Me They are So Good!
Four years ago: Cooking with Zucchini – Part 2
0