As I kick off November here at Can Cook, Will Travel, I just can't stop thinking of comfort food and Thanksgiving. And knowing Kelsey Nixon's style of cooking from her TV show, I had a feeling that this would be the perfect month to feature her Kitchen Confidence cookbook.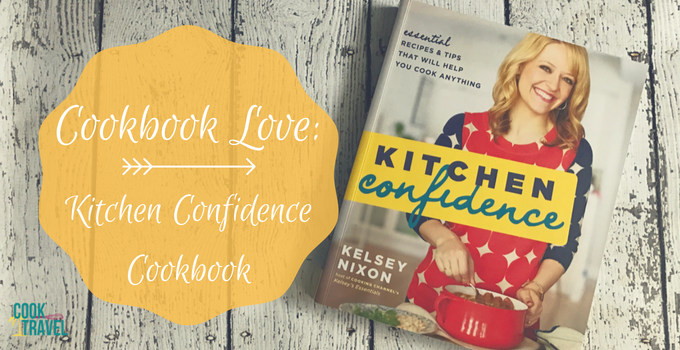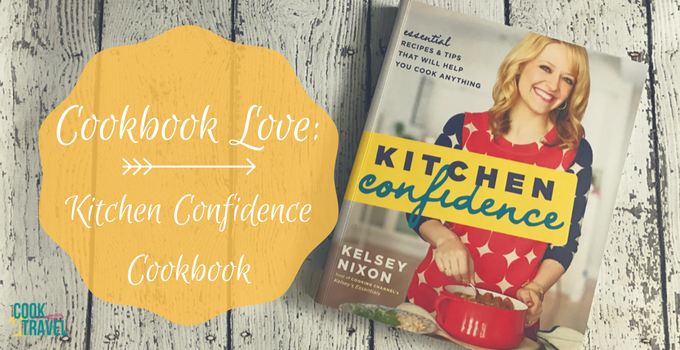 When I think of classic, stick-to-your-ribs, flavor first kind of food, I can't help but think of my Midwestern roots. I grew up in a small town in Missouri on a farm. My mom is the best cook I know, and spending time in the kitchen as a kid was (and still is) one of my favorite childhood memories. Not only was it amazing to grow to love cooking and share that bond with my mom, but I also learned a ton of skills.
And after reading Kitchen Confidence from front to back, I got an even better sense of Kelsey and that she and I are very much cut from the same cloth. Like her, my mom and aunt and Grandma (although I lost her pretty early in my life to have many solid memories) are my best cooking teachers. My mom learned classic comfort food cooking from my Grandma. And then she and my aunt did a lot of traveling (I know where I get my love of travel from). And when you travel, you can't help but fall in love with different cuisines.
So even though I grew up in a town of 1200 people, I was still a serious foodie from a young age. The more exposure I got to other cultures personally over the years, just meant that my appreciation for flavors grew. But it all is deeply rooted in cooking as a child with my mom in the kitchen. And that's how Kelsey's story started too.
Why Kelsey Nixon?
Do you love watching cooking shows as much as I do? Sometimes when I'm in a funk or want some inspiration, I'll pop on the Food Network or the Cooking Channel and get a shot of energy. And I certainly have my favorite cooking shows to watch and usually it's all about the host.
My favorite food personalities to follow are Giada (my culinary idol) and then I record all episodes of Dinner at Tiffini's (featuring Tiffini Thiessen) and The Real Girl's Kitchen (created by Haylie Duff) so that I can get both my foodie fix and my love of all things entertainment. But Kelsey Nixon's show is another one I often find myself DVR'ing.
I've followed Kelsey since she appeared on The Next Food Network Star, and sadly she was eliminated even though I thought she should have won that season. But it all worked out, because Bobby Flay decided to produce her cooking show Kelsey's Essentials on the Cooking Channel.
I love that she always has a fun story to go along with her cooking, and so you get a glimpse into her life a bit. Plus her food always looks delicious and like something I'd love. And she makes cooking really approachable, so even a beginner cook feels empowered.

Kitchen Confidence Cookbook Organization
I've found that I've started to study cookbooks a bit more intensely with my Cookbook Love series. While I love cookbooks, it wasn't until I began Cookbook Love that I actually paid much attention to the organization. And Kitchen Confidence has a great and pretty standard organization to it.
If I've said it once, I'll say 20 more times . . . always read the introduction. The Kitchen Confidence intro gives Kelsey's back story of how she became a chef and got her success. Plus it tells you what style of cooking she prefers and what she wants you to get out of her book. Basically you'll find a mix of retro and modern fused together in a way that makes perfect sense.
Then she covers the essentials. From the essential items you need in your pantry to the essential equipment that you must have (factoring in how much kitchen space you have too). Finally she covers essential techniques that you'll find useful to have in your cooking arsenal including roasting and braising to name a few.
Next comes the heart of the cookbook, which are the recipes of course. Kelsey starts with breakfast and then onto starters, salads, sandwiches and soups. Finally she features main courses, sides, and completes the book with dessert.
And she includes an index, which I always am thankful for! Overall it's clear, focused organization so you can quickly find the perfect dish to cook.

What's to Love About the Kitchen Confidence Cookbook?
Retro Style – I think what I loved about Kelsey from the beginning is that her tastes seemed like mine. She isn't afraid to embrace the recipes she grew up on. And in some cases she'll even offer her own, more modern spin on them.
Thoughtful – Some chefs write their cookbooks assuming you're just like them and have the same giant kitchen and huge budget for high end and specific equipment and ingredients. But Kelsey considers that since she started cooking in college that we all work with different budgets and kitchen sizes. So she highlights the most important things to purchase first so you don't break the bank.
Essential Techniques – Throughout the book, Kelsey throws in sections for her 10 essential techniques. It's a cool break in the recipe section. And it takes the intimidation or time constraints or equipment needs of canning and grilling and makes them very accessible.
Quick-Pickling – I want to give a special shout out to this essential technique that is featured. Pickling and canning is something I'm really fond of. I spent time last year with my mom helping her can and pickle and I found the whole process fascinating and slightly intimidating with all of the needed equipment. So I'm excited to try the quick-pickling myself as a way to pickle something without the huge production.
Photography – The photography is usually one of the first things I notice about a cookbook. Let's face it. We eat with our eyes first, and if a recipe truly wants to sell me, it better look good. And the photos are gorgeous and mouth-watering for sure in Kitchen Confidence.
Recipe Intros – With every single recipe Kelsey takes the time to write an introductory paragraph. She provides a little back story, why this dish is worth trying, or tips to ensure that cooking the recipe is a success. I love the extra effort here!
Crave-worthy Kitchen Confidence Recipes
Baked Eggs with Smoked Bacon, Spinach & Goat Cheese – I mean she could have just said "bacon and goat cheese" and I would be sold. But I've actually always wanted to make baked eggs myself, so this recipe is absolutely going to happen.
Almond Scones – If you have followed me for a while, this will be no surprise. I love scones. I can't help it. Eating and making them are both equally my favorite things about scones. I'm a scone-making fool! And how good does an almond variety sound?!
Tomatillo Guacamole – Since I made my first salsa verde recently, I'm kinda intrigued by all things tomatillo related.
Hot Artichoke Dip with Roasted Red Peppers & Kale – This recipe is a no brainer for me. I love a great hot artichoke dip (like this yummy light version) and if you're gonna add extra veggies to it, then I'm all in!
Grilled Veggie Panzanella with Mozzarella & Basil – I can see this salad being a perfect Summertime side. Yum, yum, yum!
Vegetable Barley Soup – I've always wanted to cook with barley, so that's why this recipe easily makes the list!
Tortellini with Snap Peas and Lemon-Dill Cream – Kelsey explains this dish is one she makes on the regular and always has the ingredients on hand. And it totally sounds like something I would keep in a constant rotation in my kitchen too!
Chicken Piccata – I order this dish on occasion but I've never tried making it at home. Great to know that there's a trusted recipe in this book I can try!
Lemon Risotto – I love the velvety-ness of risotto. And there's something so lovely about making it and the effort it takes. A lot of love goes into making a good risotto.
Chocolate Chip Cookies – Kitchen Confidence has several mentions of these cookies, and the description sounds mouthwatering. I mean, can a really, really good chocolate chip cookie ever be beaten? Who doesn't love this cookie?!
If you're familiar with Kelsey Nixon, then this cookbook will probably be an easy purchase for you. But if you aren't, then you should totally buy it if you love great comfort food. Like Kelsey, I enjoy taking a favorite dish from growing up (like my mom's tuna casserole) and adding my own flair to it. My mom is slowly warming up to my version although it's not like what she grew up on!
Which of these recipes sound like must-make dishes to you? I can't wait to hear what you think and if you've tried anything from Kitchen Confidence yet! Comment below, my friend!
Stay inspired & may your cookbook collection continue to grow!
~Kelli
0