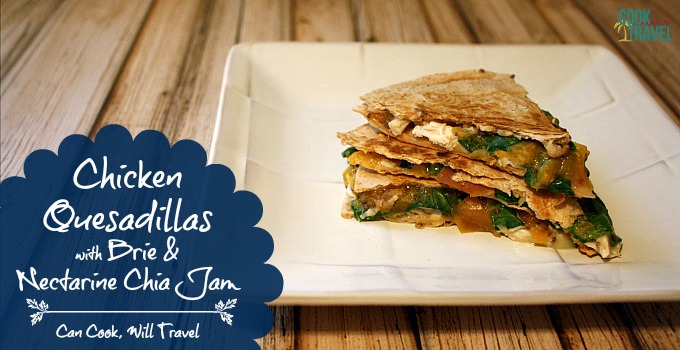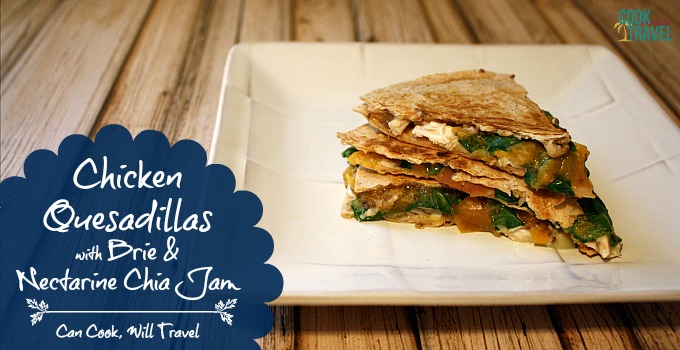 (This Chicken Quesadilla with Brie & Nectarine Chia Jam can be found on the site The Almond Eater here.)
Step by Step Instructions:

When you need a light meal for one, the this Chicken Quesadilla with Brie & Nectarine Chia Jam is a perfect choice. Here's what you'll need: 1/2 a Chicken Breast (shredded), Fresh Spinach, Brie Cheese, Whole Wheat Tortillas, and 3-4 tablespoons of Nectarine Chia Jam (or your favorite jam!). That's it!

Begin by spreading the jam all over one side of a tortilla, because you want a nice base for the quesadilla.

Then heat a large, nonstick skillet over medium heat and place the tortilla in the center of the pan jam side up.

Then add a handful or so of fresh spinach leaves to the top of the tortilla to form a nice layer.

Spread the shredded chicken breast over the top of the spinach.

Thinly cut your brie, and sneak a slice of cheese so you can enjoy the mild flavor of this creamy cheese.

Then place the slices of brie over the top of the chicken in a single layer.

Place another tortilla over the top, and then you'll cook until the tortilla on the bottom is starting to brown.

Carefully flip the quesadilla once the first since is brown and slightly crispy, and cook on the other side until that tortilla is brown. Then you have a nice crust for your Chicken Quesadilla with Brie & Nectarine Chia Jam.

Transfer your finished quesadilla to a cutting board and let it sit for a couple of minutes, so it will stay together better when it's cut.

Finally you'll slice the Chicken Quesadilla with Brie & Nectarine Chia Jam into 4-6 slices with a pizza slicer or sharp knife. Then serve immediately! Happy quesadilla making!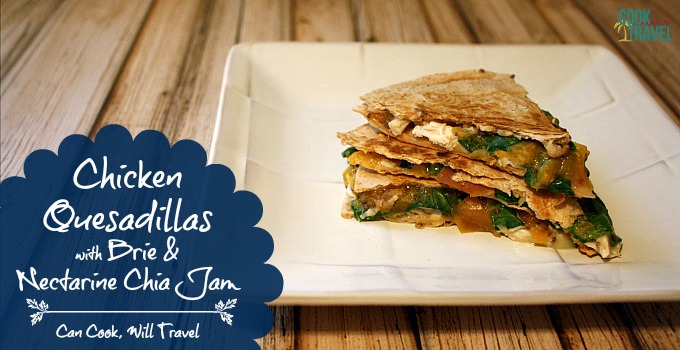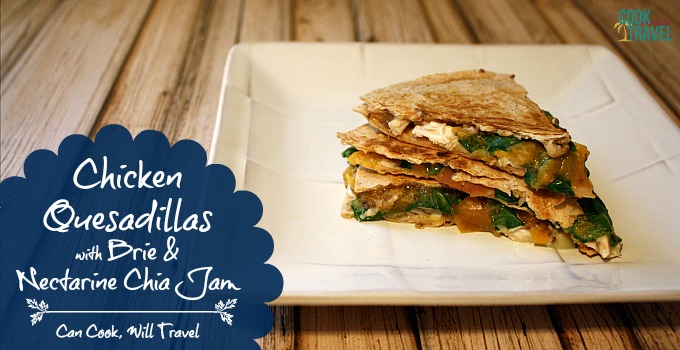 Chicken Quesadilla with Brie & Nectarine Jam
This healthy & easy chicken quesadilla recipe comes together quickly, is fun to make, and is really yummy!
Ingredients
2 Whole Wheat Tortillas
½ Chicken Breast, shredded or chopped into small pieces
½ cup Spinach
¼ block of Brie cheese, thinly sliced
3-4 tbsp Nectarine Chia Jam (See here for how to make your own jam)
Preparation Instructions
Prepare your jam, and then shred your cooked chicken.
Now spread 3-4 tablespoons of your nectarine chia jam over one side of a large whole wheat tortilla.
Heat a large, non-stick skillet over medium heat. Place the tortilla with the jam side up in the hot skillet. Then start building your quesadilla. Add a nice layer of spinach, the shredded chicken, and finally thinly sliced brie across the tortilla. Then top with one more whole wheat tortilla.
Cook the quesadilla so it's brown and crispy on one side, then carefully flip with a large spatula and cook the other side until it's lightly brown and crispy.
Transfer to a cutting board once the quesadilla is cooked. let it rest for 2 minutes and then use a sharp knife or pizza cutter and slice into 4-6 pieces, depending on what you prefer. Eat right away and enjoy!
0