Ahhh, September is nearly over and you know what that means: Fall is here!!! Seriously I love Fall and just wish that it didn't mean that Winter isn't far behind. But let's focus on the positives with it being time for orchards, leaves changing, cooler temperatures, pumpkins everywhere, and it's the perfect time to start making comfort food! It also means that it's time for another blogging roundup here at Can Cook, Will Travel.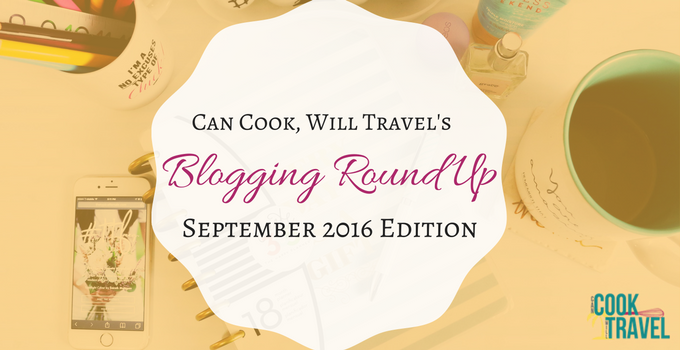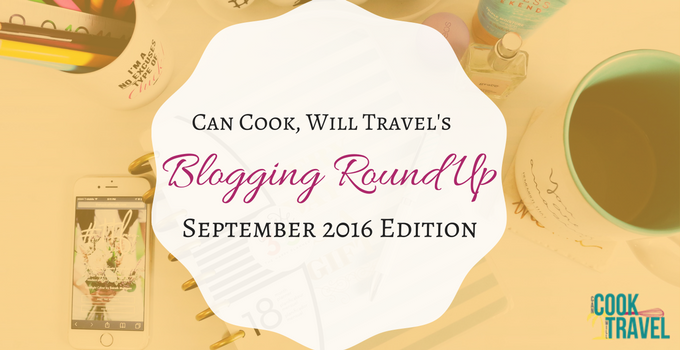 But before we get to that, I always like to share a bit of what I'm up to this month. I've had so much fun exploring Kansas City now that I'm actually back here full time. And I have totally forgotten how much I've missed living here. Aside from my tiny hiatus, I've been in KC since 2006. But this month has been a chance for me to try some new stuff.
My friends Rebecca and Shannon and I rode the new street car one weekend. The street car is awesome, and free! And I'm really looking forward to riding it again. It's so handy and took us to the River Market area one Saturday for the local farmers market. And I got in tons of delicious eating throughout the month as well. I'm definitely going to have to start highlighting some cool stuff to do in KC for you.
In an effort to make sure you don't miss a thing, this blogging roundup highlights everything I was cooking and featuring this month. And boy has it been a delicious and inspiring month. I'd say food wise, September was a time for me to start easing my way into comforting and filling recipes. And I tried to keep it fairly healthy (most of the time).
And my weekly crushes included a cookbook that completely surprised me on every level, my top 5 recipes for one of my all-time favorite dishes, and a little motivation for you to start making the most of your life right now. So it's time to get you up to speed!
Let's dive into this month's blogging roundup, shall we?!
Recipes Blogging Roundup:

Cocktail:
While ordering cocktails out at restaurants is a lot of fun, I've also gotten into making them myself lately. And since I adored the first Moscow mule I made, I couldn't wait to try my hand at another version. This Strawberry Basil Moscow Mule really hit the spot too. With a bit of sweet, herby, strawberry flavors going on, the ginger beer and vodka helps lighten up the basil and strawberries. It really is a delightful drink! So hurry up and make them while you still have fresh basil on hand!
Main Dishes:
The rest of the recipes I made this month were ones that could pass as a main dish or a side, depending on your appetite. Recipe #1 was a Bacon Parmesan Spaghetti Squash that made this veggie even more fun. Let's be real . . . spaghetti squash is pretty cool to work with and adding bacon and Parmesan to it can't help but make it a bit more decadent. I feasted on this one both as a side and a main dish, and everyone I fed it to was loving it!
Next up was a 5-Spice Fried Rice with Sweet Potatoes. This was a totally plant-based recipe, which means no meat, dairy, or eggs in it. And while I don't usually cook like this all the time, I was excited to give it a try. I have to say that if you use good quality ingredients and a nice mix of flavors, like we have here, then you don't even remember that you're eating healthy. You can't beat that!
And last but absolutely not least was last week's Smokehouse Mac 'n Cheese. This was inspired by a recipe I found on Pinterest fused with a really good mac 'n cheese with poblano peppers on a date at a local tapas restaurant. It just made total sense to combine these two dishes into my own concoction that was sweet, tangy, spicy, smoky, and damn good! It's perfect on its own or for a side at your next BBQ. Holy smokes (pun intended) it was good!!
Weekly Crush Blogging Roundup: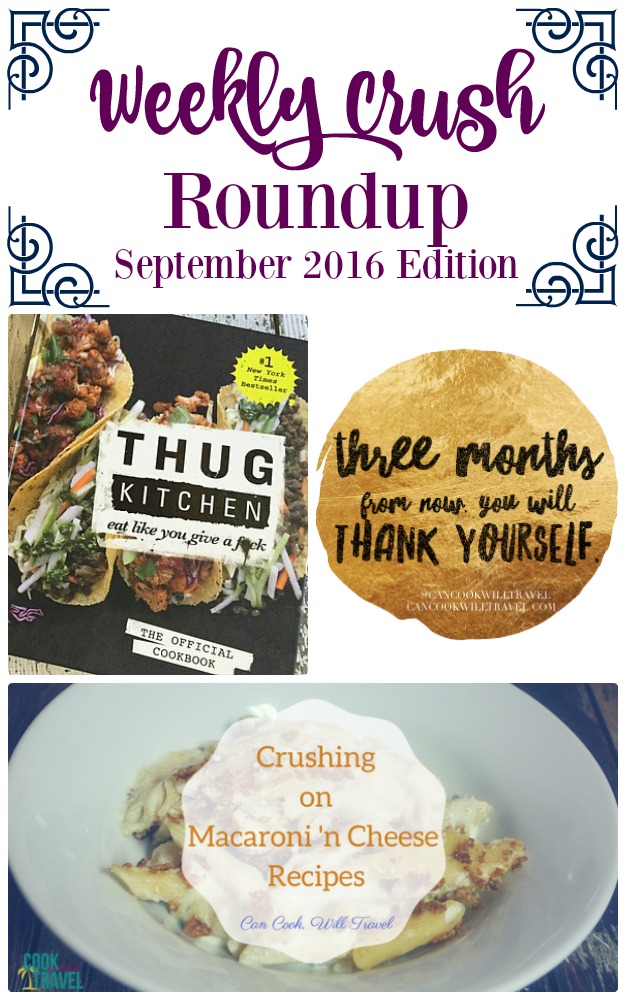 Cookbook Love:
September's Cookbook Love feature was the Thug Kitchen cookbook. With a name like that, I was expecting to crack open the book to find uber manly recipes with lots of meat and grilling. Who knew you could have a totally plant-based cookbook that's totally badass (and they curse a lot – you've been warned)! You get these recipes that are packed with good-for-you ingredients, yet the dishes are all about making sure they taste amazing and are great for you. It definitely inspired me to start incorporating veggies and fruits into my every day cooking even more. Baby steps here!
Recipe Features:
I just couldn't get macaroni and cheese off of my mind lately. And with the temperatures threatening to drop this month, I was itching for comfort food. And a big bowl of pasta and cheese is certainly how I could enjoy comfort food on a regular basis. So I was pretty excited to feature my Top 5 Ultimate Macaroni 'n Cheese Recipes I'd ever made on my blog. And wow are they all so freaking good! You can't go wrong with whichever one you try!
A Bit O' Motivation:
I don't know about you, but I can certainly get going in a routine that doesn't really serve me. And if I can, I imagine there are some of you out there who do the same. So this motivation post I wrote was all about being intentional in life, and taking actions now that your future self will thank you for. AND I have have to brag a little . . . I totally took this post to heart and took action on something I'd been putting off that I KNOW my future self will be so glad I did. So click that link to read the full post. I have a feeling you'll get something out of it too.
And that is September in a nutshell! Cooking with fun ingredients and concepts, featuring a little comfort food and healthy recipes, and a rockin' cocktail! Plus a motivational post that is sure to get you thinking a bit differently about your day to day life.
Tell me what you think and comment below on September's Blogging Roundup! What are your favorite posts or recipes? What would you like to see more of? I'm all ears, so let's talk!
Stay inspired & happy discovering!
~Kelli
0