As I dive into another Cookbook Love series post, I'm pretty excited to share this Thug Kitchen Cookbook with you. It's one I've had for a while that I've meant to start exploring for ages, but haven't. So pretty much, this book is the EXACT reason I'm loving this series on my blog. It's getting me focused on something I've wanted to do for ages.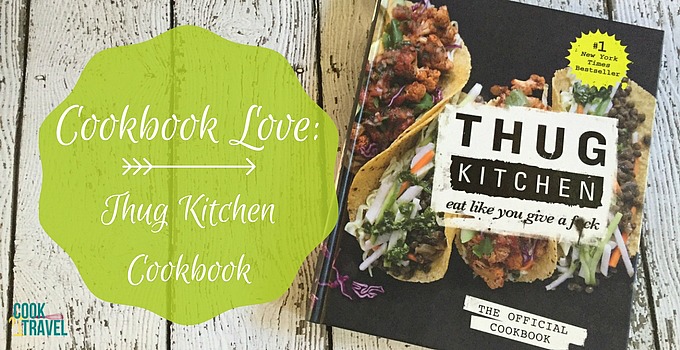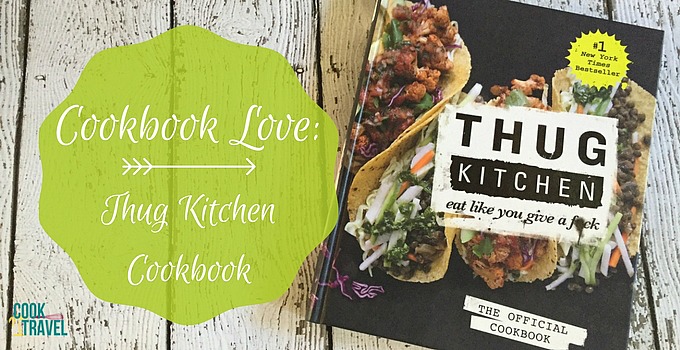 I'm betting that you're in the same boat as me in some aspect of your life. Maybe it's not cookbooks that you have every intention of putting to use but don't. It might be committing to exercise more, booking a vacation and see the world with your family, or maybe you're wanting to eat healthier. Whatever the "thing" in your life is, you have great intentions to do it but life and time stops it. At least it does for me.
So in an effort to start making a habit of something I truly want to do that I'm passionate about (cooking in this case), Cookbook Love was created. So I really hope in this post you gain 2 things: 1) A desire to start something that you've put on the back burner no matter how small. 2) You're inspired to try a new recipe and ingredient that is a bit healthier.
Now before I dig into this Thug Kitchen Cookbook, I feel that I should provide a bit of a disclaimer. If you are not looking for healthy, plant-based recipes OR if you are offended by foul language, then this cookbook isn't for you. And that's totally okay. I have plenty of other cookbooks that you'll enjoy. But if you are ready to cook good for you food and don't mind the F-bomb dropped frequently, then carry on reading!
Why The Thug Kitchen Cookbook?:
I got this cookbook for Christmas from my awesome sister back in 2014. Since I swear like a sailor and love to cook, it seemed like the perfect cookbook for me. I know, I know . . . I look sweet and innocent, but I can definitely drop expletives like they're going out of style when I want to. It's all about knowing the time and place, right?!
The whole idea with this cookbook is to make good, healthy cooking less intimidating. And I think the injection of f*ck, sh!t, and @sshole throughout their cookbook is a great way to make food less hoity-toity and snobbish.
Honestly when I started reading through this book, I was really surprised. With a name like Thug Kitchen, I was expecting the recipes to be filled with meat, grilling, and uber manly. Boy was I wrong! Thug Kitchen's motto is "Eat like you give a f*ck". They're urging all of us to care more about what goes into our bodies by cooking plant-based recipes. You'll find no meat, eggs, or cheese recipes here. So this book focuses on vegan style cooking.
They aren't saying not to eat meat, eggs, or cheese. (Thank God!) However Americans in general eat way more meat than the daily recommended amount. So we clearly have eating and cooking meat down pat. Thus no recipes with meat are needed in this book.
So be aware of what you're eating, and try some new food and recipes. They pride themselves on making the ingredients and dishes easy and approachable. And they believe that if you give it a shot, you won't miss all the crap that we tend to fill our bodies with on the regular. I can get behind that message, can't you?!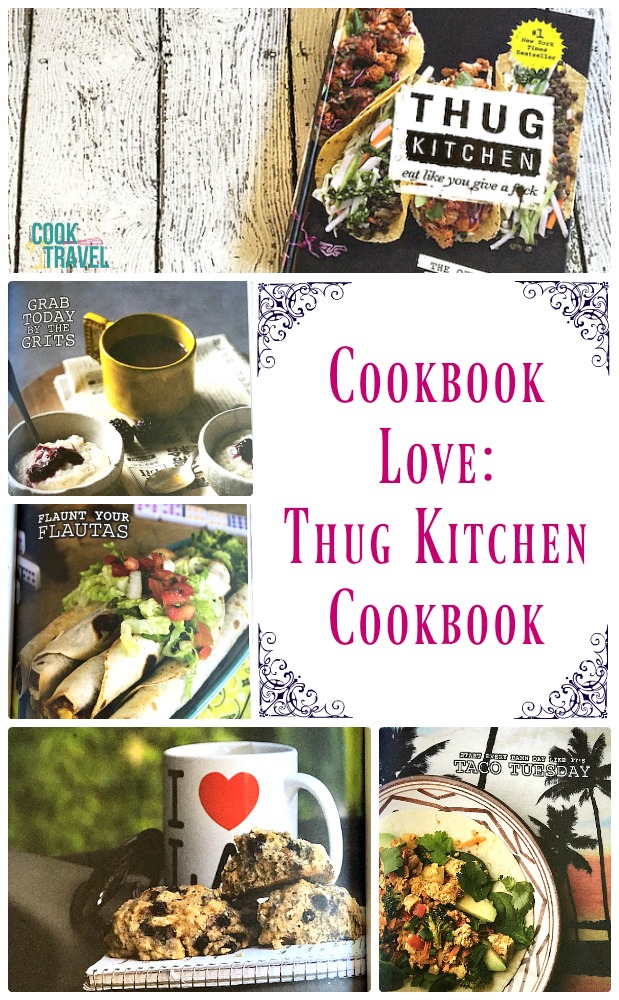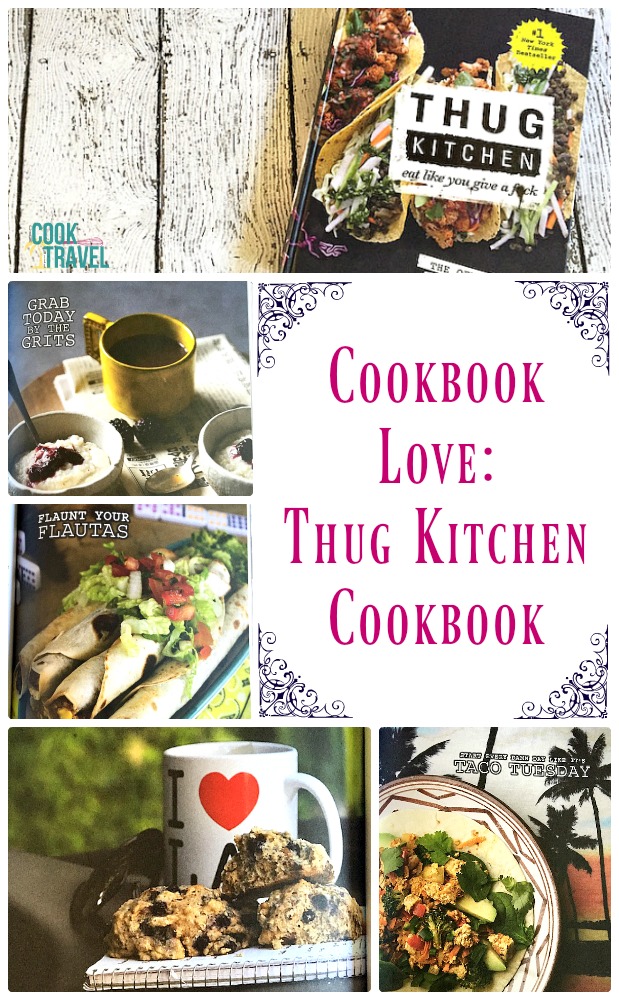 Thug Kitchen Cookbook Organization:
If I'd picked up this book and skipped the intro, I'd have been thoroughly confused by what I found when it comes to the recipes. So I urge you to read the intro. Here I found that the Thug Kitchen cookbook was all about healthy, plant-based recipes in an effort to reprogram our brains on what we actually think we crave and "need". So read this intro, learn a ton, nod a lot, and laugh your ass off at the foul humor!
The next section walks the beginner cook through a few cooking rules and explain why reading (really reading) the recipes is critical. This section also includes guidelines for substitutions, so you don't have to make an emergency trip to the store.
There's also a section on the basics. The basic cooking equipment to have on hand, along with what foods, herbs, and spices they stock their pantry with. And don't forget the great section here on how to cook the basics. Like how to cook TONS of different grains and a basic pot of beans, so you don't have to use the canned kind. (This part was really interesting to me, since I tend to grab canned beans a lot.)
And then it's to the bulk of the book: the recipes! You'll find a recipe for any occasion. From a section on breakfast meals, to tons of lunch ideas including salads, sandwiches, and small meals here. Delicious soups and stews are followed by snacks, drinks, and salsa/dips that are party-approved. Next up are the main meals that you want to sink your teeth into, and the final chapter is all about dessert. Letting you know that you can absolutely end on a sweet note and not feel guilty or deny yourself.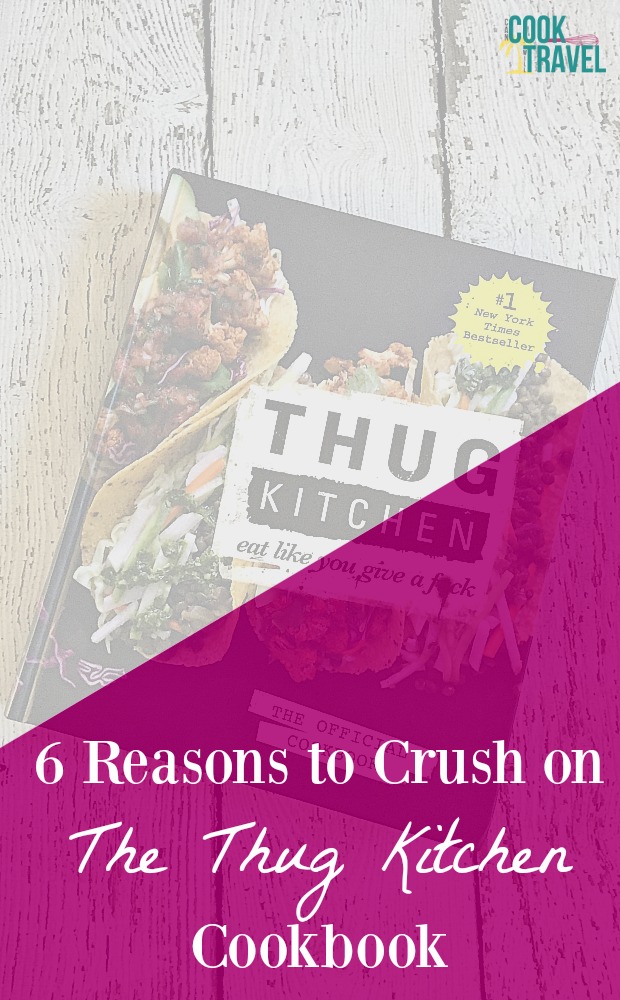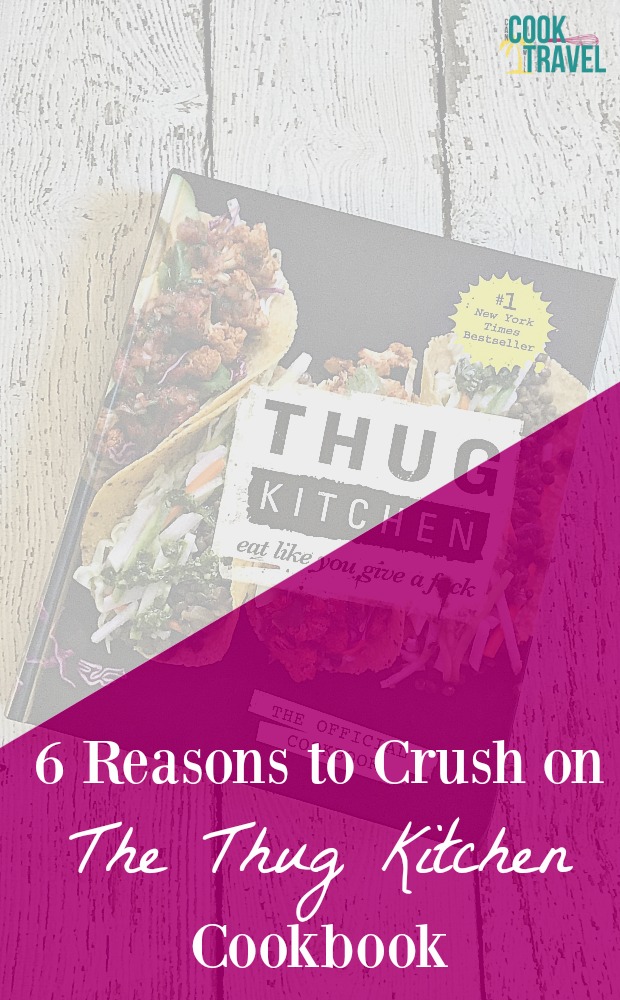 What's to Love About the Thug Kitchen Cookbook?:
The Concept – There's a lot to love about a cookbook that is both badass and focuses on healthy eating. I think it's super important for a voice like Thug Kitchen's to make healthy eating cool and something anyone can (& should) do.
Basics section – What a great section to have to walk you through the basic do's and don'ts. And I particularly love the section on how to cook dried beans and a plethora of grains. We have NO excuses not to try our hand at them.
Bring good, healthy food to the masses – Eating healthy is no longer for the few. Thug Kitchen highlights the importance of eating right, and plant-based cooking is the emphasis. They are just like us growing up on TV dinners and fast food. So if they can make the switch to healthy cooking, anyone can.
I still get pasta and bread! – Need I say more?? Can I get an amen??
Unique Recipes – I found myself describing tons of recipes as I flipped through, telling my family all about them. Wow, doesn't this seem like an interesting combo. And you know "interesting" means I must try them.
Huge variety – Along the same lines as point 5, you'll find tons of different cuisines (Tex Mex, Vietnamese, Moroccan, Italian, Indian) and just damned good cooking! Inspiration is about to hit you, I'm sure of it!
Crave-Worthy Thug Kitchen Cookbook Recipes:
Cornmeal Waffles with Strawberry Syrup – Cuz I LOVE me some waffles!
Maple Berry Grits – Savory grits with cheddar and jalapeños are my favorite, but sweetening them up sounds fabulous too.
Lemon Mint Quinoa – Not only does it sound healthy but it also sounds delish!
Vietnamese Rice Noodle Salad – I'm always up for trying new cuisines, and I'm not too familiar with Vietnamese food. I know Thug Kitchen will make this easy.
5-Spice Fried Rice with Sweet Potatoes – They had me at fried rice . . . what can I say?
Pumpkin Chili – How AMAZING does that sound to cozy up with a bowl of in the Fall?!
Chickpeas and Dumplings – Think chicken and dumplings minus the chicken. It looks wonderful!
White Bean and Rosemary Hummus – What an interesting combo! And I love homemade hummus, so you control what goes in it.
Ginger Lime Sparklers – How refreshing and light does this drink sound? Very!
Vegetable Pad Thai – I might have a slight weakness for pad thai. . .
Cauliflower Cream Pasta with Fresh Herbs – Making pasta healthier is always a good thing in my book. Sounds so good!
Crispy Millet and Peanut Butter Buckeyes – If there's a combo better than peanut butter and chocolate, I'm at a loss as to what it could be. Yum!
Blueberry Walnut Lavender Scones – This girl LOVES scones, so a healthier version may just be making an appearance on the blog soon.
I tried to grab a few recipes from each section of the cookbook, but I left a TON of great sounding dishes out. That just means that this cookbook was a great gift and purchase (of my sister's). I can't wait to get in the kitchen and do some seriously healthy cooking! Can you?!
So if you're a slight potty mouth like me, appreciate a bit of foul humor, and are striving to eat healthier so you can live longer, then this cookbook is for you! With the focus on plant-based recipes and a serious emphasis on flavor, it's a win, win, win. Even if you don't eat like this every day, it's a great book to have on hand to start infusing your diet more and more with healthy, good-for-you recipes whenever you can.
And if you enjoy this book, then you'll be happy to know that Thug Kitchen has several cookbooks! This way you can continue to try new, healthy recipes and start having fun in the kitchen!
What kind of food do you tend to cook? Are you a carnivore, vegetarian, vegan, paleo? I'd love to know more about you and what you eat! Or maybe you're a work in progress and you're still navigating figuring out what works best for you. That's cool too! Comment and let's talk about it!
Stay inspired & get in the kitchen!
~Kelli
0