Ahhh, life. It's such a funny thing isn't it? We live every day, going through the same routines and before we know it, years have passed us by. Now for some of us, if we are going through a successful routine, that's a great thing as our life improves. But it's important that we remind ourselves on a daily basis to live intentionally and focus on positivity. And so I wanted to talk a bit about your future self, and why you want to live in such a way that your future self thanks you.
Writing a post like this lights me up. Not just because I think you need it, but also because I KNOW I do. Now you might be saying: Future self, Kelli? What are you talking about?
I actually think about my future self on occasion, but not enough to be honest. The idea of the future self is who you WANT to be in the future. It's not who you will be, because none of us can predict the future. And if I could, I'm not sure I'd want to. But it's thinking in such a way that you imagine who you want to be, and how you want to look, act, and live in the future.
So when I talk about your future self thanking you, it's a pretty simple thing. Simply ask yourself:
What did I do today that my future self would thank me for?
What specific actions did I take today that will impact me positively in the future? (Did you read something that improved your mindset or made a choice or a big decision?)
How am I doing things today that my future self will absolutely do without hesitation? (It's time to start living like your future self would.)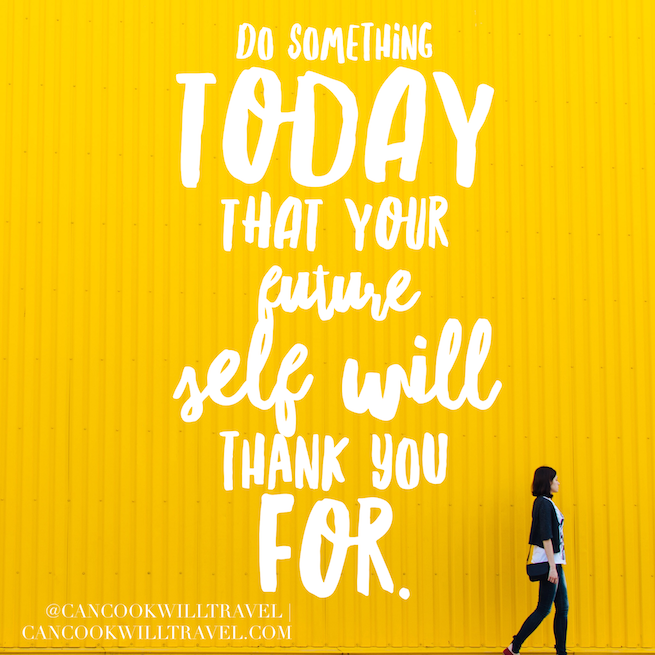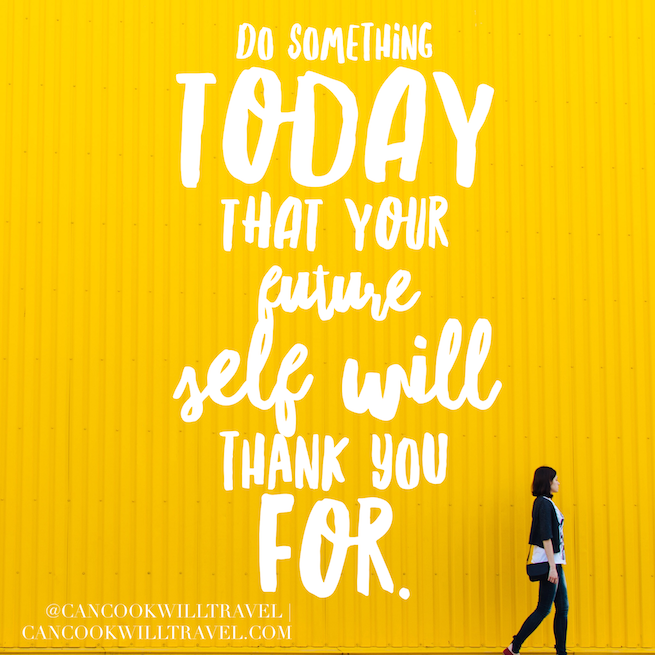 It's important that you are being intentional about the actions you do each day. Even if it's just one thing, that is 100% better than no action at all. That one thing might seem insignificant, but if you are intentional about making it a habit, it could potentially have a huge impact on your future.
I'll use myself as an example here. Recently I've made it a point to get out and walk every day and move. I live a really sedentary life working from home and blogging. I spend a TON of time in front of my laptop. So I've made it a habit every day for more than 3 weeks now to go for a walk and move, which may seem like not that big of a deal. But this one habit on repeat each day improves my health, flexibility, and overall mood because I LOVE nature. See: My future self totally thanks me for implementing this habit!
Where to start when evaluating what actions to take:
EXPRESS GRATITUDE – It's all about getting yourself in a positive mindset. Gratitude is literally the first thing I think of every morning. I groggily wake up, grab my journal and write down 3 things I'm grateful for before I get out of bed. No excuses! Want some tips on journaling? Here's one of my favorite posts!
EVALUATE YOUR LIFE – It's really important to check in with yourself regularly. Ask yourself where are you happy in your life, and where do you feel like your life can be improved? Big or small thoughts or ideas are all relevant. So write them down!
TAKE ACTION EACH DAY TO IMPROVE YOUR LIFE –  Look at what you wrote down in point 2, and break those ideas and desires down into smaller steps that you can start taking action on. If you don't, the big stuff gets overwhelming.

So let's take the overwhelm out of it. Here are some actions that will benefit your future self and help you start the thought process:
Finances – It's a fact that so many Americans (and people around the planet for that matter) are in debt. So whether it's student loans, credit card debt, car payments, mortgages, rent, bills, and so on…it can be a big stressor. So think about the areas you can start improving. Like paying down credit card debt by using a no interest credit card to make your payments count. Or paying more than the minimum payment each month on your loans, car payments, or credit card payments by eating out a little less. A small decision like that will make a huge impact on your future.
Work – Do you want that promotion at work, for example? Show initiative, talk to your manager and see what it takes for you to get there. That way you can start taking action and making changes.
Relationships – Check in on the relationships in your life. Which ones no longer are bringing you joy or what relationships are the source of negativity in life? Cutting them out might be an option. Or if you're single and don't want to be, then what small actions can you take to get out and date more and meet Mr. (or Ms.) Right?
Hobbies – This is a big one for me, because it's how this very blog got started. Ask yourself what you LOVE to do in your free time that you aren't doing. And find a way to start doing it and make it a habit. Suddenly you are habitually filling your time with something you are passionate about!
Health – Feeling unhealthy or out of shape? What action can you take now to help improve that situation? Trying a new workout, getting out and walking, going on a "diet" or really focusing on what you eat are all great ways to take small actions.
Clean up your life – Take stock of your "stuff", and evaluate what you need and what you can give away. You'll me amazed at how much lighter you'll feel! It's just stuff after all.
Create a bucket list – Do you want to travel more? Great! Start dreaming about where you want to go and make a bucket list. It's such a great way to get in touch with your desires and get excited. I did this myself and posted it here on my blog, so that I would be able to find it.
Plan a trip! – And when you are done with your bucket list, book a trip! Cross something off of that bucket list or even go on a long weekend somewhere locally if a big vacation isn't a reality just yet.
Read to feed your soul – Our thoughts control our actions and thus our future. So if you truly want your future self to live a bigger, better life than you do now . . . then you have to start feeding your brain with books that inspire you, lift you up, and help you grow as a person. Not sure where or why to start this habit? Then here's a post I wrote just for you!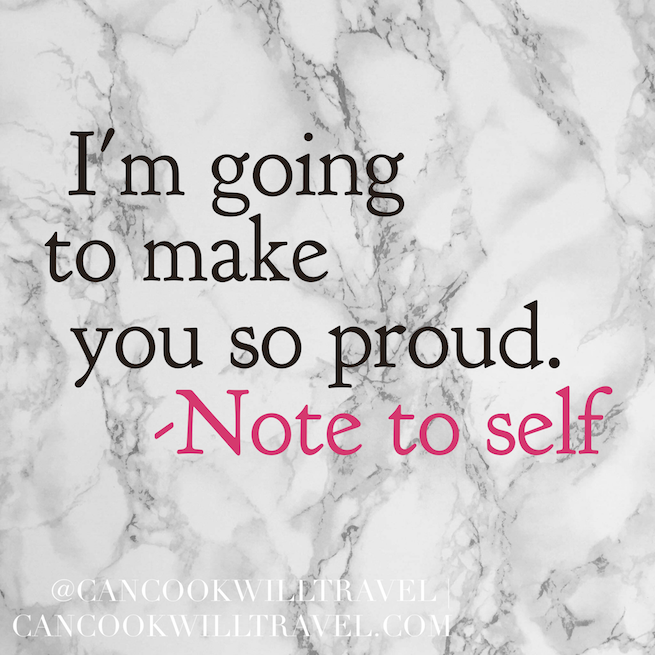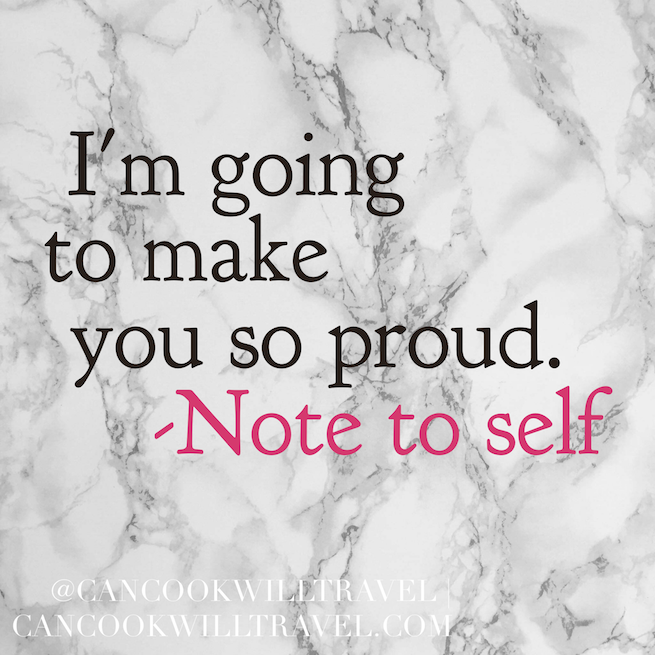 I could keep going on and on with the actions to take that your future self will want to travel back in time to hug you for. But I think you get the point. The key is not to get overwhelmed. (Re-read that last sentence if you need to.) You might be saying yes to ALL of the above, which is great! But focus on 1 thing that you want to work on. Get that under control, and then move onto the next thing.
For me, I've been working on actions 3, 4, 5, 7, and 9, and some of those for as long as 6 years. Each one takes time. But you get the idea that you get in the habit of one thing, and soon it's no longer something you even think of. You just do it naturally. That's when it's time to add in a new action.
I want you to remember that we are given a very limited time on this planet, and it's our job to live it intentionally and not let life pass us by. I hope this post has inspired you to start thinking about your day with more of a purpose and not to let the stuff you desire be out of reach. Whatever you desire you can absolutely achieve. It just takes action.
So most importantly, what area or action is resonating with you? Which one do you want to start working on now so that your future self thanks you? Comment below and let me know!
Stay inspired & take action! (Your future self will thank you!)
~Kelli
0