October is the first full month of my favorite season, and I'd say it was pretty clear once I started reviewing this month's blogging roundup. Although the temperatures haven't fully dropped here in KC just yet, we have had a few chilly days. And I'm loving it!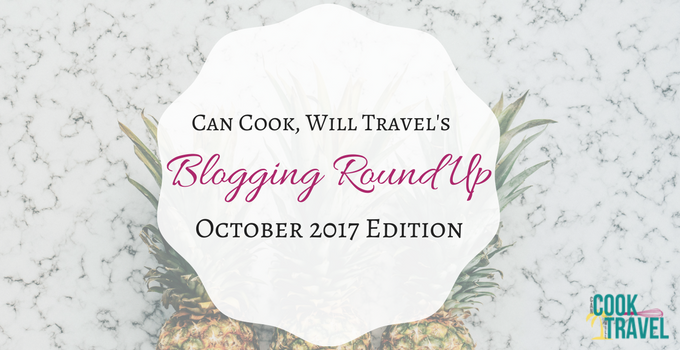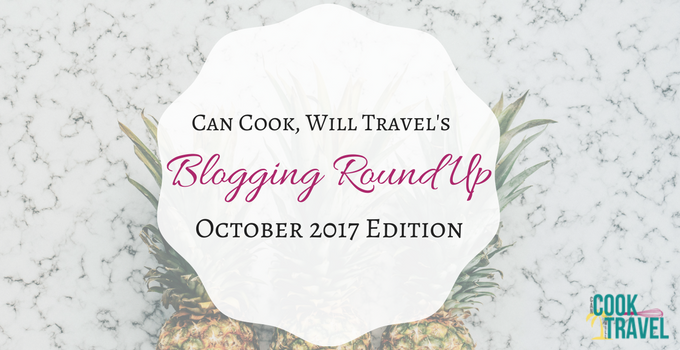 This month has been pretty laid back, thank goodness! I feel like I was going nonstop in September, so it felt great to slow down. I spent some quality time with friends, which is always SO wonderful to reconnect.
Over the past month, I've been sharing some of my favorite tips in my weekly newsletters for finding balance on busy days, fun recipes, as well as my favorite tool to keep me organized. If you aren't signed up yet, you can do that right here, so you don't miss a thing! Plus you'll receive a list of my must-have kitchen tools that I use all the time.
What's really funny that I'm just thinking about is that so often in life we don't take action out of fear. And I'll be honest, I kinda feared starting a newsletter, because I didn't know what to do or how to do it. However this week will be 40 straight weeks of creating my weekly email for my readers, and I'm damn proud of myself. The lesson learned revolves around just doing it already without fear, and eventually it'll seem like second nature.
So I urge you to think about something in YOUR life that you've been avoiding or putting off, and just do it. It will never be perfect, because nothing ever is. That tends to be why I put things off, so if you're a recovering perfectionist like myself, just know that your best is perfect.
Also, I'd LOVE to get your feedback with a survey I recently sent my VIP list. My goal is to make sure that I'm sharing recipes you want, and creating content and products you need. So if you wouldn't mind answering this short survey for me, I'd be oh-so-grateful!
So let's dive into the October Blogging Roundup, shall we?!
October's Recipe Blogging Roundup:

Hearty Meals:
My boyfriend was craving double decker tacos in September. You know the kind where you have a hard shell that is wrapped by a soft tortilla? Well that's where this idea for Chipotle Steak Fajita Tacos was born, because I wanted to come up with a fun taco dish. I ended up loving the components in this recipe as a taco or a burrito, so you choose your favorite here! Just know that this recipe is so good!!
Homemade Chili is never something I'm dying to make, but for some reason I really wanted to try out Laura Lea Goldberg's chili recipe. So off I went to make up the recipe (although I added a tad more heat to mine than she did), and I ended up with hands down my FAVORITE chili I've ever eaten. Tons of flavors and textures, and it's really healthy. Plus the chili contains a mix of beef and turkey, so that makes it even better for you.
Pasta Recipe:
Last year I made a Pumpkin Alfredo that has been on my mind ever since, but because I try to limit the amount of dairy I eat these days, I was ready to create my own version. I ended up with this dairy free, Creamy Pumpkin Pasta recipe that was better than I ever expected and you'd never miss a bit of dairy. I subbed the cream for coconut milk, the butter for vegan butter, and the cheese for nutritional yeast. And you better believe I've been stocking up on canned pumpkin so I can whip this up again!
Snack Recipe:
Everyone loves pumpkin bread it seems, and I love cooking it here on the blog. But I was really wanting to try out a gluten and dairy free version, just so I had that recipe for the future. Honestly I wasn't sure where to start, but luckily I found a well-tested Vegan Pumpkin Bread recipe that I had to try! Seriously it's super easy to make, and the fact that it's healthy just makes it EVEN better!
October's Weekly Crush Blogging Roundup:

Cookbook Love:
I found the It's All Good Cookbook by Gwyneth Paltrow on Amazon one day, and I decided to purchase it. Not knowing at all what to expect, this cookbook surprised me with totally approachable content and tons of whole food recipes. So many recipes made my must-make list, and I love how easy she makes cooking healthy look.
DIY Time:
I haven't done a DIY post in a bit, and I was pretty excited to give this DIY All-Natural Hairspray recipe a whirl. After all, I cleaned out my bathroom of all toxic products, and my hairspray sadly had to go. So after using this hairspray that consists of water, sugar, and vodka (yes, vodka!!) for several days, I'm a huge fan. I think my favorite part is that it gives my hair added texture and brings out my natural curls. Hooray!
Pumpkin Recipes:
In case you can't tell from the 2 pumpkin recipes this month, I love using pumpkin in the Fall! And it seemed like the perfect time to create the Ultimate List of Pumpkin Recipes for us to enjoy. I've pulled in several recipes I've tried and love, plus I've scoured Pinterest and shared scrumptious-looking pumpkin recipes! There are so many I want to try that I don't even know where to start. So as you're needing fun dishes for parties and events this season, you definitely will need to bookmark this post!
From 4 delicious recipes to some cookbook love, a DIY project, and yummy pumpkin recipes, October's been. And this blogging roundup has been so fun to share with you!
I'd love to know what recipes sound good from this month, and please share your favorite pumpkin recipe! Share away and let's keep the convo going by commenting below!
Stay up-to-date on new posts and get a behind-the-scenes view of my life, by signing up for my weekly newsletter! Click on the button below to sign up, and then you'll receive a free guide of my favorite kitchen tools.
[thrive_2step id='7382′][thrive_leads id='7381′][/thrive_2step]
Stay inspired & discover new things!
~Kelli
0