Mexican food has sounded SO good lately, so that's what prompted this week's recipe post. And it seemed like it had been a long time since I'd cooked with red meat (that last Beef and Broccoli Ramen recipe was AMAZING though), so something with steak felt appropriate. Because of all of that I came up with this recipe for Chipotle Steak Fajita Tacos.
I grew up with the oh-so-traditional way of making tacos with ground beef, so I'm a bit out of my comfort zone on this Chipotle Steak Fajita Tacos dish. But I kinda love when that happens, because it forces me to grow, grow, grow as a chef.
I knew I wanted something that would be full of flavors and textures, yet I didn't want anything too terribly heavy. I also wanted to keep this recipe dairy free and gluten free (if you watch your taco shell). So knowing all of that, I dove in and created some pretty yummy food.
At the beginning of September, I made a Mexican Street Corn Shrimp Pasta, and decided that roasted corn was making an appearance in this recipe. The corn is roasted in a cast iron skillet for 5-6 minutes until it starts to brown, so that creates instant flavor. Then I used the fajita-style peppers from my Southwest Fajita Chicken Wrap for another layer of flavor. Avocados also made an appearance, because they add such a creamy, fresh flavor and texture.
The real flavors start coming in with the steak that's rubbed with a smoked paprika and chipotle pepper spice blend. Seriously it smells fantastic, although I'll warn you that you should maybe open a window as you cook the steak. I got a bit choked up by the spices as they cooked, but it was all worth it. Cook your steak to your desired doneness, and I prefer medium-rare. So I cooked mine about 2-3 minutes on each side, flipping until the meat is 140 degrees. Then let it rest. I used flank steak in case you're wondering, and it worked pretty well.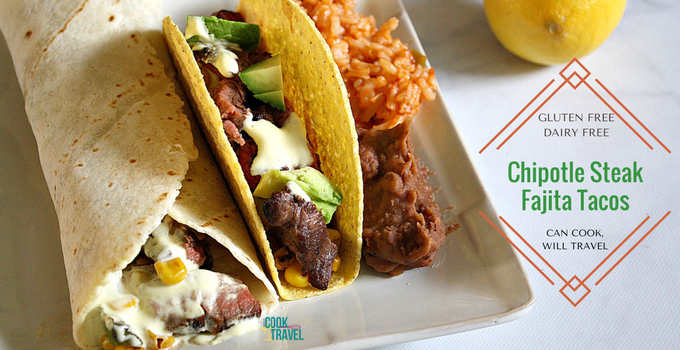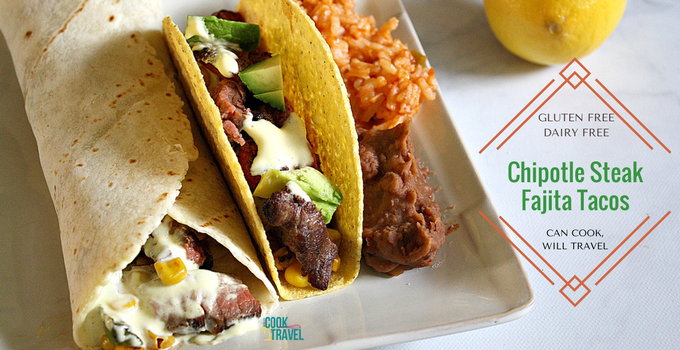 Finally the green chile aioli topped off the Chipotle Steak Fajita Tacos perfectly. I just made my aioli from egg yolks, salt, honey, minced garlic, lemon juice, green chiles, jalapeño Tabasco, and then peanut oil. Wow do I love a good aioli, and this one was nice and spicy and added creaminess to the final dish.
Once you have the components, you can really do whatever you want. So the first time around, I did a soft taco and a hard-shelled taco. My boyfriend did a double decker with the soft shell wrapped around the hard shell. I also decided to go with gluten free flour-style tortillas by Mission, and they worked really well.
My second round of this meal had me wanting to make a wrap, so I added all of the components to the soft tortilla along with some Spanish rice and salsa for added body. Then I wrapped it up, and popped it under my NuWave for 3 minutes. That was amazing too! This version hit the spot so it was how I used up my next round of leftovers.
If you ask me, having great components makes experimenting and eating your favorite combos even easier. You know it'll all taste amazing, so just make it into a taco or a wrap or a burrito or however you want to whip these Chipotle Steak Fajita Tacos up! I usually make Spanish rice and refried beans with Mexican meals, so those make great sides as well as add-ons to the tacos and burritos. Also throw in guac, sour cream, cheese, and any other favorite toppings.
So next time you're craving some steak tacos, definitely check out these Chipotle Steak Fajita Tacos! Click that link for the recipe and step by step instructions, and happy playing with your food!
A look back:
One year ago: Smokehouse Mac 'n Cheese = BBQ Heaven!!
Two years ago: Chicken Taquitos with Avocado Cream Makes Dinner Seriously Tasty
Three years ago: Pumpkin Waffles – Welcome Back Fall!
Four years ago: Not Yo Mama's Chicken Noodle Soup
Five years ago: Cabbage + Bacon = A Very Good Thing
Six years ago: Hooray for Stuffed Shells!
2