How is it that I have a bookcase full of cookbooks but "nothing" new to feature for my Cookbook Love series? Okay this is not the truth, but it does have me thinking I should go through and donate some old cookbooks I'll never use. And it might just be my subconscious telling me that as an excuse to buy a new cookbook. The latter may have happened, and that may have been how I ended up with The Laura Lea Balanced Cookbook.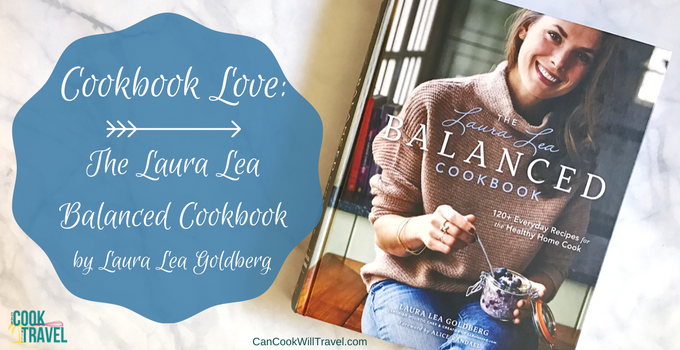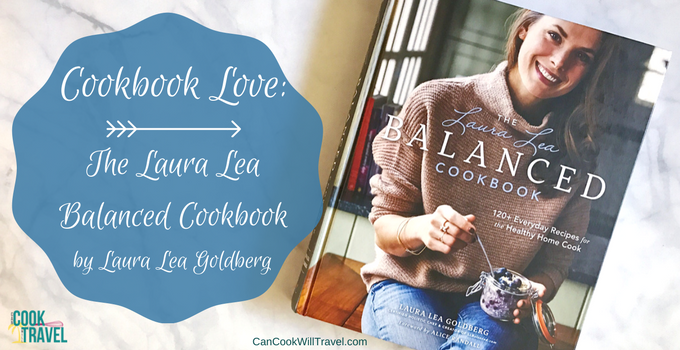 Okay that's exactly what happened, and I feel no guilt over it. None. I love finding new cookbooks, blogs to check out, chefs to follow and drool over, and so on. And I was surfing on Amazon and the site recommended The Laura Lea Balanced Cookbook to me. Once I did a "first look" at the book, I was beyond sold that I needed to own it.
The book looks beautiful and I found Laura Lea's cooking and eating style to be aligned with me.
Now when this book arrived it was just as gorgeous as I'd imagined. But it was also way larger than I expected it to be, because it's detailed and filled with great content, which we'll get to in a minute.
As I flipped through the cookbook, I had no doubt in my mind that The Laura Lea Balanced Cookbook would be my next Cookbook Love feature. So let me explain why!
Why Laura Lea Goldberg?
Admittedly I knew nothing about Laura Lea Goldberg until I started reading her book. She's not someone I've followed before, but you can bet I will now. Laura Lea is a holistic chef and she created the site LLBalanced.com where she shares her recipes.
Like many of us, she's tried nearly all of the fad/trendy diets. And like many of us, they weren't easy to stick with, so what's the point, right? And it wasn't until Laura Lea discovered the Natural Gourmet Institute in Chelsea, NY that she embraced the idea of whole food eating.
What I love about her recipes and style of cooking is that she tries to create a beautiful space for nutritious eating. Overwhelming is an understatement when I try to think about all of the diets and restrictions (paleo, vegan, vegetarian, gluten free, dairy free, etc.). For the most part this year I've cooked dairy free recipes with many being gluten free as well. And I'm loving this style. However I would be lying if I said that I don't enjoy dairy, wheat, and soy as well. I just try to limit it to a few meals a week.
And I think that Laura Lea totally embraces the way I want and prefer to eat. I don't need to be eating a certain way, and am not allergic to specific foods that I'm aware of. But I can acknowledge when I feel better after avoiding some foods. And her focus on recipes that are nutritious yet creative versions of favorite dishes is one that totally resonates with how I like to cook.
So in essence, I really get her, and I think she gets me too. Love that!
Laura Lea Balanced Cookbook Organization
When I say that this cookbook packs a punch of knowledge, I promise it's no joke. The books starts off right away with a recipe directory, which is great if you're on the hunt for a specific meal. Then you'll find a forward and intro to get to know Laura Lea a bit better as well as learn how to read the book using different symbols.
The first chapter of The Laura Lea Balanced Cookbook, "The LL Balanced Approach to Food", walks you through SO much here. I feel like this is the heart of the book, because you understand what motivates her, why she uses certain foods, how she shops, what supplies and ingredients she keeps on hand, and she goes into tons of detail on each ingredient if needed. I knew that I aligned even more with her than I thought when reading this section and seeing so many of my new go-to foods on her list. Love that!
Then it's onto the recipes, which are broken down into Snack-itizers, Beverages & Smoothies, Breakfast, Bakery, Sides, Lunch & Dinner Entrees, Salads & Soups, and Dessert. Laura Lea shares more than 120 well-tested recipes in this cookbook. Each chapter gives you background on the dishes you're about to find, and each recipe begins with an intro about that dish. It might be a story, or some tips. Plus I really love the recipe notes, an ideas section for ingredients or leftovers, and suggested sides for the entrees. She went above and beyond with the info for each dish!
At the end of the book you'll find weekly menus for each season as well as Paleo and Vegan menus. She provides recipes for special occasions, metric conversions, and a lovely index at the end. It's a thorough and detailed book that I'm digging!
What's to Love About the Laura Lea Balanced Cookbook?
Her "balanced" concept – This idea of eating totally aligns and resonates with me.
Great for cooks of all skill levels – Thanks to her tips and recommendations.
Tons of details – Especially on specific ingredients and even where she prefers to purchase them
Photography – Simply put, it's stunning.
Recipe details – You'll find what diets a recipe follows, how long it takes to make, serving sizes, an intro, plus nearly every recipe has extra info and tips or substitutions if needed.
Organization – This is how I would write a cookbook! Seriously a chapter all on smoothies means she's clearly a girl after my own heart.
Huge Variety – From Italian to Indian to Asian to just plain healthy comfort food, there's definitely something for every taste.
Surprisingly Healthy – I mean that because you look at a chocolate chip recipe and wonder how it can be "not bad" for you, and it truly is pretty guilt free.
Crave-worthy Laura Lea Balanced Cookbook Recipes:
Kale & Artichoke Dip – I really can't wait to make this and see if anyone notices it's healthy!
Sweet Chili Pumpkin Seed Clusters – Um yeah, I'd totally snack on these!
Sriracha Garlic Roasted Edamame – She had me at "Sriracha"
Aloha Smoothie Bowl – It looks fab and has me craving Hawaii.
Mocha Smoothie – For the days I'm feeling coffee obsessed.
Grain-Free Cinnamon Waffles – Cuz waffles make me happy, okay?!
Pesto Chicken & Spinach Frittata – Sounds like a fab breakfast to me.
Bananas Foster Walnut Muffins – Yum, but damn it, now I want a muffin!
Perfect Oven Fries 2 Ways – Who doesn't love fries, because I don't believe you if you don't!
Sesame Maple Brussels Sprouts Bits – I'm clearly a giant fan of this veggie, so that's why!
Beef & Veggie Stir Fry – Because I'm a girl who loves stir fry!
Curried Cashew & Lime Chicken Salad – So there was a time this recipe would have scared me, but that time has passed – this sounds fab!
BBQ Shrimp & Quinoa Grits – Yes to all of this!
Chilled Caesar Shrimp & Asparagus Pasta Salad – If this is like combining a Caesar salad with pasta, I'm so in!
Corn, Kale & Goat Cheese Chickpea Cake – If goat cheese in a cake is wrong, then I never want to be right.
Spicy Black Bean Quinoa Soup – I love quinoa, soup, and spicy food, so this sounds delicious!
Chocolate-Covered Almond Butter-Stuffed Dates – So do I really need to explain why this made the list?
Holy Fudge Black Bean Brownies with 1-Minute Ganache – I may just make this one first!
The Best Soft-Baked Chocolate Chip Cookies – Because this recipe looks fabulous!
As I flipped through The Laura Lea Balanced Cookbook, I could see myself adding every recipe to that list. So if that tells you anything about how amazing and flavorful these healthy dishes sound, then you need to purchase this book straight away. Here's the link for it on Amazon, and I have no doubt that if you have healthy cooking on your mind, then you'll love it!
Have you heard of Laura Lea before? As a total newbie,  the quality and gorgeousness of The Laura Lea Balanced Cookbook blew me away! I have a feeling you'll adore it too. I'd love to know your thoughts below, so comment away and let's start talking!
This book will be living on my coffee table with Chrissy Teigen's cookbook, so I don't forget about them. So stunning!
Stay inspired & let's start cooking!
~Kelli
0