I've been dreaming about the idea for these Boozy Strawberry Mango Popsicles for the past few weeks. My friend Amanda was asking for them, and I got excited about creating the recipe. And if you've followed me long here, then you know that I've become a big fan of mangos. So naturally they'd make an appearance in this sweet treat. So this week I featured 35 healthy back to school snacks, and I thought I'd create an adult version of a popsicle because kids don't get to have all the snacking fun!
The Midwest is actually pretty gorgeous the past couple weeks with highs in the 70's and 80's, but popsicles are still totally necessary. For me, I'll eat ice cream or even popsicles when it's chilly out, so I can justify them anytime.
And what's more refreshing on a hot day by the pool or outside relaxing than some Boozy Strawberry Mango Popsicles? Plus they're gorgeous too! And I love how simple they are to make.
These Boozy Strawberry Mango Popsicles require some equipment, so prepare yourself. First off you'll need a blender and then of course the most important part are the popsicle molds. These are the ones I purchased off of Amazon and they've been great!
I was kinda blown away by how easy this recipe was, although I don't know why. But I guess sometimes in life we like to overcomplicate things. So I just assumed it shouldn't be so simple. And in reality, these Boozy Strawberry Mango Popsicles can be super versatile.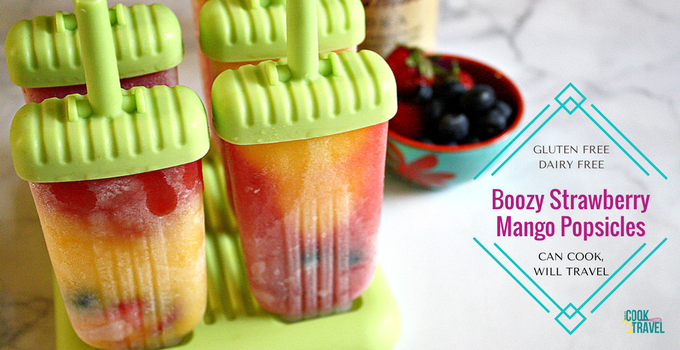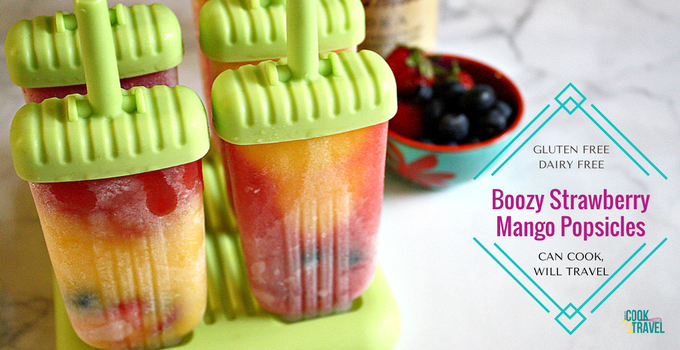 The popsicles are made from two different fruit purees, so one is mango and one is strawberry. The frozen fruit blends with coconut water and a little lime, and layer them in the popsicle mold for a marbled look. You could just pick 1 kind of puree and double the amount instead of having it be strawberry and mango.
To the puree I stirred in 1 shot of vodka in each one, although you could do 2 shots per mixture. Then I added some fresh berries (blueberries and strawberries in this case) to the popsicle mold and filled 3 of the molds half full with strawberry puree. Then I filled the other 3 molds half full of mango puree, and then layered the puree on the opposite half. So it had a slightly marbled look to it. And that's it, my friends! Pop them in the freezer and freeze them for at least 6 hours, but I'd prefer longer to be safe.
When you're ready to enjoy the Boozy Strawberry Mango Popsicles, just run some warm water on the outside of the mold. That helps release the popsicle from the mold and dig in! In case they melt a little fast, I have a wine glass or small plate on hand to catch the melting popsicle. They're such a refreshing treat when you just need a sweet, cold snack! Oh yes and that vodka definitely adds a little kick to it for sure!
I love that there's no added sugar and how sweet yet not overly sweet they are. And yes of course, you can opt out of the vodka if you prefer. But I highly recommend it! I'm a huge fan of how well these froze, how pretty they turned out, and the change in textures and flavors between the two purees.
I cannot wait for you to try this Boozy Strawberry Mango Popsicles recipe ASAP, so click that link for the recipe and step by step instructions! Happy boozing – er, I mean popsicle eating!
A look back:
One year ago: Chicken Sugar Snap Pea Stir Fry = A Time Saver
Two years ago: Learning to Love Salads – Part 18: Couscous Greek Salad
Three years ago: Gooseberry and Blueberry Mini Tarts…When in Doubt…Bake!
Four years ago: Something from the Sea – Shrimp Scampi
Five years ago: Egg Roll: To Bake or Not to Bake…Not Even a Question!
Six years ago: Orzo with Artichokes and Peas
1