I'll admit it's been a while since I cooked couscous. But I think it's been because I didn't see how another couscous recipe could be as good as the fried couscous I made a few years back. But something pulled at me to keep going back to this Couscous Greek Salad on Pinterest, and I decided to listen.
Oh am I glad I did! I was tempted to alter this recipe and fry up the couscous again to add to the texture and flavor. But I noticed in this recipe from Erren's Kitchen that the couscous was cooked with tomato paste and oregano, which made me think that it may not need to be fried. (And that would save me time and from eating more oil…hooray!) My intrigue was enough to have me follow the recipe.
So off I went and got some water boiling in a kettle. Once it was boiling I added it to some couscous, tomato paste, and oregano. The recipe calls for sun-dried tomato paste, which I couldn't find, so I used regular tomato paste. Also it calls for dried oregano. I didn't have any on hand, so I used fresh oregano and tripled the amount. They both worked great.
Once the couscous is cooked (it takes 5 minutes, which is another point for liking couscous), I added some chopped Greek olives, sun-dried tomatoes and parsley to the couscous. I tossed it together, added some fresh lemon juice, olive oil, and cubed Feta cheese and seasoned with salt and pepper.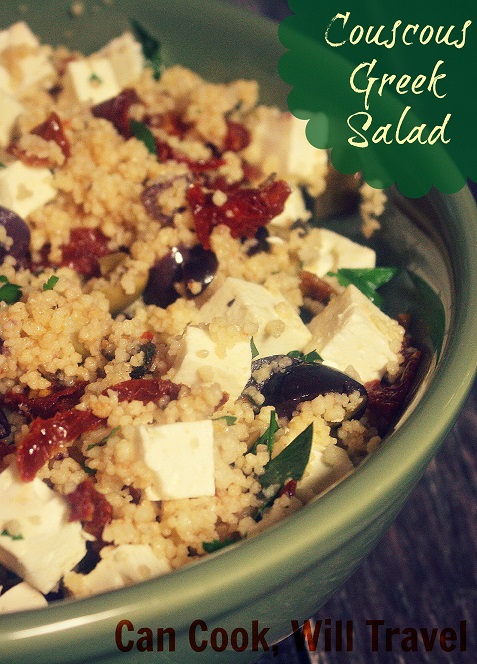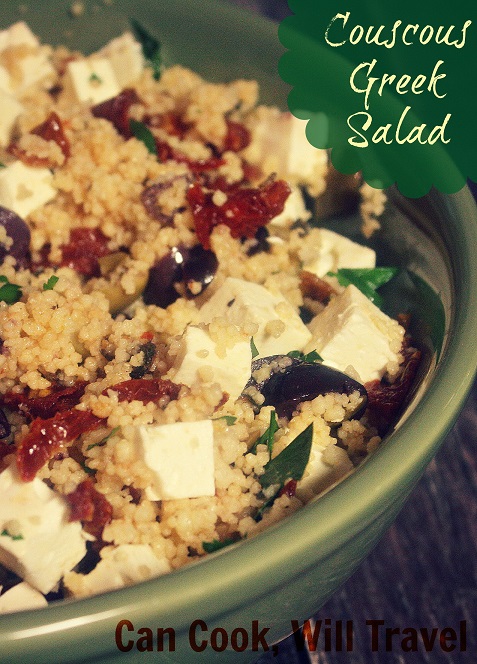 Then I proceeded to eat it up! It was really delicious, and I loved that it was filling too. It made quite a bit, so I will have another 3-4 servings in leftovers. Let's talk flavors. The salad had a nice tomato flavor to it thanks to the paste. The olives and sun-dried tomatoes plus the Feta all contributed to adding a bit of bite and making this a true Greek style salad.
To say that I can't stop thinking about eating these leftovers again is a bit of an understatement. I might just be counting down the hours (4 of them!) until I get more!
I am so excited to have another couscous recipe that I like, and I can't wait for you to try out this Couscous Greek Salad recipe for yourself!! Click the link for the recipe and step by step instructions and enjoy!! Happy eating!
A look back:
One year ago: Gooseberry and Blueberry Mini Tarts…When in Doubt…Bake!
Two years ago: Something from the Sea – Shrimp Scampi
Three years ago: Egg Roll: To Bake or Not to Bake…Not Even a Question!
Four years ago: Orzo with Artichokes and Peas
0