It's okay to be fancy sometimes, my friends. In fact it's down right tasty, which is very much the case with this Fig, Prosciutto and Goat Cheese Pizza! And while this pizza may not be the traditional pizza you're used to, it's actually easy, delicious, and pretty stunning to make.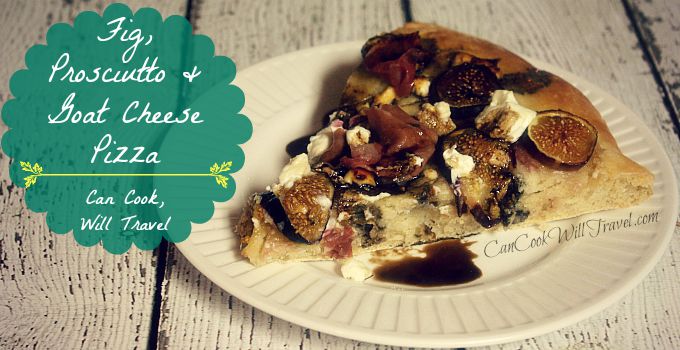 So there I was walking through Trader Joe's. It had been at least a year since I'd made it to this grocery store, and my shopping basket was filling up rather quickly. And when I saw a large tray with figs for an insanely good price that was obviously calling my name, well I knew that my next blog meal would involve them.
When you think of figs, what comes to mind? For me, it's prosciutto … hands down. And then in every perfect world there should be cheese involved. I was thinking either a blue cheese or goat cheese, and Trader Joe's has some of my favorite goat cheese, so that's what I went for.
This pizza was my own creation, and I was really excited to experiment with it. So here's what I did:
I made this pizza dough recipe, and I actually saw one Giada made recently that I'm excited to try next time. But use your favorite pizza dough (either store bought or homemade). Admittedly my crust was a little thicker than I intended, but it was still super yummy!
Once the dough is rolled out, I carefully wrapped it around my rolling pin and used the rolling pin to help transfer it to a pizza peel, which I had already sprinkled some cornmeal on to help the pizza slide off more easily. Then I drizzled some olive oil over it and brushed it all over to create a good foundation.
Next was the goat cheese. I used about 4 ounces and crumbled it over the top. I wanted to have a pretty good layer of goat cheese going on since that would be the start of the toppings, so add as much as you want. Then I sliced some fresh figs and laid them over the top of the pizza. Finally I grabbed my favorite local honey and went to town drizzling it over the top of the pizza to add some more flavor and give the figs a hand in caramelizing.
Then bake away. I popped mine into a 400 degree oven for about 20-30 minutes. You're really looking for the crust to start to brown, the figs to start to caramelize, and the goat cheese to get a little color on it too. Then pull it out of the oven, pile some prosciutto around the pizza (so you have prosciutto on every piece of pizza), and then I added a little more goat cheese, because … well, because I can! A little more honey drizzled over the top, and back in the oven for 2-5 minutes. You don't want to get the prosciutto too brown though, so keep an eye on the meat because you just want to add a little flavor but not have it get crispy.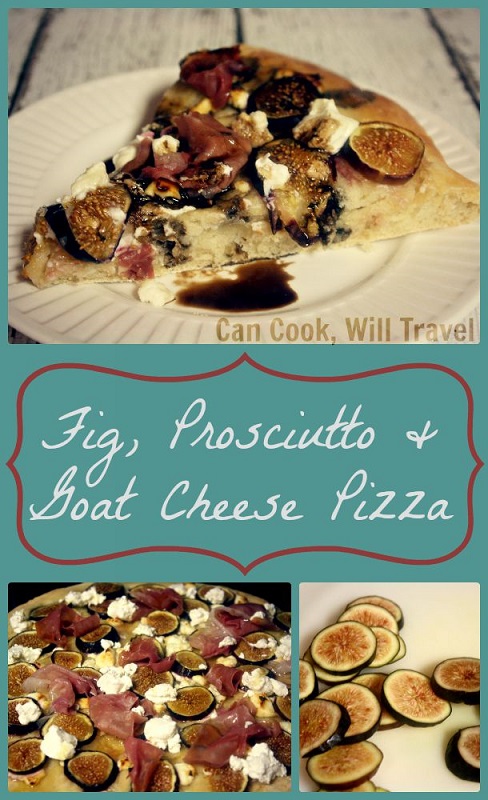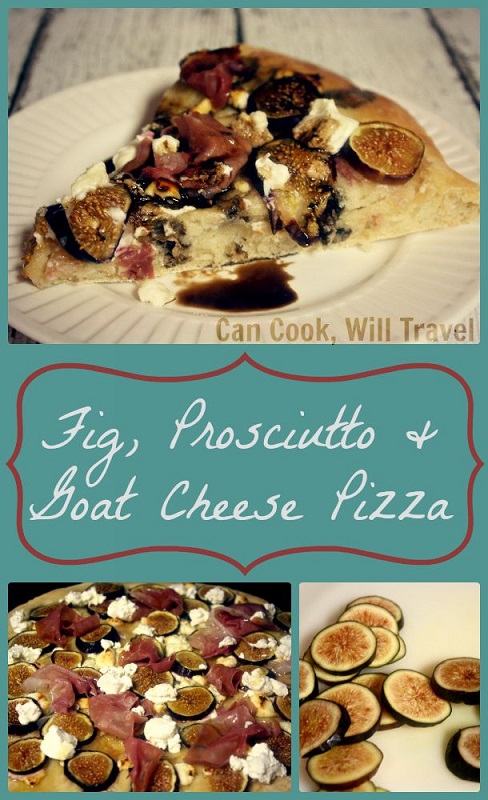 Pull the pizza out of the oven, wait a minute, and then slice it up! When you serve the pizza, drizzle some high quality (really important part here) balsamic vinegar and a sprinkle of red pepper flakes to cut the sweetness of the fig/honey combo a tad.
Ho-ly smokes, this is seriously so yummy!! I cannot wait for you to try this Fig, Prosciutto and Goat Cheese Pizza recipe yourself! Click that link for the recipe & step by step instructions! Happy pizza-ing!
A look back:
One year ago: Sriracha Shrimp and Zucchini Lo Mein = One Damn Good Dinner!
Two years ago: Well That Was Easy! Shrimp, Zucchini & Pesto Pasta
Three years ago: Learning to Love Salads – Part 9: Black Bean, Quinoa & Citrus Salad
Four years ago: Cookies and Sea Salt…Really?!
1