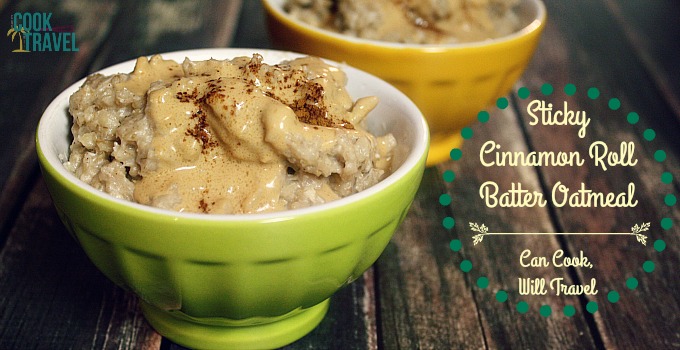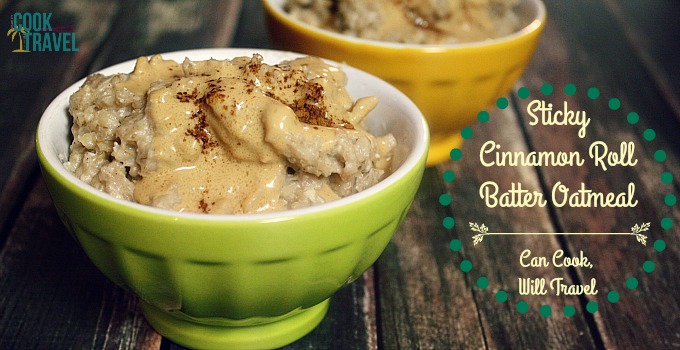 (This Healthy Sticky Cinnamon Roll Oatmeal recipe can be found on the site The Big Man's World here.)
Step by step Instructions:

Say hello to your new favorite healthy breakfast dish with this Healthy Sticky Cinnamon Roll Oatmeal recipe. Here's what you'll need (and keep in mind that I doubled the recipe below): Coconut Flour, Old-Fashioned Oats, Sea Salt, Almond Milk (or your favorite non-dairy milk), Vanilla flavored Protein Powder (I like Perfect Fit protein powder by Tone It Up), Sweetener (I did a mix of Truvia and sugar but all your favorite stevia sweetener will be great), Egg White (1 egg white per serving), and Butter (or Coconut Butter for a healthy alternative).

In a medium-sized sauce pan add 1/2 cup of old-fashioned oats, a pinch of sea salt, 2 T of granulated sweetener of choice (again I did half Truvia sweetener and half sugar to conserve my Truvia), dash of cinnamon, and a cup of dairy free milk (almond milk for me). The amounts listed here are for 1 serving. Double or triple as needed.

Heat the saucepan over medium heat and stir the mixture to combine. Stir regularly. The mixture will bubble and you want it to cook down so that not much liquid remains and it's a more oatmeal-like consistency.

While the oatmeal cooks, melt a tablespoon of butter (or 2 if you're doubling it like I did).

Measure out a tablespoon of protein powder per serving.

Here's the oatmeal cooking away. You can see it's bubbling and still a bit soupy. Keep cooking away … it'll get there!

The oatmeal was done when it was thick and not very liquid-y (technical cooking term there).

Add the egg white (or 2 if you're doubling it) to the pan and stir it in really well. Keep cooking the oatmeal as you stir so that the whites get cooked in the mixture. Stir well!

Once the whites are mixed in, I let the oatmeal keep cooking for a minute while I tended to the glaze. Add the protein powder to the butter and whisk it really well.

Then add milk to the butter mixture until it's a good drizzling consistency. Be sure to taste it and make sure the protein powder is totally absorbed and it tastes good.

Finally add a tablespoon of coconut flour (or 2 tablespoons if doubling it) to the oatmeal. Stir it in really well so that the oatmeal is well combined.

Here the Healthy Sticky Cinnamon Roll Oatmeal is all done. If it's too thick, just add a bit more milk to thin out to the consistency you prefer. Serve it up right away, top with a little cinnamon, drizzle with the cinnamon roll glaze and add a dash more cinnamon to the top. That's it – enjoy and happy healthy breakfast eating!! Seriously so yummy!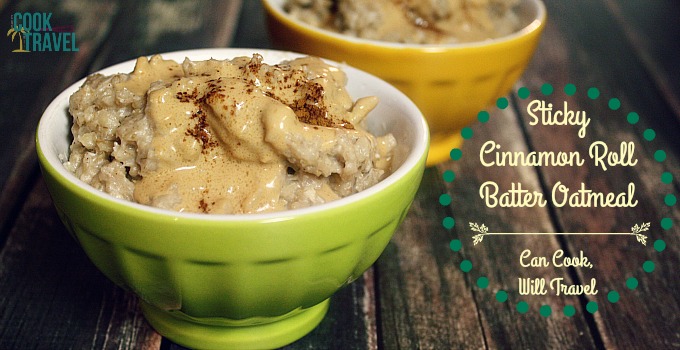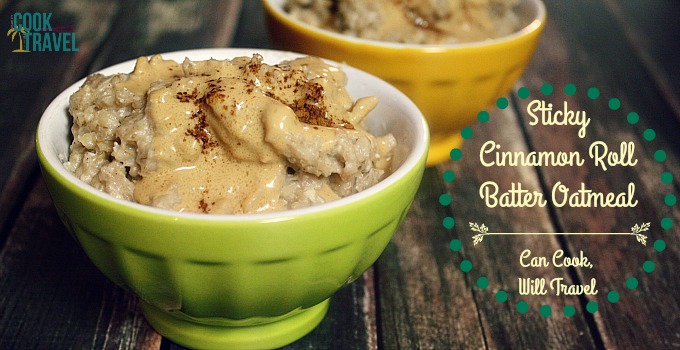 Healthy Sticky Cinnamon Roll Oatmeal
Ready for a breakfast that is healthy but tastes like a decadent comfort food? Perfect, then this oatmeal is for you! It tastes just like cinnamon rolls!
Ingredients
½ cup Old-Fashioned Oats (Rolled Oats)
Pinch Sea Salt
2 T granulated Sweetener of choice (I used a half sugar half Truvia sweetener mixture and it was great)
Dash of Cinnamon (plus extra cinnamon for dusting the finished oatmeal)
1 cup Dairy Free Milk of choice (I went with no sugar added Almond Milk)
1 large egg white (or 1 flax egg if you're vegan)
1 T Coconut Flour
For the Cinnamon Roll Glaze:
1 T Butter, melted (or Coconut Butter for a healthier option)
1 T Vanilla Protein Powder (I like Tone it Up's Perfect Fit protein powder)
Almond Milk to thin out
Cinnamon for dusting
Preparation Instructions
Begin by combining the oats, sea salt, sweetener, cinnamon, and milk in a medium sized sauce pan. Heat it over medium heat and cook until the liquid is reduced quite a bit. (You may think it won't cook down enough but it will, so just keep cooking it.)
Once the oat mixture is a more oatmeal-like consistency, add the egg white and stir so that it's really well combined. Then add the coconut flour and stir it well so it's completely combined.
Time for the glaze! Just whisk the melted butter and protein powder together. Then add enough milk to it to make the glaze a good, drizzling consistency.
Serve up the oatmeal right away and drizzle the glaze over the oatmeal. Top with a light dusting of cinnamon and enjoy!!
0