By Kelli Wallace Leave a Comment
When the weekends come around, every once in a while I'll want a little something special for breakfast. Usually it's in the form of waffles or pancakes, but not this week. I recently got a new blender, which you probably know if you follow me on Instagram or receive my weekly newsletter. And as soon as I got it, I was itching to use it out, and these easy Blender Muffins found their way to the top of my list.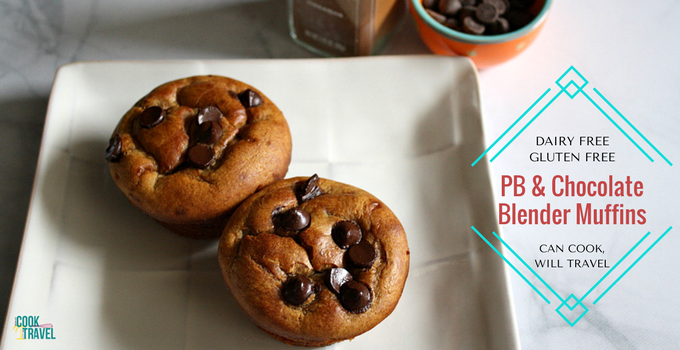 Now this isn't just any blender, so let me fill you in. I'd about had it with my blender. It was fine in theory, but simple things like blending dressings and pureeing beans were total failures. And I kept thinking back to my mom's Vitamix, because I'd used it quite a bit. I was so having blender envy that it was slightly pathetic.
So I did my research, and decided I needed a better, high-powered blender. I was willing to invest some money in a blender that would do what I needed. After all, there were a lot of recipes I'd actually skipped making because I knew my blender wouldn't be up to the task. So I went back and forth between the Ninja and the Vitamix. The Ninja is slightly cheaper and my sister has one and loves hers. In fact, it's what I used for this Tomato Strawberry Gazpacho, and I liked it a lot. But the Vitamix is a BEAST, in the best way of course.
Luckily I came across a way to get a reconditioned one, which is what my mom uses, and you'd never know that it wasn't brand new. They basically restore them to brand new, so that's awesome. And then I also got it with a great warranty, payment plan if I needed, and a few extra items added on. No regrets with this purchase at all!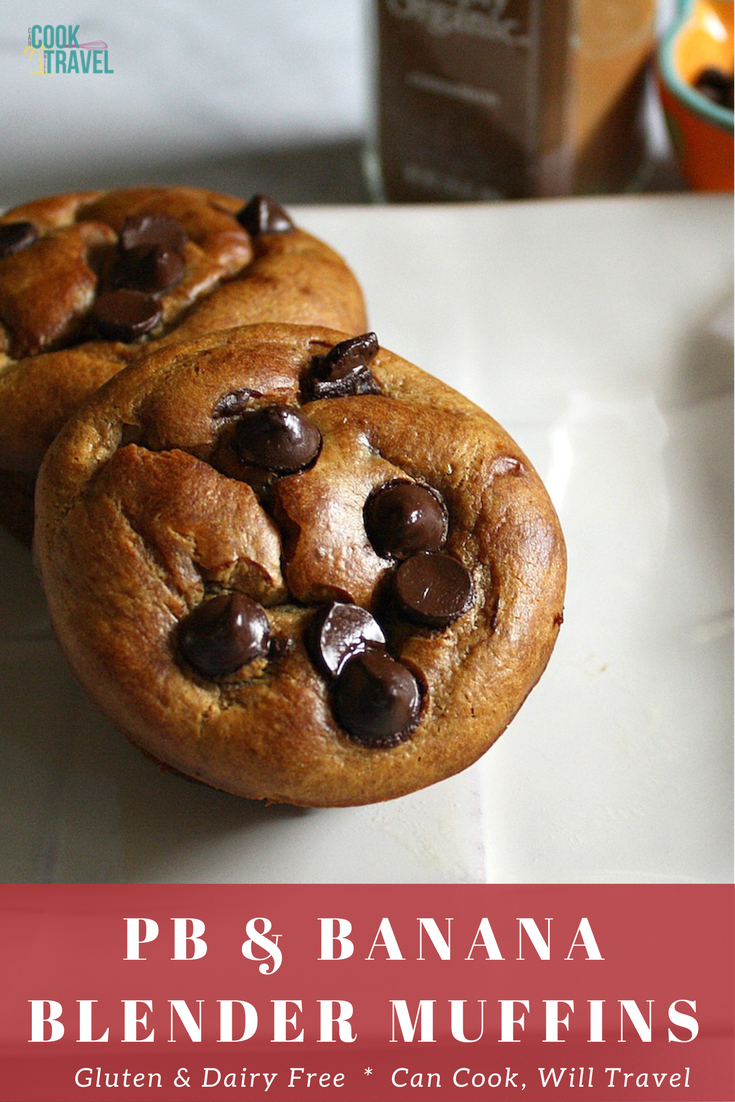 So I christened my Vitamix with these easy blender muffins, and it was a fun decision. First of all, these muffins were made on a Sunday morning, and Sundays are kinda my lazy morning days. I like to get up, stretch, drink some lemon water, watch TV and enjoy breakfast. But this seemed like a simple recipe, so I figured it wouldn't crash my lazy Sunday vibe too much, and it didn't.
Just grab your blender and add peanut butter, some bananas, a couple of eggs, baking powder, apple cider vinegar, honey, vanilla, and cinnamon to it and blend until it's smooth. Then I wanted chocolate, because it's a weekend and I'm a chocaholic. So I poured the muffin batter into a bowl and added in some chocolate chips. Then pour the batter into 6 muffin tins. I filled mine to the brim and still had batter leftover, so you could possibly get more than 6 muffins out of this. I'd say I could have done 7 or 8 actually. Top with a few chocolate chips and bake. Now since I filled my muffin tins pretty full, I baked these for a good 20+ minutes or until they were brown on top and a toothpick was inserted into the center and came out clean.
Cool and then dig in!
Now one thing I'd like to chat about is the chocolate. So you know I'm striving to cook dairy free when I'm at home, but hot damn it's difficult to find chocolate chips that don't contain milk. So before I ran to the grocery store, I decided to go online and see if I could find any brands that were good options. Great plan I had, because I discovered a brand called "Enjoy Life" that has lots of dairy free (and allergy free) chocolate options. And even better, my local Target I had to run to anyway looked like they might have some in the store!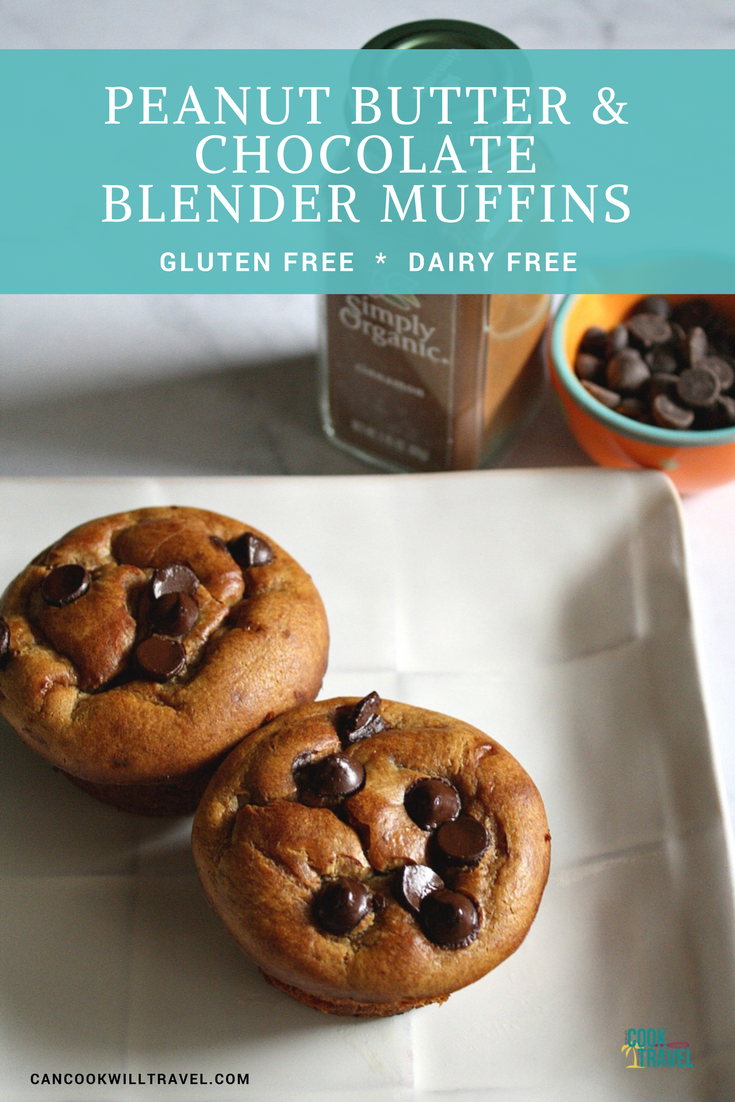 They did indeed, although they're a fair amount more expensive, but if you have allergies it's well worth the price. They're a fantastic product and made these easy Blender Muffins even better for me! So not only are they dairy free but they're also gluten free as there isn't any flour!
Taste-wise, I'm pretty thrilled with the muffins. The bananas make them really moist and the peanut butter and eggs helped give them structure. Plus you have this lovely banana bread smell to them and anything with peanut butter and chocolate is a must-make situation for me. They weren't overly sweet, one muffin was nice and filling, and cleanup with the blender is a breeze.
So these Easy Blender Muffins are a total no-brainer for me. If you're wanting to have some gluten and dairy free options for breakfast or brunch, then you gotta add these muffins to the menu. Click that link for the recipe and step by step instructions. Happy blending!
A look back:
One year ago: Stuffed Cabbage Casserole is a Dinner Triumph
Two years ago: Honey Beer Bread is Seriously Tasty!
Three years ago: Well Hello Quinoa Stuffed Red Peppers!
Four years ago: Seriously Winter?! Roasted Cauliflower and Aged White Cheddar Soup to the Rescue
Five years ago: Learning to Love Salads…Part 5: Wintry Salad with Grapefruit and Goat Cheese
Six years ago: Look at Me…I Made Pasta…From Scratch!

By Kelli Wallace Leave a Comment
You guys, it's almost Spring, and how exciting is that?! So in honor of the upcoming season, it seemed like the perfect time to try out this delicious looking Spring Roll Noodle Bowl from Pinch of Yum. It really was the right thing to do.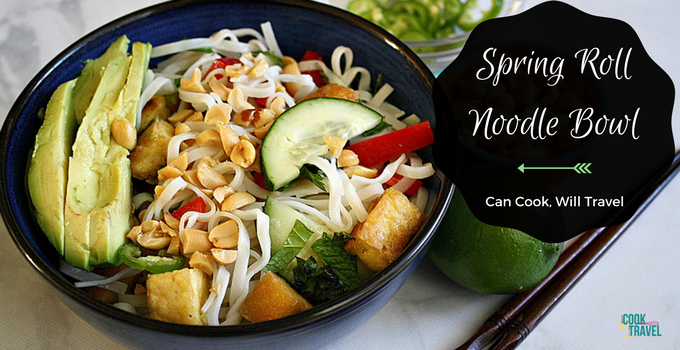 I'm all about eating healthy bowls these days. I'm still drooling over last year's Buddha Bowl and last month's stellar Turmeric Sweet Potato Bowl (also thanks to Pinch of Yum). And can we talk about how much I'm loving that blog, by the way? They know their flavors and cook super healthy food that's usually dairy free, so I naturally keep finding my way back to their recipes.
There are a few components to this dish. First you have the rice noodles, and then the garlic lime dressing. Add in your favorite veggies and proteins and you're in for a serious treat!
Parts of this Spring Roll Noodle Bowl can be made ahead, which is always a good thing in my book. You can prep your veggies ahead of time, and I did that by slicing my cucumbers, serrano pepper, and julienning my bell pepper. You can really throw in whatever veggies you like, but these worked so well. I'd also recommend making your protein ahead of time, too, so that you can quickly throw the dish together.
You can skip the protein, but I think it definitely adds a little extra oomph to the dish. I went with a crispy tofu for mine, because I loved it so much with my Buddha Bowl. But I could see grilled chicken or shrimp working very well too in the Spring Roll Noodle Bowl.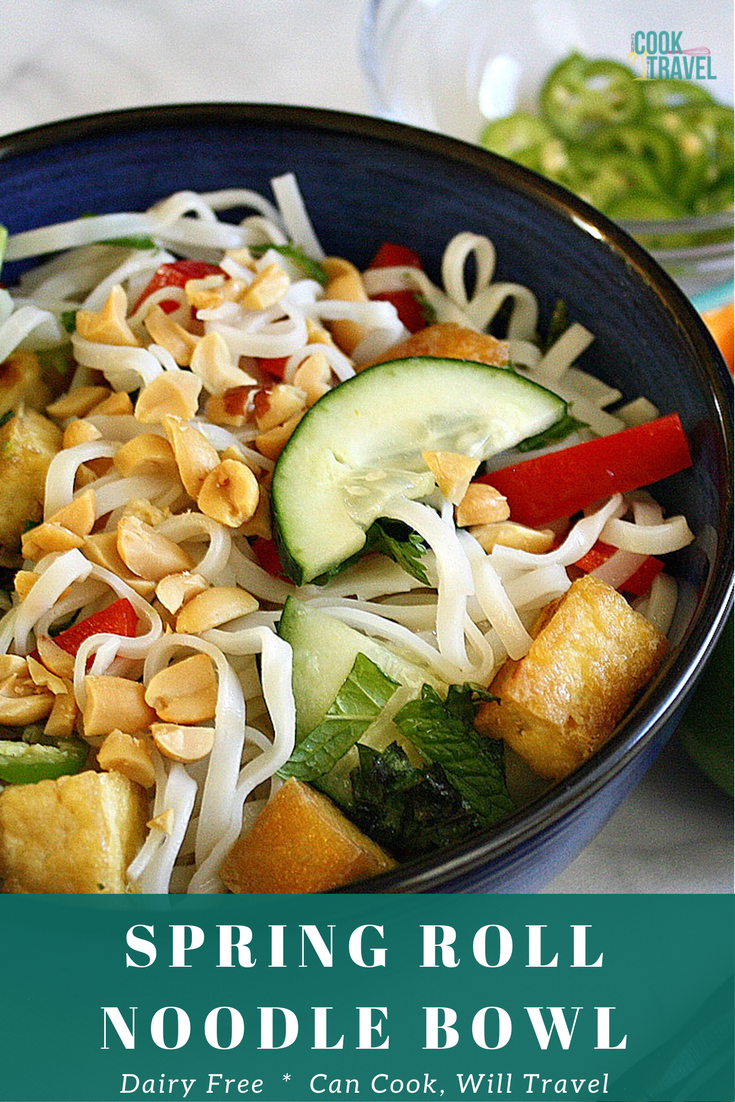 Let's talk rice noodles first. I'd previously cooked with rice noodles but this recipe suggested cooking them slightly differently. First you soak the noodles in cool water for at least 30 minutes so that the noodles start to soften. And then cook them in boiling water for a minute or two, so that the noodles don't get so sticky. And it worked like a charm, I must say!
Finally it's time to talk dressing. It's super simple to make in your blender. You'll just combine vegetable oil, fish sauce, agave, rice vinegar, lime juice, and garlic together and dressing is done! It's bright, slightly sweet, and isn't heavy at all. Just don't you dare go smelling your fish sauce or you'll have second thoughts about using it.
Once the noodles are cooked, just toss them with the dressing, veggies, some fresh herbs, and your protein. We need to chat about the herbs for a moment, because they really help make this dish. The recipe encourages you to use basil, mint, AND cilantro and I 100% agree with this. They work so well together, and the mint adds this delicious, clean flavor. The herbs get minced and tossed into the noodles and you'll find that they brighten up each bite you take. Then top with chopped peanuts and half of a sliced avocado and you're ready to eat.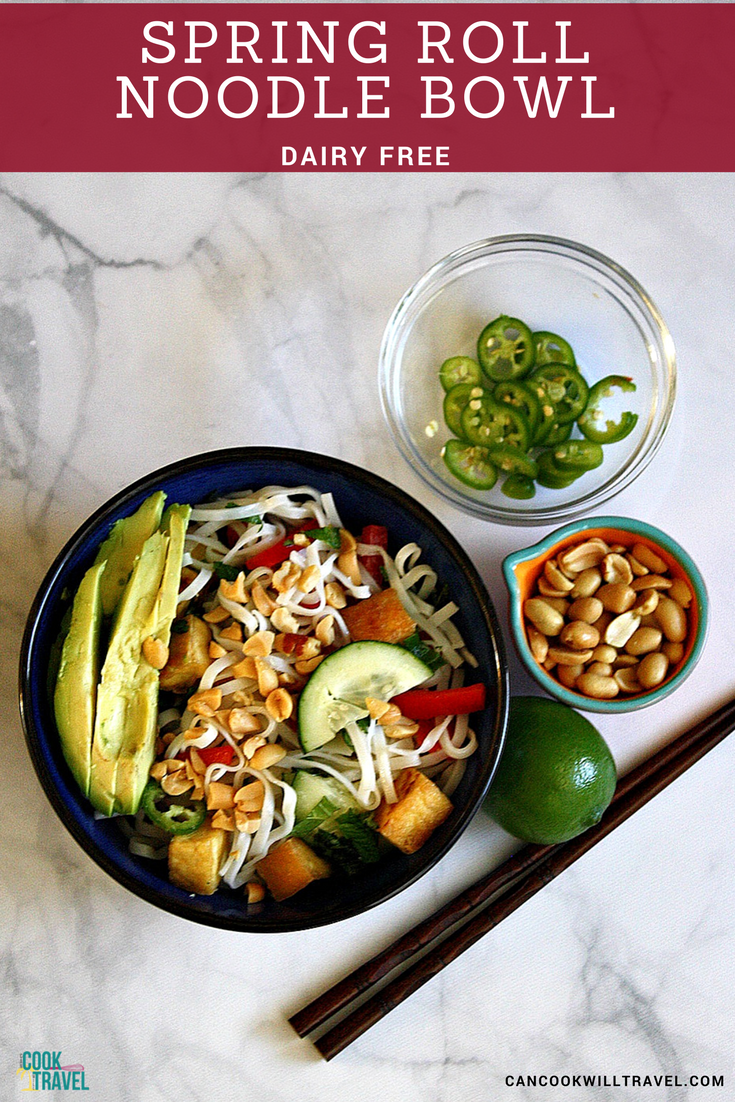 I love the crunch of the veggies, added texture from the tofu and some chopped peanuts. The noodles have such wonderful bite to them, and the dressing and fresh herbs take it over the edge and wake up the dish. With a little creaminess from the avocados, this dish is really well balanced. Now if you want a little heat, definitely add in a few slices of serrano pepper, but you can leave it out if you want. Or I think a jalapeño pepper would be great too.
I couldn't be happier with how delicious this Spring Roll Noodle Bowl recipe is. It's fast and easy to make, and bright and fresh. I know I'll be making this one for a good portion of this year, because it's exciting and delicious and perfect for beating the heat.
So run, don't walk, to the grocery store and pick up everything you need for a Spring Roll Noodle Bowl of your very own. Click that link for the recipe and step by step instructions. You won't regret it!
A look back:
One year ago: Irish Nachos – Just in Time for St. Patty's Day!
Two years ago: Carrot Cake Oatmeal Cookies = Healthy Cookies in No Time
Three years ago: Baked Avocados Are So Cool!!
Four years ago: Irish Coffee Brownies – A Very Happy St. Patrick's Day!
Five years ago: Spaghetti Squash is so Cool!
Six years ago: Happy St. Patrick's Day! Bring on the Guinness!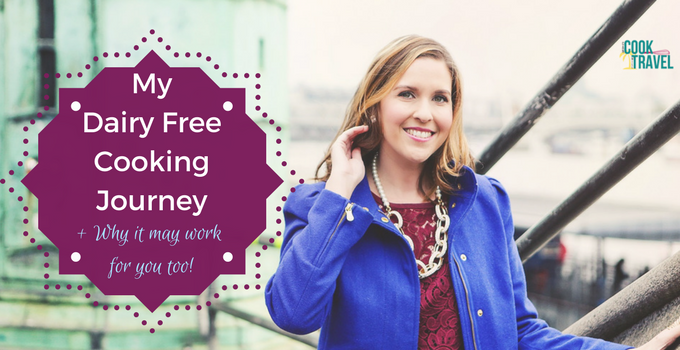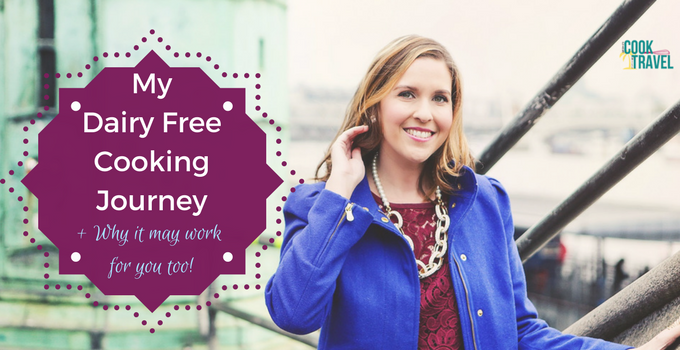 If you've been following me this year here at Can Cook, Will Travel, you've probably noticed me talking about a common theme: Dairy Free Cooking. If you know me at all, then dairy free cooking probably would surprise you . . . because it sure did me! After all, I'm a cheese-aholic. I mean you…
Filed Under: Cooking, Every Day Things, Weekly Crush Tagged With: Dairy Free, Dairy Free Cooking, Healthy