It's been a busy week. My mom had her second knee replacement surgery a week ago, so there were a few days of hospital time and then adjusting when we got home. So this week I was looking for a quick meal that produced lots of leftovers but was something I didn't mind eating on for a bit…that usually means pasta. (Hey, I'm just keeping it real, okay?) I saw this recipe for Creamy Broccoli Pasta over on the site A Beautiful Mess, and I was intrigued.
First off, if you aren't familiar with the site A Beautiful Mess, well maybe you should be. It's chock full of DIY, crafy projects, recipes, decorating & style tips…ladies come check this site out. Two sisters who have a lot of fun sharing cool ideas…that's for sure. And I hadn't made anything recipes off of their blog before, so now seemed like a perfect time.
What really drew me to this recipe was the fact that almost all of the ingredients were easy to find. When you live in a small town, all of the ingredients I'm used to finding are scarce (to put it mildly). And venturing out to the big city wasn't an option this week, so easy to find ingredients were a must. The only thing I couldn't get my hands on was fresh basil, because well this frozen tundra we call the Midwest certainly killed any fresh basil we had. So I opted for freeze-dried basil and it worked great. It's all about making stuff work for you while still being as true to the flavors as you can.
Did I mention this dish was easy? Cuz it was…love that! Just cook some broccoli so that it can be mashed by a fork. I cooked mine in a steamer in the microwave. Then cook linguine or fettuccini according to the package. As the pasta cooks, blend the cooked broccoli, garlic cloves, and basil in a blender until it's well pureed. Then in a large sauce pan add the broccoli mixture along with 2 egg yolks, and heavy cream. Then add the cooked pasta right to the pan along with some grated Parmesan cheese. Toss it all together and you're all done.
I could eat this pasta as a meal, but if you must have meat, then that's cool too. I think it'd be awesome with shrimp or chicken mixed in it or on top. Yum! I'm definitely going the shrimp route next time. I also have been eating my leftover pasta alongside some chicken nuggets, which has been quite delightful!
Plus with the broccoli pureed and a sauce made from it, it's a great way to get a bit sneaky. Those broccoli haters in your life may just get tricked into liking it after all.
I can't wait for you to try this one out. Just click here for the recipe and step by step instructions. Enjoy!!
A look back:
One year ago: Breaking Tradition with Sausage, Spinach and Feta Cheese
Two years ago: Apple Cranberry Pie…Happy Thanksgiving to Me!
Three years ago: Mini Apple Pies Are Something to be Thankful For
Good golly it is incredibly cold right now in the Midwest. You gotta wonder what happened to Fall when it is in the 70s on Monday and in the twentys and teens the rest of the week. Sorry Fall, it seems like we've missed you already! So when it gets cold, I'm know I'm not alone in wanting to crawl under a blanket with a big cup of coffee or tea and some comfort food. Few things beat the cold when the kitchen is warm and smells so good. So one of my favorite comfort food snacks are muffins. They are so good, and I'd been itching to try these Chia Seed Blueberry Muffins that I found on the Pop Sugar website.
I know we've discussed how great chia seeds are for you before. I love throwing them in a big pitcher of water too for added goodness and do that nearly every day. Chia seeds are so great in baked goods. My mom has been sneaking them into cakes and muffins for a few years now, so I was excited to do the same.
This recipe is pretty darned guilt-free too. There is a gluten-free option you'll find in my recipe post, but I didn't have gluten-free flour and don't have a gluten allergy, so I just stuck with all-purpose flour, which worked great. It's kept moist with sweet potato puree (you can buy a can of this or I just baked a couple and then pureed them in the blender with a little water until they were fairly smooth) and unsweetened applesauce. There isn't any sugar in the recipe either. Just 1/2 cup of either agave syrup or honey, whichever you'd choose.
Flavors are brightened with the addition of some lemon juice and lemon zest and a little traditional vanilla flavor too. I think next time I'll throw in a pinch of cinnamon, because why not? It's great for you and is such a comforting, warm flavor.
Finally you will need blueberries. Now fresh blueberries are either impossible to find or pretty expensive this time of year, so I just grabbed a bag of frozen blueberries as I figured they'd been almost as good. They really weren't too bad either. Just rinse them and drain them really well. I was rushing and mine were still slightly frozen, but it all worked out in the end.
While these aren't as decadent as traditional muffins, they sure make me feel better about grabbing them as a snack or for breakfast. I love how light and fluffy they are. They did stick to the paper liner, so for round 2 I think I'll liberally spray my muffin pan and bake them without a liner.
Next time you're looking for a healthy treat that will still hit the spot, be sure to click here for the recipe and step by step instructions.
A look back:
One year ago: Smashed Sweet Potatoes Never Tasted So Good
Two years ago: Ka Pow! It's King Pao Chicken!
Three years ago: Monkey Bread!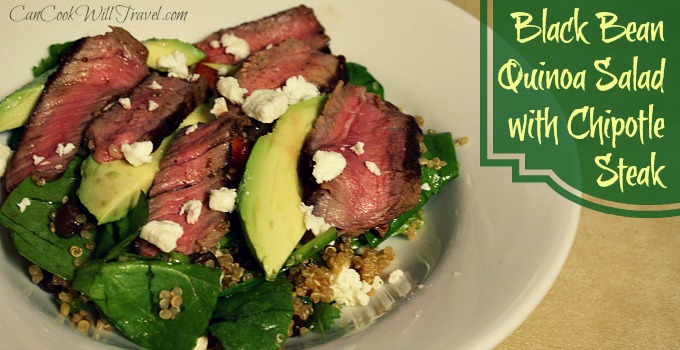 It's been WAY too long since I did a salad post. But let me tell you, this one is worth the wait. I have been eating rather unhealthy lately, but in my defense I've traveled a lot and it's all about portion control really. But in an effort to clean up my act a bit,…
Filed Under: Main Dish, Salad Tagged With: Feta, Quinoa, Spinach, Steak