By Kelli Wallace Leave a Comment
I love carbs. Bread and pasta, I'm talking to you. I can't help it! But I've been wanting to try my hand at spring rolls for a while now. My good friend Rebecca has a gluten allergy, and she's made them for me a few times now. I've always thought I should do something with rice paper and now seemed like a great time to whip up these BLT Avocado Spring Rolls.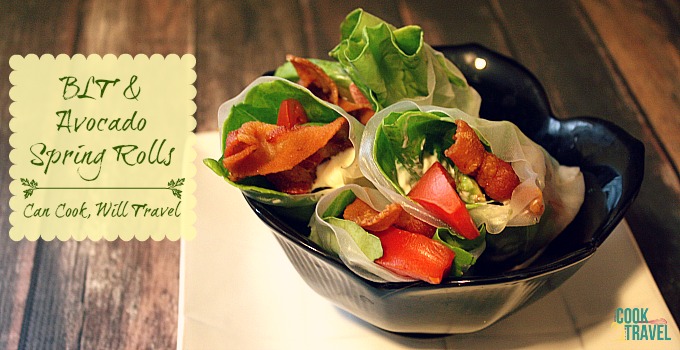 Here's the thing. When I think of Summer, certain foods pop into my head: Fresh basil, fresh tomatoes, and BLTs are at the top of the list. With fresh tomatoes in season, my family (being the former hog farmers that we are) love a good BLT!
I'm picky about my BLTs. I know what I like. I actually like a good bacon and tomato sandwich. Forget the lettuce. And I enjoy eating mine with a bit of mayo and jalapeño Tabasco sauce.
But I was intrigued by this BLT Avocado Spring Rolls idea from the blog Avocado Pesto. After all, while I like bread, it likes me a little too well, if you know what I'm saying. So swapping it with rice paper seemed too interesting not to try.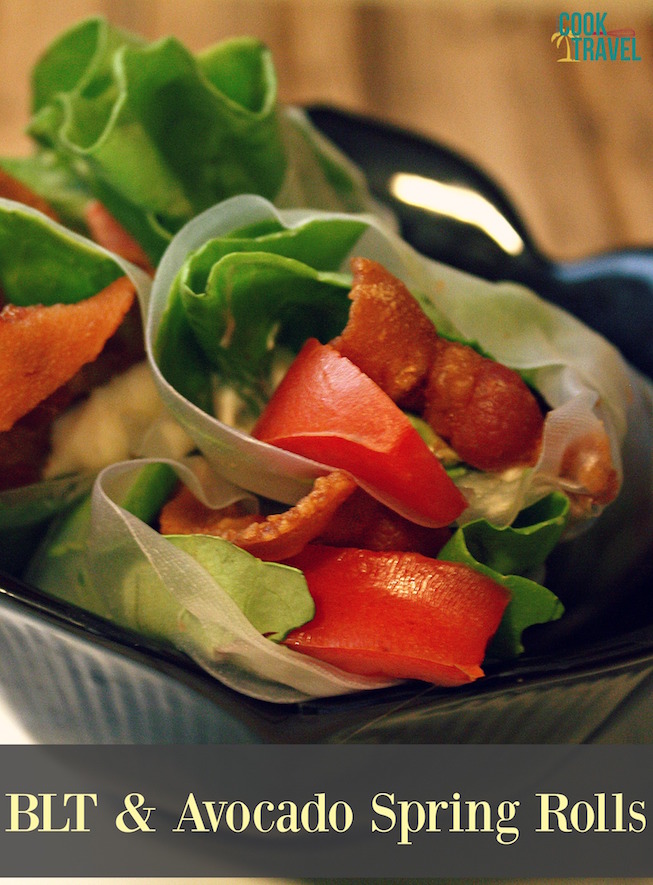 Here's the scoop: If you're new to making spring rolls, there is a bit of an art to it that I'm still trying to master. It's a balance of letting the wrapper soak just long enough, being careful it doesn't rip, and also wrapping the rolls tight enough that they hold together. But I actually found making them to be pretty fun once I got over the initial intimidation of "how the h*ll do I do this?".
Simply cook your bacon (I used my brand new NuWave that I love!), and as it's cooking, slice a tomato and avocado. Clean off your lettuce leaves. I'd go with a pretty soft lettuce like butter or bib lettuce. I used bib lettuce and the leaves were not huge, so I used 2-3 leaves per roll.
Here's the layering order I went in. Once the wrapper is soft, lay it on a large plate. Then down the center lay 2-3 lettuce leaves. I found that if I spread the mayo on the lettuce and then put the leaves down that it was less messy and I probably used less mayo. (I also was super sneaky and added some jalapeño tabasco to my mayo to add a nice heat.)
Then lay a few tomato slices and avocado slices down. You'll use about a quarter of a tomato and avocado per roll. Two rolls is a serving, so since I was experimenting on just me, I cut the recipe in half. Plus it gave me a great chance to make these BLT Avocado Spring Rolls the next day and get some more wrapping practice in. Top the veggies with 2 slices of bacon.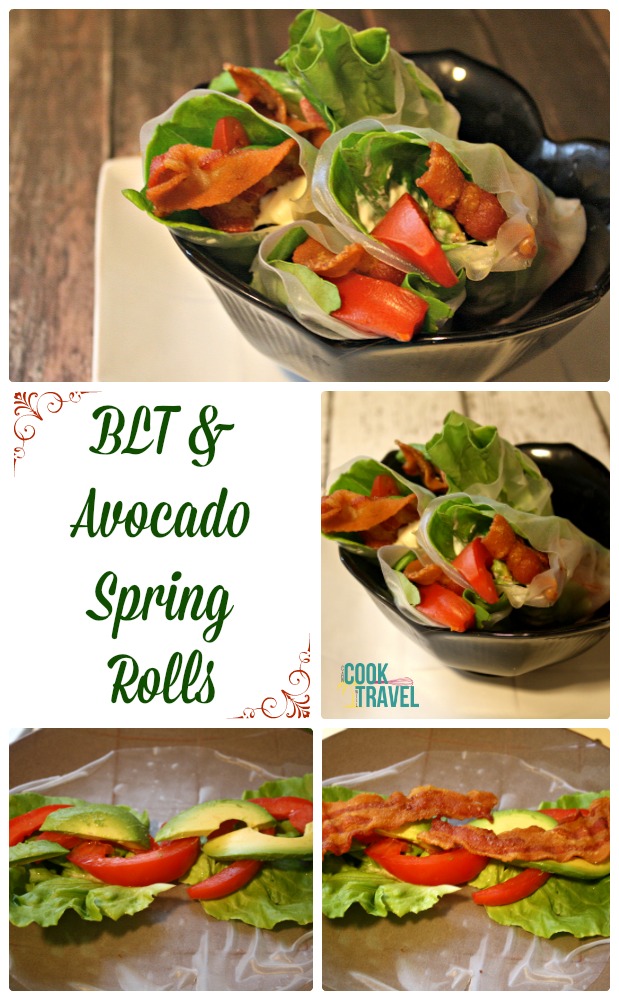 Then comes the wrapping. The wrappers are very delicate, so you have to gently but tightly fold one end over the filling and give it a bit of a turn so that you squish the filling together for a tighter roll. This recipe comes from Vicky at the site Avocado Pesto, and I like her idea of leaving the ends of the rolls open. I think it allows you to have more of a filling, plus the rolls are a bit larger. So that's the route I went, and I'm glad I did. Then just cut your rolls down the middle once they're done, and dig in.
These BLT Avocado Spring Rolls are messy, but they are super tasty. And I will happily admit that I got all of the BLT taste I love without missing the bread at all. No joke! You've got the smokey bacon, fresh tomatoes and creamy avocado giving you lots of great textures. The mayo (and bit of heat) adds a little flavor and binding. And it's all wrapped in a rice paper wrapper that suddenly makes this one interesting BLT!
If you've been wanting to enjoy BLTs with a little less guilt, or maybe you're like me and wanted to try out this whole spring roll thing, then this BLT Avocado Spring Rolls recipe is for you. Be sure to click the link for the recipe and step by step instructions!
A look back:
One year ago: Peanut Butter Mug Cake = A Healthy, Fun Dessert
Two years ago: Creamy Pesto Chicken Tortellini Saves the Day!
Three years ago: Learning to Love Salads – Part 14: Greek Tortellini Salad
Four years ago: Couscous with Flavor…I Can't Believe It!
Five years ago: Beets. They're What's for Dinner (This Week)
By Kelli Wallace Leave a Comment
I've loved to cook and be in the kitchen as long as I can remember. From being a tiny kid and helping stir (which I still love to do) to learning to master the art of a béchamel sauce at about 6 years old, I always knew that cooking would be an important part of my life. I learned at a young age which kitchen basics are important to have on hand.
When I finally started "adult-ing" and had my very own place, my first priority was my kitchen.  (Forget the bed or chairs!) I am lucky to have a mom that has tons of kitchen stuff, so I got a lot of her hand me downs until I could afford to purchase some newer versions. But one thing I knew early on was that you had to have certain kitchen basics to be a success in the kitchen.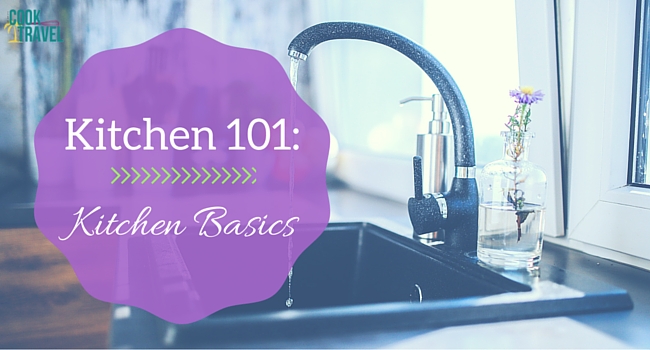 So I thought this would be a fun post to highlight my favorite kitchen basics. I consider these things to be the items that you need to stock your kitchen with to cook with ease and confidence. After all, having the basic equipment is half the battle when it comes to becoming a culinary rockstar.
Here are my favorite kitchen basics that are must-haves in your kitchen:
Pots & Pans

When I first started cooking, my pots and pans were totally mismatching and you know what . . . that was fine. So long as you have the basics, you'll be just fine. Over time you can buy a matching set. Heck even now a lot of my pots and pans don't match, but they are really good quality, which is what's important.
So long as you have the following assortment of pots and pans, your cooking adventures will be a success:
Small saucepan
Medium saucepan
Large Saucepan
Dutch Oven (basically a large pot with a lid that is oven safe). Mine is one from Sam's Club and is really reasonably priced.
Nonstick skillets of varying sizes and if they have lids and are oven safe, that's even better!
Stock Pot for cooking large batches of pasta, making soups, and stocks.
Measuring Tools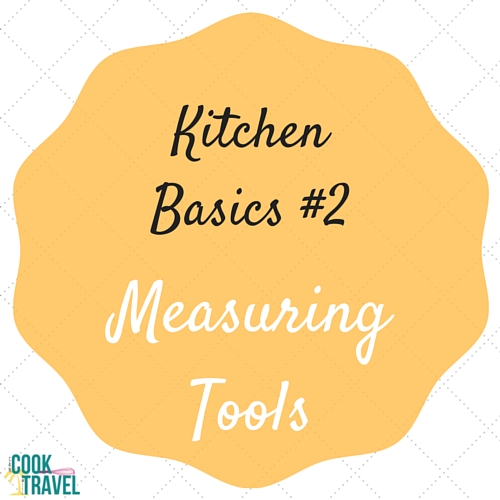 Whether you're cooking or baking, it's important to have accurate measurements of ingredients. As you cook, a lot of things can be eye-balled. But baking is a whole different story where measurements are critical. So you need measuring spoons and cups that are easy to use and come in several different measurements.
Pro tip: Try to get some with the writing imprinted in it that will hold up to washing so the measurements don't wash off.
Kitchen Scales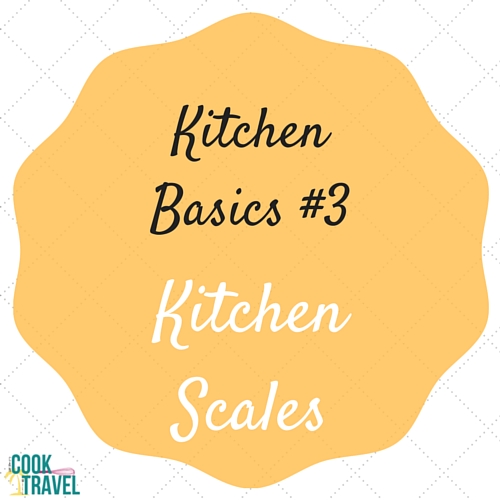 This one goes hand in hand with measuring tools. Often you'll find that rather than listing weights in 1/4 cup or 1 cup measurements, recipes will instead list ingredients in ounces or grams. Having a decent set of kitchen scales is insanely handy. It doesn't have to be a really expensive set of scales, and they last a really long time. I use my kitchen scales way more than I ever thought I would.
Ruler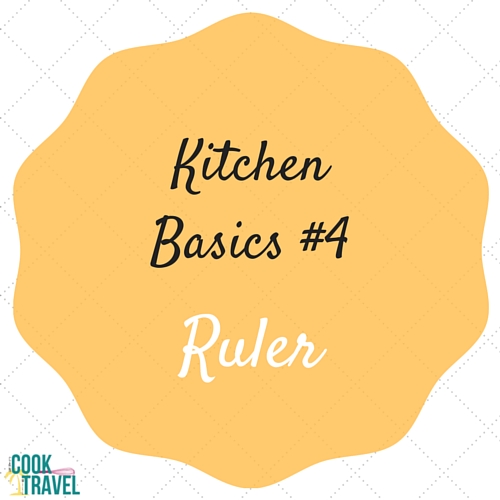 Seems weird for me to put a ruler on my list, doesn't it? Well, when you're baking and cooking it is often really handy to have a ruler. I use mine if I'm trying to form a pizza, pie crust, or dough for scones to be a certain size in diameter. It's also great it you're needing to cut veggies or cookies in uniform slices, or if you need a certain thickness of scones (I like scones a lot!) a ruler is key. So go to the office supply section of your store and pick up a cheap ruler to keep in a drawer.
Mixing Bowls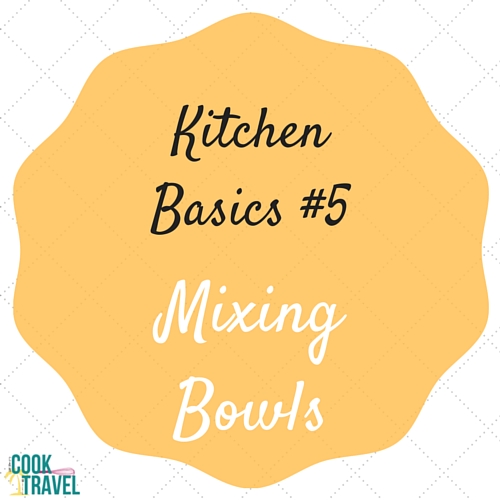 I probably have more mixing bowls than you can actually imagine, but funny enough . . . I use them all on a regular basis. I prefer the nesting bowls so that you get lots of different sized bowls that fit together for easy storage. I have collected a few glass nesting bowl sets, a melamine set (really durable plastic), and a small set of nesting bowls (to hold prepped ingredients) over the years and they're all very, very handy!
Utensil Holder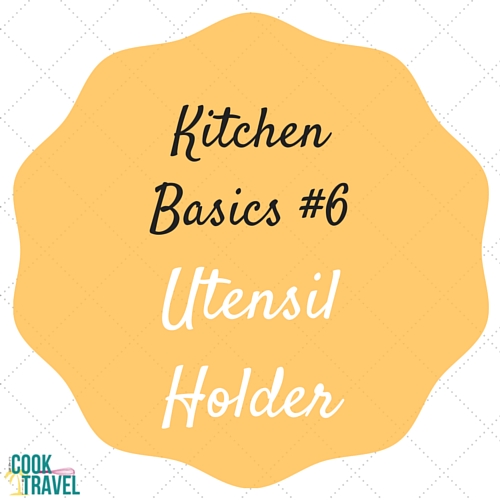 If you don't want to rummage through drawers looking for the spoon or spatula you need that moment, a utensil holder is a must. My first utensil holder was a pretty hideous number from a cheap kitchen set at Target when I first went out on my own.
Since then I've found a really cool wooden and metal one that I love. When you can get a utensil holder that fits your personal style, it really enhances the look of your kitchen. After all, utensil holders tend to sit out on your counter, so you want it to reflect your style. I keep mine by the stove so I can quickly grab whatever tool I need in 2 seconds.
Knife Block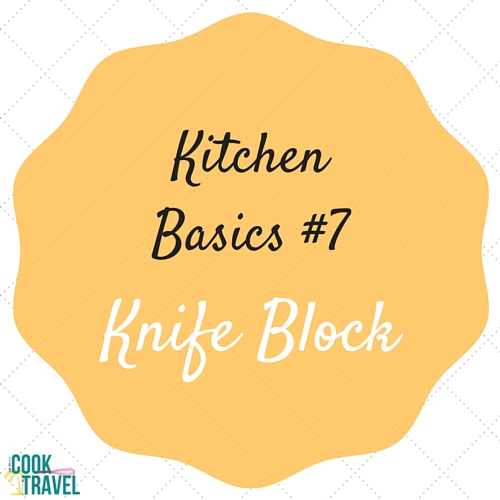 Can I make a confession? It's time for me to get a new knife block. I've worn mine out, but I really love it so I'm having a hard time caving in and buying a new one. A lot of times you'll get a knife block that goes with a knife set you might have.
But if you're like me and you have a mismatch of knives that are either hand me downs (thanks Mom!) or are ones you've collected over the years (like great Santoku knives), not all of your knives fit in the holder. The last thing you want is knives lying about in a drawer unprotected both for your sake and the lifespan of your knives. So when you buy a knife block, grab one that will hold a ton of knives of various sizes. My favorite is my Kapoosh knife block that let's you fit whatever knives you want in it. Crazy handy and fun!
Plus there are so a crazy amount of knife blocks out there, so you can get really creative and find one that fits your style. Seriously I had no idea how many cool styles there are!
Baking Dishes & Baking Sheets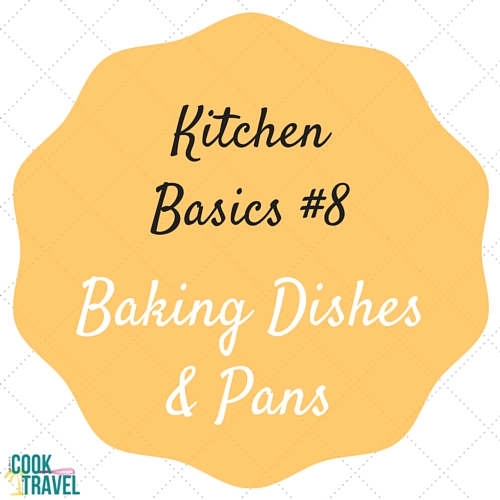 I love cooking and baking, and both require that you have baking dishes on hand. So whether you're making a casserole, baking a fruit crumble, or whipping up your favorite cake, you must have decent baking dishes.
And if you find yourself roasting vegetables, baking cookies, making homemade granola, baking chicken or fish, and so on, then baking sheets are critical. I use mine a ton and often find myself finding lots of new uses for my baking sheets. Sometimes if I have a full casserole or dessert baking, I'll put it on a baking sheet or put the baking sheet on the oven rack below whatever is baking in case it boils over. That way I'm not making a huge mess in the oven.
Here are a few dishes and baking sheets I highly recommend having at least one of:
8×8-inch glass dish
9×9-inch glass dish
9×13-inch baking dish
Large casserole dish or lasagna pan
Jelly pan or baking sheet with edges
Cookie sheets that typically only have 1 edge so it's easy to take up the cookies.
Wire Cooling Rack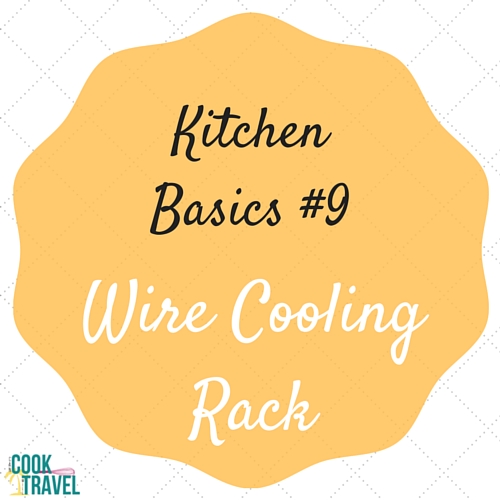 You don't hear much about the necessity of having a good cooling rack, but it's really important. I prefer the kind that looks like a grid (like this one), so that my cookies don't fall through the cracks when they cool. They are also really useful for cooling casseroles, desserts, and baked goods pretty quickly so that air can circulate around better.
I've also been known to use a baking sheet with a Silpat over it and then a wire rack on top and bake bacon, chicken, and fish in the oven with this method to help drain excess fat or allow all sides of the meat to cook more evenly and quickly.
Colander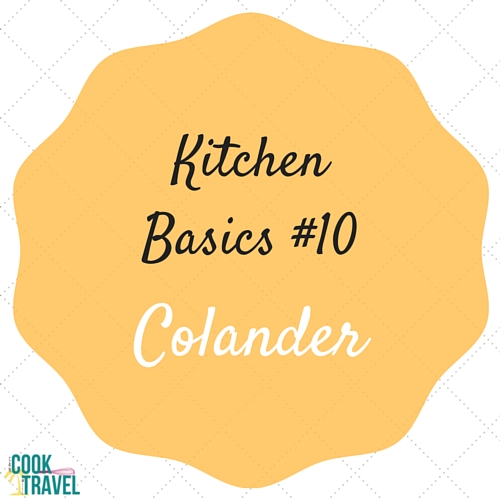 Last but certainly not least is the colander. I use mine for draining pasta and rinsing fruit and veggies. I have one I love that collapses so that it stores flat. It's made of silicone so it also cleans really easily.
You might consider getting 1-3 colanders of varying sizes. I like a small colander for rinsing berries. If you have a couple of colanders on hand, it'll also let you multi-task a bit more so that you can drain multiple veggies at once or have one draining pasta while you rinse off a veggie you need for the same meal.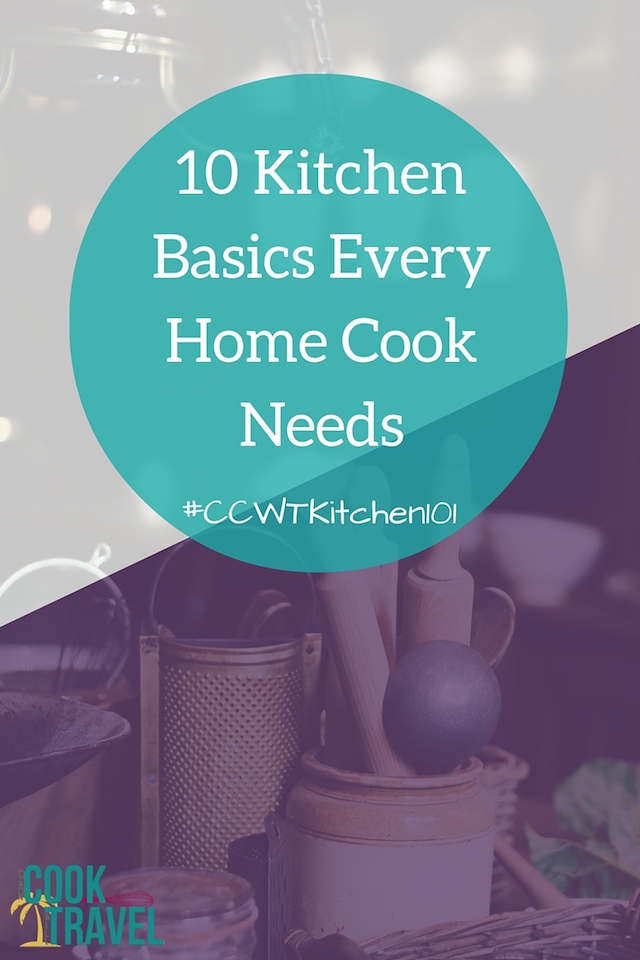 So there you go. Those are my kitchen basics that I know will help you become a total badass in the kitchen! And don't get overwhelmed by this list. If you're still working on building your kitchen basics, then get cheaper versions to use until you can start replacing them with better quality items.
Depending on what you're looking for and what your budget is, I love the following stores when I'm shopping for my kitchen basics:
What are your favorite kitchen basics and what are the products that you still need to add to your kitchen? Comment below and let's chat!
Stay inspired & get in the kitchen!
~Kelli