By Kelli Wallace Leave a Comment
Alright, so you know how I've been eating dairy free pretty much this whole year, right? Well it's truthfully been a lot easier than I expected it to be. With the exception of cheese and ice cream, because those are two of my favorite cravings.
So what's a girl to do? Well I've found some substitutions for cheese in the form of almond or coconut based alternatives out there. But ice cream is a bit more tricky! Yes there are definitely options out there, and those options are growing. And so far my favorite is the non-dairy Ben & Jerry's variety, but Lord have mercy on me! The texture is perfect and just a scoop is the best sweet treat. But there's a lot of sugar in there, my friend.
Sugar is something I've been trying to watch for about a decade, because diabetes runs in my family. So I have diligently kept an eye on my sugar count whenever I possibly can. But if I wanted dairy free ice cream, then I could have a no sugar added kind or the above Ben & Jerry's. Honestly that no sugar added is a great option, but it's not the creamiest in the world. That's what makes the Ben & Jerry's kind so freaking good, but the sugar content means I can't eat it very often.
So I had to come up with my own recipe, so that I could control the added sugar. And probably 4 or 5 years ago, my mom told me about how you can freeze bananas and then turn them into ice cream. Oh holy cow was it delicious, so I knew that they would be how I'd experiment with my own version of non dairy ice cream.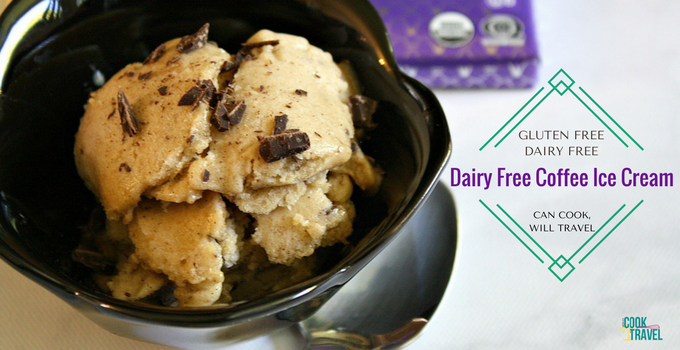 My favorite ice cream always has coffee in it, so I wanted coffee and I wanted chocolate. Those were my only requirements. So off I went to freeze some bananas. The more frozen, the creamier the ice cream, so I froze mine overnight.
I used my food processor and blended the frozen bananas, a little coffee, some honey, cinnamon (cuz it's good for you), and vanilla bean paste. A note on the coffee, is that I used some that I drink every morning, which is just a K-cup of either caramel vanilla cream or some sort of flavor. This round it was a Vanilla Bean Creme Brûlée coffee I had, and it worked perfectly.
You could stop there, or get crazy and add in chocolate. Once the ice cream is blended, transfer it to a bowl and fold in a couple of squares of your favorite dark chocolate. I love the Trader Joe's 73% cacao dark chocolate for an option that only has traces of milk in it, because I can live with that. However if you're super sensitive to dairy, you can skip the chocolate. Freeze the ice cream for at least 2 hours or until it's pretty frozen.
A tip here is that I waited until the next day to try mine, so I'm thinking it'd be even better if I'd enjoyed it about 2-4 hours in the freezer. That way it would have been a bit creamier, however the finished product was seriously so good! I love knowing exactly what's going in my food and choosing high quality ingredients, which meant that a serving is only 10 grams of sugar!!
So if you're a total ice cream lover like me, and you want a non dairy version that is delicious this recipe is for you! Click that link for the recipe and step by step instructions! Happy ice cream eating!
A look back:
One year ago: Healthy Sweet and Sour Chicken is Fab!
Two years ago: Sticky Honey Lemon Ginger Chicken = One Light, Bright Dinner!
Three years ago: Crock Pot to the Rescue with Honey Sesame Chicken
Four years ago: Learning to Love Salads – Part 12: Tuna Pasta Salad
Five years ago: Creamy Avocado Pasta…My New Favorite Pasta Dish
Six years ago: The Deliciousness that is Israeli Couscous
By Kelli Wallace Leave a Comment
Turmeric is an ingredient I've been using a fair amount lately, and I realized it's been a while since I've talked about it here. One of my most popular posts in the past couple of years is for a Turmeric Shot, so it seemed like maybe you were jumping on the turmeric craze too. Once I made this Tropical Turmeric Chia Smoothie, I knew it was time to talk turmeric again.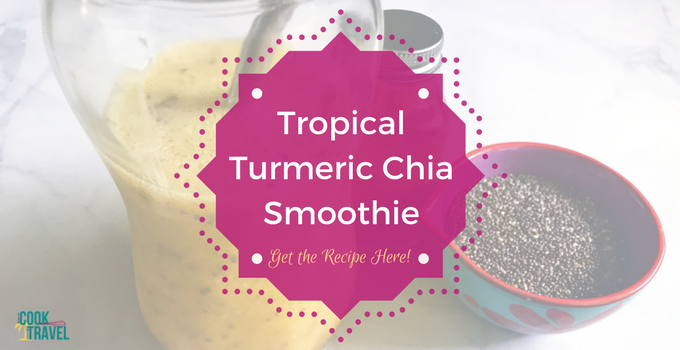 One thing to keep in mind when working with this spice is that it will stain if you don't clean your cooking utensils and equipment quickly. I prefer to use glass for anything it'll be in for a while.
Before we get to the Tropical Turmeric Chia Smoothie, let's catch up on turmeric for a moment. It's great to cook with, add to drinks, even create some DIY products for your skin. But not only that, it has TONS of great benefits for you.

Why Turmeric?
Turmeric seems to be a bit of a trend these days. But for good reason! Turns out this spice has some serious benefits thanks to curcumin, which is found in turmeric. Here's a brief rundown of a few health benefits:
Natural Anti-Inflammatory: Turmeric contains curcumin, which is a super powerful anti-inflammatory substance.
Antioxidant Power: The curcumin in turmeric offers two ways to kick free radicals to the curb. First, curcumin blocks free radicals on its own, then it stimulates the antioxidant mechanisms in the body itself. Pretty cool!
Increases Brain Function: This fact makes me want to start eating a lot more turmeric! It is capable of increasing levels of BDNF (Brain-Derived Neurotrophic Factor), which when these levels decrease can be linked to depression and Alzheimer's. Plus it could help improve your memory…where do I sign up?!
Lower The Risk of Heart Disease: Heart disease is a serious issue for a lot of the world, and curcumin (found in turmeric) can reverse several steps in the heart disease process. Score!
Prevents (And Maybe Even Treats) Cancer!: Okay I don't hate much, but I HATE cancer. It has stolen some of my favorite people from the world, so I am all for finding ways to avoid cancer. I am not going to go into all the technical details, but curcumin can actually reduce the growth of tumors and spread of cancer and can even contribute to killing cancerous cells.
Can you believe there are even more benefits of turmeric than what I listed above? To get a full list, and see more info on the above benefits and my source, click this link.

Tropical Turmeric Chia Smoothie
While I love cooking with turmeric, I really have enjoyed it in drinks. Being able to drink turmeric is a fast way to get the benefits of this fabulous spice. So we have the Turmeric shot, which has some tang but is effective. There are also ways to drink it in warm almond milk, which has been great.
However right now the temperatures are heating up, so I was ready for more of a turmeric smoothie, which is where this Tropical Turmeric Chia Smoothie came in. Two things I learned from this month's Cookbook Love feature are that papaya and turmeric are great for your skin. Papaya provides a great source of Vitamins A & C plus potassium, folate, and fiber. Turmeric is anti-inflammatory and both ingredients are great for helping with digestion.
They seemed like a natural combo for a drink, and I love mango in smoothies for a tropical touch. I can't wait for you to try this refreshing Tropical Turmeric Chia Smoothie, and a bonus is you get the advantages of chia seeds. These seeds are packed with omega 3's, along with fiber, iron, calcium, and antioxidants. This is one powerfully packed drink right here!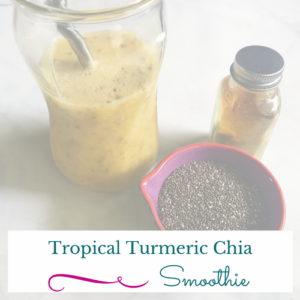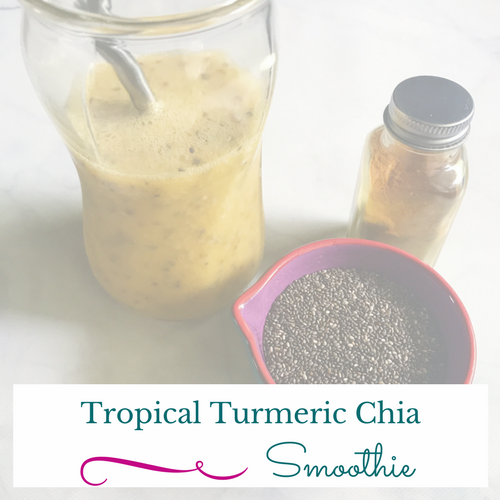 Print
Tropical Turmeric Chia Smoothies
Author Kelli
Yield 1 smoothie
This smoothie is packed with good for you ingredients like turmeric, chia seeds, and papaya!
Ingredients
Smoothie Ingredients:
6 oz Coconut Water
1/2 Lime
1 tsp Turmeric
1/4 cup Papaya, frozen
1/4 cup Mango, frozen
2 tsp. Chia Seeds
Instructions
Add all ingredients EXCEPT chia seeds to your blender.
Blend until the mixture is smooth.
Transfer to a glass and stir in the chia seeds. Let smoothie sit for a couple of minutes to allow the chia seeds to thicken the smoothie slightly. Then enjoy!
Courses Snack
Cuisine Healthy
Nutrition Facts
Serving Size 1 smoothie
Amount Per Serving

Calories 143

% Daily Value

Total Fat 2 g

3%

Unsaturated Fat 2 g

Sodium 122 mg

5%

Total Carbohydrates 26 g

9%

Dietary Fiber 5 g

20%

Sugars 17 g

Protein 3 g

6%
* Percent Daily Values are based on a 2,000 calorie diet. Your daily values may be higher or lower depending on your calorie needs.
These days I tend to keep all of the above ingredients on hand, so this Tropical Turmeric Chia Smoothie is a cinch to whip up. And it is by far the most refreshing way to enjoy turmeric, in my opinion.

Favorite Ways to Use Turmeric:
Are you ready to find some great uses for turmeric now? I know I was, so here are some of my favorite uses for this awesome spice.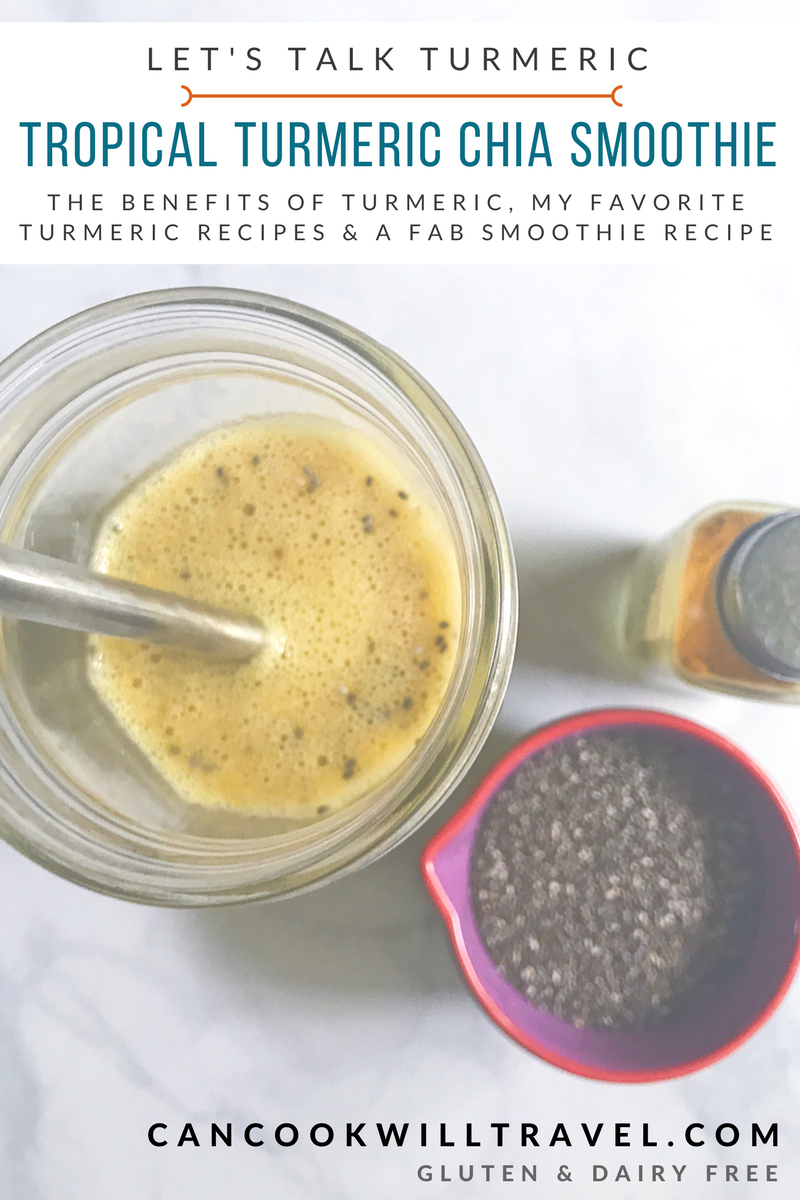 I think we've covered a ton on the turmeric front today, don't you?! From all the reasons you need to start incorporating more turmeric in your daily life to TONS of recipes, definitely pin this post for future reference. I know I will be!
Have you used turmeric much? What's your favorite way to incorporate this powerful spice? Comment below, because I'd love to know!
Stay inspired & eat more turmeric!
~Kelli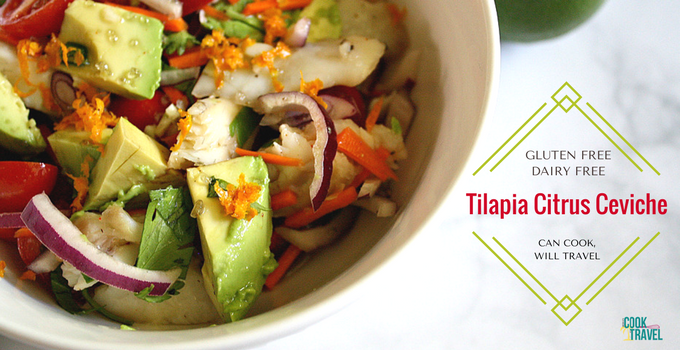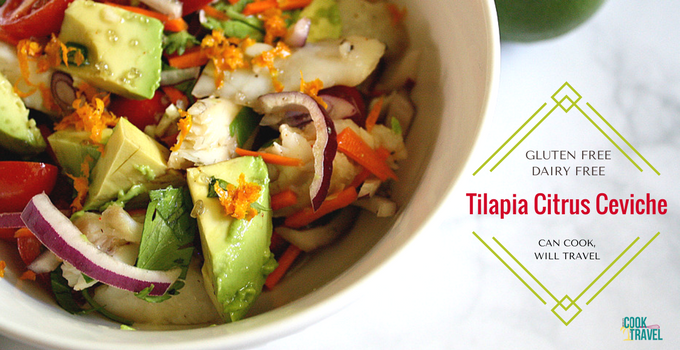 This week I was craving a healthy meal and suddenly ceviche popped into my head. I hadn't had it in ages, but it's always something that makes me think of my mom, and how fitting since it's Mother's Day month. She loves ceviche, and once it was on my head I knew I had to…
Filed Under: Dairy Free, Healthy, Main Dish, Salad Tagged With: Avocado, Carrots, Cilantro, Lemon, Lime, Oranges, Red Onion, Tilapia, Tilapia Citrus Ceviche, Tomatoes