By Kelli Wallace Leave a Comment
Somehow next week is Cinco de Mayo, but I'm not quite sure how that happened. I mean one minute it's January and now May is practically here. And I started realizing that I really needed to whip up something Cinco de Mayo-worthy this week, because I haven't done much Mexican cooking lately. And that's exactly where this Healthy Tostada recipe comes in.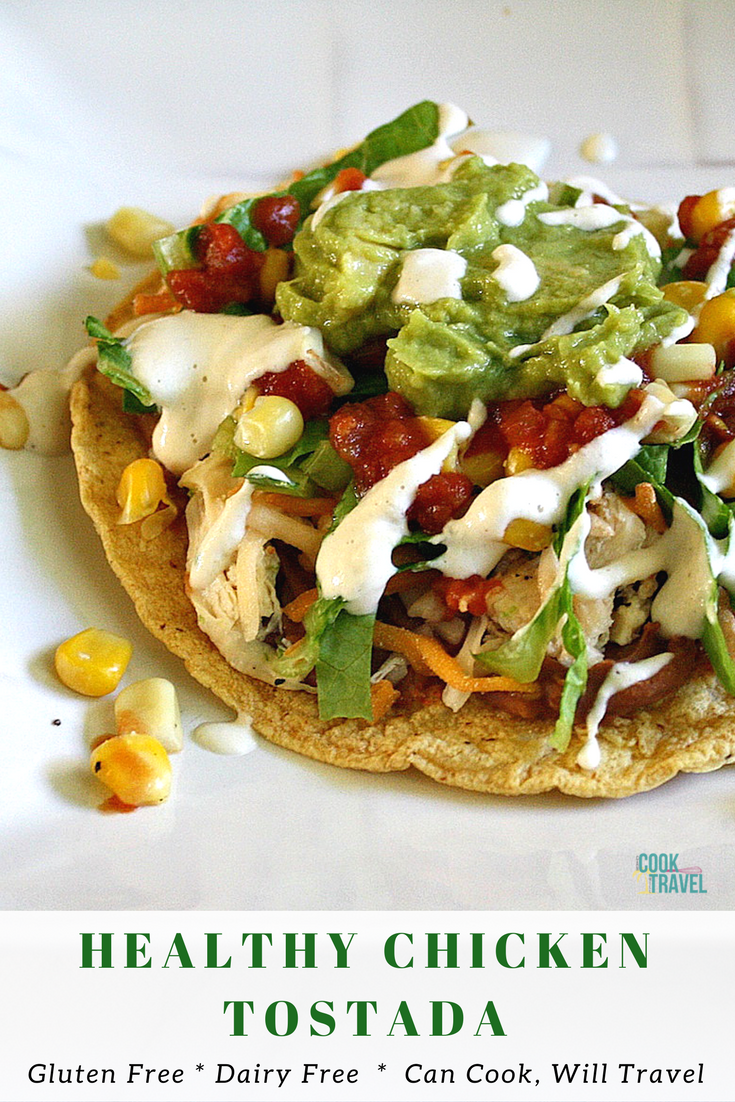 In my adventure of cooking and eating dairy free this year, I've steered clear of cooking anything Mexican or Tex-Mex. It all just screams "Smother me in cheese!" although authentic Mexican cuisine definitely isn't like that. So I'll be exploring those flavors more in the future. But I'd been wanting to make a Tostada for a while now, so it seemed like the perfect time.
Tostadas are usually created on a fried tortilla, which immediately makes it less healthy. So my first big hurtle was to figure out if I could bake a corn tortilla and get it crispy enough. Well thanks to my NuWave oven, the answer was a giant YES! I had to get a bit inventive since it's basically a countertop convection oven, and circulates a lot air. Tortilla #1 was flying around the little oven, so that clearly was a failure. That's when it was time to get inventive, and I grabbed a ramekin to weigh down an edge of the tortilla. #Genius Worked like a charm, and it gave me perfectly crispy tortillas without any oil!
Another challenge was the dairy factor in tostadas. Cheese and sour cream are definitely a normal topping for a tostada. I could omit them and just pretend they weren't there or else figure out dairy free options. I opted for the latter. For the shredded cheese, I went with a cheese blend that was dairy free from Trader Joe's and it was pretty good. It wasn't super flavorful but it still gave a little nod to cheese, which was fine.
As for the sour cream or Mexican crema, well I decided to make my own version. Oh. Holy. Moly. Even if you eat dairy with every meal, you still MUST make this sauce. I'm literally excited to eat right now just so I can find ways to use it before it goes bad. Let's talk about how to make it first.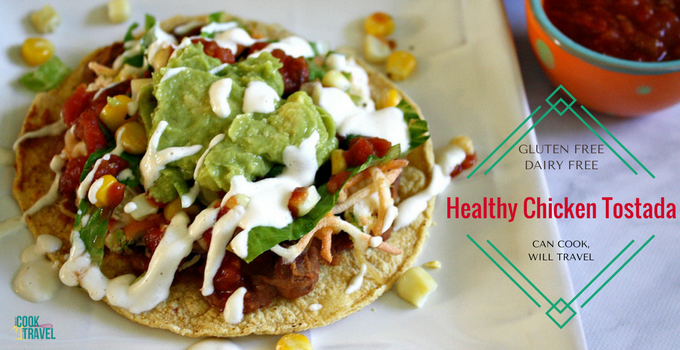 Soak some cashews in warm water for about 20 minutes and drain and rinse them. You'll especially want to do this if you don't have a high speed blender, or you could use a food processor. Then just blend up the cashews with some coconut water, garlic, and a little salt until it's smooth. You could just stop right there, but I was curious about what else I could do. In my mind, everything is better with either lime or basil (within reason), so I zested half a lime and stirred that into the finished crema and dear God it's magical!
So you'll bake your tortillas until they're crispy. I found that with the NuWave, 6 minutes flipping them 3 times was perfect, and then I heated up some refried beans. Spread the beans over the top of the crispy corn tortilla, add some shredded chicken that I'd tossed with lime zest as well, and then top with your remaining ingredients. That includes some faux cheese, romaine lettuce, corn, salsa, guacamole, and then finally drizzle that glorious Mexican Lime Crema over the top.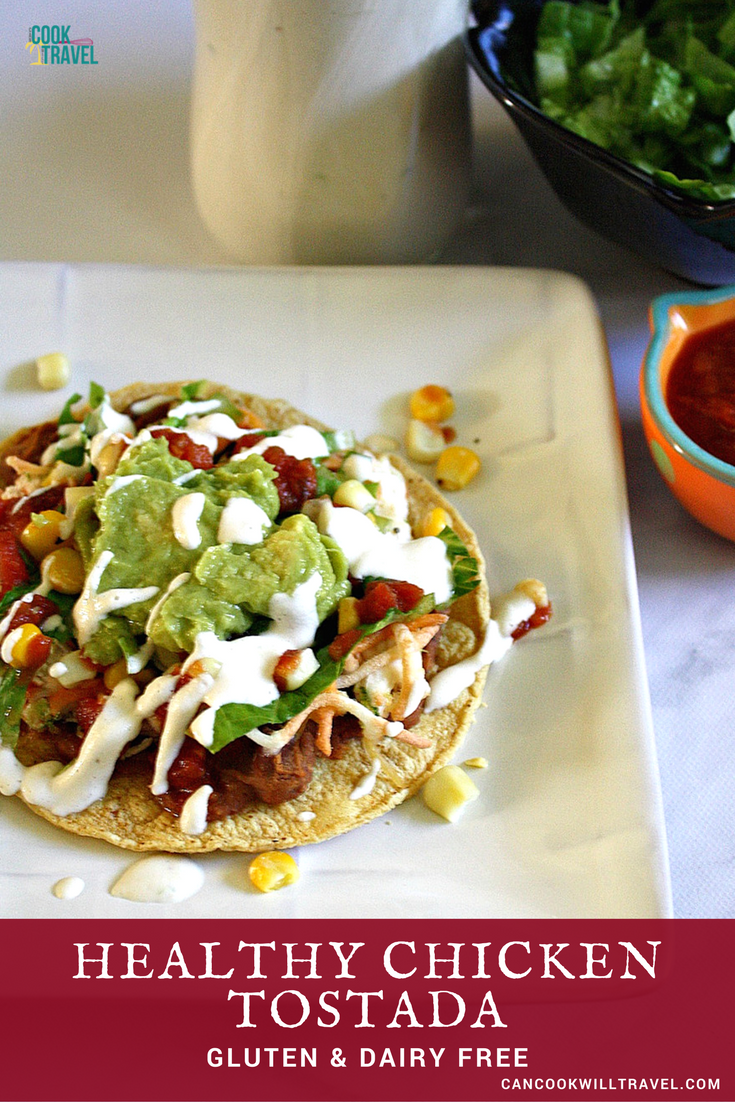 One was filling enough for me, but you could easily go back for seconds or thirds, because it's so good! I love the freshness that the lettuce, salsa, and guac added, and the corn and chicken and crunchy tortilla add great texture. The beans added a nice, smooth texture to the healthy tostada, and then that crema just sends it over the edge.
I'm considering writing a haiku for this dairy free Mexican lime crema, because it seems justified. Totally not inappropriate or weird, right?! I'll try to restrain myself for now. Here are all of the ways I'm thinking I could use it:
On this healthy tostada, because I've already proven why 😉
Toss some pasta with it and add some chicken to it.
Drizzle over roasted veggies
Use it as a dressing
Drizzle it over fish tacos (okay any tacos)
Eat it straight – haha I'm mainly kidding on this one
So without further ado, here's this Healthy Tostada recipe. In fact, I'm about to go make up one for myself right now. Pretty sure I hear it calling my name. So click that link for the recipe and step by step instructions! Happy tostada eating!
A look back:
One year ago: Learning to Love Salads – Part 19: Brussels Sprouts, Quinoa, Cranberry Salad
Two years ago: Homemade Cucumber Dill Hummus Makes Healthy Snacking Look Good
Three years ago: Red Chard, You Say? Yes, Red Chard and Garlic Linguine It Is!
Four years ago: Craving Muffins – Pink Grapefruit Muffins to be Exact
Five years ago: Learning to Love Salads – Part 6: Chopped Salad
Six years ago: All About Lentils

By Kelli Wallace Leave a Comment
Spring has definitely sprung here in the Midwest. And this month brought some gorgeous weather, starting some healthy habits for me, Easter celebrations, and crazy good recipes (as usual). So as we get ready to close out April, it's time to share this month's Blogging Roundup.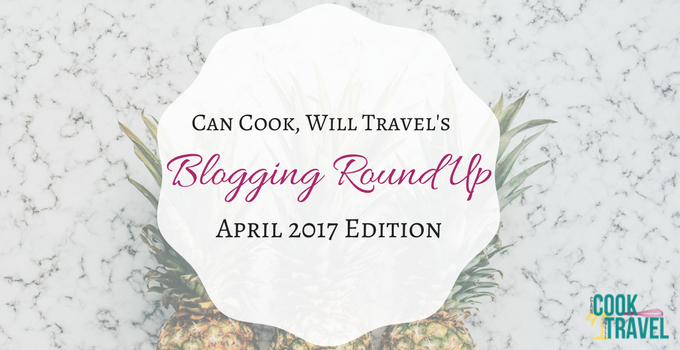 Now personally this was kind of a crazy month for my family. My mom had this crazy eye surgery to repair a hole in her macula, and they put in a big gas bubble to help repair the hole. However she had to keep her head face down for 22 out of 24 hours for 5 straight days. Now that is a special kind of hell to watch your mom go through, let alone for her to suffer through it. I'm super proud of her being such a sport through it all, and her reports back from the doctor have been great, for those of you wondering. This just goes to show that when you follow your doctor's orders, it'll make the inconvenience well worth it.
So the week before my mom's surgery, my poor sister goes and breaks her foot. So needless to say, I'm pretty certain she and Mom are both ready to put this month past them. Although they have both handled the inconveniences of it all beautifully and with as positive an attitude as they can.
As the weather heated up here in Kansas City, I've been making an effort to go for a walk any time the weather is decent and I can squeeze it in. I have to say that the days I fit in my 40-60 minute walk over lunch have been some of my favorite ones. And I've been drinking green smoothies as well, but we'll get to that here soon.
So without further ado, let's explore our blogging roundup and see what kinds of recipes, cooking tips, and inspiration this lovely month has brought us.
Let's dive into April's Blogging Roundup, Shall We?!

April's Recipes Blogging Roundup:
Appetizer:
When it comes to Easter and Spring, I tend to have deviled eggs on my mind. It's a staple of my family's this time of year. It's hard to remember many Easters without a plate of yummy deviled eggs to fight over. And this year I wanted to change it up a bit, because I had some chipotles in adobo sauce leftover. So that ingredient totally inspired these Smoky Chipotle Deviled Eggs, and they were a spicy, delicious hit with my family on Easter Sunday. Yum!
Bread:
When it comes to Spring, I start thinking of really light recipes. As I think of breads and rolls to enjoy at dinner, there's nothing more light and fluffy than popovers. And these dairy free, Herb Filled Popovers were fun to make and crazy good. I do recommend a popover pan so you can get the rise and texture just right, but muffin tins work too. I might have eaten 3 of these in one go, so it's a good thing they were mini popovers! Shhh, don't tell!
Main Dish:
I think March and April have been the most I've heard about people being sick. Personally I got hit pretty hard with some serious seasonal allergies with the crazy weather swings and mild Winter we had in KC. And does ANYTHING taste better than Chicken Noodle Soup when you're sick? Well I wanted to mix up this classic a bit by making this Chicken Wonton Soup instead with homemade wontons. It's like a giant hug in the form of Asian comfort food. So delightful!
Yep, I've been on an Asian food making kick lately with potstickers and an Asian Salad that are both to die for. And this Beef & Broccoli Ramen recipe that I made is ranking super high in favorite main dishes lately. It's savory and FULL of the Asian flavors you love, plus the tender and tasty beef and broccoli are the perfect way to amp up your boring ramen. Please make this one ASAP!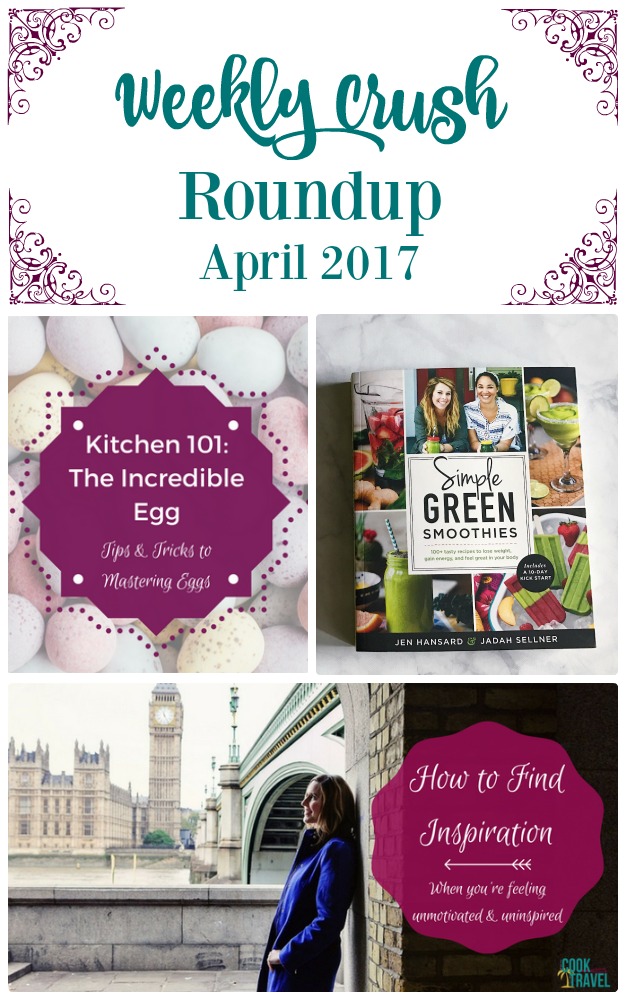 April's Weekly Crush Blogging Roundup:
Cookbook Love:
I was really excited to revisit this Simple Green Smoothies Cookbook this month. I decided to start making more green smoothies and smoothies in general as a way to get plenty of fruits and veggies in my diet. And this cookbook is beyond helpful for all things you could possibly want to know about smoothie making. I highly recommend this book!
Kitchen 101:
Eggs. They're incredibly versatile yet easy to overlook, so that's where this post all about eggs came in. Let's face it: If you have eggs on hand, you easily have a meal to enjoy. So I wanted to share a really cool trick I use to test an egg's freshness complete with a short video to show you how. And then I'm sharing 3 of my favorite ways to cook eggs: Scrambled, Hardboiled, and Sunny Side Up. Super easy but also kinda easy to mess up too. This was such a fun post to write, so I hope you enjoy it!
Some Motivation for You:
Ugh I was feeling so blocked this month when it came to feeling creative. Maybe it was because I was distracted with my family's health stuff and a whole gamut of stuff with work and my life. The bottom line was that I was crazy unmotivated, and I had to get out of this funk. And guess what?? I totally did it, and I figured it I was struggling to find inspiration in my daily life and creatively, I bet I wasn't alone. So I put together 10 of my favorite methods to get unblocked, become motivated, and find your inspiration again! We've got this, my friend!
I hope that this post inspired you as it did me throughout the month. From mixing up a classic egg recipe to sharing my favorite egg tips and tricks, I was definitely enjoying the egg. And then I brought you some insanely good comfort food along with how I'm trying to eat and live a bit more healthy this year.
More and more, I'm faced with the realization of how short life is. So I'm on a mission to help you and me find ways to live and cook a bit healthier and enjoy it with great recipes and tips. Although I do like to indulge a bit every now and again, and I hope you do too. If you've ever thought about eating less dairy or eliminately it completely but aren't sure you know where to start, then I've got you! Sign up for my 5 Days to Dairy Free Challenge, because I'll be showing you how my cheese-loving self has been eating and cooking without dairy with ease this year.
Did you enjoy April's blogging roundup? I'd love to know what you thought and if there's anything you're excited to try! Comment below and let's continue the convo there!
Stay inspired & discover new things!
~Kelli