I feel like a broken record talking about how busy every week is. Between my full-time job, starting up a new jewelry business, and being the committed food blogger you know and love, (as well as a good friend/daughter/leader) well I have been going a mile a minute lately. And when that happens, baking is the only option. And I'm pretty excited about this Goat Cheese and Black pepper Popovers recipe that I was baking up this week.
First off, I'm sure I've had a popover before, but not knowingly. Which means that I've definitely never made popovers before. To me they seem like fluffy rolls that are really puffy. And let's be real here…the fact that goat cheese was involved really sealed the deal. And since I had every ingredient on hand, I was chomping at the bit to bake these up.
Just mix your dry ingredients (flour, salt and pepper) and then whisk in your wet ingredients (milk and eggs). You'll also whip some goat cheese and honey together to add that special surprise with each bite. You can either use a popover pan or muffin tin. I preheated the oven and then buttered the popover pan. When the batter was ready, I popped the pan in the preheated oven for 2 minutes to have a hot pan. THEN I added the batter along with a spoonful of the whipped cheese.
Please learn from my mistakes. Try to fill each popover half full of batter and don't get too aggressive with the cheese – I think a teaspoon of whipped honey goat cheese is plenty. I might have put too much in and it might have caused the cheese to drip out of the pan and onto the botton of the oven. And then that might have caused the oven to fill with lots of smoke, which might have resulted in me opening the oven door, which all popover recipes warn you not to do or you'll deflate them. Despite all of these things, the popovers turned out pretty damn good!
They were fluffy, the mix of the goat cheese and honey added just enough interest to not make them a boring roll. So next time each popover tin will be filled half full and a teaspoon of the cheese mixture will be added. Regardless they will test fabulous. Serve these guys while they are still warm and drizzle with some extra honey.
Definitely be sure you click here for the recipe and step by step instructions…your stomach will thank you!
A look back:
One year ago: Potato and Brussels Sprouts Hash – #Yum!
Two years ago: Learning to Love Salads – Part 10: Mediterranean Orzo Salad
Three years ago: Zucchini-Roni Pizza!!
Four years ago: Po-Lenty of Polenta
Here I am still trying to focus on healthy eating this week and we had a few heads of cauliflower burning a hole in the fridge. Well not really, but they were certainly crying out to be eaten. I was happy to oblige with this Garlic Parmesan Cauliflower dish that I came across on Pinterest (of course).
I'm not sure about you, but cauliflower seems to be a very trendy food these days. (Sorry kale.) And there are TONS of fabulous dishes out there that transform this veggie. And while I was dying to coat the florets in cheese or fry them up, it just wasn't the healthy recipe I needed. And roasting seemed like the best plan for me.
Seriously this dish couldn't be easier. Just wash a head of cauliflower, cut out the stem and separate the cauliflower into bite-sized florets. Then toss the florets with olive oil, lemon juice, minced garlic, salt and pepper. Roast them for 20 minutes (if convecting) or 25 minutes (if using conventional baking). Then top with freshly grated Parmesan cheese, bake for a couple of minutes until it's melted and serve while still warm.
Easy right?! And seriously you could start popping the cauliflower like candy! It's sooo yummmy. The little bit of lemon juice brightens the flavors and the garlic gives a lovely overall flavor with every bite but not too garlic-y. And the Parmesan adds a fabulous salty balance. Please tell me you'll be making this as your next side dish!
Click here for the recipe and step by step instructions…you can thank me later.
A look back:
One year ago: Learning to Love Salads – Part 15: Kale Salad with Warm Cranberry Vinaigrette
Two years ago: Jalapeno Cream Cheese Poppers – An Appetizer I Can Get Behind
Three years ago: Chicken Enchiladas – Lightened Up Comfort Food
Four years ago: Granola Goodness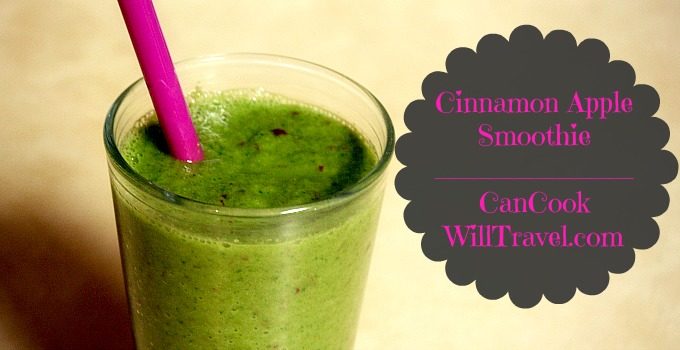 This week's blog post is something I don't do often…making drinks! I have a fun trip to Vegas coming up and it's about time I shape up before I ship out, so I had smoothies on the brain. And this Cinnamon Apple Smoothie was the winner. There are SO many smoothie recipes out there. And…
Filed Under: Drinks, Healthy Tagged With: Apple, Cinnamon, Spinach