By Kelli Wallace Leave a Comment
This is the beginning of one of my favorite times of the year…Shark Week! Ever since I was a kid and saw Jaws for the first time through the holes in our crocheted blanket, I was hooked on sharks.
It's the mystery, the danger, the simplicity, and the sheer respect for these creatures that gets my attention and created my slight obsession with sharks.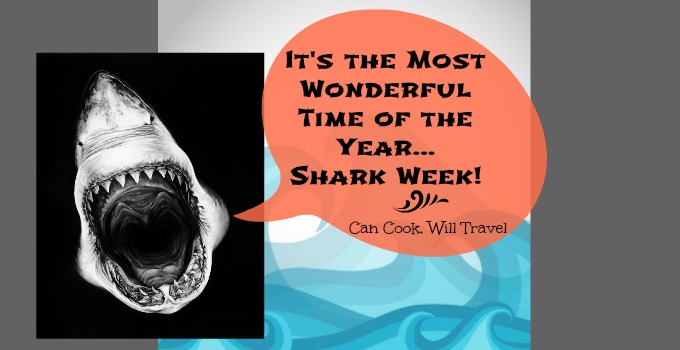 6 Fun Shark Facts About Me:

I have watched shark shows since Shark Week started and to better visualize and appreciate the size of sharks, I started measuring them by my sister, Megan. She is about 5 feet tall on a good day, so a 10-foot shark is 2 Megans, for example. An 18-foot shark is 3 1/2 Megans (holy cow, that's impressive)!

I hope one day I have kids just for the sheer fact that I could dress them in this costume. (Fine that is probably not the only reason, but it's right up there.) I think I would find every available holiday to use this shark costume (I'm looking at you Halloween, Shark Week, Memorial Day since that's the start of Summer vacation, 4th of July because it makes me think of Jaws, and so on).

I'm so incredibly fascinated by great whites, yet my complete respect of them makes me want to steer clear. Many a people have tried to convince me I'd love doing a cage dive to see them up close. I'm not, however, convinced that I wouldn't lose control of my bodily functions if I was face to face with one.
Jaws will forever be in my top 5 favorite movies. My mom and I recently went to see it in the movie theater for the 40th anniversary of its release. It. Was. So. Cool. Seriously, I had only dreamed of getting to see Jaws on the big screen and can't believe it came true!

As a kid, I wanted to become a marine biologist. There is a part of me that still wishes I'd done it…of course I'd be the gal manning the boats, the radar, and the GPS trackers on the white sharks. I'd let the camera work and cage diving be done by the people with a streak of crazy in them, who I totally respect and admire.
One thing to know about me is I'm a self-proclaimed shark snob. That means I don't care about all sharks…I love great white sharks and get rather bored by most other varieties. There is something so beautiful, perfect, and logical about white sharks. They have been around for who knows how long, and evolution has created this perfect creature who is suited for swimming, eating, and making baby sharks. They are a simple animal in that regard.

For one whole week every year, the Discovery Channel gives us all things shark every evening. Usually shark week is at the beginning of August. This year they moved it up a month. Perhaps it's because of the timing of the shark attacks in the Carolinas right now, or maybe they wanted to try something new out. Either way I'm psyched!
I look forward to those documentaries that give me even more shark facts to store in my brain. That introduce you to men and women whose passions are studying sharks and putting themselves in somewhat precarious situations for a living just to help all of us and science learn more about these creatures. And then there is Shark After Dark that is kind of like a late-night talk show with (B-list) celebrities, I'm sure hoping that Bob the Shark also plays a part for the third season. The whole production is so wrong it's right…I love it!
And I just read that Shark Week 2015 is not only starting a month early but it's also going to have a Shark Week weekend with all new programs in August to finish Summer off on the right foot (or fin)! Holy cow shark, I'm so excited!
Shark Week begins with a marathon of past Shark Week episodes today (July 5th) including several new shark documentaries beginning tonight followed by Shark After Dark in the evening.  Fellow shark lovers, you don't want to miss it!
By Kelli Wallace Leave a Comment
This week I had been craving some lemon spaghetti pretty seriously. I am pretty sure this dish was the first one by Giada Di Laurentiis that I ever attempted several years ago, and it pretty much solidified my love for Giada. Everything I make by her is crazy good, and it all began with Lemon Spaghetti. And can I just apologize now for waiting so long to share a new pasta recipe?! Nearly 4 months…this pasta addict is shocked!
Okay, I know you're saying: Um, Kelli that is linguine, not spaghetti… Yes, I know but it's what we had on hand and I love linguine, and I just knew it'd still work like a charm in this recipe. Happy to report that I was right!!
Here is what is great about lemon spaghetti, speaking from years of experiencing in whipping it up. First off, it's crazy easy to make. I made it over my lunch break with time to spare, if that helps you see how quickly it comes together. And second, it is such a perfect main dish or side dish that is light, bright, and refreshing. That brightness comes from the combo of lemon juice and lemon zest and adding basil, one of my all-time favorite herbs/smells, just takes the pasta to another level. That combo is perfectly Summer!
You can mix up the lemon sauce really quickly and do so in advance if you want. Just whisk together olive oil, lemon juice, grated Parmesan cheese, and salt and pepper. To me the Parmesan is absolutely killer in this dish, especially if you have freshly-grated Parmesan. I've made it with the kind in the green can from the store too, and it works just fine. But there is something so magical about fresh Parmesan cheese that really sends every dish it's in above and beyond.
When you're ready to eat, cook your spaghetti (or linguine…haha) according to your package's instructions. Once cooked, transfer the pasta to the bowl with the lemon sauce and toss with some lemon zest and fresh, chopped basil until it's well combined. That's it, my friends! This dish is ready to go and seriously so good.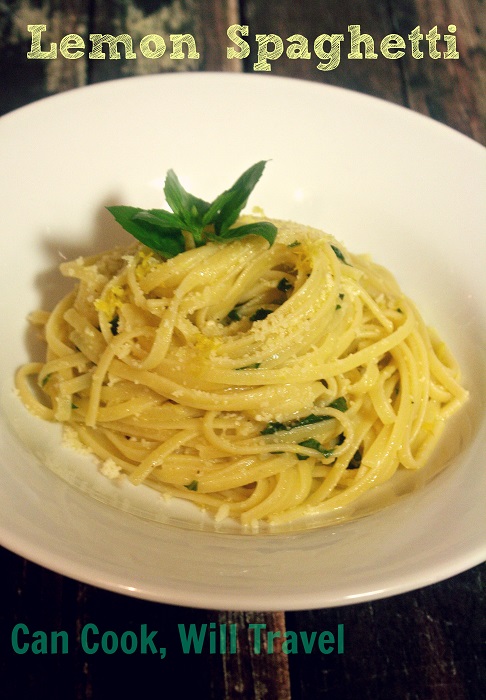 I really am not sure why it took me so long to feature this recipe on my blog, other than I love experimenting with new recipes and flavors. But the time had come that you understand the fabulousness of lemon spaghetti. I often will make a meal of this dish alone, but it is great with just about any protein I can think of. Topped with shrimp, served alongside a steak (hello!) or pork chop, or topped with a grilled chicken breast would be amazing too. (Okay now I'm getting hungry…good thing I have some lemon spaghetti leftovers in the fridge.)
So stop what you're doing, and go get yourself everything you need for this Lemon Spaghetti recipe! Be sure to click that link for the recipe and step by step photos and instructions. Seriously so good! Happy (pasta) twirling!
A look back:
One year ago: Spicy Basil Chicken – Tell Me More!
Two years ago: Pasta + A Fried Egg = Lemon Parmesan Angel Hair Deliciousness
Three years: Blueberry Lemon Bundt Cake = One Stress Free Girl!
Four years ago: Learning to Love Salad – Part 4: Chicken and Couscous Salad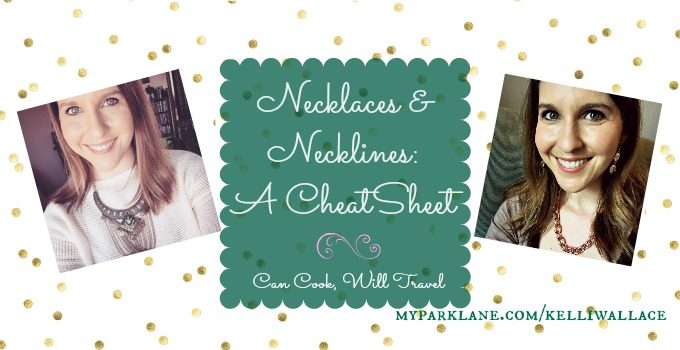 When I'm trying to pick out my jewelry for an outfit, it is all about the neckline in my world. Whatever the neckline is for my outfit will most certainly determine the type of necklace I put on. As we all know, there are so many different necklines out there. The ones I wear most commonly are…
Filed Under: Jewelry Tagged With: jewelry, Necklace, Park Lane