We live pretty busy and complex lives, and managing everything takes work. That work entails tons of to-do lists, running errands, keeping track of your work schedule and your personal schedule. When it comes to being organized, it's not as easy as it sounds. I'll be completely honest. From the outside I appear organized, but I actually work pretty hard at staying on top of my tasks. Having a system is important, and in today's post, the focus is my 2018 Desire Map Planner review.
Ever since college, I've really needed a good planner or schedule to live by. In college I kept track of my school and sorority schedules, and I can't imagine surviving without it. Then there was a good 7 years of my life that I went without a planner, and my lack of organization and forgetfulness shined.
But then I started a direct selling business back in 2011, and I went back to keeping track of my schedule, which was a must. After that part of my journey came to a close, I found myself really missing that structure. So I tried out various methods and planners, and I FINALLY found the right one for me 2 years ago. So when the new release became available for it, I couldn't wait to share my 2018 Desire Map Planner Review.
In fact, I love this product so much that I set up a giveaway for a 2018 planner of your own at the end of the post!
You know I love to review things I love, so filling you in on this product is such a simple decision. In this 2018 Desire Map Planner Review, I'll be covering who this planner works well for, what I love about it, and what it's done for me.
I also created a video going over my 2018 Desire Map Planner review, so you can watch it below here.

2018 Desire Map Planner Review – Two Options:
DAILY:
The DAILY planner for the highly scheduled, detailed thinkers, and awesome A-types who love keeping track of all the big and little things. This planner takes you through the year day by day, with unique soul prompts, scheduling space, #truthbombs, a Stop Doing list (because saying no is revolutionary) and a super condensed list called 3 Things so you can get your most important to-dos done.
Want the the Limited Edition (teal and gold) planner, then order yours here.
Want the Standard Edition (black and gold) planner, then order yours here.
WEEKLY:
The WEEKLY planner is for the big dreamers, Creatives, and entrepreneurs — the planner-types who want a bird's eye view of their week. This planner takes a look at your week over a two-page spread, so you can plan your week with a bird's eye view. Sprinkled with prompts for positive declarations and #truthbombs, the weekly spread also has space for your Core Desired Feelings, daily to-do's, and a list of 3 Things so you can get your most important to-dos done. This planner also has an End of Week Check-in with unique Soul Prompts from Danielle with space for reflecting on life as you move through it week by week.
Want the the Limited Edition (pink and gold) planner, then order yours here.
Want the Standard Edition (black and gold) planner, then order yours here.
Who's It For?
Those who need both structure & space to create. I find that I need both of these or else I'm either feeling claustrophobic and stifled (with too much structure) or lacking focus and clarity (without much structure).
Those that want to journal more or already enjoy journaling, because there's space to reflect throughout the planner. I'm obsessed with journaling, and even wrote a post I LOVE all about journaling fearlessly.
Someone who likes inspiration and prompts, because it's nice to have little quotes and reminders pop up.
What do I love about it?
I'm a girl who needs to check things off her list to feel productive, so I can absolutely do that here.
Love the notes section where I can jot down thoughts and ideas
Keeps me on task with the "3 Things to Get Done This Week" section, so I stay focused.
Soul prompts sprinkled throughout are a great reminder to take stock consistently of how I'm feeling and what I need.
I'm such a fan of gratitude, so I love that there's a section just for that.
I love having structure, but I also really love space. This planner offers me both structure and space, and finding that gives me balance.
Oh and I love all things pretty, so the gorgeous limited edition cover speaks to me. I find that if I have something that's visually appealing, then I'm more likely to use it. If you're not like that, then the standard cover is pretty too, and very classic.
Why this planner Improves My Life:
I can tell a huge difference in my focus and productivity on the weeks I forget to use my planner. Feeling lost, lacking focus, and letting overwhelm take over dominate those days.
I had to do this 2018 Desire Map Planner Review, because it's been critical in helping me create and keep habits. Whether it's tracking my water daily, remembering to work on courses I've purchased, or keeping me focused on exercise or errands, I feel so much more in control!
Focusing more on the tasks that matter rather than little things marks a huge change. Thank God!
And I ALWAYS add fun to my week by reminding myself to meet up with friends or have a date night, or whatever my soul needs that week.
If you're looking for a planner that you'll actually use, then I hope my 2018 Desire Map Planner Review helps. You may be thinking it's EXACTLY what you need, and if it is, then enter my Daily planner giveaway. I'm giving away the gorgeous Limited Edition version, and I can't wait for you to get your hands on it!
Enter here!
2018 Desire Map Daily Planner Giveaway

Want the the Daily Limited Edition (teal and gold) planner, then order yours here.
Want the Daily Standard Edition (black and gold) planner, then order yours here.
Want the the Weekly Limited Edition (pink and gold) planner, then order yours here.
Want the Weekly Standard Edition (black and gold) planner, then order yours here.
Stay inspired & let's get organized!
~Kelli
By Kelli Wallace Leave a Comment
Can you believe that we're only a week away from Fall?! I love Fall so much with the crisp air, warmer clothes, boots, scarves, and so on. In fact, I've written a post in 2015 and another in 2016 about my love for this season. And thinking on Fall makes me instantly think of tons of seasonal ingredients and dishes. One of my favorites is squash, and that inspired me to create this Butternut Squash Chicken Quinoa Bowl this week.
It's no secret that I love a good bowl filled with great ingredients and lots of flavors. This year alone I'm creating my 5th bowl of goodness thanks to my new Butternut Squash Chicken Quinoa Bowl, and I know you'll love it. It's packed with tons of flavors, fresh ingredients, and is a bit addictive.
Over the last 4 months or so, I've found that I always have quinoa on hand, and I try to keep cooked quinoa in my fridge. It's great to add to salads, and also mix with some roasted veggies like I did here. Another ingredient I tend to keep on hand are chicken breasts. If I don't have a specific recipe in mind for them, then I'll just cook them on the stovetop and keep the cooked chicken in the fridge for salads.
So the fact that I had plenty of cooked quinoa and a cooked chicken breast hanging out in the fridge made this Butternut Squash Chicken Quinoa Bowl even easier to make. The part that is the most time consuming is cutting up the butternut squash, so I took a shortcut and purchased pre-cut squash at Trader Joe's.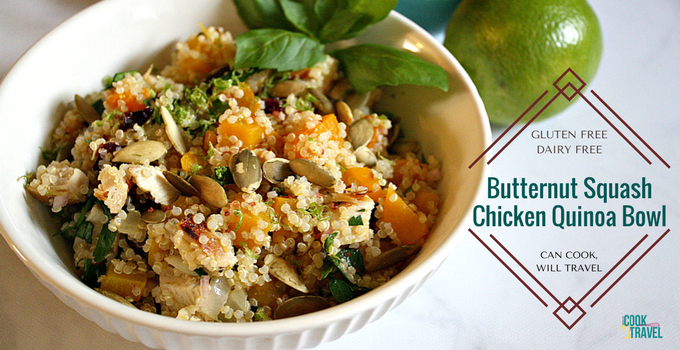 Then all I had to do was chop up some onions, garlic, and cut the butternut squash into smaller pieces, and I was ready to go. Simply roast the veggies in the oven for 20 minutes or until they're tender.
While the veggies roasted, I could make my dressing for the Butternut Squash Chicken Quinoa Bowl. This dressing was one I created on a whim with lime zest, lime juice, extra-virgin olive oil, honey, salt, pepper, coriander, shallots, and some fresh basil. Mix everything up and pop it in the fridge until you're ready for it.
Finally I just needed to dice my chicken and chop my parsley and basil, so then it was a matter of throwing it all together. One thing to consider is that you can make everything ahead of time and just heat the quinoa, chicken, and veggies up before serving. Or you could make everything but the squash in advance. Don't you love that kind of flexibility?
Just toss cooked quinoa, chicken, the roasted squash and onions, dried cranberries and fresh herbs together with the dressing. That's it! Seriously this dish couldn't be easier to make, and I love that! I can make a whole meal out of this dish or you could omit the chicken and serve it as a side dish.
I topped the bowl with pumpkin seeds (pepitas) or almonds work, a little lime zest and some finishing salt. Oh holy moly, I fell for this dish more and more with each bite. So much is happening with crunchy pepitas, savory chicken, creamy squash, tart cranberries, and a sweet, bright vinaigrette.
I'm such a fan of this Butternut Squash Chicken Quinoa Bowl, and I know you will be too. You'll love it, because it's a light meal to enjoy throughout the week or share with your loved ones. Click that link for the recipe and step by step instructions. You can thank me later on this, so happy healthy eating!
A look back:
One year ago: Strawberry Basil Moscow Mule Cocktail – Oh Yes!
Two years ago: Fig, Prosciutto and Goat Cheese Pizza – Don't Mind If I Do!
Three years ago: Sriracha Shrimp and Zucchini Lo Mein = One Damn Good Dinner!
Four years ago: Well That Was Easy! Shrimp, Zucchini & Pesto Pasta
Five years ago: Learning to Love Salads – Part 9: Black Bean, Quinoa & Citrus Salad
Six years ago: Cookies and Sea Salt…Really?!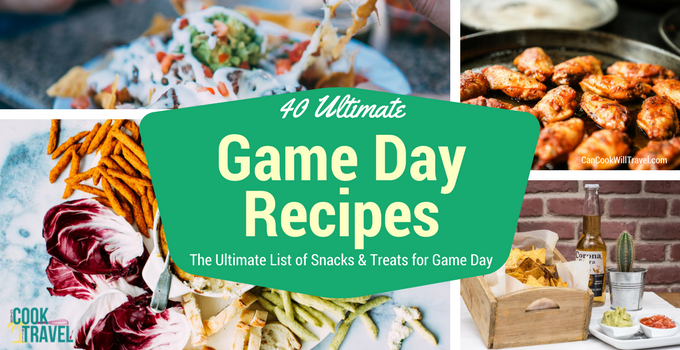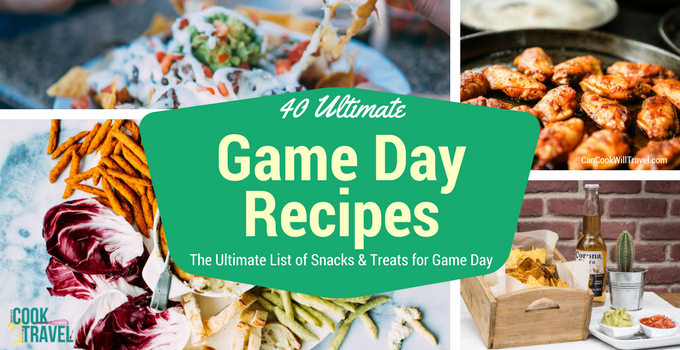 If you've followed my blog for a while, then it's probably apparent that I love both sports and food. I mean the food part is obvious, but the sports part may not be. I'm always happy watching a ballgame, and if it's a team I love, then food is also an important part. And that's…
Filed Under: Appetizer, Weekly Crush Tagged With: Game Day Recipes