As I continue on my healthy eating challenge, it's certainly been filled with a few bumps. Some cravings here and minor adjustments to my diet there, have left me wanting to find some great snacking options. I love last week's protein balls I made, and this week I opted to make my own hummus…a Homemade Cucumber Dill Hummus actually.
I love hummus and the fact that it can take on lots of different flavors. I don't know about you but I heard lately of some hummus recalls and thought…you know, I could totally make my own. And when I found this recipe and already had everything I needed on hand, well it was fate. I have to give props to the site Vegan Family Recipes, which I've found awesome recipes on 2 weeks in a row! Can't wait to check out what else they have going on in the future.
Did you know hummus was a cinch to make? I always figured it was except for the tahini part. Tahini is basically sesame seeds ground into a paste and seemed so difficult to find until suddenly it was everywhere I've looked lately in the grocery store. So having that on hand already made this decision super easy.
All you do is grab a food processor and add to it half a cucumber (skin and all), a couple sprigs of fresh dill (minus the stems), one garlic clove, 2 cups of garbanzo beans (aka chickpeas), some fresh lemon juice, tahini, salt, and olive oil. Process away until the hummus is nice and smooth and voila…hummus is done!
I served mine up with a little drizzle of extra virgin olive oil, a little leftover fresh dill for garnish, and finally a sprinkle of smoked paprika because I can. I'd like to take a moment and share how much I love smoked paprika and how I strongly think you need it in your spice cabinet if you don't already. The smell alone makes it worth it, but I've found I've used it in a ton of recipes and it is so good. It adds a lovely, smokey (duh) flavor that isn't overpowering…just delightful. Please go buy some on your next grocery shopping trip…pretty please?
You can serve up your hummus with whatever you prefer. I went with baby carrots and some sliced green pepper, but chips, pita chips or pita bread, or your favorite veggie are all amazing with it. I almost had some cucumbers with it, but that somehow seemed a little cannibalistic in my twisted mind, so carrots and peppers it was!
Can't wait for you to try your own hummus at home. Click away for this delicious Homemade Cucumber Dill Hummus recipe and step by step instructions. Happy healthy snacking!!
A look back:
One year ago: Red Chard, You Say? Yes, Red Chard and Garlic Linguine It Is!
Two years ago: Craving Muffins – Pink Grapefruit Muffins to be Exact
Three years ago: Learning to Love Salads – Part 6: Chopped Salad
Four years ago: All About Lentils
This week marks the start of my clean eating journey. I'm doing an awesome 8 week program with the fabulous ladies at Tone It Up (because…have you seen them?!). And I've really had an internal struggle this week about how to blog during this time. I even considered (gasp!) not featuring cooking recipes. BUT I decided that was just dumb, and that I would take the next 8 weeks (at least) to feature some healthy snacks, meals, and goodies that are helping me stay on track. So this week I bring you balls…Chia Peanut Butter Protein Balls, that is (get your head outta the gutter!). Haha!
So why did I choose protein balls, you wonder? (Or maybe you don't). Well I wanted to make a great snack that is packed with good for you food, is a cinch to make, and makes multiple servings (for multiple snacking moment). And one thing that I know is protein is important to have and these treats are perfect morning or afternoon and especially keeps you fueled pre and post workout. I have a feeling I'll be visiting the Vegan Family Recipes site where I came across this snack quite a bit in the future.
4 ingedients, you say?! Yes, I did. The first item you need is natural peanut butter. Yes it's a little oily on top so give it a really good stir and then give the counter and the jar a good wipe down cuz this part can be messy. But it's so worth the extra effort as it's full of the goodness that peanut butter offers without the added fat and sugars.
Next up are dates. Now this recipe calls for Medjool Dates or regular dates. I couldn't find the Medjool variety and opted for Prunes instead. I figured they might have a smoother consistency than the regular dates that were at the store. I'm happy with this decision and would say if you can't find Medjool Dates, then Prunes would be a great substitute.
The other 2 items are great to have on hand when you're trying to eat well. Protein powder (a good, natural one that you can find) and Chia seeds. I could go into a whole rant on how great chia seeds are for you, but there's no time for that. Another great chia seed snack I did is this fabulous Vanilla Chia Seed Pudding that I LOVE to snack on or eat for breakfast. And these Chia Seed and Blueberry Muffins are crazy good! Seriously good!
So just grab a food processor and pulse all of the ingredients together until they're well combined and can easily form into balls. Then roll about a teaspoon worth of the mixture into balls and eat right away or refrigerate. I refrigerated mine in layers in a storage container using waxed paper to separate each layer as I stacked. They make about 10 or so small-sized protein balls. I had some this morning for a snack and they were fabulous! Can't wait to snack on them more tomorrow!
I cannot wait for you to try these healthy, totally guilt-free Chia Peanut Butter Protein Balls! Click away for the recipe and step by step instructions.
A look back:
One year ago: Quinoa Strikes Again with a Quinoa Berry Breakfast Bowl!
Two years ago: Sweet and Savory Appetizers
Three years ago: In the Name of Tuna
Four years ago: Paella…A Gastronomic Delight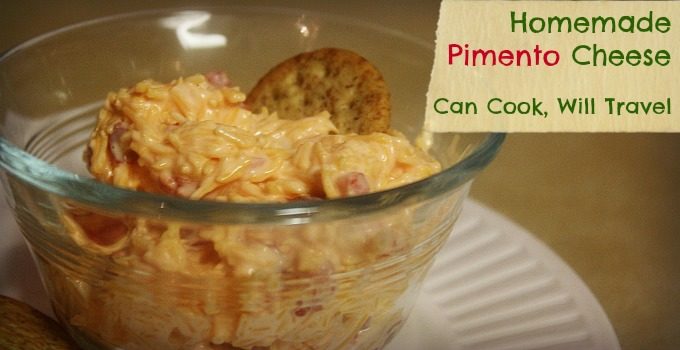 You may or may not believe it, but I've never had Pimento Cheese before. Now it's not because I live a sheltered life…far from it when it comes to food, my friends. My mom and sister are big fans of Pimento Cheese, but growing up it just never sounded appealing. However after much consideration, I…
Filed Under: Homemade, Snacks Tagged With: Cheddar Cheese, Pimentos