Tis the season to eat well. I've been doing pretty well lately of eating well and that "all things in moderation" concept is in full force. But as it's actually way warm for January standards around here, I decided that I could sneak in a salad pretty easily. So that's where this Quinoa and Kale Salad comes in.
I must warn you ahead of time that this recipe kind of hits all of my favorite things at once, as it's been quite some time since I've had kale AND goat cheese. So I was pretty pumped to get to combine them with quinoa in a dish…I was maybe starting to go through withdrawal a bit from them. I actually picked up kale and goat cheese at the store on a trip to "The Big City" as they aren't very easy to come by for me right now.
With the kale hanging out in the fridge I just knew I needed to find a great recipe for it. I came across this Quinoa and Kale Salad on Pinterest and decided to alter the recipe a bit based on what I had on hand. Originally it called for Feta cheese and dried cranberries…both of which I love. BUT since I had some pomegranates on hand and goat cheese burning a hole in my fridge, I made the executive decision to do some swapping! Fabulous move, by the way!
So here's how the recipe comes together. Cook your quinoa and then throw in your pomegranate arils (or dried cranberries or cherries would be delightful). While the quinoa cooks, chop a quarter of a red onion and thinly slice about half a bunch of kale leaves.
Also toast your almonds. A note on the almonds…since I knew the salad would have a slight crunch from the pomegranates I went with sliced almonds, but if you go the dried fruit route, slivered almonds would be great for a added crunchy texture. Cook your onions until they're tender and then add the kale and saute for about 5 minutes. Definitely taste the kale to make sure it isn't bitter. If it is, you can steam it a bit. Combine the kale/onion mixture with the quinoa/pomegranate combo. Then drizzle with some olive oil and the juice of half a lemon along with the almonds and salt and pepper. Toss it all together and voila! I added goat cheese right before serving.
This recipe was awesome! Even my meat and potatoes loving dad enjoyed it…which was totally surprising! I can't wait for you to try this salad out. Light, flavorful, and super healthy!
Click here for the recipe and step by step instructions!
A look back:
One year ago: Well Hello Cheesy Quinoa and Broccoli Patties!
Two years ago: Cauliflower Couscous…Minus the Couscous…Just Trust me
Three years ago: Peanut Butter Kiss Cookies…A Delicious Trip Down Memory Lane
Four years ago: Rooting Around
So today has been a bit of an anomaly for January in the Midwest…it was in the 60's…Hallelujah!! However it has been freezing lately, so nothing says "Go away Winter" better than soup. And wow did this Stuffed Pepper Soup hit the spot.
I loved that it was a deconstructed stuffed pepper, and you can customize it and add whatever veggies you'd like. In this case, I kept it pretty traditional with lean ground beef, tomatoes, onions, garlic and green peppers (of course). What I loved was that this was such a quick meal for a week night too.
So just brown the beef and then add in the veggies and tomatoes until the onions and peppers are tender. I did add in some red pepper flakes because I couldn't resist. Then add beef broth or stock and heat the soup. Finish off the soup with some cooked rice and serve away. I topped mine with cheddar cheese and hot sauce, and the soup was officially a hit!
Did I mention how easy this was to make? And I love a great one pot meal too. Plus this soup was super hearty, and just omit the rice to have a great low carb meal. And I really topped mine with whatever I'd top a normal stuffed pepper with, so that's why I opted for sharp cheddar cheese. And well I do love my spices, so a few dashes of Jalapeno Tobasco sauce added the perfect amount of kick.
I seriously can't wait for you to try this soup for yourself. It's so delicious and you can totally make it fit your diet! Hope you enjoy!
Click here for the recipe and step by step instructions…you know you wanna!
A look back:
One year ago: Spicy Stir-Fry Baby Bok Choy Couldn't Be Easier
Two years ago: 3 Kinds of Goodness in 1 Dish – Gnocchi with Squash and Kale
Three years ago: Oooh, Smoky Corn Chowder!
Four years ago: Chicken and Dumplings…or Along Those Lines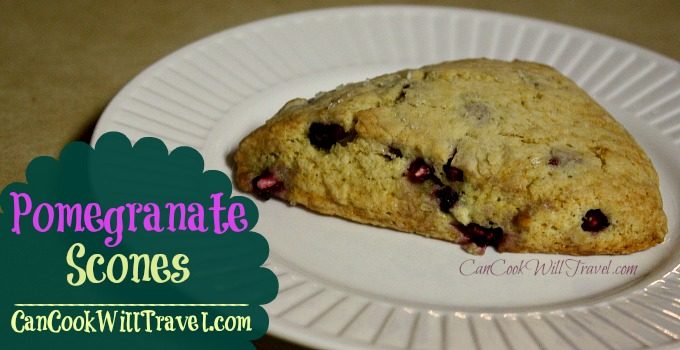 I don't know what it is, but I have grown to really love scones. Don't get me wrong, I happily enjoy just about all breakfast food, but it must be the buttery pastry that really makes me happy. Overall I try to eat pretty well every morning, so a scone is always a bit of…
Filed Under: Breakfast, Sweets Tagged With: Oranges, Pomegranate, Scones