So 3 things prompted me to make Pumpkin Waffles this week. First, I recently got a waffle iron from my sister as a birthday gift. For some reason I've always had this desire to own a waffle maker, so it seemed like the perfect thing to ask for. And naturally, I was really wanting to try it out. Second, did you know it's National Waffle Month?! Well before September was gone and since I just got a waffle maker, it seemed like a sign. Third, it's now officially Fall. While I LOVE Summer and warm weather, I do love a few things that go with Fall: changing leaf colors, pumpkin stuff (lattes, bread, cakes…you get the idea), apples & cider…I could keep going. So adding these 3 things together made Pumpkin Waffles the perfect choice.
I am a sucker for breakfast food. Funny thing is I prefer it for meals other than breakfast, so it's made a great lunch or dinner when I wanted something lighter. Waffles seem like such great comfort food for me too. Plus they bring back great memories for me. When I became an "adult" and moved out on my own for college and grad school, dorm meals were a staple of my diet for a couple of years. I was always drawn to the waffle maker in the cafeteria. I think it was just a way to have comfort food away from home and they always hit the spot!
So off I went to make pumpkin waffles. It was super easy to whip these up over my lunch break. Just whisk some egg whites to stiff peaks. Then whisk the dry ingredients and separately whisk the wet ingredients. Combine the two and finally fold in the egg whites. That's it. Then it's a matter of cooking the waffles. Most waffle irons let you know when they are done, and I was pretty happy with my new Cuisinart waffle maker.
As far as the level of done-ness, I'd say choose what you like best. I started off at a lower, recommended level for golden waffles, but I ended up cranking the heat later as I wanted them to be slightly more crispy. Plus I was wanting to play with my new gadget a bit.
This recipe makes about 8 waffles. Obviously I cannot eat that many, so figuring out how to reheat them was key. The No. 2 Pencil site where I found this recipe (thanks, Pinterest) suggests heating the oven to 350 and letting the waffles reheat on the oven rack for 3-4 minutes. I used a Nu-Wave oven to reheat mine and it was fabulous for getting the waffles back to a crispy, almost freshly made shape so they weren't overly soggy.
So grab yourself a waffle maker and whip these Pumpkin Waffles up ASAP…they were fabulous, had great pumpkin flavor but not overly pumpkin-y, and they totally hit the spot! Click here for the recipe and step by step instructions.
A look back:
One year ago: Not Yo Mama's Chicken Noodle Soup
Two years ago: Cabbage + Bacon = A Very Good Thing
Three years ago: Hooray for Stuffed Shells!
In case past posts haven't been completely obvious…my name is Kelli and I like spicy food. I wouldn't call that a problem though…more of an appreciation. So when I saw this Buffalo Chicken Tortilla Rollups recipe on Pinterest, I definitely was interested.
As someone who always has at least 2-3 kinds of hot sauce on hand at all times, I love that buffalo chicken flavor. Growing up and even through college, spicy food was not my thing. I just didn't like it. My mom and dad loved all things spicy, so it was only a matter of time before I succumbed. I think as I've gotten older, my taste buds have become less sensitive, so now I want…nay, I need, spicy food.
These rollups make the perfect appetizer or snack. They are super easy to whip up and you can make them ahead, which is kinda perfect when you need to bring something to a party or need to make multiple appetizers.
The chicken was what took the longest for me, because I had to cook and shred my chicken. Although if you have pre-shredded chicken that will cut your prep time. I used a method where I cooked one side of the chicken in a pan, flipped it over, added a little water and covered to steam them until they were fully cooked. They smelled fantastic, were easy to shred, and the leftover liquid was also used in a dish that we were having for dinner.
Once the chicken was cooked, throwing the filling together was easy. Just combine cream cheese, blue cheese, hot sauce, Colby Jack cheese, and green onions in a mixer. Once that sauce is fully combined, add the chicken and fold it in. You can let the buffalo chicken filling chill in the refrigerator for a couple of hours if you don't want to make the rollups right away. Otherwise you can start to roll up the tortillas. Be sure to refrigerate the tortilla rolls for a few hours before slicing them so they firm up a bit. Then enjoy!
I gotta say these rollups were awesome and slightly addictive. They were spicy but not crazy spicy, and if you're not a big fan of hot sauce, you can always put less in. It calls for half a cup, which is a lot, but for that classic buffalo chicken flavor it's needed. They were perfect for muching on while watching lots of football.
Click here for the recipe and step by step instructions!
A look back:
One year ago: Hola Chicken Tamale Casserole!
Two years ago: Welcoming in Fall with Pumpkin Snickerdoodle Cookies
Three years ago: Kicking Up Oatmeal a Notch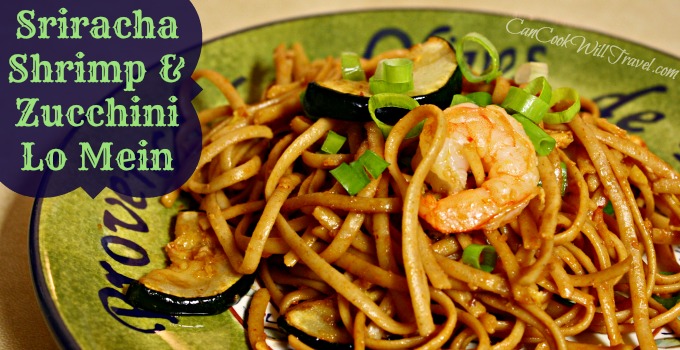 So this week I wanted to make something quick and easy (shocking, I know) for dinner. I came across this Sriracha Shrimp and Zucchini Lo Mein dish on Pinterest and really couldn't think of anything else after that. With zucchinis piling up on the counter, it seemed like a great way to use them in…
Filed Under: Main Dish, Pasta Tagged With: Pasta, Shrimp, Sriracha, Zucchini