I was craving eating a bit healthier lately. Seems like all I've done lately is grab fast food or heavy, salty stuff just out of convenience and ease. So I was on a mission to get back on a healthy kick starting with a healthy snack. I found myself really drawn to the idea of snacking on chickpeas…especially when I found this Smokey Roasted Chickpeas recipe.
This recipe pretty much had me at smoked paprika. Lately I've become slightly crazed for this spice…it just smells sooooo good. If you don't have this spice or haven't used smoked paprika before, definitely give it a try. I think you'll love it.
Another plus on this snack is that it's easy to throw together. Just rinse the beans, toss the ingredients together and bake. The ingredients are pretty simple. Start with a can of chickpeas (or Garbanzo beans) that you've rinsed well and drained. Then toss it with some melted coconut oil, smoked paprika, chili powder, and salt. Then bake and shake for about 45 minutes to an hour.
I think next time I'll bake longer than the 45 minutes I went with. That way the chickpeas will dry out a bit more. But overall these are great snacks. The thing I love best is that they are delicious with a slightly spicy taste but you can't overindulge on these. (At least I can't.) I find I'll take a small handful to munch on and they last a while and totally satisfy my munchy cravings. I think I'll be visiting the My Whole Food Life site again after I found this recipe from them!
For an easy, tasty, and healthy snack…definitely bake these chickpeas next time. I love when I know, and have control over, exactly what is going into my food!
Click here for the recipe and step by step instructions…yum!
A look back:
One year ago: Firecracker Chicken with a Side of Yum!
Two years ago: Oat Cake Treats – Trust Me They are So Good!
Three years ago: Cooking with Zucchini – Part 2
I love this time of year. The blue skies, warm weather, a chance to not be bundled under 12 layers of clothes…these all make for a happy Kelli. I also love all of the fresh fruit and veggies that are so readily available. That brings me to this week's cooking adventure. We had so many zucchini floating around that they were begging for a cool recipe to make them sing…that's where Rick Bayless' Sauteed Zucchini with Toasted Garlic and Lime comes in.
This recipe was one I stumbled across thanks to Pinterest, wouldn't ya know?! It brought me to the blog called Our Life in Food, and when I saw it was a Rick Bayless recipe I knew I had to go for it. I have never cooked one of his dishes before but my friend, Tabs, is a big, big fan…so I was sold! And I couldn't wait to try out a Rick Bayless dish. He knows his Mexican flavors, so I had zero doubts it was going to be amazing.
I served this sauteed zucchini with toasted garlic and lime side dish with my spicy quinoa crusted chicken recipe from last week. Now comparing the two dishes to pick a favorite is a bit unfair, because they are so different. However, this zucchini got rave reviews and may just have won the eat off. To me without a doubt it was the lime that made this dish. Although the toasted garlic was pretty awesome as well.
All in all, this was an easy recipe to make. Just dice up the zucchini and toss it in a colander with some kosher salt and let it sit for 30 minutes. Rinse off the zucchini and pat it try. The idea is to extract as much water from the zucchini as possible. Thinly slice the garlic and chop up the fresh oregano and parsley.
Heat your oil and then add the garlic stirring until it's browned. Then remove it from the pan and add the zucchini. The trick with the zucchini is to not touch it. The idea is to brown the zucchini to add flavor and texture, so while the recipe says to saute for about 10 minutes, I did it for closer to 15-20 minutes just turning the zucchini as the sides browned. Yum! Then add back in the garlic, seasonings, herbs and juice of half of a lime, and ta da! You're done!
Trust me…this is fabulous and simple to make. I can't wait for you to give this twist on a simple sauteed zucchini dish a try! Click here for the recipe and step by step instructions…come on, you know you wanna!
A look back:
One year ago: Feeling Fancy with Blackberry, Fennel and Goat Cheese Pizza
Two years ago: It's a Mac 'N Cheese Kinda Week
Three years ago: It's Tea Time…Muffins + Chai Tea = Pure Goodness!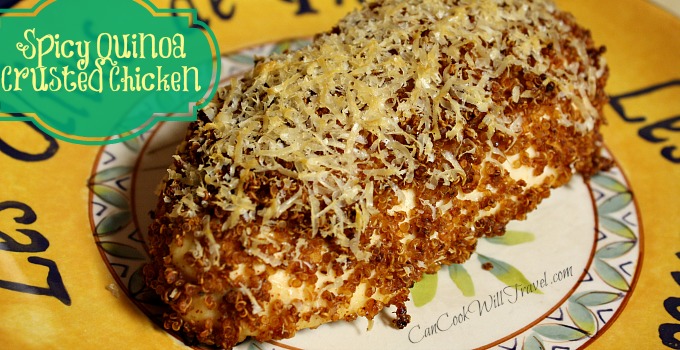 You may have noticed that I've been on a bit of a baking kick lately. Between work and moving/packing, I've been craving baking, but I'm happy to report I've got a meaty recipe for you this week. So carnivores rejoice and check out this Spicy Quinoa Crusted Chicken. Yes, I said quinoa crust. Truthfully, I…
Filed Under: Healthy, Main Dish Tagged With: Chicken, Quinoa