By Kelli Wallace Leave a Comment
Happy Friday! Please tell me I'm not the only one who has had a crazy work week! Every day starts and it's either already packed with calls or soon will be. So my time after 5pm has become pretty darned precious lately. And when it came to what I wanted to cook this week, I just wanted to get in the kitchen and make comfort food (despite the crazy heat here in Kansas City!). And Smokehouse Mac 'n Cheese was EXACTLY what I needed!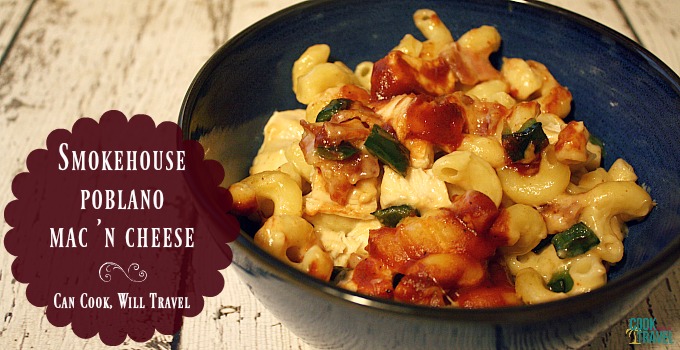 It should be fairly obvious from Wednesday's post that I'm a connoisseur of macaroni and cheese. I love to eat it when I'm out and I enjoy making it at home too. And most recently I was on a date a few weeks back and we went to a tapas restaurant in KC,MO. When I spotted the mac 'n cheese on the menu I couldn't see anything else. Must. Have. Mac 'n Cheese!
It was a slightly fancy dish with poblano peppers and was nice and cheesy (and delicious). And when I found a recipe for Smokehouse Mac 'n Cheese, all my culinary brain could do was insist that I merge the 2 dishes together. Oh holy moly, my spin on this Smokehouse Mac 'n Cheese was AMAZING!
So here's how it goes. Pick your favorite pasta. I love a good cavatappi, mainly because it's tubular like macaroni, but it's longer with more of a curl, so it's a bit more wild. (Yes, I really do think about my pasta like this when selecting it!) And since I was inspired with the poblano at the tapas place, I had to include a poblano pepper here for a mild heat.
The smokehouse part comes into the picture with a nice, smoky bacon flavor. Then add in some chipotle chili pepper and smoked paprika. The cheese sauce also has a great smoky flavor since it's packed with smoked cheddar cheese. And then you top it with your favorite BBQ Sauce.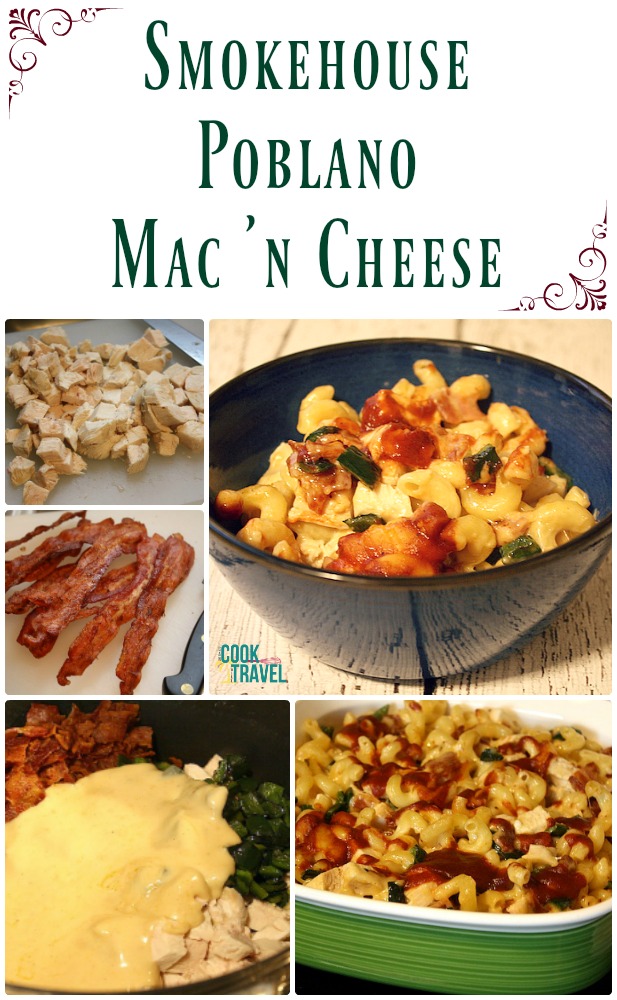 Since I have been enjoying the past couple of weeks back in KC full time, it totally made sense to pick this recipe. After all, Kansas City is absolutely known for its BBQ. And you ask any Kansas Citian and they will happily tell you their favorite BBQ place. (Oklahoma Joe's has been a favorite of mine for a while, but there are a few more I must try soon. Q39, I'm looking at you!) And of course, my BBQ sauce had to be a local brand. So I used Jackstack BBQ sauce, and it added the perfect smoky sweetness to the mac 'n cheese.
Now I will say that I rarely have regular milk on hand. I prefer almond milk, and I actually cook with it too. That might freak you out a tad, but honestly it was so good in this Smokehouse Mac 'n Cheese! The smoky cheese flavor really covered the slightly sweet milk, but I rarely cook with almond milk without adding a few (okay several) dashes of jalapeño Tobasco sauce to cut the sweetness. #Genius
So cook your pasta. You'll also cook your bacon and chicken. I prefer to cook my bacon in the NuWave or bake it in the oven to drain off as much fat as possible. And I also opted to poach my chicken for SO many reasons – including less time spent handling raw chicken, super easy and clean to do, there's no extra oil, and the chicken is really juicy. With all of the flavors going in, there was no need to add extra bacon grease or oil to the protein.
Then make your cheese sauce. I love adding lots of flavor to my cheese sauce, so spice is a must. To this smoky cheddar cheese sauce, I added chipotle chili pepper, smoked paprika (to go with the smoky theme), and ground mustard.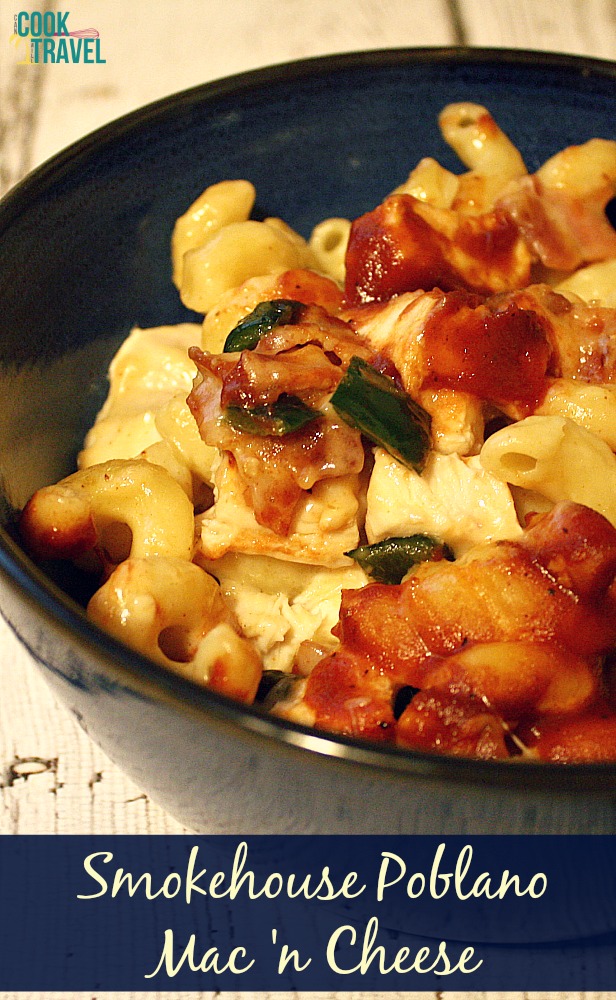 From the ooey gooey cheese sauce, to the fun pasta, flavorful meat, and slight spice from the poblano peppers . . . well, this dish was insanely good. No really, it was delightful! I baked it in the oven to heat it through, and topped it with a little BBQ sauce for a slightly sweet and tangy touch. So flipping good! I can make a meal of this dish or it's the perfect side to your next BBQ! Feel free to take out the chicken and bacon if you want to use this as a side.
To say I can't wait for you to whip up this Smokehouse Mac 'n Cheese is an understatement. Please click that link for the recipe and step by step instructions . . . ASAP! Happy mac 'n cheesing!!
A look back:
One year ago: Chicken Taquitos with Avocado Cream Makes Dinner Seriously Tasty
Two years ago: Pumpkin Waffles – Welcome Back Fall!
Three years ago: Not Yo Mama's Chicken Noodle Soup
Four years ago: Cabbage + Bacon = A Very Good Thing
Five years ago: Hooray for Stuffed Shells!
By Kelli Wallace Leave a Comment
When you go to a restaurant, do you find yourself gravitating towards the same items on the menu? I know I do! For me it's usually fish and chips if it's a pub/bar, Eggs Benedict if I'm eating breakfast or brunch, and macaroni 'n cheese at a good restaurant. I think it's a way for me to rank the place on my internal favorite restaurants list. To size them up a bit. So it should be no surprise that I've made my fair share of Macaroni 'n Cheese recipes on my blog over the past 5 1/2 years.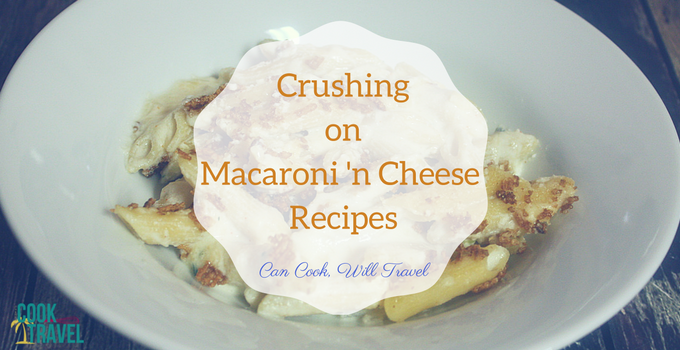 So this month, as we get closer to Fall, cozy sweaters, and comfort food, it seemed like the perfect time to feature my favorite Macaroni 'n Cheese recipes. Because does much else feel like comfort food than a big bowl of pasta and cheese?
I didn't think so.
Now I could go on and on with favorite Macaroni 'n Cheese Recipes but for this post, I'm featuring my top 5 dishes. So let's go for it, shall we?! And I'm not about to rank them, because they are all fantastic in their own way. Oh and yes, there's a lot of bacon involved in this post . . . but I'm hoping you'll forgive me.
MY TOP 5 ULTIMATE Macaroni 'n Cheese Recipes:

Lightened Up Mac 'n Cheese
Now I know there are some of you who are a bit like my mom, and don't want to break away from the classics. For you, you don't like all of the fussiness of adding extras to the mac 'n cheese. Give you pasta and a seriously good cheese sauce, and that's all you need. Well this Lightened Mac 'n Cheese is the dish for you. Plus, it's a healthier option, which is even better!!

Bacon & Brussels Sprouts Mac 'n Cheese
Brussels Sprouts are going to become a favorite veggie by all in the world once people actually eat them properly. And this Bacon & Brussels Sprouts Macaroni and Cheese recipe is a great example! This is an original recipe I created that was inspired by a dish I devoured in Vegas, and it's one I think about a lot when it comes to good mac 'n cheese dishes. The roasted sprouts are perfectly balanced with some salty bacon and a combo of Gruyere cheese, sharp cheddar (always sharp), and fresh Parmesan cheese. If you aren't a sprouts fan just yet, this one may convert you!

Bacon & Caramelized Onion Mac 'n Cheese
I believe when I first made this dish and wrote about it, the word that came to mind was swoon-worthy. Hell, I don't know if this is even a word, but it is now. Because I swoon just thinking about this Bacon & Caramelized Onion Mac 'n Cheese dish. The caramelized onions take some patience, but their sweetness is the perfect partner to the smokey bacon. And then of course I like a little spice with some cayenne and black pepper added in. This is the definition of comfort food, if you ask me!

Spicy Roasted Vegetable Mac 'n Cheese
As a true veggie lover, this recipe is a total favorite of mine. You roast red peppers, yellow squash, baby carrots, and broccoli. Then cook up your pasta of choice, and you'll make a classic white sauce and load it with lots of sharp cheddar cheese. I love the spice in the sauce thanks to crushed red pepper flakes and cayenne. I think it adds a nice kick to the roasted veggies. It keeps this from being a boring dish for sure. You really do need to make and enjoy this Spicy Roasted Vegetable Mac 'n Cheese as soon as possible.

Grown Up Mac 'n Cheese
This is yet another bacon-filled macaroni 'n cheese recipe . . . but I did warn you, didn't I? And it's really the cheeses that make this one Grown Up Mac 'n Cheese. As a kid, pungent cheeses were something to avoid, but I really love blue cheese now. So if you're a fan of smelly cheese a bit, then this one, which is filled with sharp cheddar cheese (because it's the right thing to do), Gruyere cheese, and blue cheese is for you! Seriously, it's rich and glorious and the ultimate comfort food as the temperatures drop. (Or any time, really.)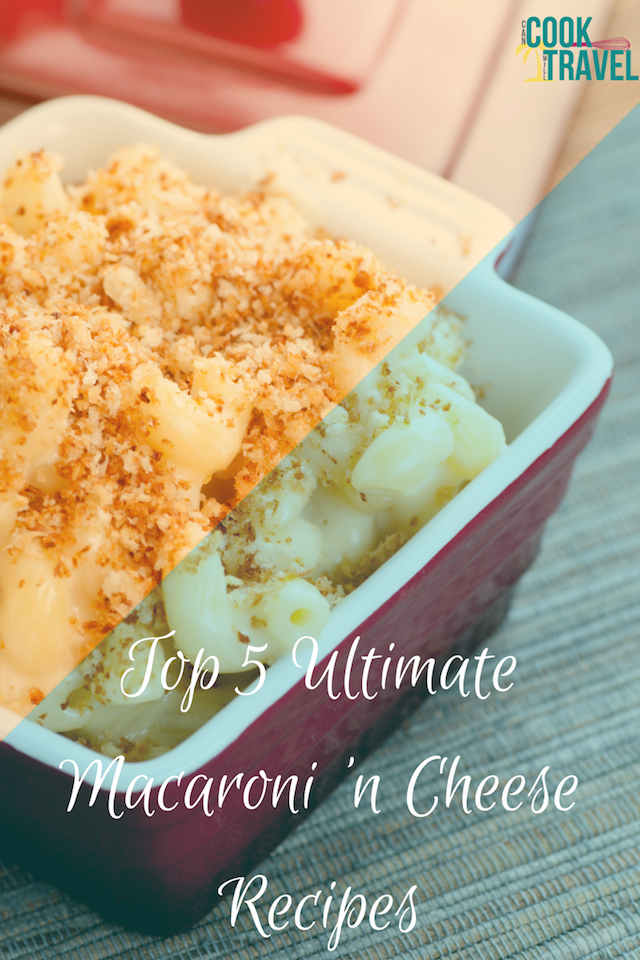 So there you go! That is my ultimate Top 5 list of Macaroni 'n Cheese Recipes! I look forward to bringing you another installment in the future as I keep discovering and inventing more pasta and cheese filled dishes.
Are you a giant fan of macaroni 'n cheese recipes? What's your favorite thing to put in your mac 'n cheese, or are you a purist too? Comment below and let's keep this cheesy convo going!!
Stay inspired & eat some mac 'n cheese!
~Kelli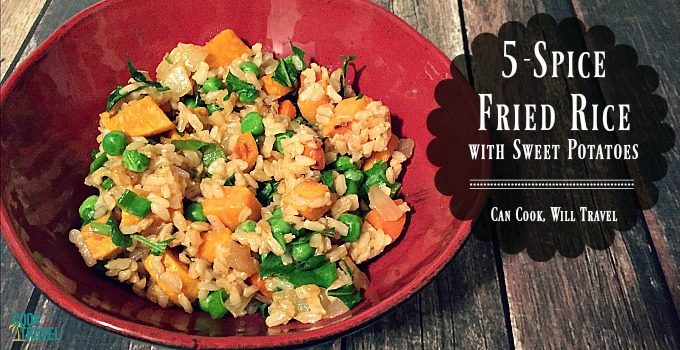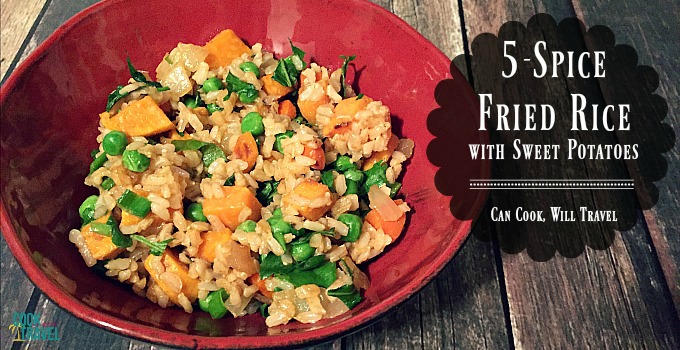 Can I first just say that I'm LOVING this KC weather. Fall is definitely just around the corner, and it's been really lovely here in the past few days. So hopefully you've been having some fabulous temps where you are too and are soaking up the sun as much as you can. And I was…
Filed Under: Healthy, Main Dish, Side Dish Tagged With: 5-Spice Fried Rice with Sweet Potatoes, 5-Spice Powder, Arugula, Brown Rice, Carrots, Fried Rice, Soy Sauce, Sriracha, Sweet Potatoes