Cabbage. I feel like this food can evoke a lot of reactions from people. Some detest it, but I love cabbage any way you can cook it. It's probably because as a kid we had cabbage all of the time. This also results in my love for Brussels sprouts. So I'm all for cooking up this lovely veggie in lots of ways to try to convert the cabbage haters and give those of you like me another fun way to cook. That's where this Balsamic, Honey Roasted Cabbage Steaks dish comes in…thanks Pinterest (again).
When there is a veggie that you just don't love, chances are if you roast it in the oven, you'll officially be a fan. Get a little caramelization going and it'll be delicious. Cabbage is no different.
This dish couldn't be easier to make. Just a few short steps and it's done. I just used some green cabbage and sliced half of it into about 1/2-inch slices. This gave me about 4 cabbage steaks. Put them on a cookie sheet (I lined mine with a Silpat) and then brush olive oil over the bottom of the cookie sheet.
Carefully lay the cabbage slices in a flat layer on the cookie sheet. (I say carefully because they will be fairly fragile.) Then whisk together some olive oil, balsamic vinegar, and honey. Brush the mixture over the top of the cabbage. Then season with some salt and pepper. If you have some fresh thyme, add the thyme at the end. I couldn't get my hands on thyme this time of year, so I skipped that ingredient.
Then roast in the oven for 25-30 minutes or until the cabbage is tender. Serve it up while the cabbage is still warm and enjoy! I loved the idea of eating cabbage in a big slice like this. It seems so elegant and the balsamic vinegar and honey over the top really sent the flavors through the roof.
I cannot wait for you to try this one out the next time you have a head of cabbage on hand. It's super easy and is a lovely addition to nearly any meal. We served ours with barbecue chicken…yum, yum, yum!
Click here for the Balsamic, Honey Roasted Cabbage Steaks recipe and step by step instructions. Enjoy!
A look back:
One year ago: Pancakes for Everyone! Banana Nut Bread Pancakes!
Two years ago: Woohoo it's Easter, Which Means Chocolate Peanut Butter Eggs Season!
Three years ago: Roasting Red Peppers…Easy and Delicious!
Four years ago: Scones Galore!
Happy St. Patrick's Day Week!! I do really love this holiday as it's an excuse to wear green (which I really need more in my wardrobe), have a couple of beers, and eat corned beef, cabbage, and potatoes with friends. I didn't get a chance to cook for the actual holiday, but I definitely felt the need to incorporate my Irish roots in a recipe somehow this week…that's where Honey Beer Bread comes in.
I haven't made bread in what feels like ages, and one of my friends with a gluten allergy had made a beer bread (substituting Dr. Pepper for the beer to make it gluten free) and suddenly beer bread was on my mind. So before I knew it, I was heading over to Pinterest to see what beer bread recipes I could get inspired by. That's where I found a honey beer bread recipe from the site Lemon-Sugar that looked too easy and sounded too yummy not to make.
Have I mentioned I love when I have the ingredients on hand already? Cuz I do! So all I needed was some flour, sugar, salt, baking powder, honey, beer, and melted butter…pretty standard ingredients, right?! For the beer, I opted for Sam Adams Boston Lager, because I had it on hand and the flavor of that beer is killer. It worked wonderfully!
I am a fan of cooking and baking with beer. It just adds that bit of complexity to the flavor that catches your attention and tastes SO good! A few of my favorites I've made are Blue Moon Cupcakes (holy smokes they're good), Ale & Cheddar Soup, Drunken Pork Chops, and let's not forget Homemade Pretzels with Sriracha Beer Cheese Sauce (that my dad continues to ask for me to make again).
Beer breads are such a cinch to make. Just whisk the dry ingredients together then add the beer and honey. Stir until it's just combined. Then pour some melted butter in your loaf pan, spoon in the batter, and smooth the top. Finally top with more melted butter and bake until it's golden, crusty, and baked through. The use of the butter to bake this bread is fabulous, because it creates an amazing crust. Trust me that this is a bread that you must make just for this crusty reason.
Even my mom was sold on this one! She absolutely loved the bread and I have to admit that I loved it too! The beer and baking powder helped leaven the bread and the honey balanced out the beer a bit. Drizzle with a little honey fresh out of the oven and this rustic bread is sure to wow!
I am so excited for you to bake this bread. Click here for the Honey Beer Bread recipe and step by step instructions.
A look back:
One year ago: Well Hello Quinoa Stuffed Red Peppers!
Two years ago: Seriously Winter?! Roasted Cauliflower and Aged White Cheddar Soup to the Rescue
Three years ago: Learning to Love Salads…Part 5: Wintry Salad with Grapefruit and Goat Cheese
Four years ago: Look at Me…I Made Pasta…From Scratch!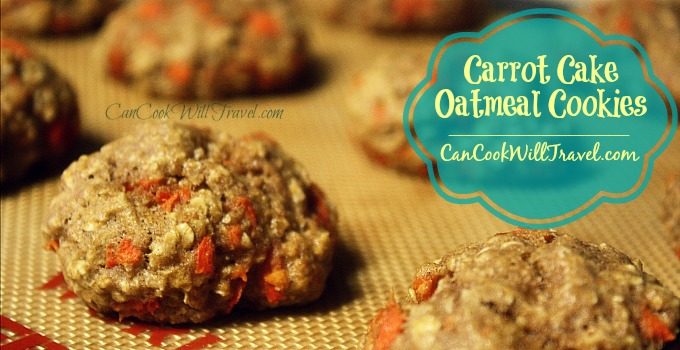 I'm slowly recovering from a cold, so cooking a lot wasn't in the cards for me this week. I knew I could handle baking though. The thing is, I haven't been eating super healthy and exercising with a cold is not a great plan…so I was on the hunt for a healthy, sweet treat. That's…
Filed Under: Healthy, Sweets Tagged With: Carrots, Maple Syrup