By Kelli Wallace Leave a Comment
One of my favorite things about this time of year is that I can eat lots of cranberry dishes. I've made a ton over the years on my blog, and a traditional cooked cranberry sauce is still my favorite way to eat them. And when I stumbled upon this Cranberry Sauce recipe with Apples on Pinterest, I couldn't wait to try it.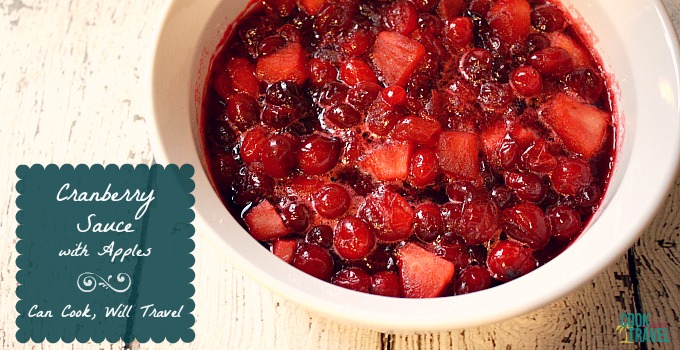 I know a lot of people don't like cranberries, because of the tartness. But I love it! I love when it kinda gets you in the back of your cheek and elicits a funny face. In fact over Thanksgiving, we were feeding Tate (my cousin's 1 1/2 year old) all of our favorite traditional holiday foods. I adore that kid. Not just because he's the cutest thing ever (not biased at all), but he is going to be a total foodie. He'll eat anything! When we fed him some of my mom's cranberry salad and waited to see what he thought, he wrinkled up his nose, said "Ew!" and then proceeded to keep eating it and loved it. Seriously he's a kiddo after my own heart.
Last December I highlighted some of my favorite cranberry dishes I've whipped up on my blog over the last 6 years. So if you want some inspiration or to try a new way to eat cranberries, check it out!
We didn't have traditional cooked cranberry sauce for Thanksgiving, so I've been craving it a bit. And I was excited to try a variation on it with apples and some cinnamon added in. The apples are Granny Smiths, so they're still a bit tart, yet they add some extra sweetness to the sauce.
And if you want your home to smell like the holidays, just whip up this cranberry sauce! Who needs a scented candle?!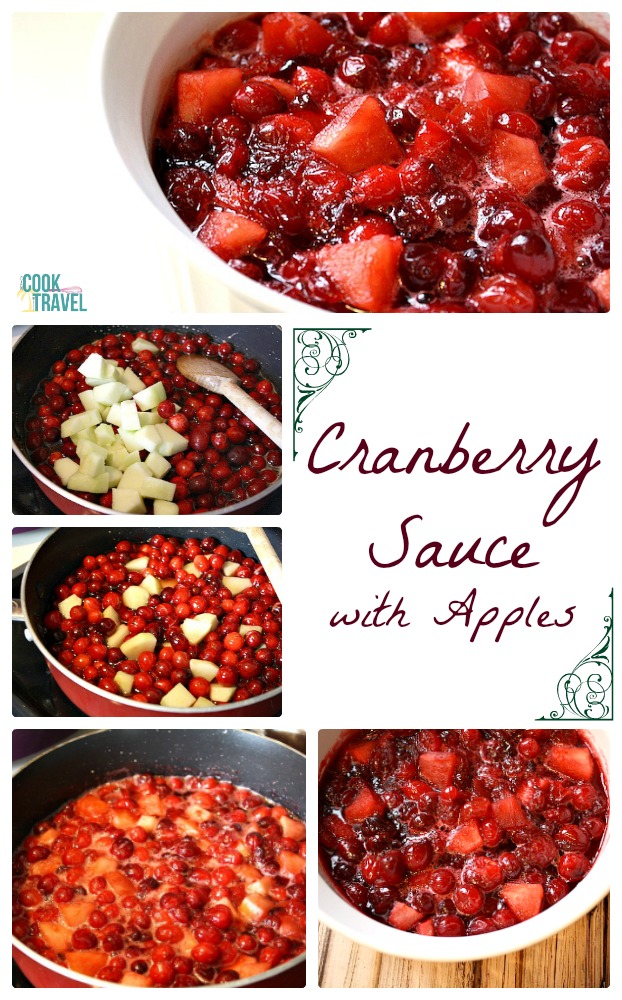 This recipe was a cinch to make, and came together in about 20 minutes with prep time included. Just wash your cranberries and throw out any soft ones. Then peel a Granny Smith apple and dice it up.
Pro note here: Toss your diced apples with some lemon juice to keep them from turning brown. This will let you cut them up ahead of time so they're ready for you and are still fresh looking.
Then in a saucepan, bring water, sugar, cinnamon, and salt to a boil until the sugar has dissolved. Add the cranberries and apples, and simmer and stir the mixture until it thickens up and the cranberries start to pop open. I cooked mine about 10-11 minutes. Then transfer to a dish and let it cool to room temperature and that's it!
You can make this ahead of time, and pop it in the fridge once it's at room temperature. If you do that, cover it with plastic wrap and press the plastic down to touch the surface of the cranberry sauce. Then the dish won't form a skin on the top while chilling.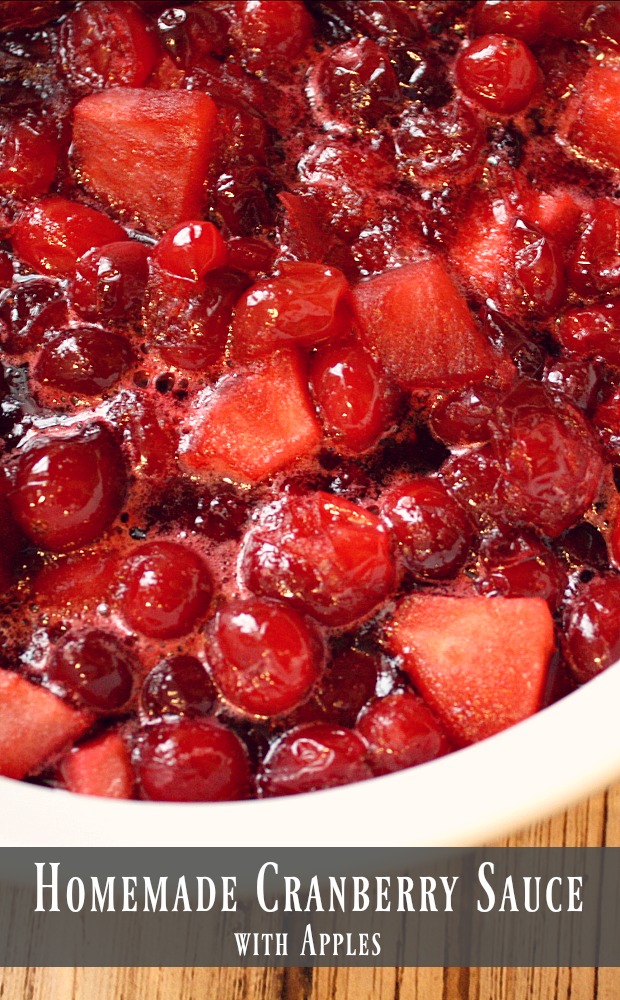 I might just try to sneak this dish into our Christmas dinner line up this year. (Mom, you've been warned!) It's super good, and it reminds me of the Apple-Cranberry Pie that I've been making at Thanksgiving for a few years now. It's such a great combo of sweet and tart, that it might just be a great way to get cranberry haters to give this cranberry sauce a chance.
If you're a big fan of cranberries, then making this Cranberry Sauce with Apples recipe is a MUST! With as many get togethers as we often have during the holidays, showing up with this as a side is a great option! Click that link for the recipe step by step instructions. Happy cranberry eating!!
A look back:
One year ago: Roasted Butternut Squash and Bacon Soup . . . Delicious!
Two years ago: Cranberry Love – Part 2: Cranberry Orange Bread
Three years ago: Beef and Broccoli – Don't Mind if I Do!
Four years ago: Scones Galore – Round Two: Cranberry Scones
Five years ago: Chicken and Wild Rice Soup that Hits the Spot!
By Kelli Wallace Leave a Comment
Ahhh, November. I kinda love you. Fall really is spectacular with its mild temperatures, cozy layering of clothes, and an excuse to eat your weight in mashed potatoes. (Okay, maybe that last one is just me — and my sister.) But seriously it's such a great month as we get to enjoy Thanksgiving here in the States and gear up for the Christmas season. So this month's Blogging Roundup is chock full of holiday-esque posts.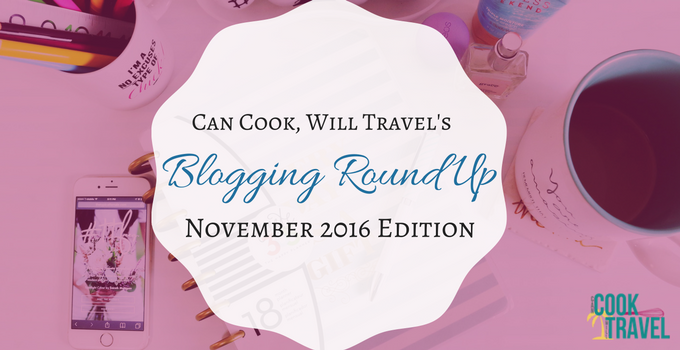 Can I tell you a secret? Today as I write this, I'm taking this whole day to myself. I don't do it often, but I took an extra day off of work as a Kelli day. I slept in (okay well not much but it was lovely), because I can. And I put my Christmas tree up yesterday, so I get to enjoy that. And the BEST part . . . I'm finally digging into the new Gilmore Girls episodes on Netflix. And I'm drinking coffee of course, while I channel my inner Lorelei and Rory.
So I really am in just the best mood, because I get to enjoy GG and have a me day. And as I reflect back on the happenings of November for this month's blogging roundup, well it became pretty clear that this was a fabulous (and insanely tasty) month!
Let's Catch Up on November's Blogging Roundup, Shall We?!:
Recipes Blogging Roundup:

Side Dishes:
With Thanksgiving upon us, food is always on my mind. I can't help it. I'm a total foodie anyway, and my family has such strong traditions when it comes to our holiday meals. I was in charge of making the Apple-Cranberry Pie that my sister and I hoarded from everyone, because we're bad at sharing. And I'm the self-proclaimed cheesy turnips expert in the family, and made 2 of these casserole dishes in 2 days, because it was the right thing to do. My sister knocked it out of the park with her mashed potatoes (ugh so freaking good) and green bean casserole. And my mom cooked 2 turkeys, made our usual oyster dressing with dare I say a better version (gasp!), homemade rolls worth stuffing yourself stupid for, and cranberry salad in memory of my grandma.
But back to the blog food! I shared this insanely good Smokey Roasted Butternut Squash recipe early in November. With smoked paprika (one of my favorite spices) and turmeric (which is crazy good for you), this recipe makes a great side dish for just about any meal. Yum!
And then the week before Thanksgiving I was stressed beyond belief with work. So I thought: "Brilliant idea! Let's make not 1, but 2, new recipes for the blog this week." I love cooking as a stress relief so I dove in and whipped up 2 side dishes worthy of Thanksgiving dinner with a Maple Bourbon Glazed Carrots dish and a Roasted Mushrooms with Garlic Thyme Butter recipe. They are both sinfully good, filled with butter, and would fit nicely into a big dinner. And I think they'd also be great for any holiday festivities you have coming up!
Main Dishes:
Fall seems like the perfect time to cook up a big batch of soup, and then sit on the couch with it and binge watch Netflix. Not that I've had time to do that, but doesn't it just sound amazing?! And Lasagna Soup called my name, and I answered that call. It has this lovely, broth-y, tomato base, with cooked sausage, your favorite bite-sized pasta, and a surprise. The surprise is what I fondly call a cheese bomb of ricotta and Parmesan cheese that hides in the bottom of the bowl and oozes out with each bite. Good Lord, this Lasagna Soup is stellar!
And can you go through Fall without a pumpkin dish? I'm pretty sure that I can't. Something about this Pumpkin Alfredo recipe I found intrigued me so much I just had to try it. I'm so freaking glad that I did, because it was so simple but insanely delicious. Rich, cheesy, and pasta filled . . . what's not to love?! Please go grab a can of pumpkin and some egg noodles and make this straight away!
Dessert:
Chocolate chip cookies are a pretty standard recipe every God fearing person should have in their baking arsenal. And everyone argues about what is the best version of this cookie. I think I could easily argue that this Salted Browned Butter Chocolate Chip Cookies recipes makes the Top 5 list. Salty, rich, gooey chocolate, and a caramel undertone make these cookies complex and sinful! Just be sure you have plenty of people to share them with when you whip them up. (A girl's gotta watch her figure, ya know?)
Weekly Crush Blogging Roundup: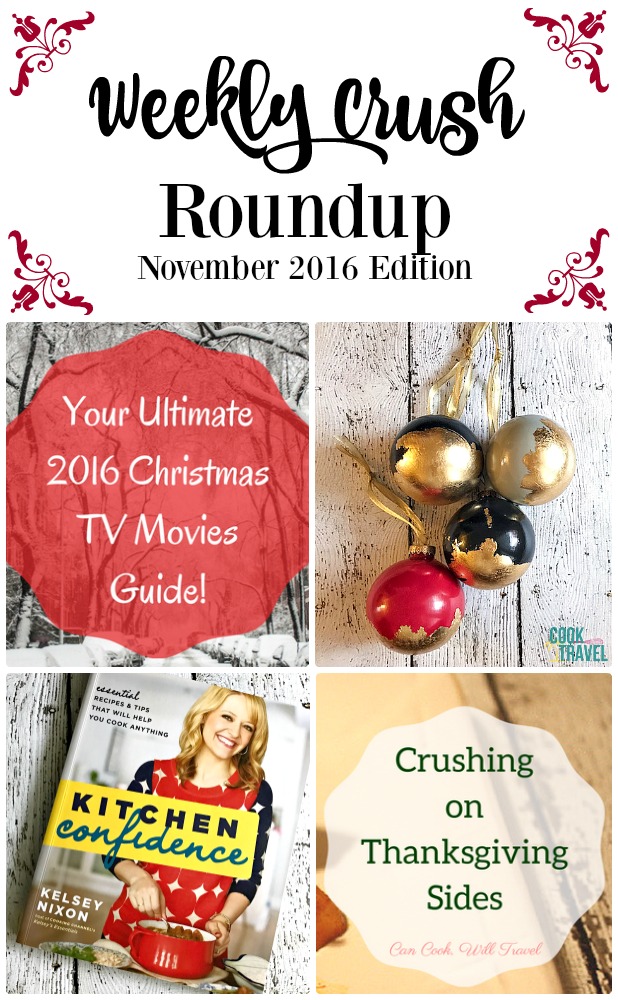 Cookbook Love:
November's Cookbook Love series post featured Kelsey Nixon's Kitchen Confidence cookbook. I love Kelsey's cooking shows, because her food looks so delicious and she's just adorable! And her cookbook is so much fun to flip through. She takes a lot of retro dishes and gives them a fresh, modern twist, which is really how I like to cook too. Kitchen Confidence is a great book to have on your bookshelf when you need some comfort food!
Crushing on Thanksgiving Sides:
I shared some of my favorite side dishes that I've ever made on my blog this month, because you can never have too many sides at Thanksgiving. And really these sides are great year round, and especially at Thanksgiving and Christmas-time. I always find myself a little less regretful when I've filled up on veggies rather than pies and cakes. So check out a ton of different recipes featuring a variety of veggies that you're sure to love too!
Ahhh Christmas!
I couldn't help but start in on Christmas a bit early this month. First off, because I am a girl and love cheesy Hallmark Christmas movies, I gave you your ultimate guide to Christmas TV movies in 2016. TV has been featuring these all month long, so before you totally missed all the new movies, I had to make sure you were armed with every possible TV schedule you needed. Make sure your DVR has plenty of room, because mine is quickly filling up with cheesy holiday movie features!
And I was feeling crafty this month! I made this really cool wall hanging at a local KC shop where you can create Pinterest-inspired masterpieces. So I wanted to do some crafting on the blog in November. And because I adore ornaments, I found this awesome DIY project for Gold Leaf Painted Ornaments that I couldn't wait to try for myself. They are absolutely gorgeous and the gold leaf catches the light on the Christmas tree so beautifully. I am definitely making several more of these ornaments for gifts (and for myself)!
So there you have it! November's blogging roundup is complete. If you love eating, cooking, and all things holiday-related then this is one month you don't want to miss out on at Can Cook, Will Travel. It's impossible to pick one of the recipes as my favorite of the month, because they're all crazy good! And hopefully you'll find a bit of inspiration and fun from this month's weekly crushes.
What recipe are you itching to try from this month's blogging roundup? Let me know below!
Stay inspired & happy discovering!
~Kelli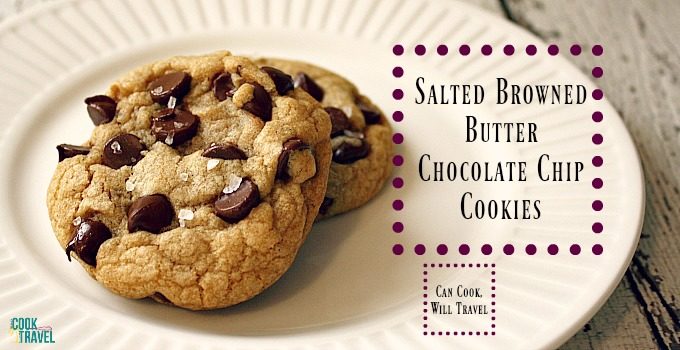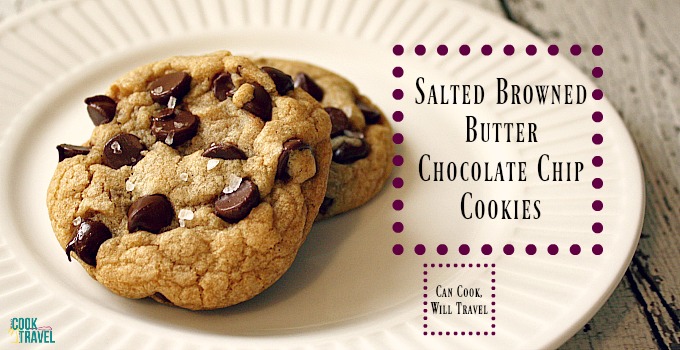 Is anyone else totally worn out this week? While I love the holiday season, I find myself rushing and hurrying to complete projects for work and my blog and spending time with friends and family all in an effort to enjoy my time off. And now I'm exhausted. But with Thanksgiving yesterday, I always am…
Filed Under: Sweets Tagged With: Butter, Chocolate Chips, Salted Browned Butter Chocolate Chip Cookies, Sea Salt