In case past posts haven't been completely obvious…my name is Kelli and I like spicy food. I wouldn't call that a problem though…more of an appreciation. So when I saw this Buffalo Chicken Tortilla Rollups recipe on Pinterest, I definitely was interested.
As someone who always has at least 2-3 kinds of hot sauce on hand at all times, I love that buffalo chicken flavor. Growing up and even through college, spicy food was not my thing. I just didn't like it. My mom and dad loved all things spicy, so it was only a matter of time before I succumbed. I think as I've gotten older, my taste buds have become less sensitive, so now I want…nay, I need, spicy food.
These rollups make the perfect appetizer or snack. They are super easy to whip up and you can make them ahead, which is kinda perfect when you need to bring something to a party or need to make multiple appetizers.
The chicken was what took the longest for me, because I had to cook and shred my chicken. Although if you have pre-shredded chicken that will cut your prep time. I used a method where I cooked one side of the chicken in a pan, flipped it over, added a little water and covered to steam them until they were fully cooked. They smelled fantastic, were easy to shred, and the leftover liquid was also used in a dish that we were having for dinner.
Once the chicken was cooked, throwing the filling together was easy. Just combine cream cheese, blue cheese, hot sauce, Colby Jack cheese, and green onions in a mixer. Once that sauce is fully combined, add the chicken and fold it in. You can let the buffalo chicken filling chill in the refrigerator for a couple of hours if you don't want to make the rollups right away. Otherwise you can start to roll up the tortillas. Be sure to refrigerate the tortilla rolls for a few hours before slicing them so they firm up a bit. Then enjoy!
I gotta say these rollups were awesome and slightly addictive. They were spicy but not crazy spicy, and if you're not a big fan of hot sauce, you can always put less in. It calls for half a cup, which is a lot, but for that classic buffalo chicken flavor it's needed. They were perfect for muching on while watching lots of football.
Click here for the recipe and step by step instructions!
A look back:
One year ago: Hola Chicken Tamale Casserole!
Two years ago: Welcoming in Fall with Pumpkin Snickerdoodle Cookies
Three years ago: Kicking Up Oatmeal a Notch
So this week I wanted to make something quick and easy (shocking, I know) for dinner. I came across this Sriracha Shrimp and Zucchini Lo Mein dish on Pinterest and really couldn't think of anything else after that.
With zucchinis piling up on the counter, it seemed like a great way to use them in a filling meal that was spicy and had a pasta base. I mean, let's face it, I'm all over anything spicy and pasta-filled. This recipe calls for lo mein, which was not so easy to find outside of a big city, so I went with whole grain linguine and it was fantastic. So feel free to improvise if you can't find lo mein noodles.
This dish came together pretty darned fast, which is SO nice. While the pasta cooked, I prepped my veggies and then whipped up the spicy sauce. This sauce was packed with flavors including Sriracha (hell yes!), brown sugar, soy sauce, and sesame oil. You can also add some fresh ginger if you want, but honestly I didn't feel like messing with it. I'm convinced it would be wonderful in it though…next time, maybe.
Cooking wise, there are just a few steps before you stomach is satisfied. You'll scramble some eggs in melted butter and red pepper flakes…and the end result tells me that all scrambled eggs should be cooked this way from now on. All scrambled eggs.
Then remove the eggs from the pan, heat up some oil and add the shrimp and cook for a couple of minutes on each side. The shrimp was cooked PERFECTLY, thank you very much! Thank goodness for frozen, raw shrimp when you're as land-locked as I am.
Once the shrimp are out of the pan, heat up some more oil and then cook the zucchini. You want it to get really crispy, so this part took the longest time to get a nice golden crust on the zucchini. So worth it though. Once the zucchini is done, toss it with some garlic and then add the pasta, eggs, shrimp and sauce and toss. That's it. Serve right away and top with some green onions and cilantro if you'd like.
This recipe was delicious, and the leftovers were just as good. I can't wait for you to click here for the recipe and step by step instructions yet. Have you done it yet?! What are you waiting for…and go!
A look back:
One year ago: Well That Was Easy! Shrimp, Zucchini & Pesto Pasta
Two years ago: Learning to Love Salads – Part 9: Black Bean, Quinoa & Citrus Salad
Three years ago: Cookies and Sea Salt…Really?!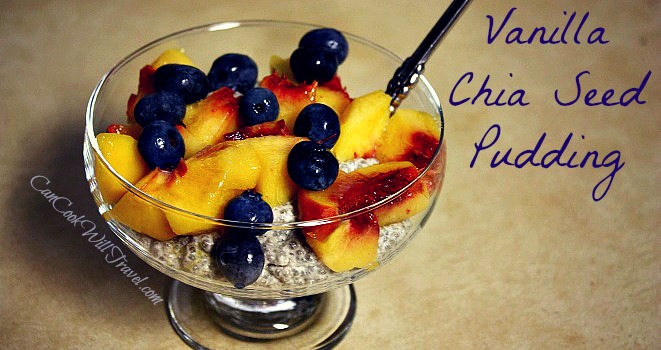 I gotta hand it to my sister…this Vanilla Chia Seed Pudding has been one she's been raving about for several weeks now. I am so glad she went on and on about it, because it finally got me to make it. I now get it – it's absolutely awesome! We have to hand it to…
Filed Under: Healthy, Snacks, Sweets Tagged With: Cashews, Chia Seeds, Cinnamon, Vanilla