By Kelli Wallace Leave a Comment
There are a crazy amount of ways to cook and eat Brussels Sprouts. And I'm not about to tell you what to do with your food, but if you aren't roasting them, you're missing out in life. Sound dramatic? Maybe. But it's the truth. And this Brussels Sprouts Gratin dish is 100% proof of that.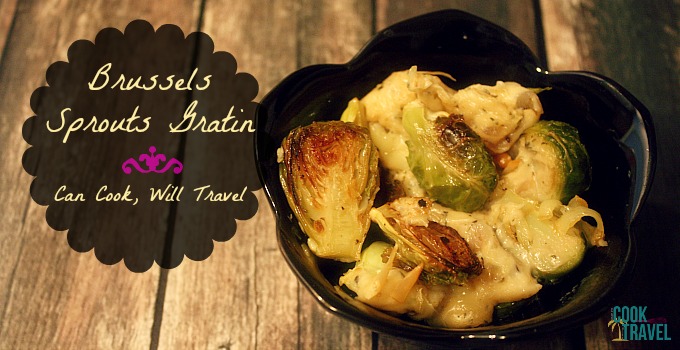 Last week I made a fabulous salad with raw Brussels sprouts, which had me itching to find a new way to roast them. I did a quick scroll through Pinterest and found this Brussels Sprouts Gratin from the site Skinny Taste. After looking over the ingredients and seeing that this was a creamy yet light dish, I knew this recipe was different from any other way I've made this veggie that I couldn't wait to try it out.
Essentially you'll going to roast the sprouts, stir and roast some more. Then make a white sauce with shallots (which right away smelled amazing cooking), and finish it off with some Gruyere and Parmesan cheese. You'll also add thyme to the sauce. If you can't find fresh thyme, dried thyme will be perfect.
Spoon the sauce over the roasted Brussels sprouts and top with more shredded Gouda cheese. Bake until the sauce is heated and the cheese is melted and starts to brown just a bit. That's it!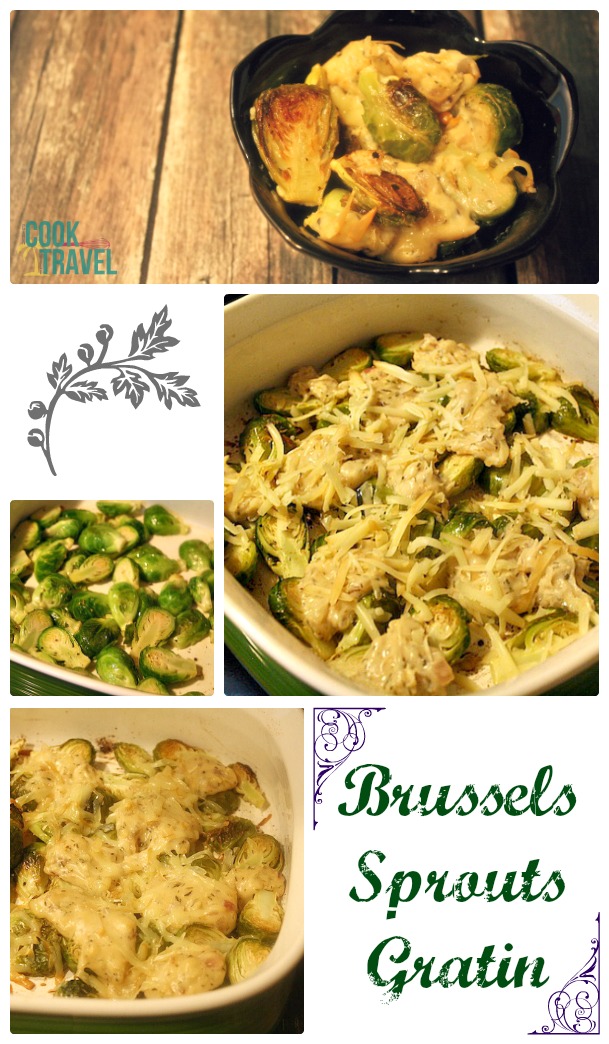 I LOVED this Brussels Sprouts Gratin dish and dare I say . . . this might be my favorite way I've ever cooked Brussels sprouts! Seriously.
It tasted rich, but in reality it wasn't at all. The only fat came from olive oil spray and half of a tablespoon of butter. And the cheese was pretty minimal. But using Gruyere helped give it a more cheesy flavor since you used less. A note on the Gruyere: I used an apple-smoked Gruyere cheese because it was all I could find but it was a total delight!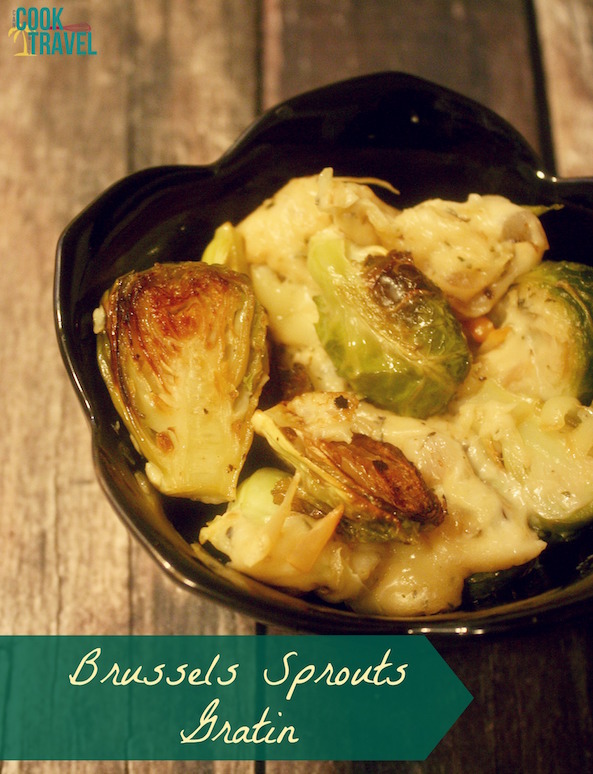 This side has it all. It has a great savory flavor from the shallots, a bit of a nutty flavor from roasting the sprouts, and it's creamy and cheesy. What is not to love? Nothing!
I'm excited (maybe a little too excited) for you to try this Brussels Sprouts Gratin recipe for yourself, so click that link for the recipe and step by step instructions. Happy roasting!
A look back:
One year ago: Roasted Radishes. . .Just Wow!
Two years ago: Heavenly Blue Cheese Stuffed Pork Chops
Three years ago: It's Macaroni and Cheese Time Again!
Four years ago: Soup Time…Asparagus Soup, That Is
Five years ago: Cinco de Mayo Celebration
By Kelli Wallace Leave a Comment
April is starting to wind down, which means it's time for a blogging roundup so you can catch up on all of the happenings around here.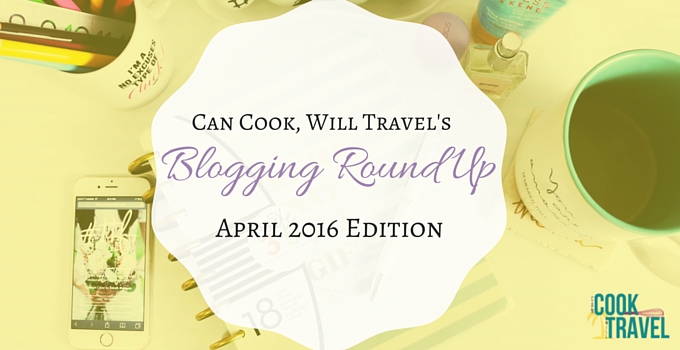 This month was about fresh food, comfort food, and a bit of inspiration. And really that fits pretty well with how April has gone for me. Spring has sprung, food is being planted, and fresh food is what I'm craving. Plus with me moving, I was not only inspired and reflective a bit, but I was also excited for a fresh start.
So you'll find not only some delicious recipes (2 naughty and 2 nice), but you'll also see that I shared some of my favorite food blogs, killer salad recipes, and a cookbook that will help you eat well but also indulge a bit.
So let's get started in this month's blogging roundup, shall we?!
Recipes Blogging Roundup: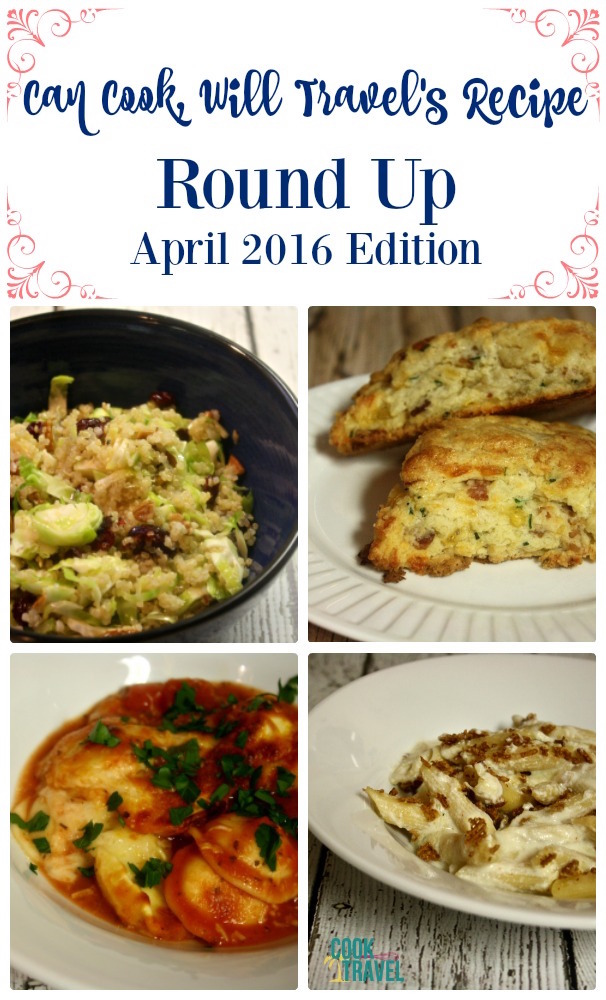 Salad:
As a young adult, I never ever craved salad. So when I started my blog, I knew that learning to love salads was a definite goal. I'm constantly on the hunt for salad recipes that taste great and grab my interest. And that's precisely what this Brussels Sprouts, Quinoa & Cranberry Salad did. The texture is great and the flavors range from tart to sweet, which makes this salad absolutely a winner!
Bread:
I've recognized over the past few years that I'm kind of a scone-aholic. I had never tried my hand at baking scones prior to starting my blog, but I'm totally addicted now. I love how rustic and melt-in-your-mouth good scones are, so I'm always hunting for more recipes to enjoy. When I came across this Bacon Cheddar Chive Scones recipe, well I knew that this savory scone was on my "must make ASAP" list. To say it was a hit was a complete understatement. Buttery, savory, decadent, and perfect for breakfast, a snack, or to accompany a meal. You cannot go wrong with this dish!
Pastas:
Pasta might be one of my biggest weaknesses, if I'm being honest. If you give me choices for food and anything pasta related is in the mix, that's what I'll probably choose. And I wanted to make 2 pasta dishes that were delicious but very different. This Baked Ravioli recipe is hands down one of the easiest things I've ever made on my blog, but it's absolutely big on flavor, is filling, and makes cooking on a week night a cinch. Seriously you must try this one!
Lighter Mac 'n Cheese was one I got really excited about. I adore macaroni and cheese in all of its forms, but admittedly it's not so great for me. So any chance I can get to eat a lighter version of this classic dish, I will happily try. The end result was oooey, gooey goodness that was lightened up but also had an air of sophistication about it, which was pretty cool. #yum
Weekly Crush Blogging Roundup: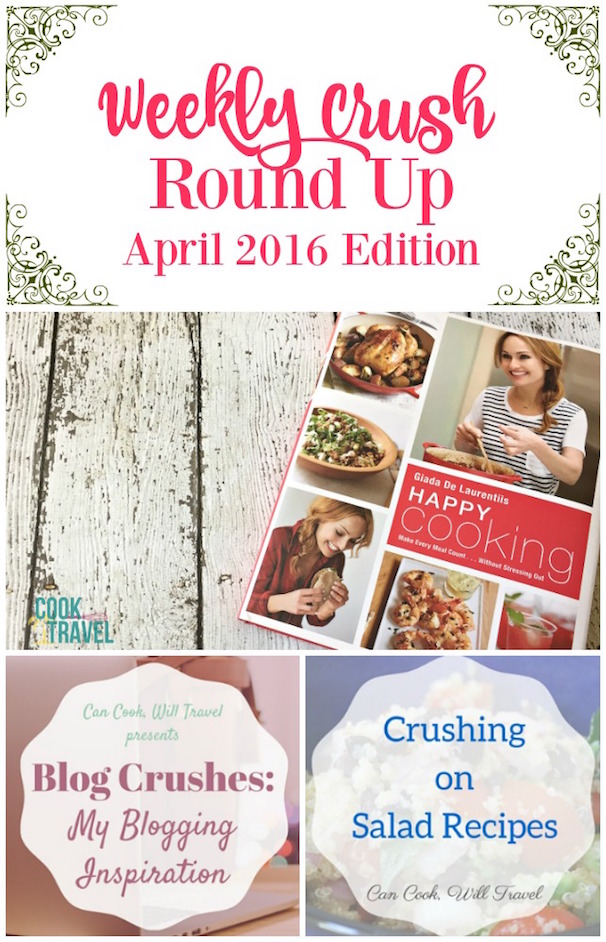 Another installment of my Cookbook Love series features the latest cookbook from my cooking idol, Giada de Laurentiis. Her book Happy Cooking is a great read, full of awesome tips for beginners and well-seasoned cooks, and is packed with mouthwatering recipes. I adore her use of fresh ingredients but also her desire to enjoy comfort food as well. Be sure to check out this post for the rundown on why I've been loving this cookbook!
As I mentioned above, salads have never been my "thing". But I've noticed that I've actually craved them on occasion in the last year or two. And I have to say, it has to be because of my learning to love salads series where I try out different salad recipes. I couldn't help but share my top 5 favorite, go-to salad recipes that I've featured on my blog since its inception. These are AMAZING dishes and I can't wait for you to try them!
Finally in my Blog Crushes series, I was excited to feature 3 blogs that were integral in my becoming a blogger. It's fun when you can see other people's creativity and in a way that you can relate. I was drawn to these 3 food blogs that are all fabulous but very different. I certainly learned a lot and got quite inspired by a few things they each offered that caught my attention. Have you followed any of them?
And THAT is my April in a blogging roundup nutshell! From killer recipes that range from healthy to total comfort food bliss, and crushes that all take me way back in my cooking and blogging journeys, this month was a blast.
YOUR TURN: What are you crushing on from April's blogging roundup? Comment below because I'd love to hear from you!
Stay inspired & happy discovering!
~Kelli