Can a dish be my happy place? I say yes, but maybe as a foodie I'm biased? I mean absolutely a big bowl of mac 'n cheese or dessert is a totally normal happy place, but this Turmeric Sweet Potato Bowl is now my healthy food happy place.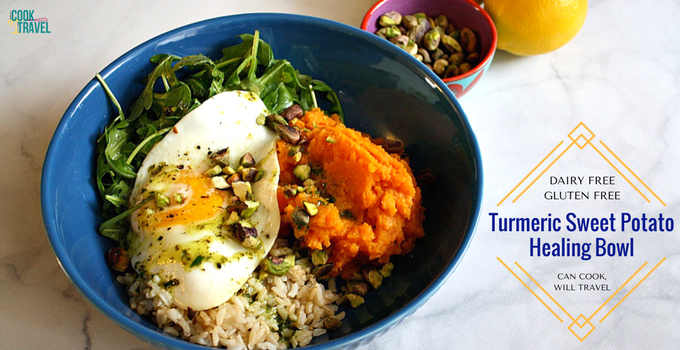 This dish comes from Pinch of Yum, and I'm getting a bit obsessed with their recipes. They're super healthy, the flavors are amazing, and they're inspiring me to eat a bit better. And I love that they love bowls and have a whole recipe section devoted to them. This Turmeric Sweet Potato Bowl is similar to the Buddha Bowl I made last year, where you have several healthy components that all get piled into a bowl and devoured as one dish.
I kept coming back to this dish as one I HAD to make because I had so many of the ingredients on hand already. It was a sign, and I'm so glad I listened. So let's talk about this healing Turmeric Sweet Potato Bowl a bit.

There are really 5 components to this Turmeric Sweet Potato Bowl, but they're all simple:
Mashed Turmeric Sweet Potatoes
Grain – I went with brown rice but quinoa will work too.
Arugula
Egg (however you prefer – I did a fried egg on mine)
Dressing that too-simple-to-be-as-good-as-it-is lemon dressing
First things first, I made my brown rice a day ahead so that it was done and just needed reheated. You could do that with the dressing as well too. Also if you're like my mom and are watching how many carbs you're eating, you can use quinoa which is slightly fewer carbs. OR just have a bigger serving of arugula and smaller servings of sweet potato and rice. But I was in a rice mood and love the heartiness of brown rice.
Speaking of sweet potatoes . . . we must talk about these mashed sweet potatoes. First off, they have turmeric in them, and that spice gives a nice warmth to the finished potatoes. Turmeric is also super good for you, and you can learn more about that in this post. Just cut the potatoes into cubes and heat in a pan with oil and add the turmeric. Once the potatoes are coated in turmeric, simmer in broth and garlic until the potatoes are tender. Then just mash the cooked potatoes with a little broth and salt and pepper.
I loved that this recipe was dairy free, although you could add a little cream to your potatoes when mashing. But truly, you don't need the cream. They're amazing as is. While the potatoes cooked, I blended the dressing, which was so easy. It's just olive oil, lemon juice, garlic, agave, and parsley. You'll toss some arugula in the dressing right before you serve it.
The final piece is the egg, which you can make however you want. I love a good fried egg with slightly runny yoke, but poached eggs or scrambled eggs would be lovely too, I'm sure. Then put the bowl together by adding about 1/2 cup or so of potatoes, rice, and a nice handful of arugula (tossed in the dressing). Then add the egg to the top along with some chopped nuts of your choice. I went with pistachios because they're so delicious. Drizzle a little dressing on the top, and you're ready to dive in.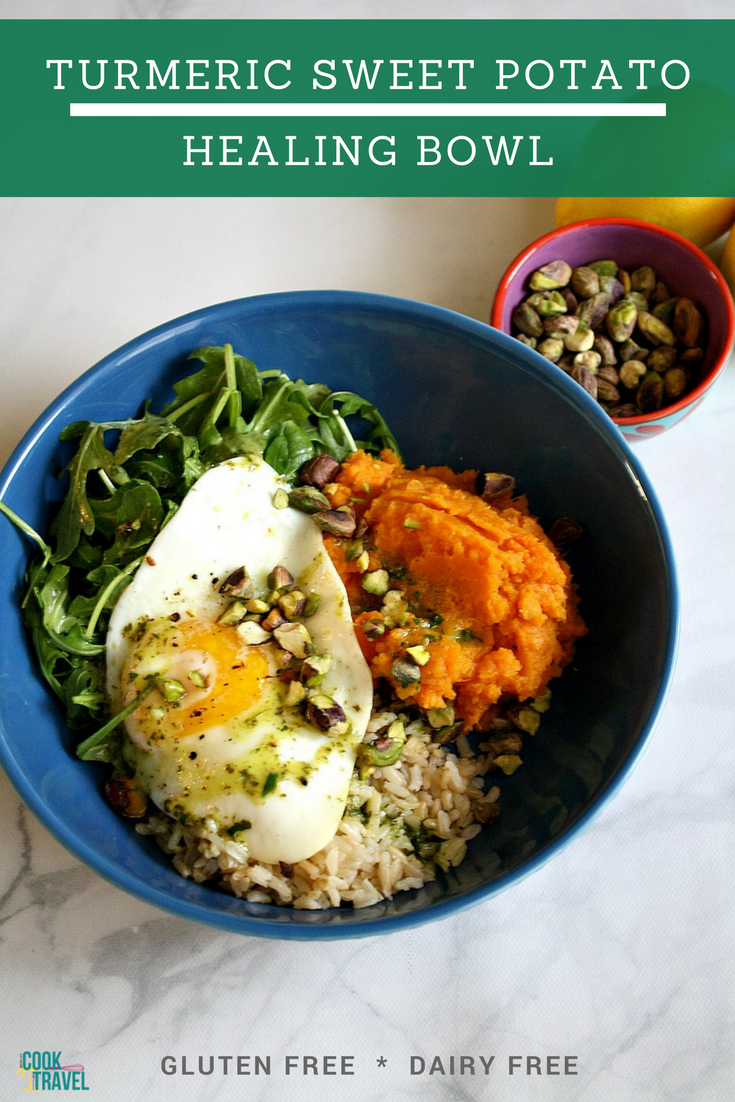 That dressing is so bright and refreshing that it keeps the potatoes from feeling too heavy. And the arugula is a perfect pairing with its slightly lemon and pepper-y flavors. I couldn't tell you which part was my favorite because I loved it all. Plus can you really beat a fried egg on top of anything? I kinda think it makes everything better, personally!
I was ready to lick my bowl and go back for round 2, but somehow I managed to restrain myself. When putting up your leftover food, just store everything separately, and it's a cinch to throw together as you're ready and cook your egg right before you eat.
So stop what you're doing and make this Turmeric Sweet Potato Bowl ASAP for a healthy, crazy good meal. Click that link for the recipe and step by step instructions! Happy bowl eating!
A look back:
One year ago: Dark Chocolate Sea Salt Almonds Make Healthy Snacking a Breeze!
Two years ago: Smoothie Slimdown: Cinnamon Apple Smoothie
Two years ago: Swoon-worthy Caramelized Onion and Bacon Mac 'n Cheese
Three years ago: It's Tea Time – Part 2: Earl Grey Shortbread Cookies
Four years ago: Broccoli Cheese Soup . . . Delish!
Five years ago: All You Need is Love . . . And Cinnamon Rolls (In My Humble Opinion)

By Kelli Wallace Leave a Comment
If you've been following along with me this year, you've probably noticed a bit of a theme. And that is healthy recipes that are also dairy free. While I might eat some cheese here and there especially when I eat out, I'm trying really hard to make my meals at home be free of any dairy products. And since soups are so wonderful this time of year, I'm doing a roundup of some seriously yummy dairy free soup recipes.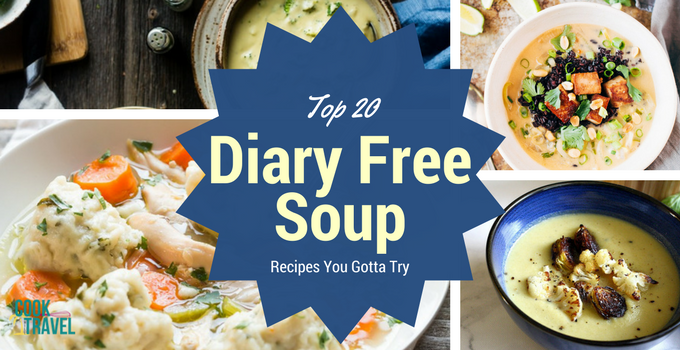 It's probably my love of cheese and cream that made me think that finding delicious dairy free soup recipes would be a challenge. But what I found that really surprised me is that for years now, I've been featuring dairy free soup recipes right here on my blog and I DIDN'T EVEN REALIZE IT!
And the best part? Oh it's definitely that these are some of my favorite soup recipes I've whipped up. So then I went to my favorite search engine, Pinterest, and did some hunting for even more dairy free soup recipes to include here. And there are so many that I am psyched to try out next.
I adore soup, and I have no problem making it year round. So I hope that this list of dairy free soup recipes will be something we can both reference all year long. And while there are tons of ways I could organize these recipes, I started finding a theme. Click on the links below to go directly to that section:
Roasted Vegetable Soups– Crank up the oven to increase the flavors of these veggie soups!
Veggie Filled Soups– Soups that are packed with vegetables and are uber healthy.
Chicken Soups– Yep, I think we can all agree that chicken soups deserve their own category for how comforting they are.
Hearty Soups– Sometimes when it's super cold all you need is a hearty soup to warm you right up.
Gazpachos– These cold soups are perfection in the warmer months!
Top 20 Dairy Free Recipes To Cook:

Roasted Vegetable Soups:
Roasted Brussels Sprouts & Cauliflower Soup
This one has quickly become a hit on my blog, and for good reason. Roasting the Brussels sprouts and cauliflower make this super flavorful without adding cream or unneeded calories. So good!
Roasted Butternut Squash & Bacon Soup
Just roast some bacon and butternut squash and then before you know it, you're diving into a warm and delicious soup. Simply omit the goat cheese on top to make it totally dairy free!
Roasted Tomato Basil Soup
I can't believe how delicious this recipe is, because you're roasting canned tomatoes. So you can make this delightful soup any time you want. So easy!

Veggie Filled:
Spinach Artichoke Soup
I love spinach and artichoke together, and this soup is made thick and creamy with an unexpected and healthy ingredient. Definitely worth trying!
Spinach Tomato Orzo Soup
This broth filled soup is filled with greens and tomatoes, plus orzo pasta to add some interest, and it's super good.
Creamy Leek & Potato Soup Recipe
There's something about leeks and potatoes that I love. It's gotta be that mild onion flavor, and I'll take any excuse to eat potatoes. Add in some fresh thyme, chives, and a bay leaf for added flavor, and I think we're both in for a treat on this one!

Chicken Soups:
Tomato Basil Chicken Stew
This recipe is fast and easy and super healthy, because you simply add shredded chicken to onions, celery, carrots, beans, spinach, and basil and let it simmer away and dig in. I'm betting you'll be sad when this soup is gone, because I always am.
Homemade Chicken Ramen
This soup is such a great spin on a chicken soup, so you can add a yummy Asian twist to it. Grab the chopsticks, and I promise you'll enjoy it!
Chicken Avocado Lime Soup
While this soup is super easy and simple to make, it's also jam packed with flavor from jalapeños, some Roma tomatoes, along with chicken, cilantro, lime juice, and avocados. So it's pretty simple why this is one of my FAVORITE soups I've ever made.
GF Chicken & Dumplings
I kinda failed at my first attempt at chicken and dumplings (although it tasted amazing), so this recipe is making me want to give them another go. I think I shall…
Warming Slimdown Soup
Because you make this healthy chicken soup in the crockpot, it couldn't be easier. Plus it's filled with tons of great veggies, and I'm drooling just thinking about this good-for-you soup!

Hearty Soups:
Stuffed Bell Pepper Soup
If you love stuffed peppers, then this deconstructed version will make your day. Just leave off the cheese on the top to make this recipe a dairy free version.
Italian Wedding Soup
I've been wanting to try my hand at Italian Wedding Soup for a while now, because years ago a friend at the time talked it up so much. This recipe is reminding me why it sounds so darned good!
Ginger Lemongrass Infused Thai Soup
I'm loving Thai flavors and am actually totally okay with cooking with tofu these days, because I'm growing as a person. (I grew up on a hog farm where I'm pretty sure 'tofu' was a curse word in our house.) Ginger is one of my favorite flavors these days, and working with lemongrass is a cool process if you haven't done that yet. So give me some Thai flavored soup…yes please!
Paleo Clam Chowder
Paleo clam chowder sounds pretty damn intriguing, so this recipe is going to make an appearance in my kitchen in the very near future. Yum!
Vegan White Bean Minestrone Soup
I adore minestrone, because it's packed with veggies and pasta. Two of my favorite things! And Richa's vegan parmesan recipe she links too looks really interesting, so this is a must make recipe for sure!

Gazpacho 3 Ways:
Gazpacho
Fresh tomatoes, cucumbers, onion, garlic, and a bell pepper plus some tomato juice make this a gorgeous red soup. The flavors are simple and bright thanks to the white wine vinegar, so you can beat the heat with this delightful soup!
Spanish Gazpacho
5 ingredients, a really cool method to making this recipe creamy, and then you're in for a garlic lover's dream of a soup. Creamy, flavorful, and super easy!
Tomato Strawberry Gazpacho
Summer, with its fresh strawberries, is honestly begging you to make this cool soup. Seriously, it's so good!

Have I made you hungry yet? Oh good, I was hoping I did! I'm certainly in the mood now to whip up a soup recipe this week, and that's always a good thing. This post gives you a wide range of healthy, dairy free soup recipes, so that you have tons of options to choose from.
I can't wait to hear which of these soups you're dying to make next. Definitely comment below and let me know which of these dairy free soup recipes you're ready to add to your grocery list.
Stay inspired & eat healthy!
~Kelli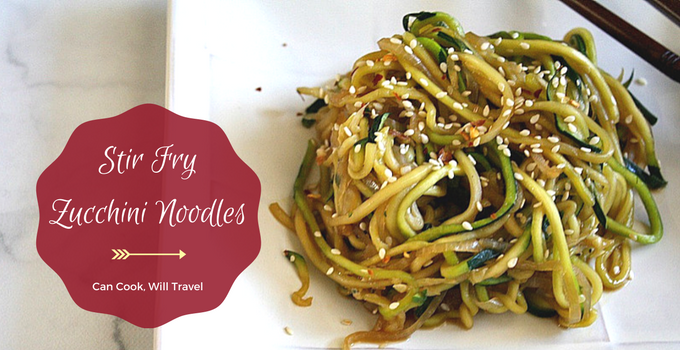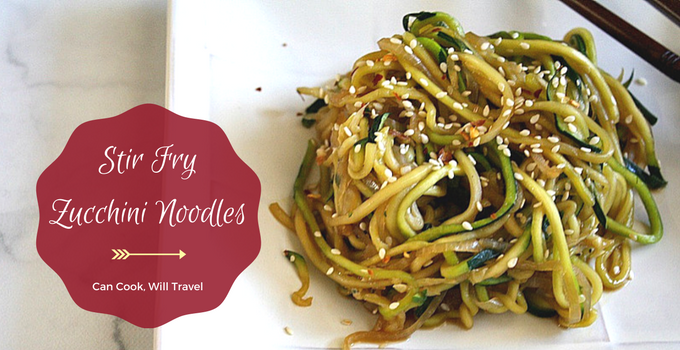 I might be biased here, but I'm pretty sure I have the best mom. As you know, I love to cook, and I 100% got that love and skill from my mom. My grandma passed away when I was only six, and my mom wasn't much older than I am now. And one of her…
Filed Under: Healthy, Side Dish, Vegetables Tagged With: Dairy Free, Sesame Seeds, Spiralizer, Stir Fry Zucchini Noodles, Teriyaki Sauce