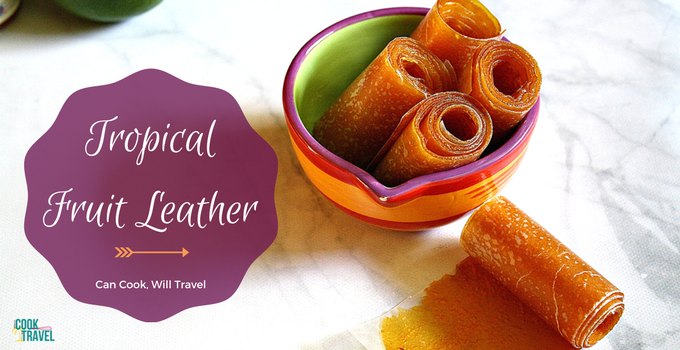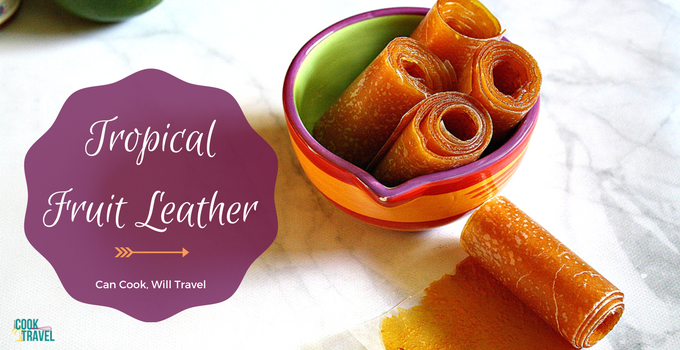 (This Spicy Mango Pineapple Fruit Leather recipe is inspired by a few different recipes, so here's another post from the Food Network that has lots of fun combos in it but it's a bit less healthy.)
Step by Step Instructions:

Oh holy wow this Spicy Mango Pineapple Fruit Leather is so delicious, so here's what you'll need to enjoy it too: Coconut Water, Pink Himalayan Sea Salt, Cayenne Pepper, 1 1/2 cups each of Pineapple and Mango (fresh or frozen), Agave Nectar, 1 Lime, and Fresh Ginger.

Before you do anything, preheat your oven and then start prepping your food. That includes quartering 1 lime.

Then cut off a piece of ginger that looks like it'll be about a tablespoon's worth.

You first need to peel the ginger, so grab a spoon to help you scrape the skin off.

Then you need to mince the ginger, and I love using my garlic twist. Alternatively you can use a microplane grater or just chop really finely. For the garlic twist method that I used, cut the ginger into small pieces so that it'll fit into the gadget.

Then I minced my ginger in two batches, so put half in and pop the lid on and twist away until the ginger is minced.

Here's how it looks in the garlic twist, so that you know what to look for.

Then place all of the minced ginger in a small bowl and set aside.

Let's get the Spicy Mango Pineapple Fruit Leather going, so add 6 ounces of coconut water, the juice of 1 lime, and then 1/8 cup of (roughly) of agave to the blender.

Then add your fruit to the blender, and I thawed mine out a little in the microwave so they'd blend a little more easily.

Add all of that minced ginger to the blender, so you get a nice warmth to the Spicy Mango Pineapple Fruit Leather.

Finally add a pinch of sea salt and cayenne pepper to the blender. And if you're making this for kiddos, you can skip the cayenne but if not it's TOTALLY worth adding for a little warmth. So good!

Then blend until it's completely smooth, and you absolutely want to make sure that all of the fruit has been blended so you get really smooth Spicy Mango Pineapple Fruit Leather.

Transfer the fruit mixture to a pan and heat over medium heat so that it starts to come to a light boil.

Stir this constantly, because you don't want it to burn and get ruined. Then cook the mixture for 10-15 minutes or until the mixture has reduced and is thick.

I definitely think you need a Silpat for this recipe because it handles the Spicy Mango Pineapple Fruit Leather so beautifully. So line a baking sheet with your Silpat.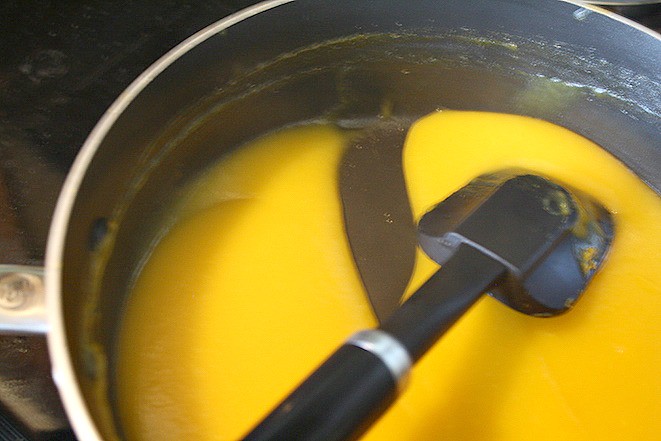 Sorry for the slightly blurry image, but this was the best way to show you how to know when it's thick enough. As you're stirring constantly you'll notice the mixture getting thicker, and you should see the bottom of the pan pretty easily like this as you scrape it.

Then carefully spread the fruit into an even layer in a rectangle on your baking sheet. I used an offset spatula to help spread the fruit around, and I probably could have done a whole lot better job spreading it out better. My rectangle measured out to about 10 inches by 14 inches if that helps.

Bake the Spicy Mango Pineapple Fruit Leather for at least 3 hours, and then after 3 hours check regularly and remove from the oven once it's fully baked and just slightly tacky when you touch it. You can see a lighter spot near the middle in my image where I could have let it bake a bit further, but it still turned out SO well!

Let the mixture cool, and then once it's cool you can start to gently peel it away from the Silpat.

Once I'd gotten the shorter end to pull away from the Silpat, I cut a piece of waxed paper and placed it on the back of the fruit leather (the side that touched the Silpat). Then I was able to use the waxed paper to gently ease the fruit leather off of the Silpat.

Here's the fruit leather on the waxed paper and you can see some rough sides, but nothing to worry about.

I used a ruler to measure the fruit leather into 2-inch strips that go down the long side of the rectangle. I found it easiest to make these markings at the top and bottom.

Then use kitchen shears to cut from one marking at the bottom to the one that corresponds at the top. You can use the shears to even up two edges that you see above, so you have even strips.

Roll up the Spicy Mango Pineapple Fruit Leather strips into little bundles, and devour! I'm a huge fan of this recipe, and I can't wait to make it again, because it's a lovely snack or even dessert at lunch! Can't wait for you to whip these up and let me know how you like them!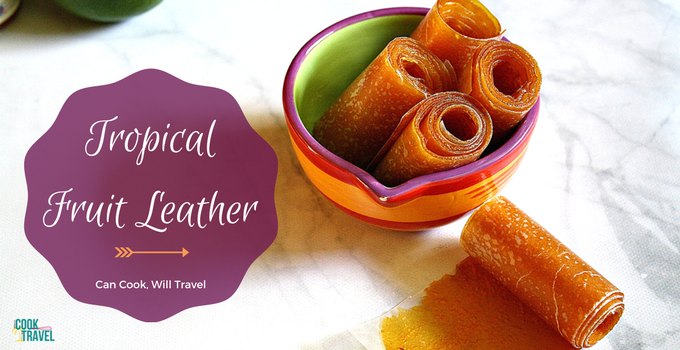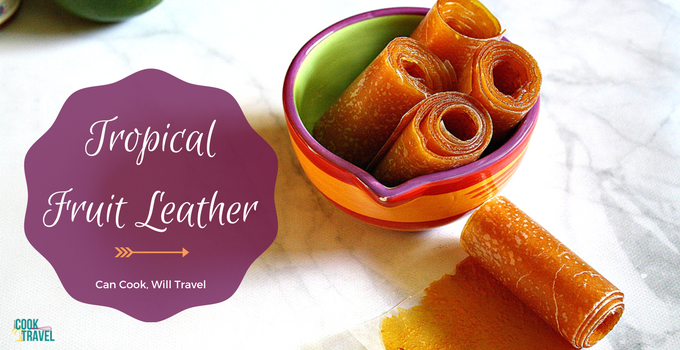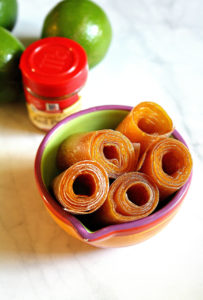 Print
Spicy Mango Pineapple Fruit Leather
Yield 5 Strips
For a healthy yet sweet treat, try this all natural fruit leather recipe! It's not only fun to make so you know what's going in it, but it packs a little heat too!
Ingredients
Fruit Leather Ingredients:
6 oz. Coconut Water
Juice of 1 Lime
1/8 cup agave
1 1/2 cups pineapple, fresh or frozen
1 1/2 cups mango chunks, fresh or frozen
pinch of sea salt
1 Tbs. minced ginger
pinch of cayenne
Instructions
Preheat your oven to 200 degrees. Begin by adding the water, lime, and agave to a blender. Then add the pineapple and mango that have been thawed. Finally add the minced ginger and a pinch (about 1/8 teaspoon or less) of sea salt and cayenne.

 

Blend the ingredients until it's completely smooth, and then transfer the mixture to a nonstick saucepan and bring it to a light boil over medium heat.

 

Stir constantly for 10-15 minutes until the fruit has reduced and thickened up, so that you can easily see the bottom of the pan when you scrape it as you stir.

 

Carefully pour the fruit mixture onto a Silpat lined baking tray. Use an offset spatula to spread the fruit into an even layer that is about 10" x 14".

 

Bake for at least 3 hours, and check after 3 hours to make sure that the fruit has dried and is no longer uncooked but is still flexible. If you touch it, it'll be slightly tacky but cooked.

 

Remove the baked fruit leather from the oven and let it sit for until it's cooled.

 

Carefully peel the fruit back from the silpat until you have one edge pulled away. Then place waxed paper on the back side of the fruit leather (the side that had touched the Silpat) and let the paper help you gently pull the fruit leather from the Silpat.

 

Use a ruler to measure out your strips so they are 2" wide, then use kitchen shears to cut the fruit into strips. Then roll up the strips and eat 1 as a serving. I got 5 long strips out of my fruit leather. Enjoy!
Notes
Quick Tip: If you're making this for youngsters, feel free to skip the cayenne. But if you're whipping it up to enjoy yourself or for the adult kids in your life, then definitely add it. It's not super spicy, but adds a little warmth.
Courses Snack
Cuisine Healthy
Nutrition Facts
Serving Size 1 strip of fruit leather
Amount Per Serving

Calories 93

% Daily Value

Sodium 18 mg

1%

Total Carbohydrates 22 g

7%

Dietary Fiber 1 g

4%

Sugars 17 g
* Percent Daily Values are based on a 2,000 calorie diet. Your daily values may be higher or lower depending on your calorie needs.
2