Is anyone else totally worn out this week? While I love the holiday season, I find myself rushing and hurrying to complete projects for work and my blog and spending time with friends and family all in an effort to enjoy my time off. And now I'm exhausted. But with Thanksgiving yesterday, I always am in the mood to bake. And you're going to be glad I am when you make these Salted Browned Butter Chocolate Chip Cookies.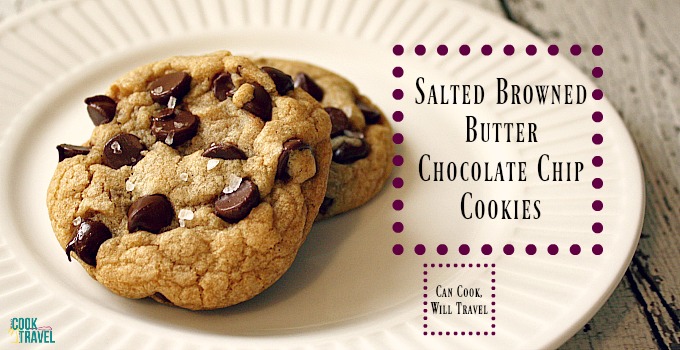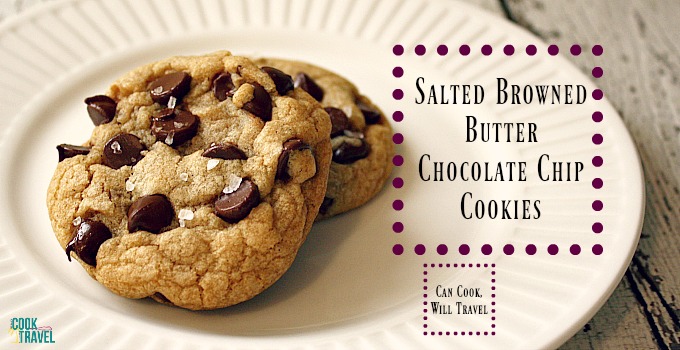 Pretty much all I needed was to see the name "Salted Browned Butter Chocolate Chip Cookies" on Pinterest, and I was sold on these guys. I love the idea of sweet and salty together, and that's a winning combination with these cookies. And this recipe comes from the site The Girl Who Ate Everything . . . pretty sure she and I would get along very well with a name like that!
I actually whipped these up over my lunch break this week, which couldn't have been easier. All you do is brown some butter in a saucepan and let it cool. Then add your sugars, eggs, and vanilla to the butter and stir to combine. Stir that liquid mixture in with your dry ingredients and fold in chocolate chips. Seriously, that's it.
This recipe makes about 30 or so cookies (give or take the occasional taste test of cookie dough). Depending upon how soft you like your cookies will determine the bake time. I adore soft, gooey cookies, so I went about 9-10 minutes for each batch, and they are the perfect amount of soft and gooey with a nice crust.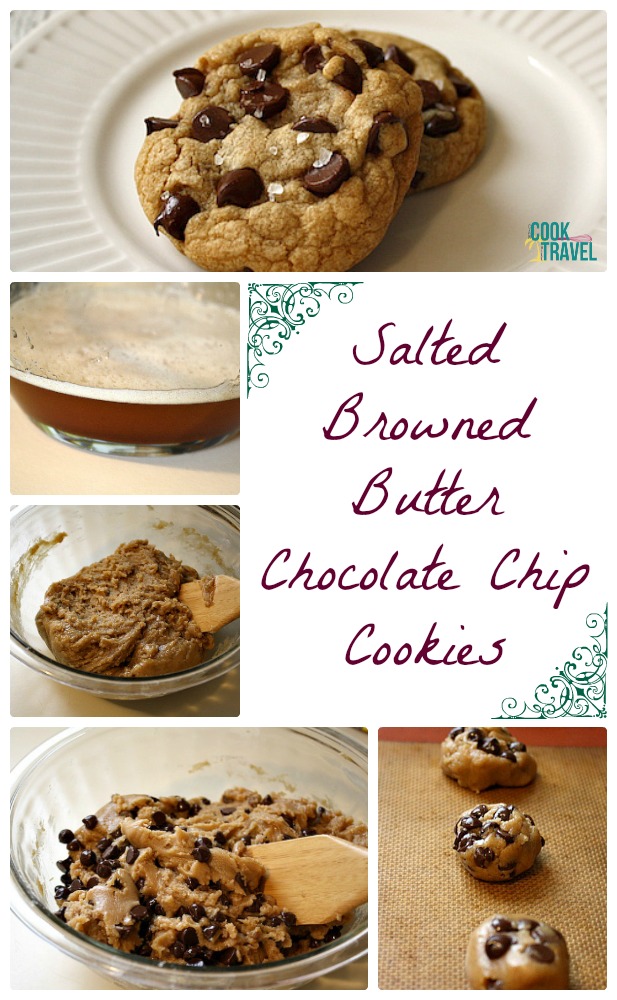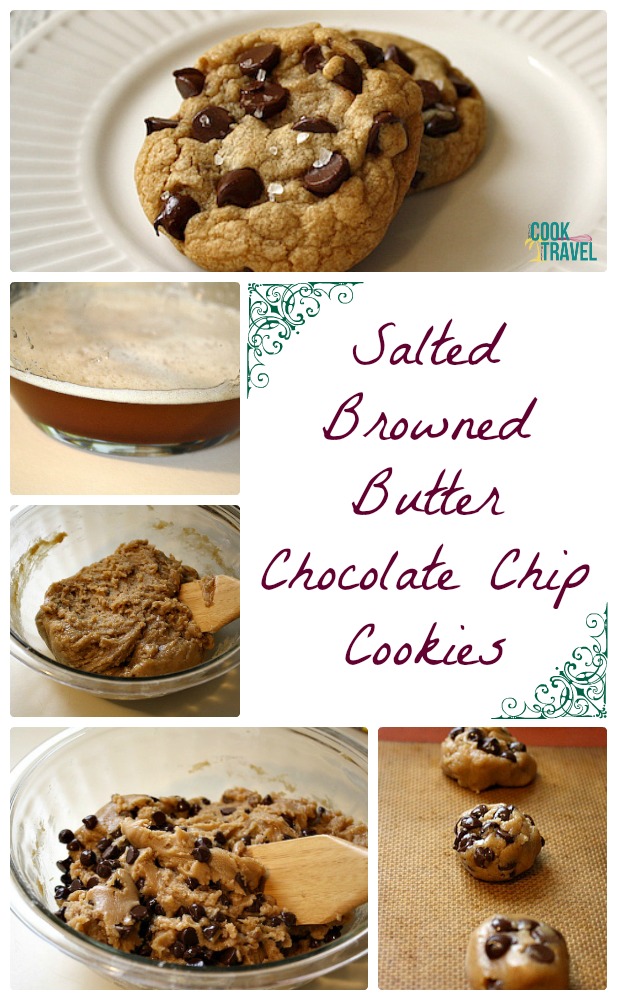 These Salted Browned Butter Chocolate Chip Cookies have a base of browned butter and sugar, so they are far from healthy. But that just means you must share them with the people you love. I gave half a dozen to my friend Jamie at dinner this week. Her texts once she ate a cookie were both hilarious and also summed up my feelings about them too. Let's just say she was a fan and leave it at that! (And I sure am too!)
As far as flavors go, you've got this richness from the butter and sugar. But the chocolate is melty, the salt helps tone down the richness from the semisweet chocolate, and the browned butter adds this decadence that you just have to taste to understand. The browned butter almost adds a caramel flavor to these cookies. I am feeling confident that if you know someone with a sweet tooth, then you're about to have that person in your life forever just so they can keep eating these cookies. #YouveBeenWarned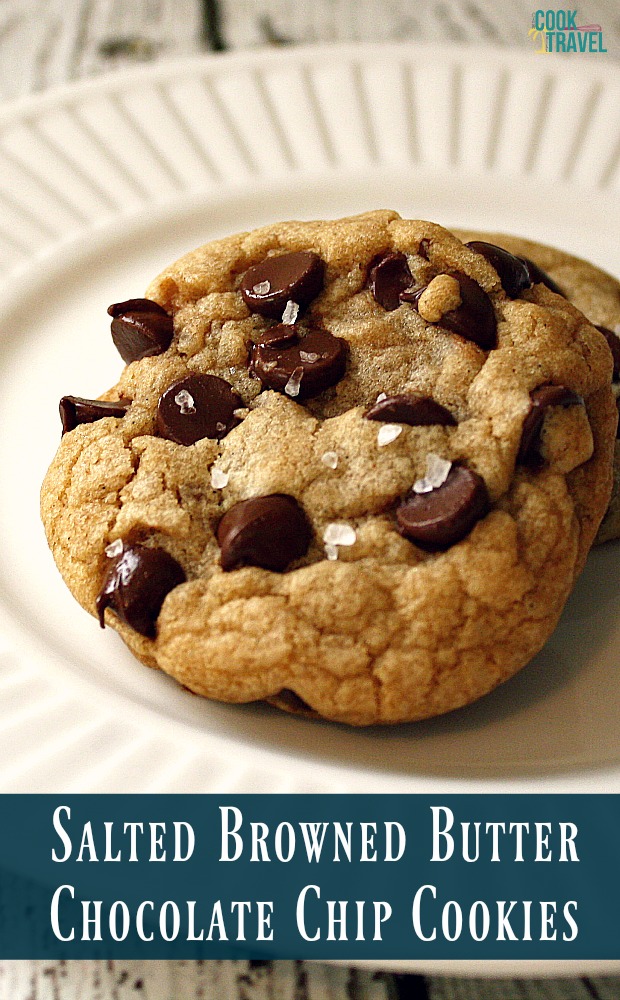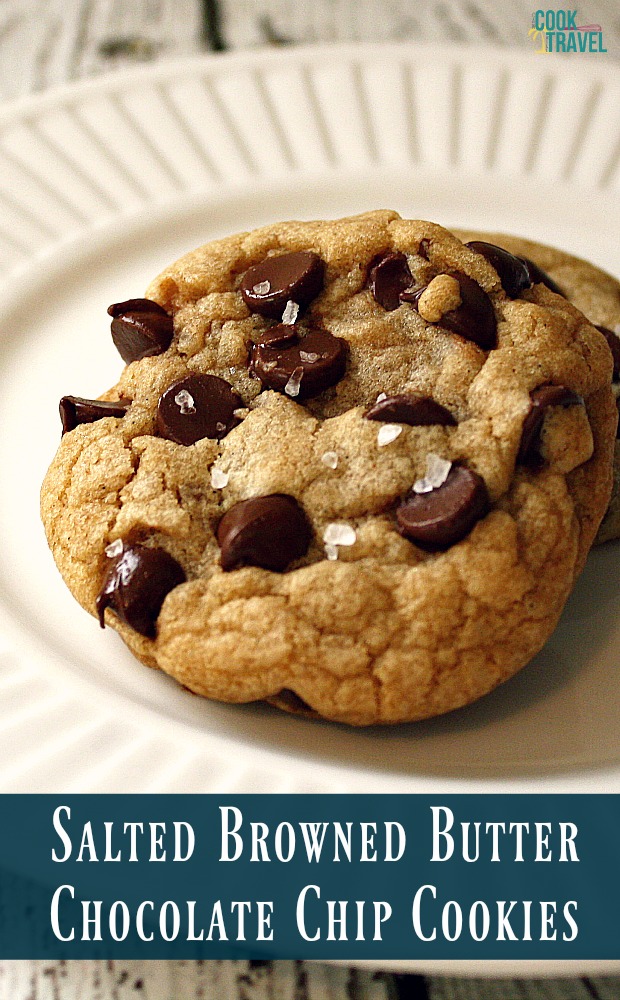 These Salted Browned Butter Chocolate Chip Cookies would be the perfect choice for leaving out for Santa on Christmas Eve. Yep, there's your excuse for why you just HAVE to make them.
So get everything you need for this Salted Browned Butter Chocolate Chip Cookies recipe ASAP, and do a test run (or two). Click that link for the recipe and step by step instructions, because I know you'll be glad you did! Happy baking!!
A look back:
One year ago: Gingerbread Loaf = Holiday Perfections!
Two years ago: Goodbye Thanksgiving, Hello Pumpkin Ravioli!
Three years ago: Roasted Brussels Sprouts with Honey Sriracha Drizzle – Oh So Good!
Four years ago: Light and Easy Carbonara
Five years ago: Because I Can … Grown Up Mac 'N Cheese
0