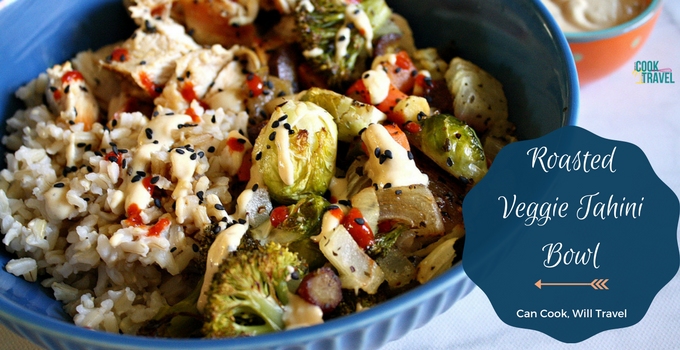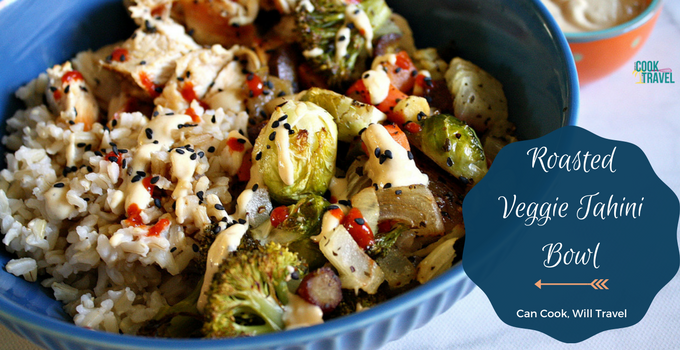 (If this Roasted Veggie Sriracha Tahini Bowl looks good to you, definitely check out this roasted veggie bowl and this fab sweet potato turmeric bowl.)
Step by Step Instructions:

Roasted Veggie Sriracha Tahini Bowl is crazy good, so here's what you'll need to enjoy it: Tamari (or Soy Sauce if you prefer), Brussels Sprouts, Broccoli, Extra-Virgin Olive Oil, Tahini, Sriracha, 1 Onion, Salt & Pepper, Chicken Breasts (or your favorite protein), Dried Basil, Crushed Red Pepper Flakes, Sesame Seeds (white or black), Brown Rice, Carrots, 1 Lemon, and then 1 Garlic Clove. Not pictured is Maple Syrup, because it was an inspired after thought that is a MUST.

Begin by preheating your oven to 375 degrees, and then line a baking sheet with a Silpat.

Now it's time to prep the veggies for the Roasted Veggie Sriracha Tahini Bowl, so peel and chop up 4-5 carrots.

Then slice half of an onion.

I love buying the bagged broccoli florets, because they're already cleaned, so just trim them into bite-sized pieces.

Then put all the veggies on the baking sheet.

Add a nice drizzle (about 2 tablespoons) of EVOO, salt and pepper to taste, 1 teaspoon of dried basil, and then 1/2 teaspoon of pepper flakes.

Then mix the veggies around until they're all well coated, and bake for about 20 minutes or until they're tender and starting to brown a little.

To cook the chicken, heat a tablespoon of oil (I like grapeseed oil) in a nonstick skillet over medium heat.

Season one side of the chicken with salt and pepper, then place them season side down in the hot pan. Then season the other side. Cook the chicken by turning it every 3 minutes until they're browned and at least 165 degrees internal temperature. I usually cook mine around 12 minutes, but they're still amazingly juicy and so good! Your Roasted Veggie Sriracha Tahini Bowl can have whatever your favorite protein is if you have leftover chicken, turkey, ham, tofu, etc.

To make the tahini sauce add 1/4 cup of tahini, 1/4 cup of water, 1 T. of EVOO, 1 minced garlic clove, a teaspoon of maple syrup, and salt and pepper to taste to a small bowl.

Then stir to combine and taste adding more oil, maple syrup, or salt as needed until it's nutty but a little sweet.

Once the chicken is cooked, transfer it to a cutting board and then let it rest for 3-5 minutes.

So after about 20 minutes, your veggies are ready to go and you're SO close to enjoying this Roasted Veggie Sriracha Tahini Bowl!

I like to slice the chicken, and then…

…cut it into bite-sized pieces so it's easy to eat. Then put together the Roasted Veggie Sriracha Tahini Bowl by adding the rice (about 1/2 cup), 1 diced chicken breast (or less), a nice helping of the roasted veggies (at least a cup) to a bowl. Then add a nice splash of tamari to the dish, drizzle the tahini sauce and Sriracha over the top, sprinkle sesame seeds over the top, and enjoy!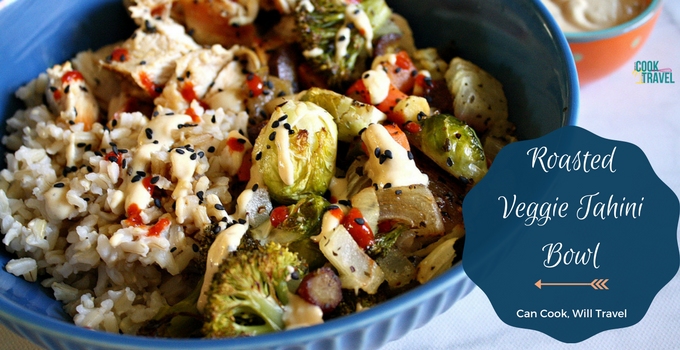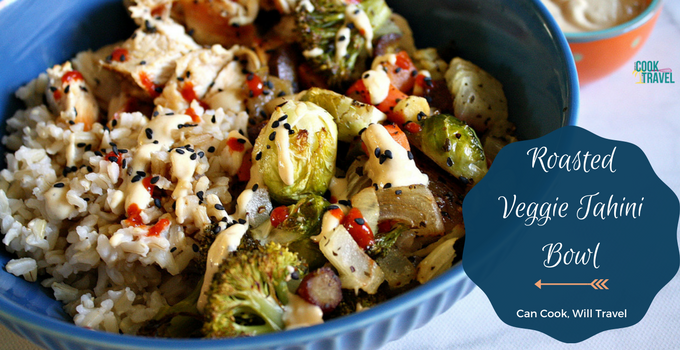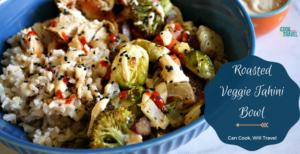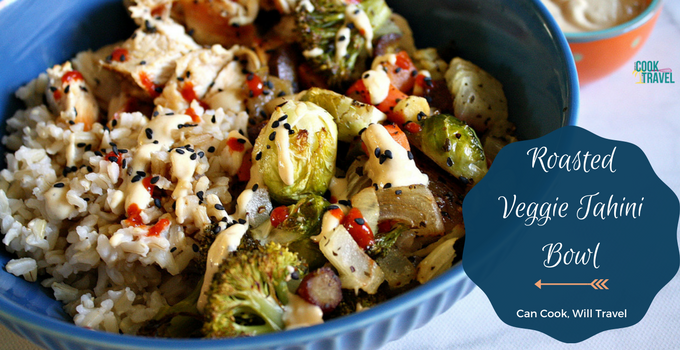 Print
Roasted Veggie Sriracha Tahini Bowl
Yield 3-4 servings
You'll love this healthy, hearty, spicy and veggie-packed bowl!
Ingredients
Bowl Ingredients:
2 cups Brown Rice, cooked
3-4 Chicken Breasts
2 cups Broccoli florets
1-2 cups Brussels Sprouts, cleaned and sliced in half
4-5 Carrots, peeled, trimmed, and sliced
1/2 Onion, sliced
2 T. EVOO
1 t. Dried Basil
1/2 t. Red Pepper Flakes
Salt & Pepper, to taste
Tamari Sauce, to taste
Sriracha, to taste (optional)
Tahini Sauce:
1/4 cup Tahini
1/4 cup Water
1 T. Lemon Juice
1-2 teaspoons Maple Syrup
1 Garlic Clove, minced
1 T. EVOO
Salt & pepper, to taste
Instructions
For the veggies: Preheat the oven to 375 degrees, and then chop up your veggies. You can use whatever you have on hand, and I like sprouts, root veggies, and broccoli or cauliflower. Then toss with 2 tablespoons of EVOO, 1 teaspoon of dried basil, 1/2 teaspoon red pepper flakes, and salt and pepper to taste. Then bake for 20 minutes.

 

For the chicken: You can use whatever proteins you like or have on hand, but I love chicken in this. Heat a nonstick skillet over medium heat and then add a tablespoon of oil to the pan. Once the pan is hot, then add the chicken that's seasoned with salt and pepper to the pan. Then flip the chicken every 3 minutes until it's browned and about 165 degrees inside, and I usually cook mine for at least 12 minutes. Then set the chicken on a cutting board for 5 minutes before slicing into bite-sized pieces.

 

For the tahini sauce: In a small bowl combine the tahini, water, lemon juice, maple syrup, minced garlic, EVOO, and salt and pepper. Taste the sauce and adjust the seasoning until it's to your taste. I added more salt, more water to make it a little thinner, and EVOO to mine.

 

Once the 3 components and the brown rice are done, then add them to a bowl (about 1/2 cup of rice, 1 chicken breast sliced, and 1 to 1 1/2 cups of veggies). Drizzle some tamari over the top followed by tahini sauce and Sriracha. Then sprinkle sesame seeds over the top and enjoy!
Notes
Quick Tip #1: You can use your favorite proteins or anything you have leftovers of, and it'd be perfect for leftover holiday turkey or ham, or tofu or whatever you like!
Quick Tip #2: Don't skip that maple syrup in the tahini sauce, because it's SO worth it!
Quick Tip #3: You can make the rice, chicken, and sauce ahead of time. Heck, make the roasted veggies in advance too if you want!
Courses Main Dish
Cuisine Healthy
Nutrition Facts
Serving Size 1/3 of recipe
Amount Per Serving

Calories 673

% Daily Value

Total Fat 25 g

38%

Saturated Fat 4 g

20%

Unsaturated Fat 20 g

Cholesterol 88 mg

29%

Sodium 280 mg

12%

Total Carbohydrates 67 g

22%

Dietary Fiber 11 g

44%

Sugars 12 g

Protein 48 g

96%
* Percent Daily Values are based on a 2,000 calorie diet. Your daily values may be higher or lower depending on your calorie needs.
0