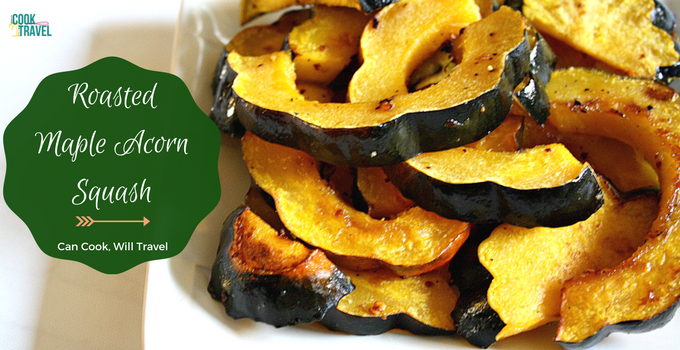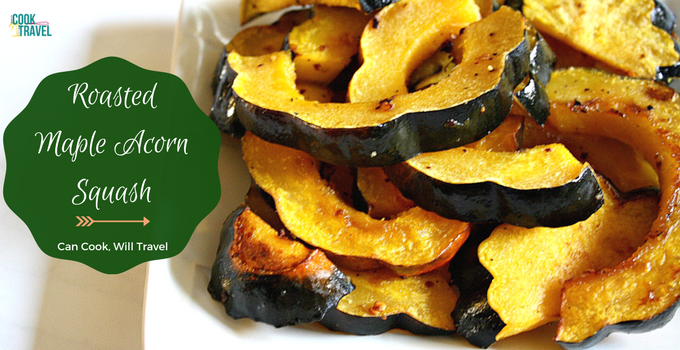 (If Roasted Spicy Maple Acorn Squash sounds delicious to you, then I bet you'll love this Apple and Bacon Stuffed Acorn Squash recipe too.)
Step by Step Instructions:

Roasted Spicy Maple Acorn Squash is not only delicious but easy to make, so here's what you'll need: Salt & Pepper, Crushed Red Pepper Flakes, Garlic Powder, 1 Acorn Squash, EVOO, and Pure Maple Syrup.

Start by preheating your oven to 400 degrees, and then line a baking sheet with a Silpat. Then it's time to tackle the acorn squash and cut it in half lengthwise. I'm not super strong, so my tip is to microwave for 30 seconds, then try to cut it in half a little, and continue to microwave every 30 seconds until you're able to cut through the squash. I think I only needed to heat mine 60-90 seconds total just to soften the outside enough to get my knife through. Then I also cut off the ends so I had a flat surface to use as I cut. Hopefully that helps you, because it's the easiest way I've found to cut into a dense squash.

Now use a large spoon to scoop out the seeds and insides of the squash for both halves.

Here's the squash all scooped out, so you're ready to make the Roasted Spicy Maple Acorn Squash!

Flip the squash cut side down, and then slice into 1/2-inch thick slices.

Now place the squash in a bowl and add 2 tablespoons of extra-virgin olive oil and 1 tablespoon of maple syrup to the bowl.

Then add a teaspoon of garlic powder, 1/2 teaspoon of pepper flakes and salt and pepper to taste.

I found my hands were the easiest way to toss all of the ingredients together, so I could ensure the squash was well coated.

Then arrange the Roasted Spicy Maple Acorn Squash on a baking sheet in a single layer, and bake for 30 minutes, or until they are tender including the skin.

After 30-32 minutes my Roasted Spicy Maple Acorn Squash was perfectly tender, starting to caramelize, so it was time to remove it from the oven. Let it sit untouched for 5 minutes or so and then serve it warm and enjoy!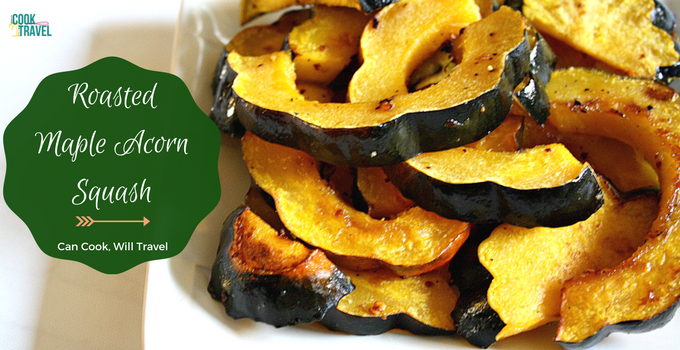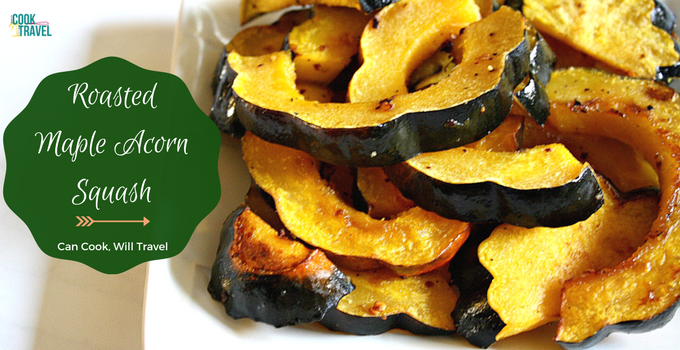 Roasted Spicy Maple Acorn Squash
Yield 4 servings
This dish is gorgeous, goes with nearly every meal, is perfect for the holidays, and showcases the acorn squash so well. What's not to love?!
Ingredients
Squash Ingredients:
1 Acorn Squash
2 T. Extra-Virgin Olive Oil
1 T. Maple Syrup
1 t. Garlic Powder
1/2 t. Red Pepper Flakes
Salt & Pepper, to taste
Instructions
Start by preheating the oven to 400 degrees, and then line a baking sheet with a Silpat or parchment paper. Slice the squash lengthwise, scoop out the insides with a large spoon, and then slice into 1/2-inch slices cross-wise.

 

Toss the squash slices with the remaining ingredients (EVOO, maple syrup, garlic powder, pepper flakes, and salt and pepper), and then lay them in a single layer on a lined baking sheet.

 

Bake the squash for 30 minutes or until it's tender and the skin is tender. Then let it rest for 5 minutes and serve while still warm. Enjoy!
Notes
Quick Tip: For ease in cutting the squash, microwave for 30 seconds and then cut. Continue the process until you can get a sharp knife through the squash. You don't want to cook the squash by any means, but this will soften the squash just enough to help the knife cut through.
Courses Side Dish
Nutrition Facts
Serving Size 1/4 of dish
Amount Per Serving

Calories 119

% Daily Value

Total Fat 7 g

11%

Saturated Fat 1 g

5%

Unsaturated Fat 6 g

Sodium 4 mg

0%

Total Carbohydrates 15 g

5%

Dietary Fiber 2 g

8%

Protein 1 g

2%
* Percent Daily Values are based on a 2,000 calorie diet. Your daily values may be higher or lower depending on your calorie needs.
0