Oh you guys, Cinco de Mayo is almost here, which to me is the perfect excuse to eat Mexican food for like a week. I really didn't realize how much Mexican food I cooked until putting together last week's post on Cinco de Mayo recipes. And one thing I forgot all about was the Paloma cocktail, so I'm righting that wrong right now.
I guess I just always think of margaritas when it comes to Mexican cuisine, but according to Google, the Paloma is Mexico's favorite cocktail. And I was thrilled to hear that, because I've never made a Paloma until now. And holy smokes did I create a killer drink!
I went on a Trader Joe's run for everything I needed, and the guy at the register was curious what I had in store for my tequila. He'd never heard of a Paloma, and neither had my sister, but they both thought it sounded amazing. So if you're new to the Paloma world. then let me tell you what you need:
The basics of a Paloma are:
Tequila
Grapefruit Juice
Lime Juice
Some places use lemon instead of lime, but lime just screams Mexican food, so I went with that. You can then get a bit creative, but I wanted to keep mine as healthy as possible. So I added a little agave for sweetening. And then I used a grapefruit sparkling water for the bit of fizz, which was perfections!
I'm not usually a fan of rimming cocktails with salt or sugar, but an idea came to me that I couldn't forget. I zested my lime and grapefruit and mixed that in with the salt for the rim of my glass, and it was stellar! The zest ties the grapefruit flavors in and the salt helps tone the tequila a bit.
Tequila isn't normally my liquor of choice, but if it involves grapefruit, I'm usually in. And I order a Paloma when I go out to Mexican spots, so I knew flavor wise what I was going for. And at first sip I thought the tequila might be a bit overpowering, but that sparkling water cut it perfectly!
Making a Paloma is pretty simple, so start by zesting the citrus. Mix the zest with some kosher salt and add a little grapefruit juice to the rim to let the salt/zest mixture stick. Then juice half a grapefruit and lime into a glass with some agave, add 1/4 cup of tequila, and top with ice. Finally top it off with grapefruit sparkling water and devour.
While I adore Moscow Mules and this Pimms drink, I gotta say this Paloma recipe ranks right up there. It's super refreshing, pretty light, and not overly sweet. It's a bit tart but not too much, so sip away on it for Cinco de Mayo!
I can't wait for you to try this Paloma recipe for yourself, so check it out. And for step by step photos of the process, be sure to click that link for more info! Happy sipping!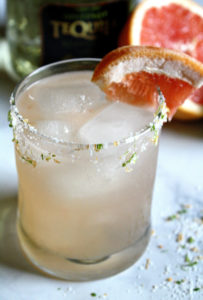 Print
Paloma Cocktail
Yield 1 cocktail
This refreshing cocktail is low on sugar, free of fat, gluten, and dairy, and is crazy delicious!
Ingredients
Paloma Ingredients:
Kosher Salt
Zest and juice of Half a Grapefruit
Zest and juice of Half a Lime
1 t. Agave
1/4 cup Tequila
4-5 ice cubes
1/4 cup (or so) Grapefruit Sparkling Water
Instructions
For Rimming Glass: Pour some kosher salt onto a plate, and then add some zest of the grapefruit and lime. Use your fingers to mix it together. Then slice your grapefruit in half and slice a little wedge off of one half for garnish. Rub a little of the wedge along half or the whole rim of the glass, and then dip the glass into the salt mixture.

 

For Cocktail: Add the juice of half a grapefruit and half a lime to your cocktail glass. Then sweeten it up with 1 teaspoon of agave syrup, and stir. Now add 1/4 cup of tequila and stir. Finally add 4-5 ice cubes and top off with sparkling water and enjoy!
Courses Drinks
Cuisine Mexican
Nutrition Facts
Serving Size 1 cocktail
Amount Per Serving

Calories 140

% Daily Value

Sodium 141 mg

6%

Total Carbohydrates 12 g

4%

Sugars 6 g
* Percent Daily Values are based on a 2,000 calorie diet. Your daily values may be higher or lower depending on your calorie needs.
A look back:
One year ago: Berry Smoothie Bowl Hits the Spot!
Two years ago: Brussels Sprouts Gratin = Insanely Good
Three years ago: Roasted Radishes. . .Just Wow!
Four years ago: Heavenly Blue Cheese Stuffed Pork Chops
Five years ago: It's Macaroni and Cheese Time Again!
Six years ago: Soup Time…Asparagus Soup, That Is
Seven years ago: Cinco de Mayo Celebration
1