That's right, friends. I'm so sorry to have waited this long since the last macaroni and cheese recipe I made. I was looking back and realized I hadn't made a pasta dish lately and that's just a shame. so I bring you a spicy mac 'n cheese that's healthy…well it's loaded with veggies, which is healthy, right?!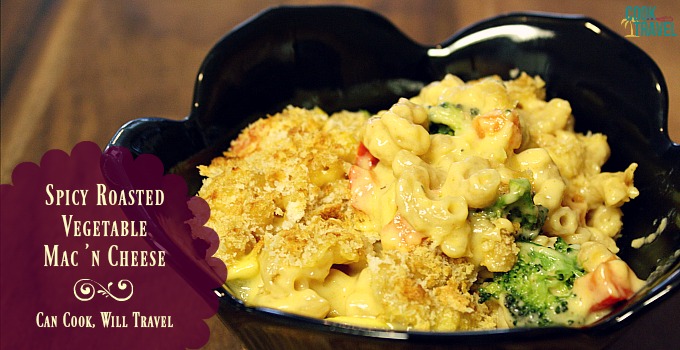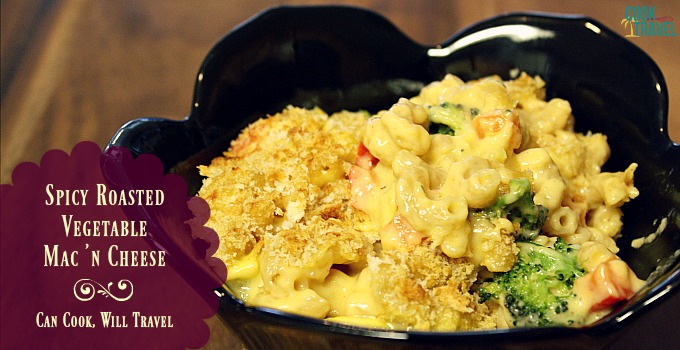 I was alternating between a few recipes I had pinned on Pinterest that featured pasta, and when I came across this particular recipe, it occurred to me that I couldn't remember the last time I made a new macaroni and cheese dish, and this one sounded great. It comes from a site called The Comfort of Cooking, and after tasting this recipe, I know I'll be visiting the website again very soon.
So onto what I made…it was a Spicy Roasted Vegetable Macaroni and Cheese. The closest I'd come to a mac 'n cheese recipe with veggies was the week I sneaked Butternut Squash into the classic dish, and it was delicious. Now there is certainly no hiding the veggies in this dish. You cut up half a red pepper, a yellow squash, some sliced baby carrots, and some broccoli florets and roast them in the oven until they are tender.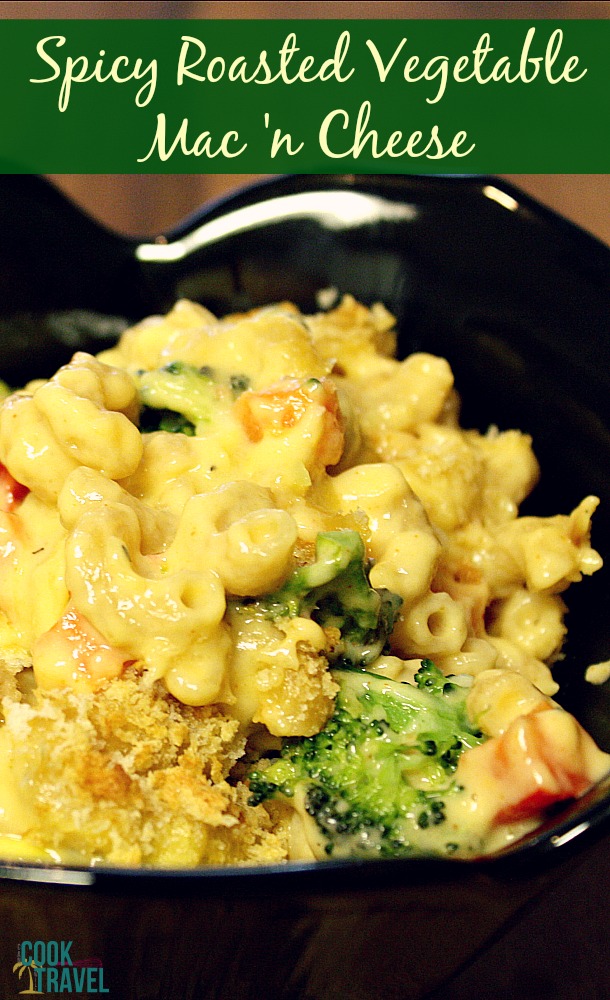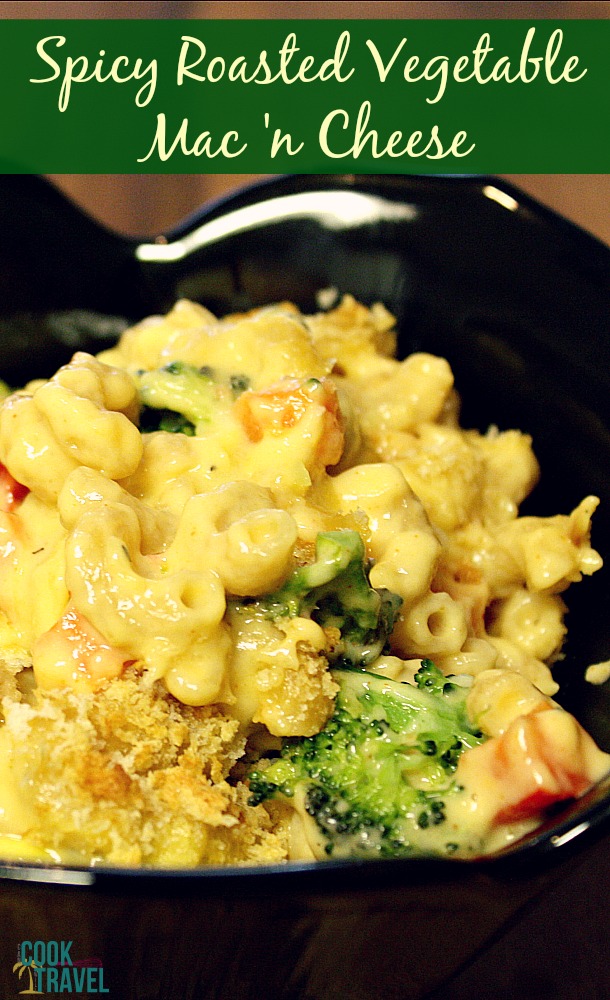 Then it's onto the pasta. Just cook your favorite pasta…I went with a whole wheat elbow macaroni pasta, which kept its shape and held its own against the medley of veggies in the dish. Pick your pasta of choice and carry on.
As for the sauce, it was a white sauce that had olive oil instead of butter, along with some garlic and red pepper flakes I sauteed for a few seconds before adding the flour. The milk gets added and once it's slightly thickened 2 cups of cheddar cheese are stirred in along with some cayenne pepper. Now I did say this was spicy, so if the people you are feeding are kiddos or afraid of too much spice you can cut down or cut out the amount of red pepper flakes and cayenne you use. I loved the spiciness, though. It was a nice heat without being too much…but again, the older I get the more I like the extra kick.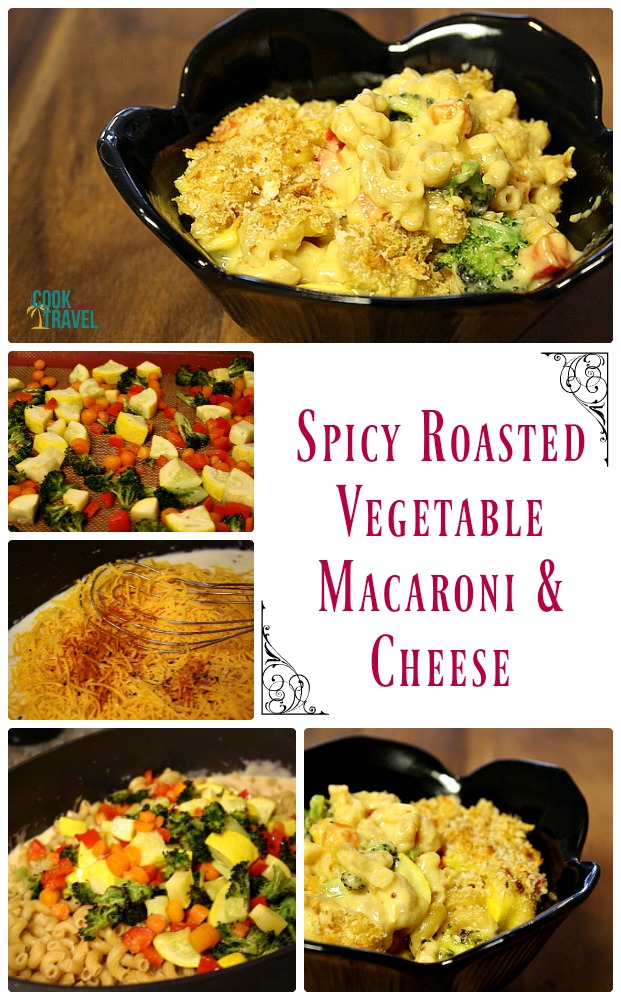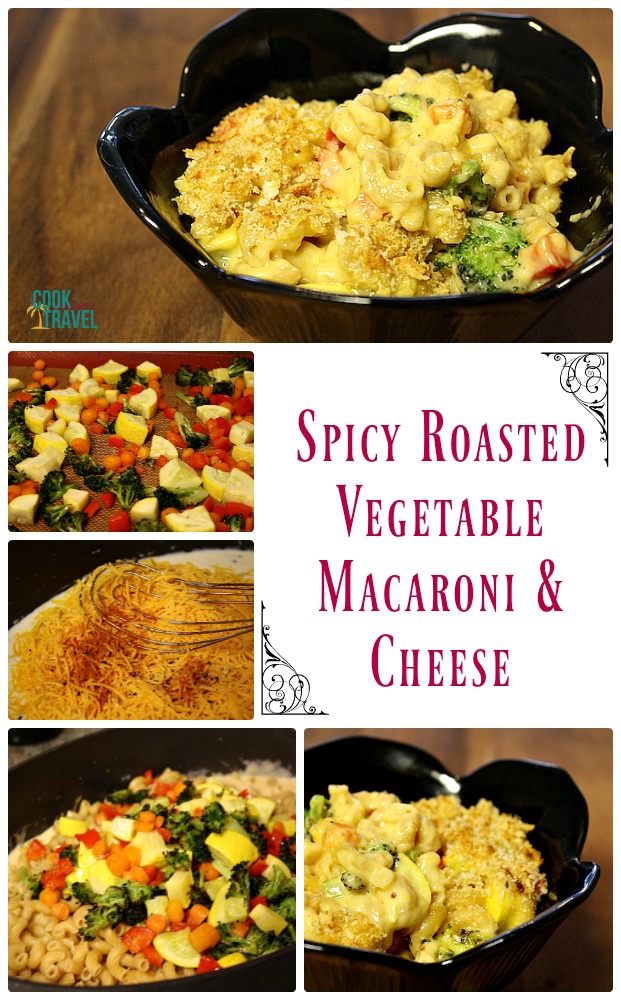 Once you combine the cheese sauce, pasta, and roasted veggies, you'll pour them into a casserole dish and top with some Panko (aka Japanese bread crumbs), and broil for 5 minutes or so until the top is golden brown. Oh my word, this was pretty amazing! This mac 'n cheese would only come in second to the Grown Up Mac 'n Cheese I made previously which still is nearly impossible to beat. However this recipe is a close second, and I loved that I was getting some veggies in…a totally complete meal in my book!
I cannot wait for you to try out this recipe. Click here for the recipe and step by step instructions! Trust me, I won't lead you astray…yum!
A look back:
One year ago: Soup Time…Asparagus Soup, That Is
Two years ago: Cinco de Mayo Celebration
0