Wow do I love spicy food, and I've been eating it a TON lately. It seems like Sriracha makes an appearance nearly every day of the week, which is a good thing if you ask me. And I started seeing all of these recipes for Mexican street corn and it totally inspired me to create this Mexican Street Corn Shrimp Pasta.
I recently started dating someone, and he loves spicy food too. So I couldn't wait to try this Mexican Street Corn Shrimp Pasta recipe out on him, because I created it on the fly, and anxiously awaited his opinion.
I probably could have planned ahead a bit better when cooking this, because my kitchen looked a bit like a war zone mid-way through cooking it. Somehow he didn't seem scared of this mess, so thank God for that. So here are a few tips that I know I'll use next time. First, make the spicy Mexican cream sauce ahead of time, and keep it in the refrigerator. I think you could also cook the bacon in advance too (maybe an hour or two if you want), so that it's one less thing you're monitoring.
There are really 6 components to this Mexican Street Corn Shrimp Pasta, which sounds like a lot, but it's not bad. They include:
Corn – You can use fresh corn, but I like the idea of using canned corn and just getting great color on it in a cast iron skillet.
Pasta – I went gluten-free on the pasta, and it worked so well.
Bacon – 5 or 6 strips of bacon are all you need to crumble into this pasta dish. And maybe a few bites for quality control along the way.
Shrimp – I wanted to make this a meal, because I knew I needed more protein. So I went with shrimp for a light, lean addition and they were stellar.
Spicy Mexican Cream Sauce – This one is dairy free, and I added TONS of flavors to it to really make it spicy.
Veggies – Finally this is sort of a salad thanks to the veggies including corn, black beans, avocados, green onions, jalapeños, and tomatoes.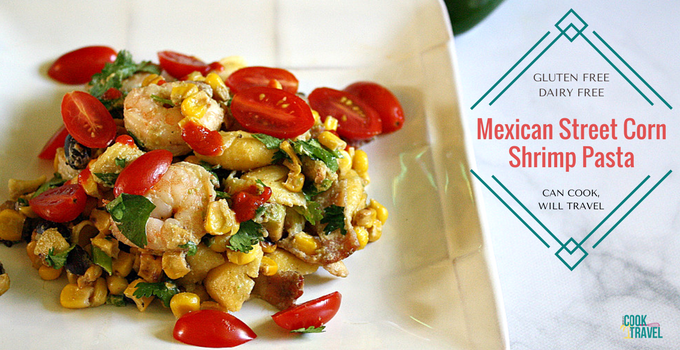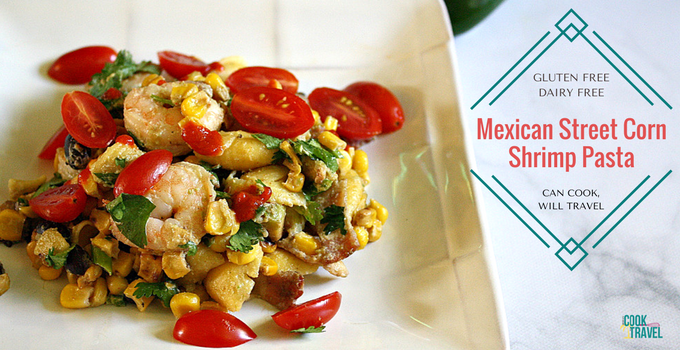 Most of these components are pretty straightforward, but I wanted to chat about the sauce for a moment. You know I've been trying to cook dairy and gluten free as much as I can this year. But I didn't want it to feel like I was sacrificing flavor when doing that. This Spicy Mexican Cream Sauce is my way of not using mayo and skipping the Mexican cheeses without missing either.
Oh holy spicy cream sauce, this is da bomb it's so good! I used the Mexican Lime Crema recipe as inspiration, and then added some lime and lots of heat. The heat comes in the form of cumin, cayenne pepper, smoked paprika, sriracha, and jalapeño tabasco sauce. I added a fair amount of heat to balance out the cashew cream, which can be slightly sweet. The fun part with this sauce is that you can really tailor it to your tastes and adjust the spices and heat as you stir it together.
This Mexican Street Corn Shrimp Pasta overflows with spicy, sweet, salty, roasted, smoky, and creamy flavors. When my taste tester tried it, his eyes got big and the words "it's perfect" came out of his mouth. Woohoo, I love when a plan comes together!
I could totally envision this recipe before I made it, and it was a must to finish the dish off with a light drizzle of sriracha and some fresh grape tomatoes to balance everything out.
After inhaling the meal, I broke it to my fella that he devoured gluten free pasta and a cashew sauce. He couldn't believe it, because you'd never know that this was allergy friendly. Seriously, it's so delicious! We both went back for seconds – yum!
You must try Mexican Street Corn Shrimp Pasta, so click that link for the recipe and step by step instructions. Trust me, you'll be so glad you did, and amazed by the fact that you're still eating pretty damn healthy. Happy eating!
A look back:
One year ago: Chocolate Chip Zucchini Bread = A Paleo Treat
Two years ago: Crispy Garlic Curly Fries = A Perfect, Healthy Snack
Three years ago: Smokey Roasted Chickpeas Make Snack Time Uber Healthy
Four years ago: Firecracker Chicken with a Side of Yum!
Five years ago: Oat Cake Treats – Trust Me They are So Good!
Six years ago: Cooking with Zucchini – Part 2
0