I mean how can mac 'n cheese ever disappoint? I'm a fan of this dish in nearly every form. I'll happily jazz up box macaroni and cheese and will swoon a bit over lobster or truffle mac 'n cheese when I'm dining out. But admittedly, mac 'n cheese is not always that great for you as it's loaded with butter, an insane amount of delicious cheese, cream, etc. But damn it's good! So naturally having a recipe for Lighter Macaroni and Cheese is a must.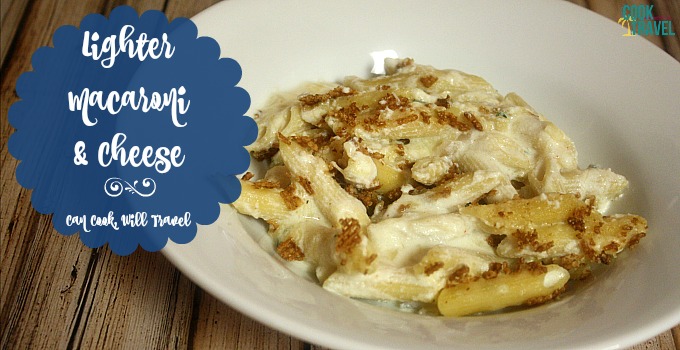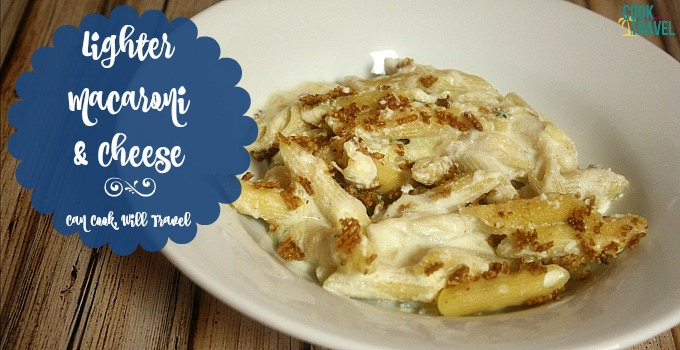 Here I was this week flipping through Giada's cookbook Happy Cooking, and I kept finding so many recipes that caught my eye. And I'd been wanting to whip up another mac 'n cheese recipe, when I saw that Giada had a Lighter Macaroni and Cheese recipe, it was clearly calling my name. "Kelli, make me…"
Once again, Giada didn't fail me. Her recipe is a gluten free version featuring rice pasta. I adhered to the recipe except for the pasta part. I'm not gluten free, so I went with some high fiber pasta so I say feel free to swap out for your pasta of choice if you'd like.
There are a few additions to this Lighter Macaroni and Cheese that I was totally intrigued by. And for me, if there is a recipe that sounds good but out of the norm for me, well I have to try it!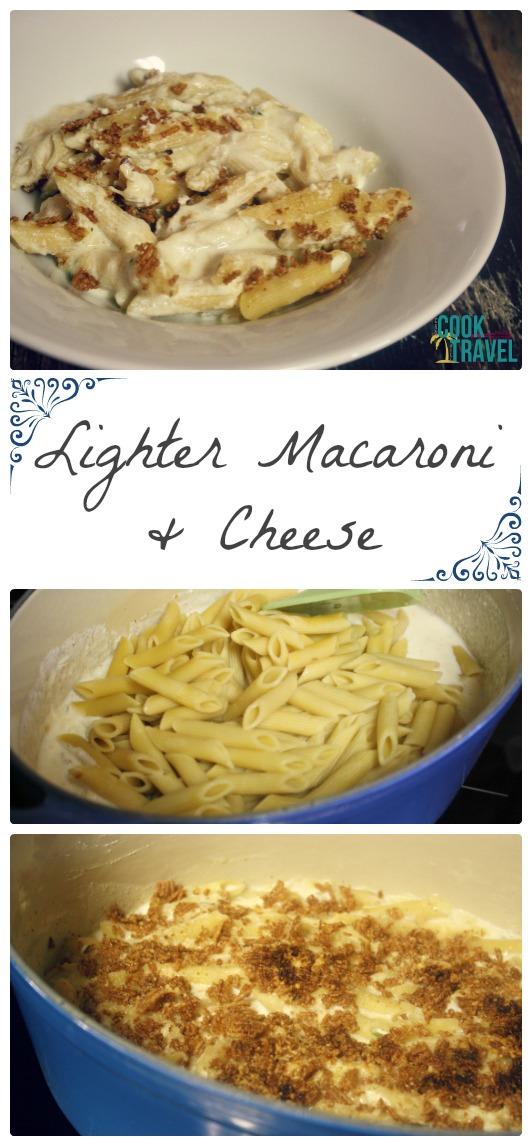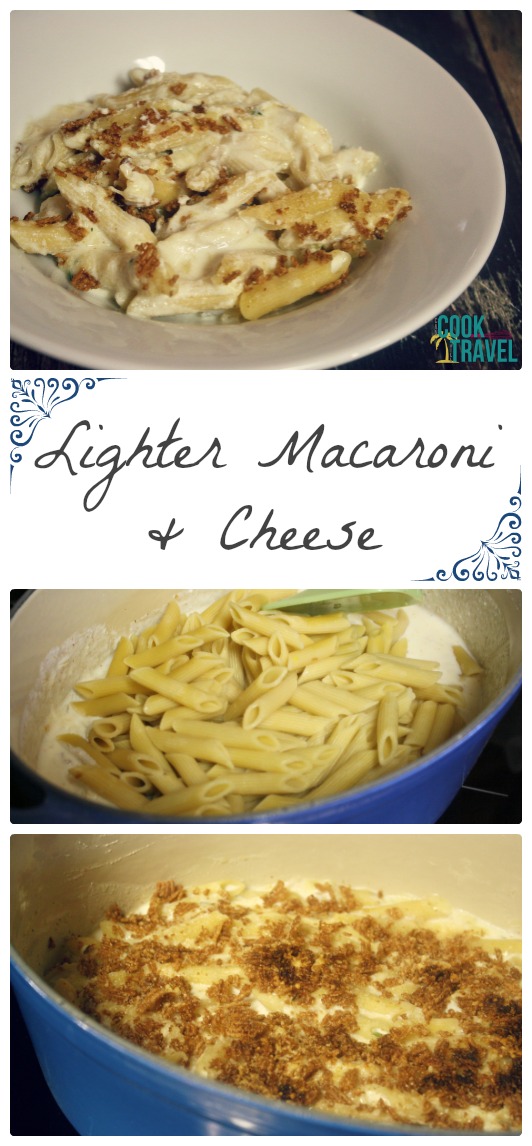 Here's how this recipe breaks down. You'll cook your pasta and then reserve some of the pasta water before draining it. Then you'll cook some shallots in olive oil and add chicken broth and bring that mixture to a simmer. Finally the good stuff goes in the pan including ricotta cheese (part-skim so it's a bit healthier), fat-free Greek yogurt, fresh thyme, salt and pepper, cayenne, and cheese. For the cheese you can go with a gruyere or Emmentaler cheese, and I went for the latter. This particular cheese is nutty and reminds me Swiss cheese a bit.
Mix the sauce until the cheese melts and then fold in the cooked pasta. You'll top it with some toasted rice cereal (I toasted some Rice Chex) and fresh Parmesan cheese and broil for 3-5 minutes until the mixture is bubbly.
A note on the cooking part . . . I used this gorgeous Le Creuset pan my mom has because I could make the sauce in it and then pop it into the oven and it can handle the high broiling temperatures. So be thoughtful when you're cooking and consider which pot or dish you'll want to use to broil in. If it isn't one you can cook on the stovetop with, then you can just transfer the pasta mixture to the dish. Broiling temperatures are usually at least 450 degrees, so you may need to check out your oven manual.
Okay back to the fun! Let's talk about taste here. Personally I like a bit of heat, so next time I'd increase the amount of cayenne, and I also topped my dish with some jalapeño tabasco sauce (which I adore), and it really added some great flavor. Doing this also helped cut the richness of this lighter macaroni and cheese, because it is fairly rich with the cheeses. But in my opinion, that's a great thing for portion control reasons. You don't need a ton to hit the spot and satisfy your mac 'n cheese cravings. The Emmentaler cheese added a nice, subtle cheesy flavor to the casserole, and the yogurt and ricotta helped keep it creamy without needing loads of milk and butter.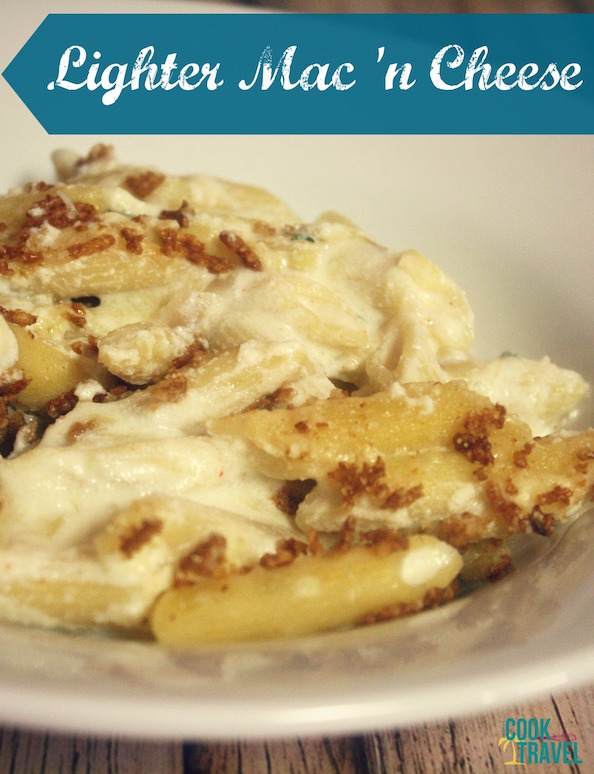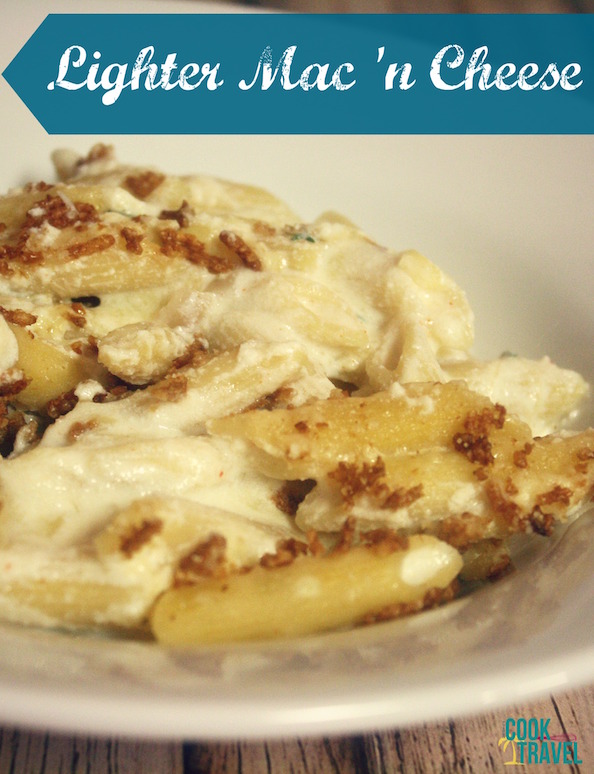 All in all, I'm a big fan of this Lighter Macaroni and Cheese recipe, and I'm pretty excited for you to try it out! You can always add some protein like bacon, chicken, or even tuna to it and make a whole meal out of this dish. Be sure to click that link for the recipe and step by step instructions. Happy mac 'n cheese-ing!
A look back:
One year ago: Pimento Cheese . . . It's New to Me!
Two years ago: Fancy Schmancy Beet, Arugula and Goat Cheese Sandwich
Three years ago: The Baked Potato Taken to a New Level
Four years ago: Banana Bread…The Only Option
Five years ago: My New Favorite Soup . . . Chicken Tortilla Soup
0