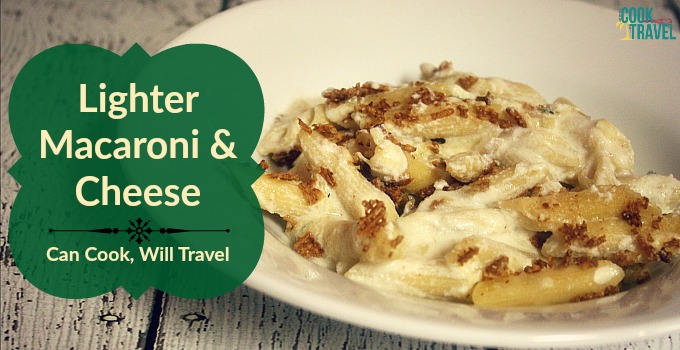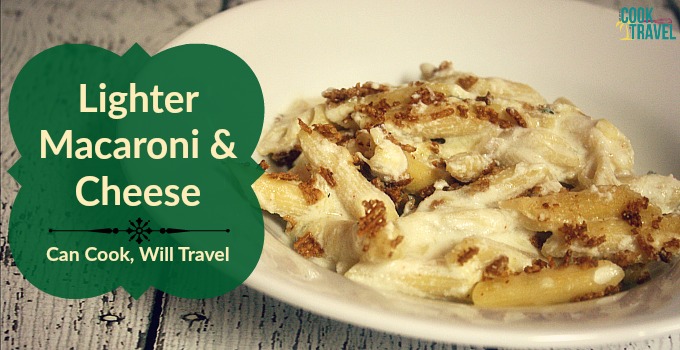 (This Lightened Macaroni and Cheese Recipe can be found in the cookbook Happy Cooking by Giada de Laurentiis.)
Step by Step Instructions:

Lightened Macaroni and Cheese will be on the table in no time. Here's what you'll need: Freshly grated Parmesan Cheese, Olive Oil (I went with regular rather than extra-virgin, but it's up to you), Penne Pasta (again choose your favorite pasta or a gluten-free variety if you prefer), low-sodium Chicken Broth, fat-free Greek Yogurt, part-skim Ricotta cheese, 1 cup of Emmentaler or Gruyere Cheese, Cayenne Pepper, 1/2 cup of oven-toasted Rice Cereal, 1/2 teaspoon of chopped fresh thyme, and 1 Shallot.

Heat up a large pot of salted, boiling water. While that is going, mince one shallot.

Add the pasta to the boiling water and cook it according to package instructions to al dente.

Right before you drain your pasta, reserve 1/3 cup of the pasta water.

Then drain your pasta.

Heat a pan on the stove over medium heat that is safe to put under the broiler (or use a saucepan and you'll transfer the combined pasta to an oven-safe and broiler-safe dish). Then add a teaspoon of olive oil and the minced shallots and cook until the shallots are translucent.

Here they are cooked and ready to go.

Then add 1/2 cup of chicken broth to the dish and heat to a simmer.

Once the broth is simmering, turn on your broiler. Then turn off the heat under the pan and add the reserved pasta water, container of ricotta, 1/4 cup of Greek yogurt, the Emmentaler cheese, 1/4 (or even 1/2) teaspoon of cayenne pepper, 1 teaspoon of Kosher salt, and the fresh thyme.

Then whisk the sauce until the cheese melts.

Add the cooked pasta to the pan.

Fold in the pasta until it's coated in cheesy goodness. You're minutes from this Lightened Macaroni and Cheese from hitting the table . . . hooray!

In a small bowl, combine the crushed rice cereal and Parmesan cheese.

Then top the pasta with the cereal and Parmesan mixture. Place the dish under the broiler for 3-5 minutes or until the cheese is bubbling.

Here is the Lightened Macaroni and Cheese in all its cheesy glory. Serve right away and enjoy! I loved adding a little jalapeño tabasco to mine as well. Happy mac 'n cheese-ing!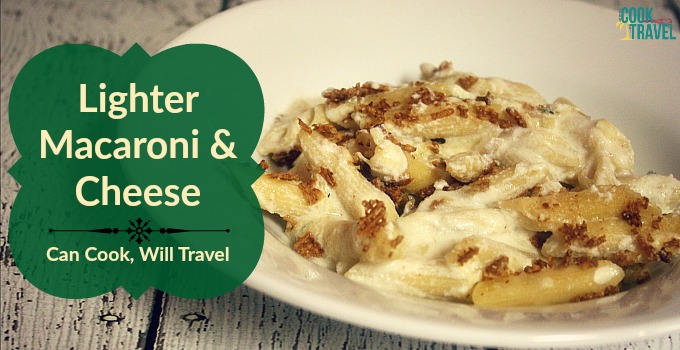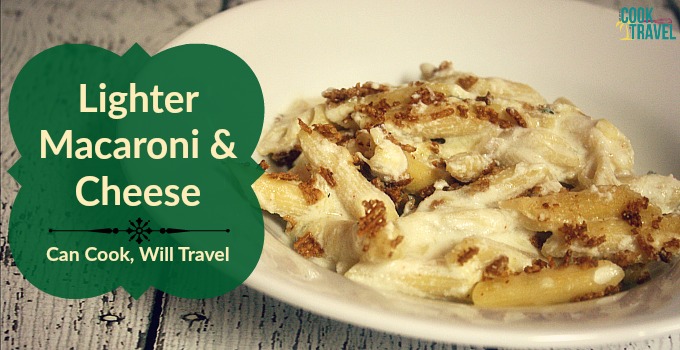 Lighter Macaroni and Cheese
This pasta dish hits all of the important notes of a great mac 'n cheese recipe. Lighter, rich, sophisticated, and gluten free ... check, check, check, and check!
Ingredients
1 (12 ounce) bag of Penne Pasta (Giada recommends rice flour penne for a gluten free option)
1 teaspoon Extra-Virgin Olive Oil
1 Shallot, minced
½ cup low-sodium Chicken Broth
1 (15-ounce) container part-skim Ricotta Cheese
¼ cup fat-free Greek Yogurt
1 cup (1/4 pound) Emmentaler or Gruyere Cheese
½ teaspoon fresh Thyme, chopped
1 teaspoon Kosher Salt
¼ teaspoon of Cayenne Pepper
½ cup oven-toasted rice cereal (like Rice Chex), crushed
2 tablespoons freshly grated Parmesan Cheese
Preparation Instructions
Begin by toasting your rice cereal. I put them on a cookie sheet in a 400 degree oven for about 5 minutes and then let them cool.
Then bring a large pot of salted water to boil, and cook the pasta according to package instructions. Reserve ⅓ cup of the pasta water before draining the cooked pasta.
You have a choice to make here. Either choose a dish you can use on the stove top that is oven-proof (at broiling level heat - 450 to 500 degrees), or you can use a medium sauce pan to make the sauce and transfer it to an oven-safe, broil-safe casserole dish. Whatever option you choose, heat the olive oil over medium heat. Then add the shallots and cook until they are translucent. Add the chicken broth to the cooked shallots and bring it to a simmer.
Turn on the oven broiler. Turn off the heat under the sauce pan and add the ricotta, Greek yogurt, Emmentaler/Gruyere cheese, thyme, cayenne pepper, and salt to the shallot mixture. Whisk until the cheese is melted, then fold in the cooked pasta so they are coated in the sauce.
Mix together the crushed, toasted rice cereal and Parmesan cheese. Then sprinkle the topping over the pasta. Place the dish in the oven and broil for 3-5 minutes or until the sauce bubbles. Serve right away and enjoy!
Notes
I think this would be fabulous with some chicken, tuna, or bacon for some added protein. I also love topping this dish with some hot sauce to add some complexity and cut the richness of this dish.
0