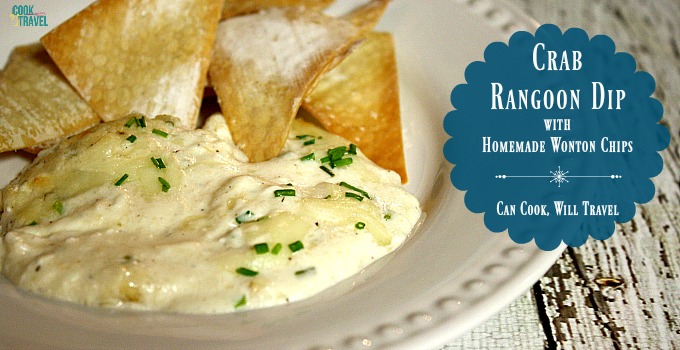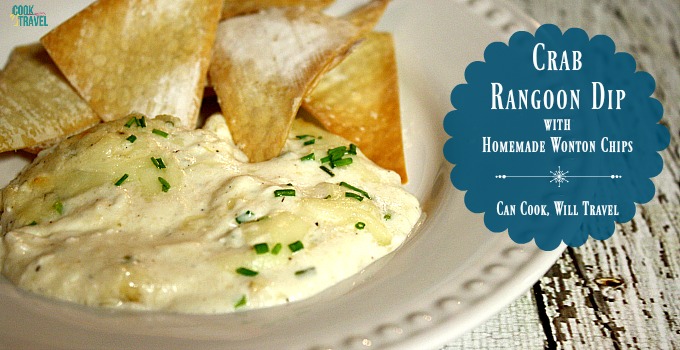 (This Hot Crab Dip can be found on the site Spend with Pennies here.)
Step by Step Instructions:

This Hot Crab Dip is super easy to make, and you won't believe how fast it all comes together! Here's what you'll need: Worcestershire Sauce, shredded Mozzarella Cheese, fresh Chives, Wonton Wrappers, Mayo, Cooking Spray, light Cream Cheese, light Sour Cream, Pepper, 2 cans (6 ounces each) of canned Crab Meat, 1 Garlic clove, 1 Lemon, and 1/4 cup of freshly grated Parmesan Cheese.

Go ahead and preheat your oven to 350 degrees, because we don't want to wait on the oven. Grab a small stack of wonton wrappers, and we'll work with a few at a time. We'll start with our first batch of homemade wonton chips.

Begin by cutting the wonton wrappers on the diagonal so you have 2 triangles as you see here.

Then cut in the opposite direction on the diagonal, so you now end up with 4 triangles per wonton wrap.

Line a baking sheet with a Silpat (or parchment paper), and spread out the wontons in an even layer. Then spray them lightly with cooking spray. Bake in the preheated oven for 7-10 minutes or until they are crispy and have browned lightly.

While the chips bake, grab a large bowl and add the softened cream cheese, 1/2 cup of mayo, 1/4 cup of sour cream, a tablespoon of lemon juice, a teaspoon of Worcestershire sauce,1/4 cup of grated Parmesan, and 1/2 cup of grated mozzarella.

Then add the drained cans of crab meat, pepper, 2 tablespoons of chopped chives, and the minced garlic to the bowl.

Then use a spatula or spurtle and stir until the dip is completely combined. Making sure the cream cheese is softened is a huge help in getting the dip fully mixed together.

Spray a casserole dish, and then add dip to the baking dish. I used a glass pie pan, as you can see, and it worked great!

Add the remaining half cup of mozzarella cheese to the Hot Crab Dip, and then pop it in the oven for about 25 minutes.

Here are the baked wonton chips after about 9 or 10 minutes for my oven, so you'll see the chips are crispy and have lightly browned. Make as many batches as you'd like.

After about 25 minutes, the Hot Crab Dip is done because is bubbly and starting to brown a little.

Finally top the Hot Crab Dip with one tablespoon of chopped chives and let it sit for at least 5 minutes. The longer it sits, the more it'll thicken up, so I'd say 10-15 minutes is a good amount of time to wait (if you can). Serve with wonton chips, your favorite crackers, or some veggies, and enjoy! Happy crab rangoon dipping!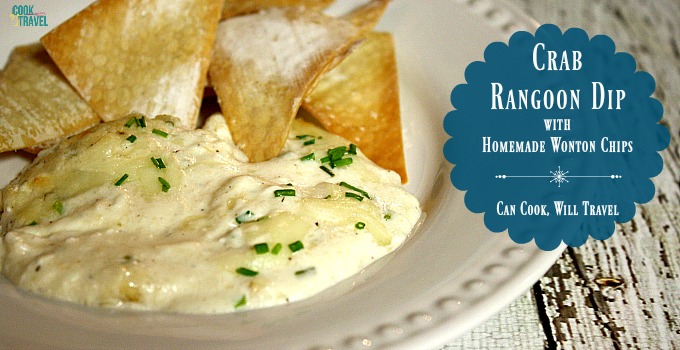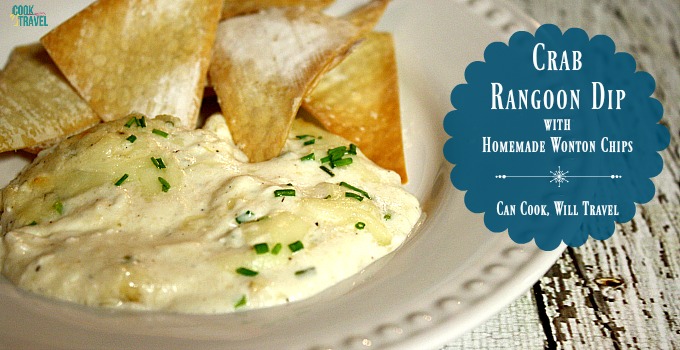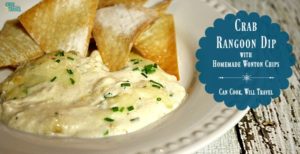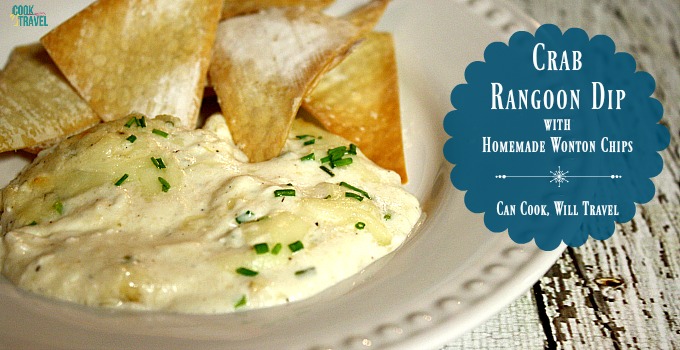 Print
Hot Crab Dip with Homemade Wonton Chips
Yield 8 servings
This yummy crab dip (or Crab Rangoon Dip) is like a deconstructed crab rangoon and is absolutely delicious!
Ingredients
Dip Ingredients
8 oz Light Cream Cheese, softened
½ cup Mayonnaise
¼ cup Light Sour Cream
1 tablespoon Lemon Juice
1 teaspoon Worcestershire Sauce
¼ cup freshly grated Parmesan Cheese
2 cans (6 oz) Crab Meat, drained
1 cup shredded Mozzarella Cheese, divided
2 tablespoons fresh Chives, chopped
1 clove Garlic, minced
½ teaspoon ground Black Pepper
Top with 1 tablespoon fresh Chives, chopped (optional)
Wonton Chips
1 package Wonton Wrappers
Cooking Spray
Instructions
Preheat your oven to 350 degrees, and begin making your wonton chips. First, cut the wonton wrappers in half from one corner to the opposite corner to form triangles, then rotate and cut in half with the other corners so you have 4 triangles per wrapper.
Place the wonton triangles on a baking sheet lined with a Silpat and bake for 7-10 minutes or until the chips are crispy and a golden brown. Repeat these steps, so you can make as many batches of these chips as you'd like.
While the chips bake, combine the light cream cheese, mayo, light sour cream, lemon juice, Worcestershire sauce, Parmesan cheese, drained crab meat, ½ cup of the mozzarella, chives, minced garlic, and black pepper together in a large bowl. Be sure everything is fully incorporated so that the cream cheese is mixed throughout.
Spray your baking dish and then transfer the dip to the baking dish. Then top with the remaining ½ cup of mozzarella and bake about 25 minutes. Remove the dip from the oven once it's bubbling and starting to brown a little on top. Garnish with some more chopped chives for some color and a little extra onion flavor. Let it sit at least 5 minutes and then enjoy with your wonton chips, favorite crackers or veggies. Happy eating!
Notes
The dip is fairly thin right out of the oven, but if you let it sit for 10-15 minutes, it'll start to thicken up so that it's a bit easier to scoop.
Courses Appetizer
Nutrition Facts
Serving Size 1/2 cup
Amount Per Serving

Calories 200

% Daily Value

Total Fat 17 g

26%

Sodium 367 mg

15%

Total Carbohydrates 3 g

1%

Sugars 2 g

Protein 10 g

20%
* Percent Daily Values are based on a 2,000 calorie diet. Your daily values may be higher or lower depending on your calorie needs.
0