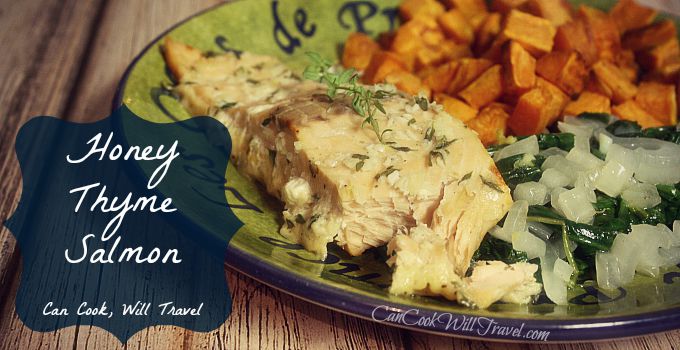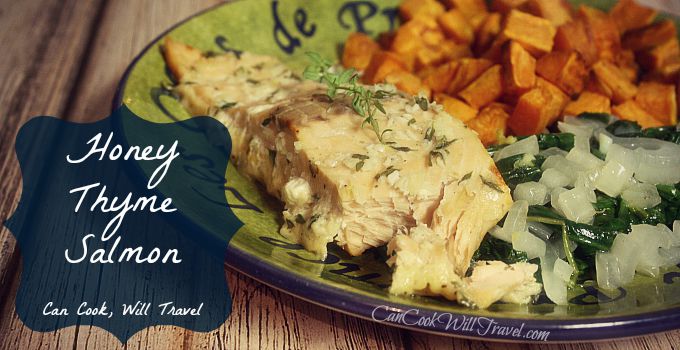 (Recipe can be found on the site Damn Delicious here.)
Step by Step Instructions:

This Honey Thyme Salmon couldn't be easier. Here's what you'll need: Salmon Filet (the recipe calls for 2 pounds of salmon but I only wanted enough for 1 serving, so adjust as you'd like), Olive Oil, White Wine Vinegar, Salt & Pepper, 3 Garlic Cloves, and Fresh Thyme.

Start off by preheating your oven to 375 degrees. Then remove the leaves from the thyme stems until you have a tablespoon. (Note that since I am just baking 1 filet, I opted to go a little lighter on the thyme and didn't have a full tablespoon.)

Time to whip up the honey thyme sauce. In a small bowl add 1/4 cup of honey, 3 cloves of minced garlic, a tablespoon each of olive oil, white wine vinegar and thyme plus salt and pepper to taste (a nice pinch of each).

Then whisk up the mixture so that it's well combined.

Then grab a sheet of foil and fold up each side so you create a bit of a barrier. Spray the foil lightly with cooking spray and place the salmon filet in the center.

Spoon the honey thyme sauce over the salmon so it has a nice coating over it.

Then fold up the edges and crimp over so the foil is well sealed to keep air from escaping. This will help the salmon steam as it bakes in the oven. Place the foil pouch on a baking sheet and bake for 15-20 minutes or until the salmon is cooked through.

After 15 minutes, the salmon was cooked and ready to serve. I served mine with some roasted sweet potatoes that I cooked alongside the salmon (just toss with olive oil and salt and roast for about 30 minutes) and this yummy sauteed spinach recipe. Enjoy & happy eating!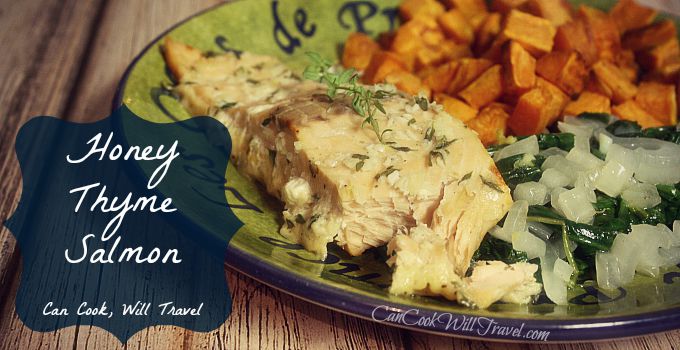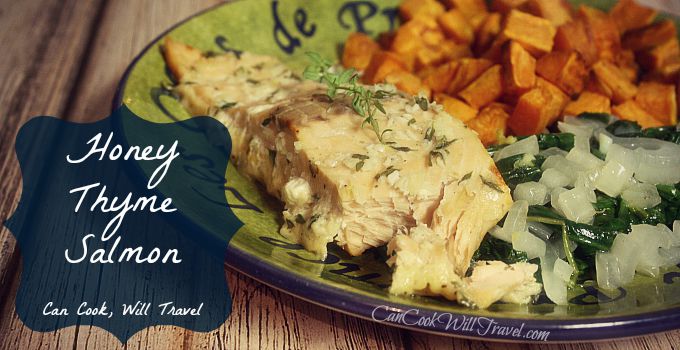 Honey Thyme Salmon
This salmon dish is quick to put together, bakes easily in the foil pouch, and is a healthy option when you're wanting to eat well. Enjoy!
Ingredients
¼ cup Honey
3 cloves Garlic, minced
1 tablespoon Olive Oil
1 tablespoon White Wine Vinegar
1 tablespoon Fresh Thyme leaves
Kosher salt and freshly ground black pepper, to taste
2 pounds Salmon
Preparation Instructions
Start by preheating your oven to 375 degrees.
Grab a small bowl and combine the honey, garlic, olive oil, white wine vinegar, fresh thyme, and salt and pepper.
Then tear off a sheet of aluminum foil. I used non-stick foil, and fold the sides of the foil up. Then spray some cooking spray in the center and place the salmon on top. Spoon the honey sauce over the top of the salmon. Then close up the foil by folding the sides over the salmon and rolling the salmon to seal it well.
Place on a baking sheet and bake for about 15-20 minutes.
Serve right away and enjoy!
0