Honey Thyme Salmon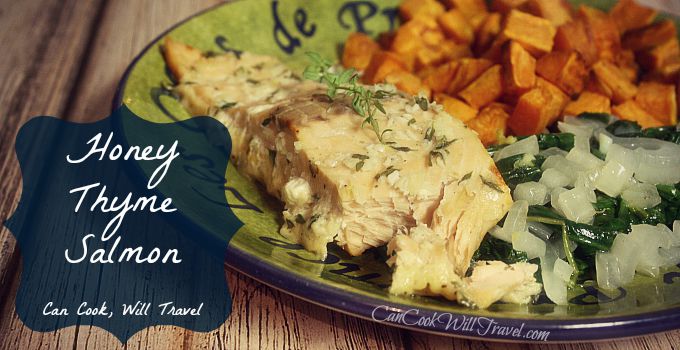 ¼ cup Honey
3 cloves Garlic, minced
1 tablespoon Olive Oil
1 tablespoon White Wine Vinegar
1 tablespoon Fresh Thyme leaves
Kosher salt and freshly ground black pepper, to taste
2 pounds Salmon
Start by preheating your oven to 375 degrees.
Grab a small bowl and combine the honey, garlic, olive oil, white wine vinegar, fresh thyme, and salt and pepper.
Then tear off a sheet of aluminum foil. I used non-stick foil, and fold the sides of the foil up. Then spray some cooking spray in the center and place the salmon on top. Spoon the honey sauce over the top of the salmon. Then close up the foil by folding the sides over the salmon and rolling the salmon to seal it well.
Place on a baking sheet and bake for about 15-20 minutes.
Serve right away and enjoy!