After a few days (okay almost a week) of gorging on food (dinners out, wedding reception food, fast food, yada yada yada), I knew I had to whip up something pretty healthy and guilt-free this week. I think the last straw for me was the cookie dough concrete at our local ice cream place. I mean it's a seasonal spot, so it won't be open that much longer this year…  But of course I've learned to rationalize everything like a pro (thanks for that skill, Mom). Needless to say, it was officially time to eat healthy, which is where this Honey Thyme Salmon recipe came in.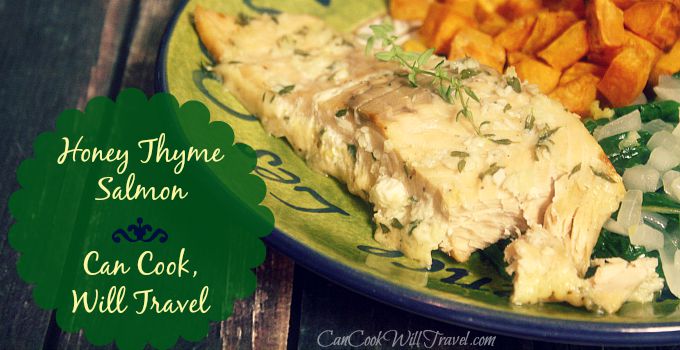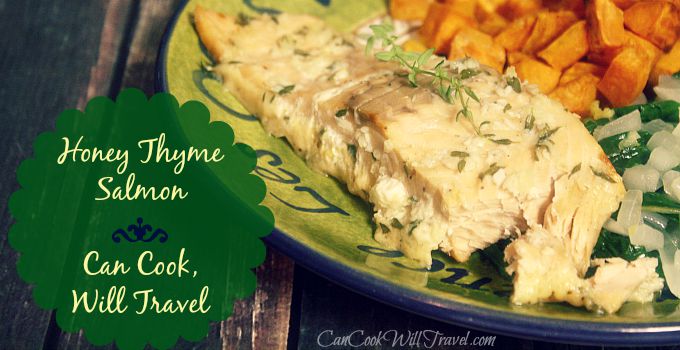 I came across this dish on Pinterest, of course. And I remembered I had several salmon filets calling my name in the freezer. I'd been trying to find a recipe to show me how to cook salmon in a new way, so this was a perfect dish to try. And with it being Summer in the Midwest, we have fresh thyme on hand so it was pretty great timing, and I'm guessing it will be for you too!
One thing I loved was that the sides I made for this dish took longer than making the salmon, which is a huge plus in my book. All you do is thaw the salmon (if you're going the frozen route like I did). Then whip up the sauce, which is just honey (I prefer local honey), minced garlic, olive oil, white wine vinegar, fresh thyme, and salt & pepper.
Cut a sheet of non-stick foil, fold up the sides a bit, and then give it a light spray with cooking spray (just to be safe). You'll place the salmon filet right in the center and spoon the honey sauce over the top. Then the foil gets folded up so that it's like a packet, which lets the salmon steam. I love this method a lot, because a) it's ridiculously easy, b) it steams the fish in the foil pouch which is healthier than pan frying it, and c) cleanup is a breeze (which might be my favorite part)!
You'll bake the salmon in the oven for about 15 minutes and enjoy! As for what to serve it with … your favorite sides will work great! I went with some roasted sweet potatoes tossed with some olive oil and salt along with this yummy Spinach recipe.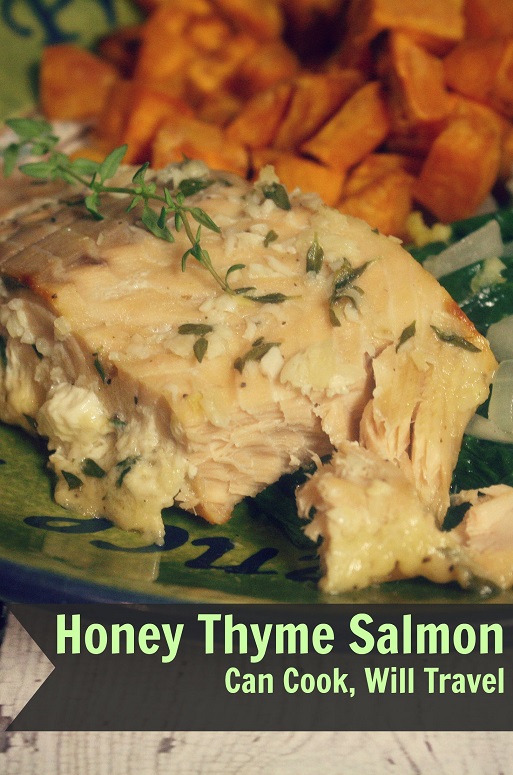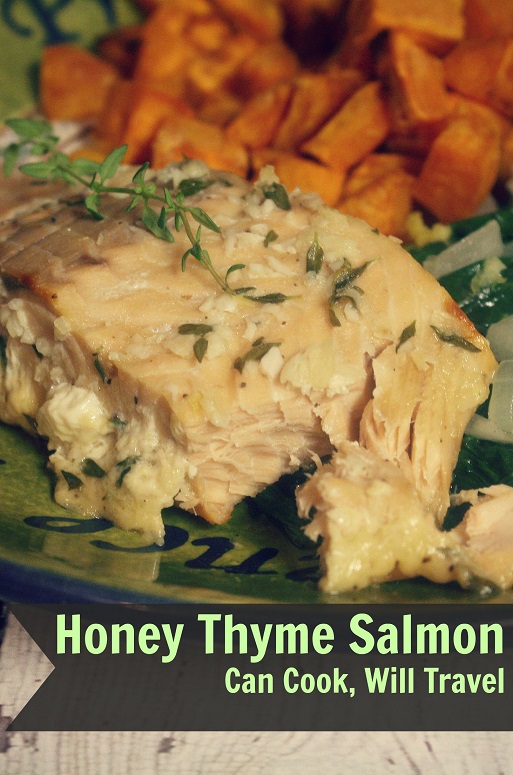 I keep thinking about this dish and how tasty it was, and aside from the little bit of honey (which I didn't use the entire sauce and you're left with quite a bit in the foil pouch), it was a darned healthy meal that I felt so great about eating. And there was just that hint of sweetness with each bite from the honey that was delicious!
I can't wait for you to give this Honey Thyme Salmon a try. You'll love learning how to cook salmon in such an easy and healthy way! Be sure to click that link for the recipe and step by step instructions. Happy baking!
A look back:
One year ago: Buffalo Chicken Tortilla Rollups Are Spicy Bites of Goodness
Two years ago: Hola Chicken Tamale Casserole!
Three years ago: Welcoming in Fall with Pumpkin Snickerdoodle Cookies
Four years ago: Kicking Up Oatmeal a Notch
0