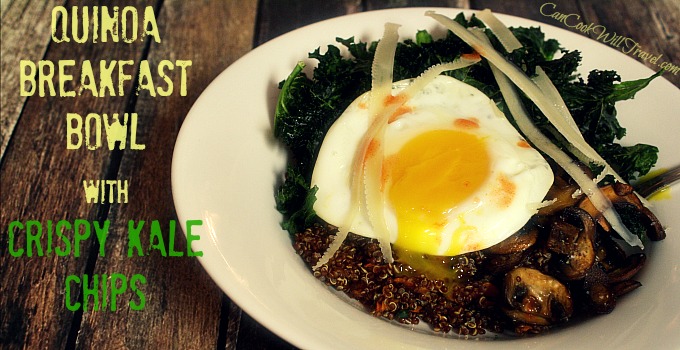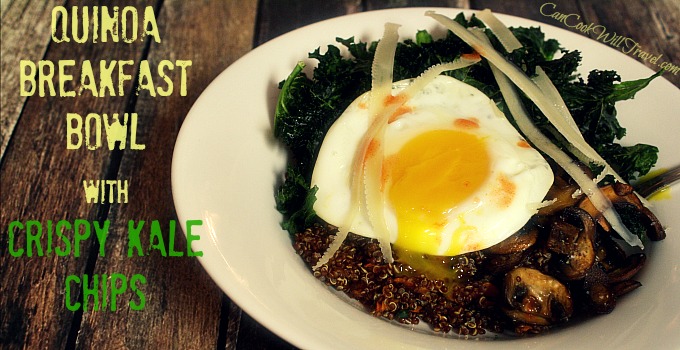 (Recipe is by Tia Mowry and can be found at the Cooking Channel site here.)
Step by Step Ingredients:

Quinoa Breakfast Bowl with Crispy Kale Chips is healthy and full of flavor. Here's what you'll need: Hot Sauce (optional), a head of Kale (I have about 8 ounces here and this is the bagged kale that is pre-washed…I highly recommend getting this to get the crispiest kale chips), Red Quinoa, Baby Bella Mushrooms, Grapeseed Oil, Olive Oil, Salt & Pepper, 1/2 cup of shredded Carrots (this is about one large carrot), Fresh Parmesan (for garnishing), Eggs (1 for each person you're serving), and 2 Garlic Cloves.

Start by preheating your oven to 275 degrees. Add 2 tablespoons of olive oil to the kale and massage the kale with your hands until each leaf is completely coated in oil.

Pour the kale out onto a rimmed baking sheet. I recommend using 2 baking sheets so that the kale has room to breathe. Then sprinkle with sea salt. I used pink Himalayan sea salt…it's soooo good for you! Then pop the kale in the preheated oven and bake 20-30 minutes checking on it until it's crispy.

Here's the uncooked red quinoa. Isn't it pretty?! I measured out 1 cup and added it to a saucepan with 2 cups of water (or chicken broth if you'd like) and turned the heat to high to get it boiling.

Mince 2 cloves of garlic. (One of my cloves was hiding a second clove…hey more garlic for me!)

Here it is minced. I seriously love this mincer in case you can't tell. No more hands smelling like garlic…hooray!

Once the quinoa comes to a boil…

…add the garlic, carrots, and a pinch of kosher salt.

Give the mixture a stir, pop the lid on and reduce the heat to low and simmer for 15-20 minutes or until the liquid is absorbed.

Here's the finished kale. Hands down this was my best attempt at kale chips yet…so cripsy and delicious!

Use a damp paper towel to wipe off the tops of the mushrooms. Cut off the stems and then slice up the mushrooms. You'll want about 1 to 1 1/2 cups of sliced mushrooms.

Here they are all sliced up…yum! I could stop here but I won't.

In a saute pan, add about 2 tablespoons of grapeseed oil (or olive oil is okay too) and heat the pan over medium heat.

Once the oil is hot, add the mushrooms to the pan and cook for about 7 minutes, flipping them once they brown on each side.

While the mushrooms cooked, I cooked my eggs sunny side up. The way I did it was I heated a saute over LOW heat and added about 2-3 tablespoons of grapeseed oil to the pan. Once the oil is warm, crack the eggs into a custard cup and carefully pour the egg into the saute pan as you can see above.  I love Tia's tip to cook them low (heat) and slow until the whites are cooked and the yolks are still soft.

Here are the mushrooms nice and brown and smelling delicious!

Remove the browned mushrooms and season with a little salt and pepper.

TIme to put the bowl together. Grab a large bowl and spoon in a cup of the cooked quinoa. Then add about a quarter of the mushrooms, a nice handful of kale chips and the egg. Finally add some shaved Parmesan cheese and hot sauce for a little kick. This is so seriously good! I can't wait for you to try this one! Happy quinoa bowling!
Ingredients:
Crispy Kale Chips:
2 tablespoons Olive Oil
1 head Kale, rinsed, dried, stems discarded and leaves cut into pieces (about 8 ounces)
Sea salt
Quinoa Breakfast Bowl:
1 cup Red (or white) Quinoa
2 cups Water or Chicken Broth
1/2 cup shredded Carrots (about 1 large carrot)
2 cloves Garlic, chopped
Kosher salt and freshly ground black pepper
2 tablespoons Grapeseed Oil
1 1/2 cups sliced Baby Bella (or Shiitake) Mushrooms
4 large Eggs, cooked sunny-side up or your favorite way, for serving
Hot sauce, for serving, optional
Parmesan shavings, for garnish
Preparation Instructions:
1. Start by preheating your oven to 275 degrees for the crispy kale chips. In a large bowl, pour 2 tablespoons of olive oil over the kale and use your hands to massage the oil into the kale so that each leaf is totally covered in oil.
2. Spread the kale on a rimmed baking sheet (make sure they have lots of room, so use 2 baking sheets if necessary). Finally sprinkle some sea salt over the top and bake for about 20-30 minutes or until the kale is crispy.
3. While the kale cooks, add 1 cup of quinoa and 2 cups of water (or broth) to a saucepan and bring to a boil. Once it's boiling, add 1/2 cup of shredded carrots, 2 cloves of minced garlic and a pinch of kosher salt to the quinoa and give it a stir. Cover and reduce the heat and simmer for about 15-20 minutes until the liquid absorbs into the quinoa.
4. Clean the mushrooms with a damp paper towel, remove the stems, and slice them but not too thin. Then heat a saute pan over about medium heat and add a couple of tablespoons of grapeseed oil to the pan. Then cook the mushrooms for about 7 minutes letting them brown well on each side. Once they are cooked, move the mushrooms to a bowl and season with a little kosher salt and freshly ground pepper.
5. Finally cook your egg to your liking. For a sunny side up egg (to get that runny yoke), cook on low for several minutes until the whites are totally cooked.
6. Put the quinoa bowl together by adding a cup of the quinoa, a quarter of the mushrooms, kale chips, and then top with the egg. Then add hot sauce and shaved Parmesan for garnish and enjoy!!
0