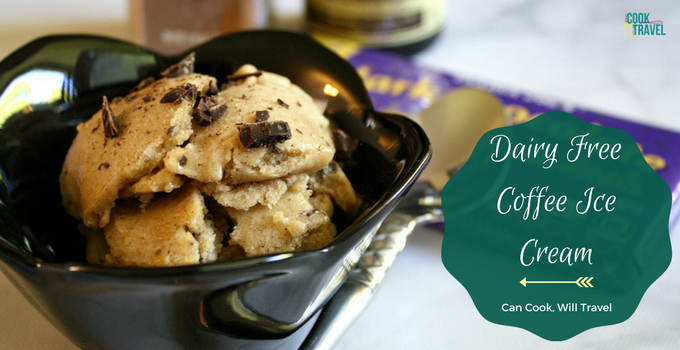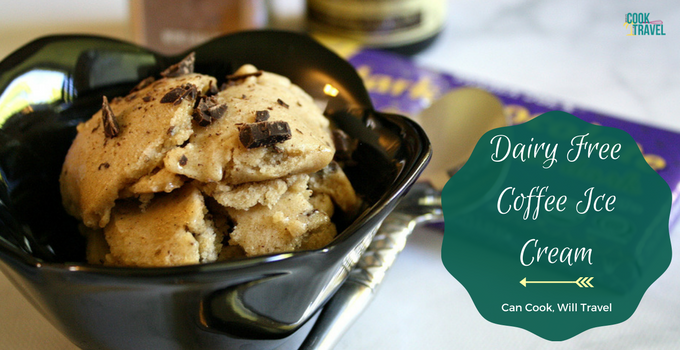 (This dairy free Dark Chocolate Coffee Ice Cream is inspired by the recipe at My Crazy Good Life, so click here for that.)
Step by Step Instructions:

Sometimes you just need ice cream, but with this dairy free Dark Chocolate Coffee Ice Cream you get to enjoy it without the guilt. So here's what you'll need: 4 Bananas sliced and frozen, Cinnamon, Vanilla Bean Paste (or extract), Honey (preferably raw & unfiltered), 1/4 cup of your favorite coffee (I went with a vanilla & caramel flavored one), and Dark Chocolate. Now if you don't want to add chocolate for lactose reasons, then you can skip it. But I do like this brand from Trader Joe's as it only contains trace amounts of milk, so I can live with that.

I chopped up 2 squares of the dark chocolate roughly, so if you don't want the chocolate, just skip this part.

Now let's get to mixing, so add the frozen bananas to the food processor.

Next up goes the teaspoon of cinnamon and then the tablespoon of vanilla bean paste.

Finally add a teaspoon or so of honey coffee, then pop the lid on.

Start up the food processor, and then keep in mind that it will take some time for the ice cream to become creamy.

Part way through, I took off the lid and scraped down the sides and gave it a little stir, because there was a section that wasn't getting incorporated.

Then keep blending away until it's smooth and gorgeous.

If you want to add the chocolate, then transfer the ice cream to a bowl and add the chopped chocolate.

Then fold in the chocolate to create your Dark Chocolate Coffee Ice Cream.

Transfer to a freezer safe dish, so I chose a glass bread pan.

Add a layer of plastic wrap to the Dark Chocolate Coffee Ice Cream, and press it to the surface of the ice cream so that it protects the top in the freezer.

Let it freeze for 2-3 hours at least, so that it'll be easier to scoop, and enjoy! I would say to enjoy this sooner than later, so that it doesn't get too hard in the freezer. You'll probably want to make it a few hours before you're ready to eat it, and happy ice cream making!!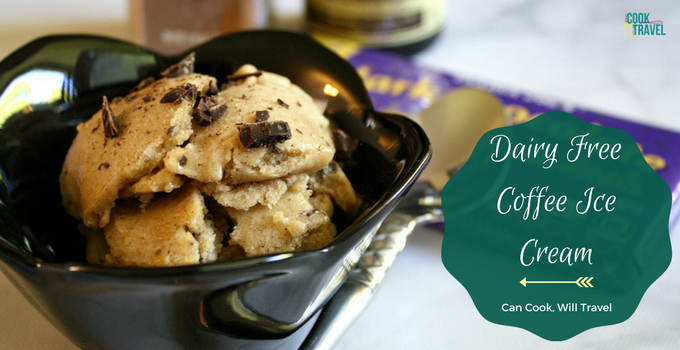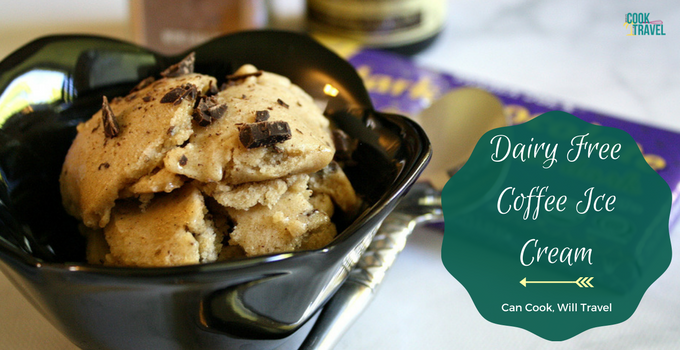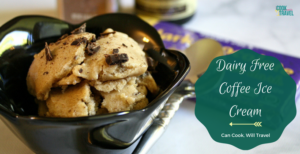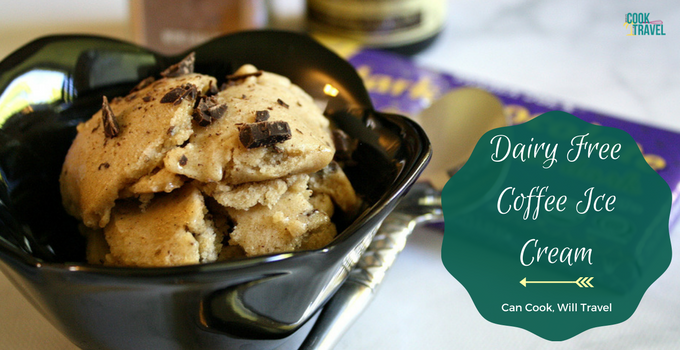 Print
Dairy Free Dark Chocolate Coffee Ice Cream
Yield 8 servings
Now you can enjoy delicious and creamy ice cream with a whole lot less guilt, and no dairy! I call that a total win 🙂 Yum!
Ingredients
Ice Cream Ingredients:
4 Bananas, sliced and frozen
1 teaspoon Cinnamon
1 tablespoon Vanilla Bean Paste
1/4 cup of Coffee
1 teaspoon Honey, preferably raw & unfiltered
2 sections (about 15 grams) Dark Chocolate, chopped (I like Trader Joe's 73% cacao super dark chocolate) **optional
Instructions
To freeze your bananas, first peel and slice them. Then freeze on a baking sheet lined with a Silpat or waxed paper or parchment paper in a single layer without the banana slices touching.

 

Add the bananas, coffee, honey, cinnamon, and vanilla bean paste to a food processor, and combine until the mixture is smooth and creamy.

 

If you want to add chocolate, then transfer the ice cream to a bowl and fold in the chopped dark chocolate. Then transfer the mixture to a glass dish like a bread pan and cover with plastic wrap. I like to press the plastic wrap to the surface to protect it from the cold air.

 

Freeze for at least 2-3 hours and enjoy! It's definitely better and creamier when eaten while still slightly soft.
Notes
Quick Tip #1: Feel free to skip the chocolate. It'll be delicious without it too.
Quick Tip #2: Enjoy after 3 hours, and I'd say the sooner you can enjoy it, the creamier it'll be.
Courses Dessert
Nutrition Facts
Serving Size 1/8th of Mixture - about a scoop
Amount Per Serving

Calories 82

% Daily Value

Total Fat 1 g

2%

Saturated Fat 1 g

5%

Sodium 1 mg

0%

Total Carbohydrates 20 g

7%

Dietary Fiber 4 g

16%

Sugars 10 g

Protein 1 g

2%
* Percent Daily Values are based on a 2,000 calorie diet. Your daily values may be higher or lower depending on your calorie needs.
0