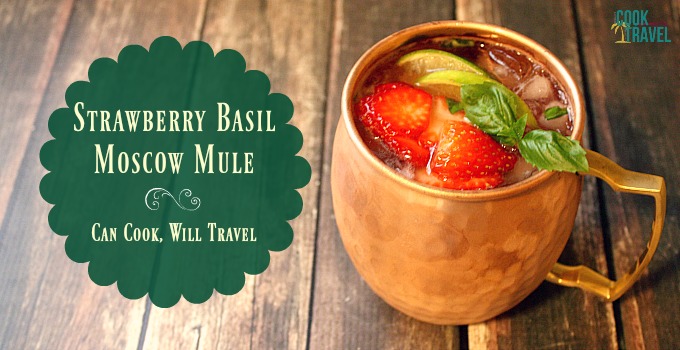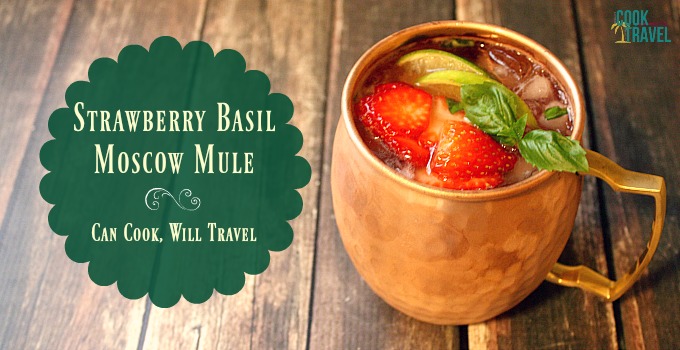 (This Strawberry Basil Moscow Mule recipe is fabulous, and can be found on the site Marla Meridith here.)
Step by Step Instructions:

In a matter of minutes, you'll be enjoying this Strawberry Basil Moscow Mule cocktail. Here's what you'll need to make 1 cocktail: Ginger Beer (chilled), Vodka of choice (chilled), 5 fresh Strawberries, 1 Lime, and 5 Basil Leaves. In addition, not pictured is Agave Syrup, and while it's optional, it adds a nice sweet undertone.

First of all, make sure your vodka and beer are cold, and then wash the strawberries and basil. Then remove the strawberry stems and slice the 5 berries into fairly small slices, because you want them easy to mash up.

Then transfer the strawberries to the copper Moscow Mule mug. (Consequently, I highly recommend picking up 4 of these mugs. They're not only gorgeous but in addition they help keep the drink nice and cold.)

Next you'll tear up 5 basil leaves into the mug, so that they're a good size for mixing into the berries..

Squeeze half a lime to get the juice and add a splash of ginger beer, so that you have a little liquid to help everything combine better.

It's almost time to enjoy this Strawberry Basil Moscow Mule. Go ahead and muddle away the mixture (aka mash and stir it up), while you get a good arm workout. If you don't have a fancy muddler, which I didn't, a wooden spoon works really well. I'd avoid metal or anything textured so that you don't damage your mugs. Muddle until the strawberries have broken down and the flavors start to meld.

At this point, give the mixture a taste. If you want it a little sweeter, add up to a tablespoon of agave syrup. I did that and as a result, I ended up adding some agave to my cocktail, and I'm glad I did!

Then add 1 1/2 ounces of vodka (or so) to the mug, and give it a stir.

Finally fill up the mug with crushed ice, and top it off with more ginger beer. Give it a good stir. In addition finish off your Strawberry Basil Moscow Mule with some strawberry slices, fresh basil leaves, and lime wedges for garnish and drink it up right away. Happy Moscow Muling!!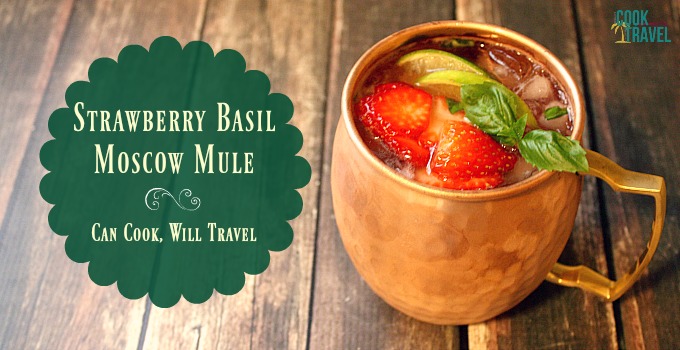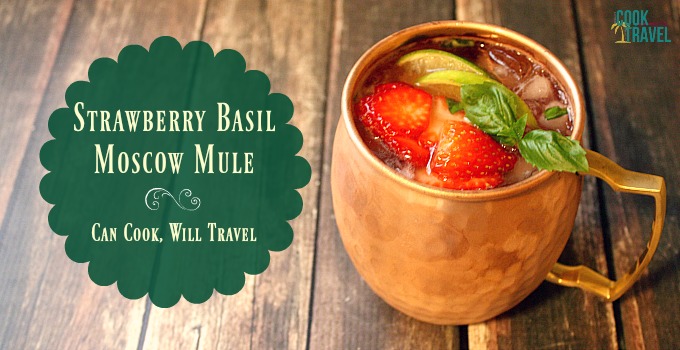 Strawberry Basil Moscow Mule
Get excited for a Moscow mule that is the definition of Summer, because it's absolutely delicious!
Ingredients
5 fresh Strawberries
5 fresh Basil Leaves
1½ ounces Vodka
juice from ½ a Lime
Ginger Beer
Crushed Ice
1 tablespoon Agave Syrup (optional if you'd like it a bit sweeter)
Preparation Instructions
Make sure your vodka and ginger beer are chilled. I like to store my vodka in the freezer as it won't freeze but stays nice and cold.
Start by chopping the strawberry into small slices. It helps if you have really juicy, ripe strawberries. Then place the strawberries in a copper mug. Tear the basil leaves and add them to the strawberries.
Squeeze half a lime into the copper mug and add a splash of ginger beer. Then muddle the mixture until it's fairly broken down and the flavors have combined.
Add the vodka and agave syrup at this point. Again the agave is optional, but if you want it a little sweeter, it's a nice addition.
Finally fill the mug with crushed ice and fill it up with ginger beer. Top with more strawberry slices, a few basil leaves and some lime slices for garnish. Enjoy right away!
Notes
You'll also want to try to use copper Moscow mule mugs if possible to help keep the drinks cold.
0