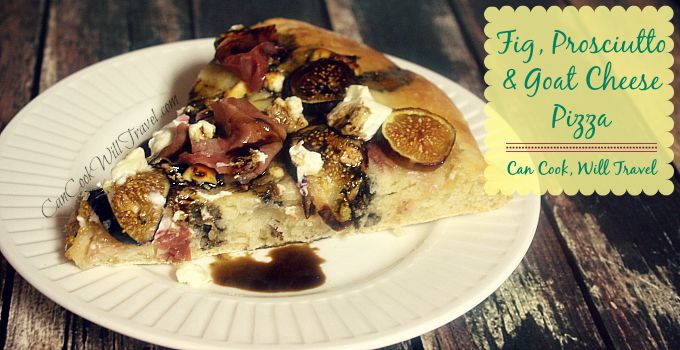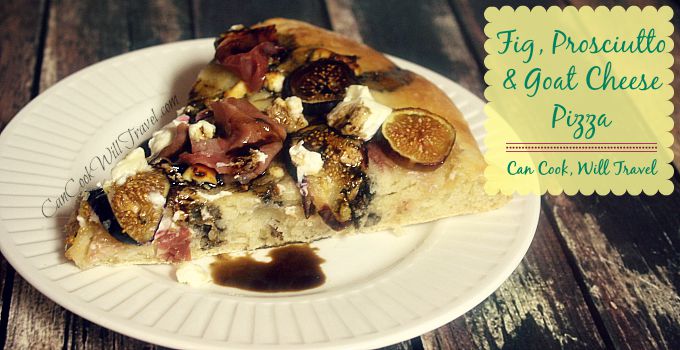 (Original recipe by Kelli)
Step by Step Instructions:

Fig, Prosciutto and Goat Cheese Pizza will be yours in no time. Here's what you'll need: Corn Meal (for dusting the baking stone and pizza peel), Sliced Prosciutto, Olive Oil, a good quality Balsamic Vinegar (super important here, we loved a 25-year-old aged variety from Williams Sonoma), Honey, Goat Cheese, 5-6 Fresh Figs, and Pizza Dough for 1 pizza.

Begin by preheating the oven to 450 degrees. Then slice up your figs into fairly uniform slices.

Aren't figs such a cool, beautiful fruit?! I digress…

Flour your work surface and place your dough on it. Flour the top of the dough and your rolling pin, and roll it out to your desired size and thickness.

I like to use my baking stone as a guideline so that my pizza doesn't go over the edges of the stone.

Sprinkle plenty of cornmeal on the peel and use your rolling pin to transfer the dough to the peel. Give the peel a shake and make sure the dough can slide easily.

Then drizzle 1-2 tablespoons of olive oil onto the pizza and use a pastry brush to spread the olive oil across the dough to create a base for our pizza.

Then crumble about 4 ounces of goat cheese (or as much or little as you'd like) over the dough. This is not a heavy pizza with lots of cheese, which allows you to taste all of the flavors that are about to happen.

Then arrange the sliced figs around the pizza.

Carefully transfer the pizza from the pizza peel to the baking stone and then drizzle with a couple of tablespoons of honey. Bake for 25-30 minutes or until the crust is golden, goat cheese starts to brown a little, and figs are caramelized.

Here is the pizza after baking in the oven.

Take slices of prosciutto and pile it around the pizza so each slice will have prosciutto on it. Then add a few more goat cheese crumbles for good measure. Pop it back in the oven for another 3-5 minutes or until the prosciutto just slightly browns.

You can see the prosciutto was just starting to brown. I just wanted a little texture to it, but still get that fresh prosciutto taste. Slice up the pizza (I got 8 slices out of it), and serve it up right away. Drizzle each slice with some balsamic vinegar and a sprinkle of red pepper flakes to balance out the sweetness from the figs and honey. This is so good! Can't wait for you to try it out too! Happy pizza making!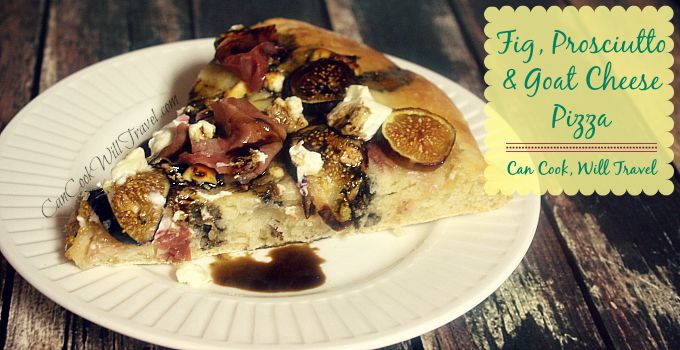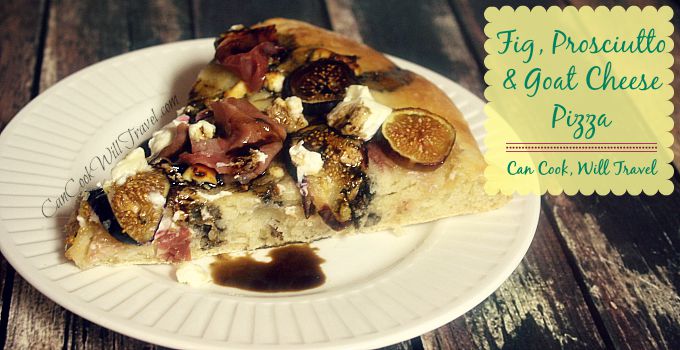 Fig, Prosciutto & Goat Cheese Pizza
This pasta is gourmet, yet very easy to make. It's most handy if you have a pizza peel and a pizza baking stone to build the pizza and then bake on.
Ingredients
1 Pizza Dough recipe
Cornmeal (for dusting the pizza peel & baking stone)
Sliced Prosciutto
1-2 tablespoons Olive Oil
1-2 tablespoons Honey
4 ounces Goat Cheese
5-6 Fresh Figs, sliced (stems removed)
Good Quality Balsamic Vinegar (for serving)
Red Pepper Flakes (for serving)
Preparation Instructions
Begin by preheating the oven to 450 degrees.
Roll out the pizza dough into your desired shape and thickness, using your pizza stone as a guideline. If using a pizza peel, transfer it to the peel now. If using a pizza (baking) stone, move the dough to the pizza stone to start building your pizza.
Brush 1-2 tablespoons of olive oil over the surface of the pizza to create a base for the pizza.
Then add a generous layer or crumbled goat cheese over the pizza followed by a layer of sliced figs. Then drizzle 1-2 tablespoons of honey over the whole pizza.
Bake the pizza for 25-30 minutes or until the crust starts to turn golden brown, the figs begin to caramelize and the goat cheese browns just a little.
Pull the pizza out of the oven and top with some prosciutto (however much you'd like) and additional goat cheese.
Bake the pizza for an additional 3-5 minutes or until the prosciutto just starts to brown. Then remove from the oven, slice up the pizza and serve. When you serve drizzle some good quality balsamic vinegar over each slice and top with a few red pepper flakes. Enjoy!
0