I'm so happy as I'm writing this. I sit here early on a cloudy morning with the Christmas tree lighting the room. The soft light is so lovely and the tree is filled with memories. As I look at it, I smile looking at the decorations and I realize why ornaments are the perfect gift this time of year.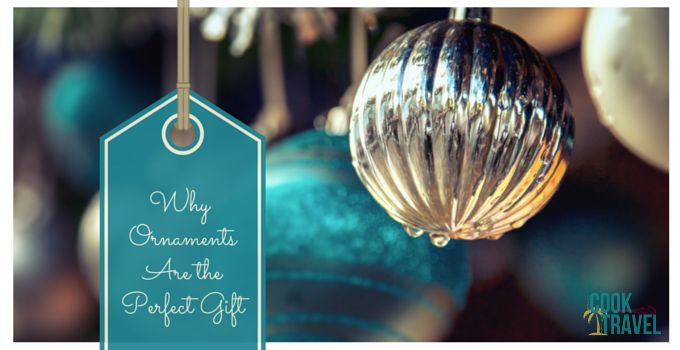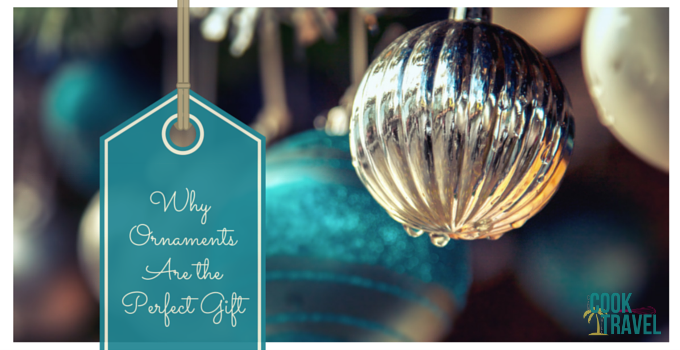 You may be thinking that there's a point when you can have too many ornaments, but I will happily disagree with you on this point.
10 Reasons Why Ornaments Are The Perfect Gift:
Inexpensive – This is an obvious one. If you're shopping on a budget, then ornaments are a wonderful option for you. You can get some beautiful ornaments for under $10. I love shopping for ornaments at Target and Pier 1 especially.
Something for everyone! – Just go to Amazon and you will absolutely see there is an ornament for every personality. I spent more time than I care to admit scrolling through ornaments on Amazon this year looking for the perfect gift, and it was a success! And it blew my mind, because there really is an ornament out there for everyone.
Ah, Memories… – I've been given ornaments for gifts since I was just a kid. And it's impossible when putting up the Christmas tree as an adult to not get a bit nostalgic. I have several ornaments that my aunt (who passed away 8 years ago) gave me, and I'm always so touched and treat them like gold.
Beautiful – I adore buying beautiful ornaments for the people I love. Their ooh's and aah's as I hand them their gift are such a joy to me. The more sparkle the better, in my opinion, to really catch the light on the tree.
Make You Laugh – I'm sitting by one such ornament now. It's a red, green, and silver glitter number that I had to have made in kindergarten out of egg cartons. I actually remember making it, if you can believe that! Although it may look a bit hideous, it brings back memories of that childlike wonder that we all had at Christmastime. So sweet.
Bring People Together – This might be my favorite! A group of my dear friends from college and I get together every year around Christmas and give one person in the group an ornament (we rotate each year). I cherish these times, where we gather at a restaurant in our college town and catch up, laugh, reminisce, eat, and walk away with a physical memory of the occasion and our friendship in the form of an ornament. It's a lovely tradition that I hope you and your friends start up too. No requirement to give extravagant gifts – just a lovely ornament that made you think of them.
Add On for Gifts – It's become a bit of a tradition on my part to give my family a new ornament (or two) each year, and I love doing it! So as I wrap a gift up I choose the largest gift (size-wise) I'm giving them and attach the ornament to the gift with a ribbon. It makes the gifts under the tree look even lovelier, and it is a fun way to keep adding to the Christmas tree each year in all of our homes.
Teacher Gifts – My mom just retired from teaching, and this year when we put up the tree, I noticed how much she loved all of the ornaments she received from past students. Some of them are homemade with their names and the year on them, and some show the kids really knew her and her love for the Kansas City Chiefs! But it goes back to the point above about evoking emotions and memories. Reminding you of the lives you've touched. So if you have any teachers to buy for, you may now see why ornaments are the perfect gift for many.
Hard Work – Showing your appreciation for a co-worker, assistant, or team member through a lovely ornament is always a great idea (and cash is good too – haha!) I have one particular ornament from a woman who was my upline in a past direct marketing business I had. Every year she would send all of her leaders (and there were a lot) a lovely Swarovski crystal ornament. That business endeavor may have passed, but I look at it as a gorgeous symbol of the hard work and love I put into that business.
You Always Need New Ornaments – With all of these reasons to give ornaments every year listed above, you may be convinced that you will run out of ornaments. However, ornaments often (sadly) break, get a bit beaten up, or go off to live with your kids in their own homes when they grow up and have a tree to decorate. And I know many a woman who puts up multiple trees in her home.
One tip that's key is to know your recipient a bit. Even go so far as to ask them what kinds of ornaments or Christmas decorations they like. That way when you give a gift, it'll match their decor. So if someone has a tree that has a theme (like only red and white decorations or only gold, etc.) then your ornament will go perfectly. Or if they love a sports team, reading, a movie, snow, etc. then use that as your inspiration to show you put some thought into the gift.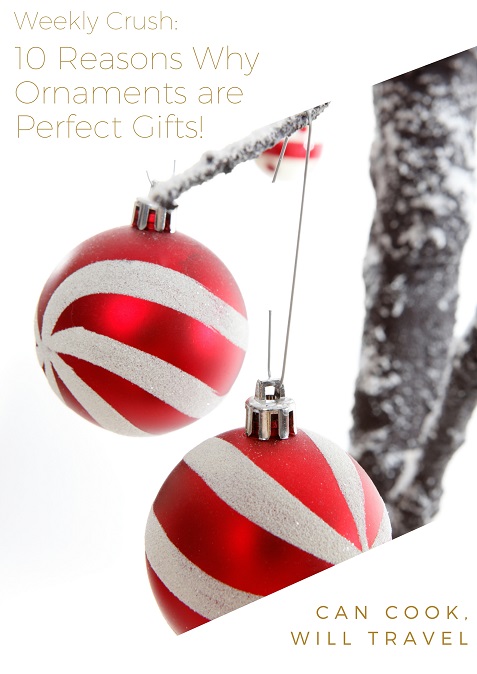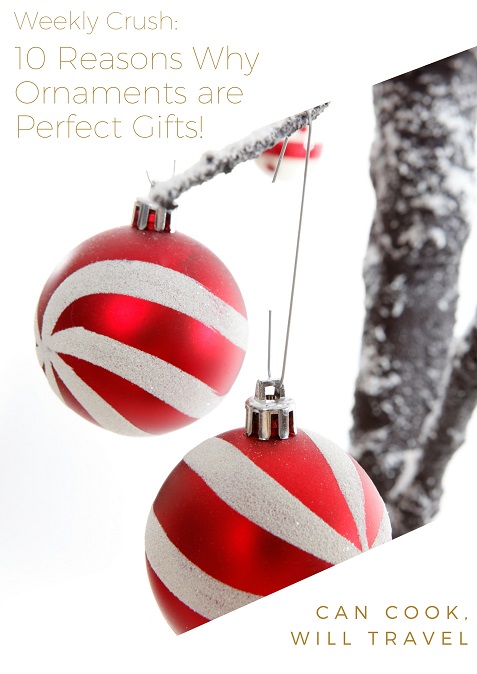 So this season as you're looking for thoughtful, little gifts or something cute to add on to a gift you're giving, I hope this post will help you remember why ornaments are the perfect gift for the people in your life. Even make your own if you're feeling crafty – Pinterest always has incredible ideas in that regard!
Sweet, sentimental, funny, beautiful, and thoughtful are just a few words I love to describe the act of ornament giving. Happy giving this season!
Check out my 12 days of Christmas ode to ornaments over on Instagram, where I feature my favorite ornaments! I'd love to know what are the best ornaments you've ever gotten that you love today? Comment below!
Stay inspired & go find the perfect ornament!
~Kelli
0