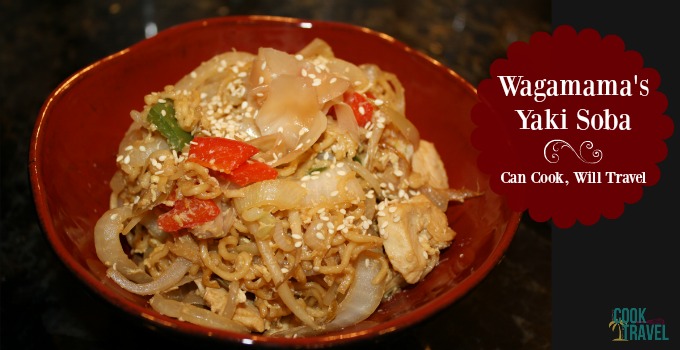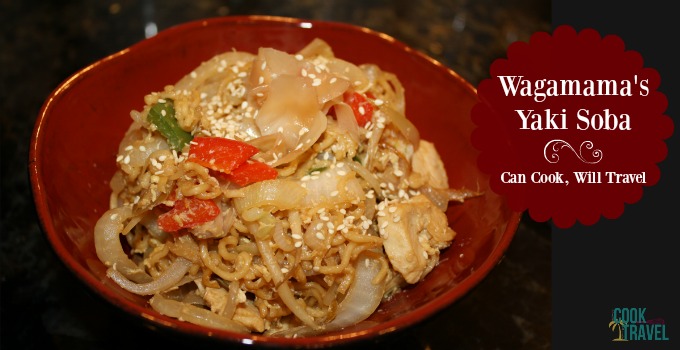 (This Wagamama's Yaki Soba recipe is from The Wagamama Cookbook, which can be purchased here.)

Here are the four ingredients you will need to make the sauce: Sugar, Dark Soy Sauce, Light Soy Sauce (doesn't have to be reduced-sodium), and Salt. Please note that Dark Soy Sauce is a thicker soy sauce than the typical soy sauce we buy in the store. I had to go to a local Asian market to purchase this bottle, but if you don't have one of those around, you can buy it online…look on Amazon.com.

Combine all four ingredients in a sauce pan and bring to a boil. Then simmer for a bit.

It will look like this when you're all done. I put it aside and let it cool, while I prepped the remaining ingredients for the dish.

This is everything I used, in varying quantities, to complete the Yaki Soba dish: pickled ginger, vegetable oil, cooked shrimp, chicken breasts, bean sprouts, shallots, eggs, onions, green and red peppers, sesame seeds, and ramen-type noodles.

You can buy sesame seeds already toasted, but I toasted them myself in a hot, dry pan until they look like the above.

Then my chopping spree began. I started out cleaning and slicing some scallions.

Next up I sliced the onion.

I cubed up the peppers and set them aside.

My last act in prep work was to slice the chicken breast. I really dislike working with raw chicken…the end.

I ended up using some ramen-like noodles and cooked them as the package instructed.

Then I combined the sprouts, shrimp, onions, scallions, and noodles along with the yaki soba sauce I made ahead of time.

It's time to Wok…sorry, I couldn't resist…Wasn't my roomie super nice to let me use her perty wok?

I started off by stir-frying the chicken and peppers in some oil.

Then I added the bowl of noodles and veggies and shrimp to the Wok and stirred constantly for a couple of minutes.

Finally I poured some beaten eggs into the dish and continued stirring for another minute or so until everything is cooked. Then top with some pickled ginger and the toasted sesame seeds. And like that…it's magic in a bowl! Please do yourself a favor and buy this cookbook for this recipe and for tons of others!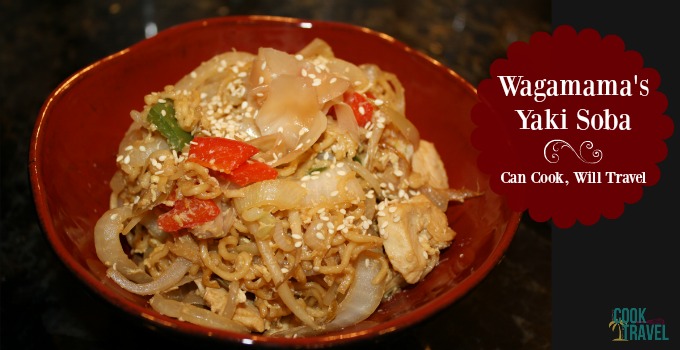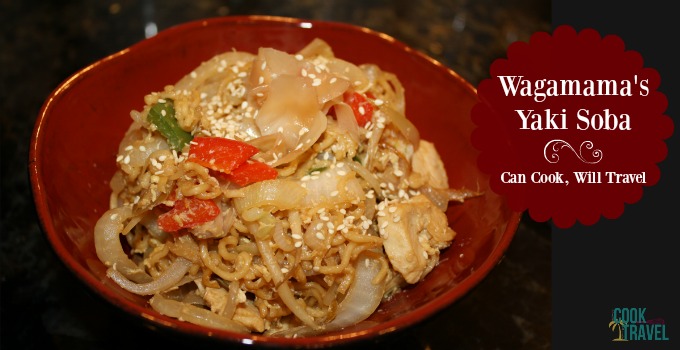 Wagamama's Yaki Soba
This is an all-time favorite recipe of mine, and I can't wait for you to try it!
Ingredients
YAKI SOBA SAUCE INGREDIENTS:
½ Cup Light Soy Sauce
2 t. Salt
2 t. Sugar
1 T. Dark Soy Sauce
YAKI SOBA INGREDIENTS:
4 oz. Soba or Ramen Noodles
2 T. Yaki Soba Sauce
1 Small Onion
4 scallions, Trimmed and cut into 1-inch lengths
Large Handful of Bean Sprouts
15 small Cooked, Peeled Shrimp
2 T. Vegetable Oil
1 Boneless, Skinless Chicken Breast, cut into strips
½ Red Pepper, trimmed, seeded, and cubed
½ Green pepper, trimmed, seeded, and cubed
2 Eggs, beaten
FOR SERVING:
2 T. Pickled Ginger
1 T. Dried Shallots
½ t. Toasted Sesame Seeds
Preparation Instructions
Put all yaki soba sauce ingredients in a small pan and bring to a boil.
Lower the heat right down and simmer for 10 minutes.
Once cool, it will keep for a few weeks in the fridge.
Cook the noodles in a large pot of boiling water for 2-3 minutes until just tender. Drain and refresh under cold running water.
Put the yaki soba sauce, the onion, scallions, bean sprouts, and shrimp in a large bowl and mix in the noodles.
Heat a wok over medium heat for 1-2 minutes or until completely hot and almost smoking and add the vegetable oil. Add the chicken and red and green peppers, and stir-fry for 2 minutes. Add the noodles and vegetables to the wok and stir-fry quickly for 3 minutes until warmed through. Add the eggs and continue to stir-fry for another minute or until the eggs are just cooked.
Serve with the pickled ginger, dried shallots, and sesame seeds.
20