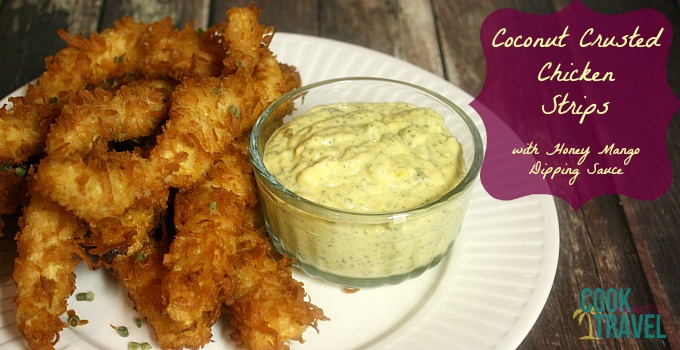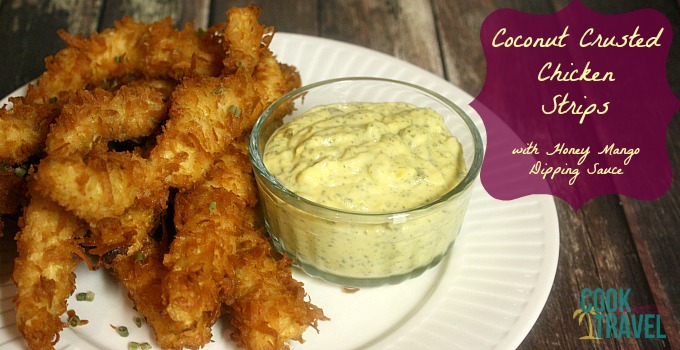 (This Coconut Crusted Chicken Tenders with Honey Mango Dipping Sauce recipe can be found on the site The Cozy Apron here.)
Step by Step Instructions:

Say hello to Coconut Crusted Chicken Tenders with Honey Mango Dipping Sauce for dinner! Here's what you'll need for the chicken: Cayenne Pepper, Chives (if you can get fresh chives these freeze-dried work as an awesome substitute), Canola Oil (for frying), Chicken Breasts (2 of em), Salt, Pepper, 2 Eggs, 1/2 cup of Flour, Sweetened Shredded Coconut, and Curry Powder (as you can see I went with the sweet curry powder which worked great).

And here's what you'll need for the Honey Mango Dipping Sauce: Cilantro (same as the chives – I couldn't get my hands on fresh cilantro so the freeze-dried were a great substitute), Sriracha, Light Mayo, Honey, 1/2 cup of frozen Mango thawed, Curry powder, and a Lemon.

Start off by cutting your chicken breasts (my least favorite part if I'm being honest). I first trimmed up the chicken and then sliced lengthwise into 4 slices.

Then you'll slice those 4 slices lengthwise again so you end up with 8 chicken strips per chicken breast.

Here's my pile o' chicken – not so attractive … moving on!

Grab a medium-sized pot and fill it half full with canola oil. (The amount of oil will really depend on the size of your pot, but 4-6 cups is a safe bet.)

Next up, place the chicken strips in a bowl and add a couple of pinches of salt and pepper and then a pinch each of curry powder and cayenne pepper.

Use tongs to mix the chicken so the seasonings coat each strip.

In a medium-sized bowl, season 1/2 cup of flour with more salt, pepper, curry powder, and cayenne pepper in the same amounts you used on the chicken.

Now you need to set up your dredging station. In addition to the seasoned flour, whisk 2 eggs in another medium-sized bowl, and then pour the coconut in a third bowl. And have a plate on standby for the coated chicken.

In batches, you'll first coat the chicken so it's covered in flour, then shake off the excess flour.

Then to the eggs it goes and make sure it's well coated and shake off the excess.

Finally add it to the coconut and make sure it's totally covered and well coated to maximize the sweet flavored crust. You may need to press the coconut into the chicken a bit.

Transfer all of the chicken to a plate and then you're ready to start frying!

Test the oil (I love a digital thermometer for this because it's quick and easy to read) and make sure you are at 350 degrees. You're probably thinking: Kelli, why do you have newspaper under your hot oil?? Do NOT do this unless you have an induction range or you can say buh-bye to your home and hello to the fire department. But it's a fabulous way (if you DO have an induction range) to make cleanup a total breeze by having the newspaper under the pan and everything still cooks perfectly.

Once the oil is hot, add 3-5 strips of chicken (depending on the size of your pot) and cook the chicken for about 2-4 minutes.

As you're cooking the chicken, carefully flipping the chicken halfway through with tongs. You're looking for the chicken to be a nice dark brown, but keep an eye on it so it doesn't burn. Oh these Coconut Crusted Chicken Tenders smell so delightful as they fry. Yum!!

Once you're happy with how brown the chicken is, go ahead and drain it on a baking sheet lined with paper towels.

Now it's time to whip up the Honey Mango Dipping Sauce! In a food processor add 1/2 cup of mayonnaise, 1/2 cup of frozen mango that has been thawed, 2 tablespoons of cilantro leaves (the freeze-dried cilantro worked well here), a tablespoon of honey, a small pinch of curry powder, 3-4 drops of Sriracha (or however much you'd prefer), and 1/2 teaspoon of fresh lemon juice.

And then blend away until the sauce is smooth.

Here is the finished sauce – it is delicious with its mix of sweet and spicy flavors! Serve the sauce right away (you can make it ahead of time and refrigerate it if you'd like) with the finished chicken and enjoy! That's it my friend, your Coconut Crusted Chicken Tenders are ready to dig into! Enjoy!! Happy dipping!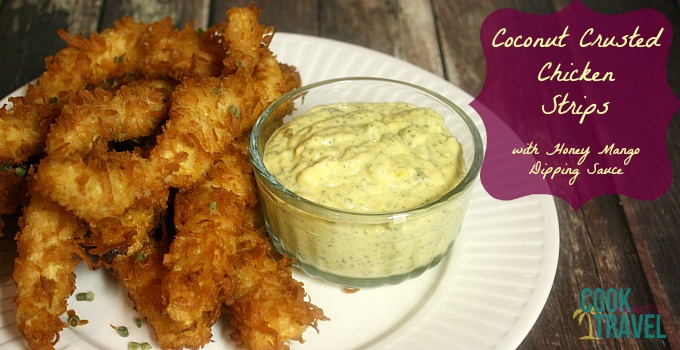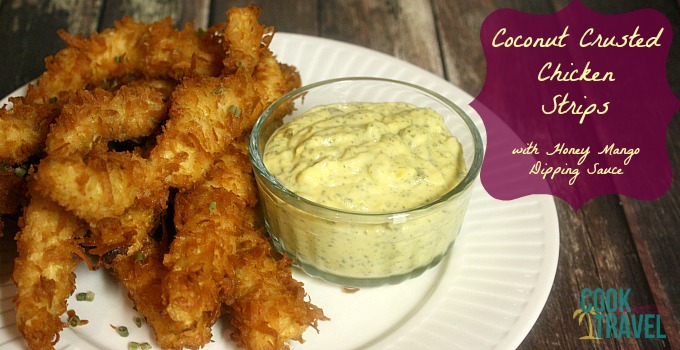 Coconut Crusted Chicken Tenders with Honey Mango Dipping Sauce
Ready to make chicken a bit more interesting? This dish that is packed with coconut, curry, and a bit of heat will kick up chicken breasts about 10 notches!
Serves:
18 chicken strips
Ingredients
CHICKEN:
Canola Oil for frying
2 Chicken Breasts (skinless and boneless), trimmed and sliced length-wise into 4 strips, then those strips sliced length-wise in half, making a total of 8 strips per breast
Pinch of Curry Powder
Salt
Pepper
Pinch of Cayenne Pepper
½ cup Flour
2 Eggs
2 cups sweetened, shredded Coconut
1 tablespoon Chives, finely minced
HONEY MANGO DIPPING SAUCE:
½ cup Mayonnaise
½ cup frozen Mango chunks, thawed
2 tablespoons fresh Cilantro leaves
1 tablespoon Honey
Pinch (small) Curry powder
3-4 drops Sriracha sauce (add more if you like it a bit more spicy)
½ teaspoon fresh Lemon Juice
Preparation Instructions
Start off by prepping your chicken and slicing it into strips. Then begin heating a medium-sized pot filled half full of oil to 350 degrees. An digital thermometer is pretty handy to keep track of the heat of the oil.
Season your chicken strips with a few pinches of salt and pepper and a pinch of curry powder and a pinch of cayenne pepper. Toss to make sure the chicken is well-coated.
Set up your breading station. In the first medium-sized bowl add ½ cup of flour and season it with another few pinches of salt and pepper, and a pinch each of curry powder and cayenne pepper. Whisk the flour together so the seasoning is throughout. In the second bowl whisk 2 eggs. And in the third bowl add your sweetened shredded coconut.
Working in batches, coat the chicken fully in flour, then shake off the excess and coat completely with the egg, and finally shake off the excess egg and coat with the coconut. You may need to press the coconut in a bit so it sticks. And transfer to a plate. Repeat with the chicken strips so they are all coated. Remember to keep 1 hand to use only in the flour and coconut bowls and the other hand for the eggs. This will make your life a lot easier.
Once your strips are coated and your oil is up to 350, start frying up the chicken in batches of 3-5 strips depending upon the size of your pan. Fry for 2-4 minutes flipping the chicken halfway through gently with tongs. Once the chicken is dark brown and smells amazing (seriously, it will!) then transfer it to a baking sheet lined with paper towels, and repeat the process until all of your chicken is fried.
For the dipping sauce, combine all of the ingredients in a food processor until the sauce is well blended and fairly smooth.
Serve the chicken right away while it's still warm along with the dipping sauce.
Note: The dipping sauce can be made in advance and stored in the refrigerator until you're ready to enjoy it.
0