So work has been crazy this week. Is it just me or has your week been a blur?! Project after project had me going non-stop, which resulted in my needing an easy, yet tasty, recipe to make for dinner. Lucky for me, this pin for Chicken Taquitos with Avocado Cream that I found on Pinterest saved the day.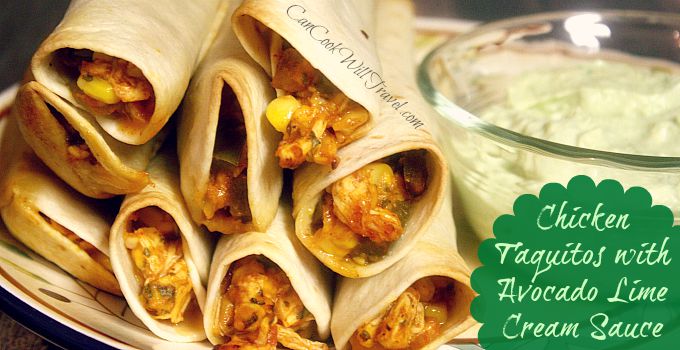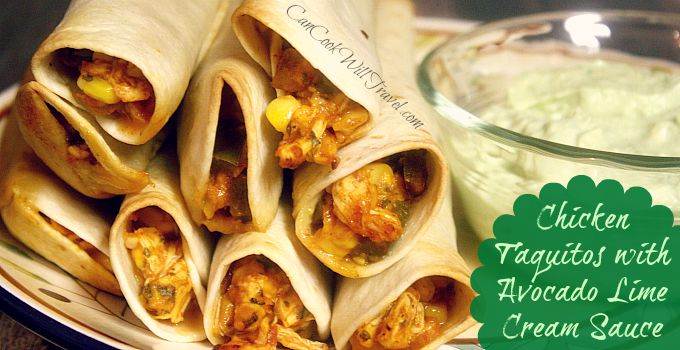 The part that took the longest with this recipe was cooking the chicken. When I shred chicken, I find my favorite method is to brown on one side for about 3 minutes. Then flip it over, pour in some water and cover to poach the chicken for anywhere from 5-15 minutes depending on the thickness of your chicken breasts. Let it cool slightly then shred away with 2 forks. You will need about 1 regular-sized chicken breast.
As far as prep work goes, you'll dice a red onion and green pepper, and drain a can of corn. I had leftovers of these 3 and the chicken, so I definitely plan on whipping up this meal again ASAP. Then saute the peppers and onions, and once they're tender add the corn and minced garlic and some cumin and cayenne pepper. The cumin gives that taco flavor you need and the cayenne pepper adds a subtle heat.
Once the veggies are combined, the shredded chicken and some of your favorite salsa gets added next. The filling is finished off with some cheese (I went with sharp cheddar for added flavor but pick a cheese you like that melts well) and cilantro. A note on cilantro. I'm not a huge fan and couldn't find fresh cilantro at my local store, which didn't break my heart. But we have freeze-dried cilantro on hand that comes in a jar. I used that as a substitute and it worked great! Love that!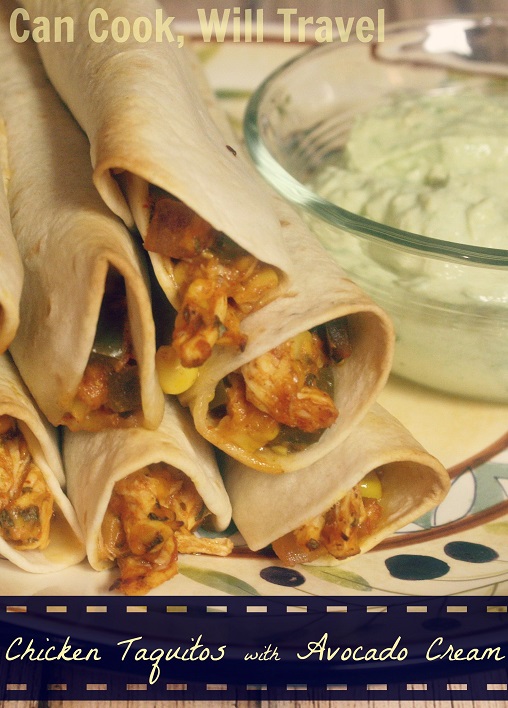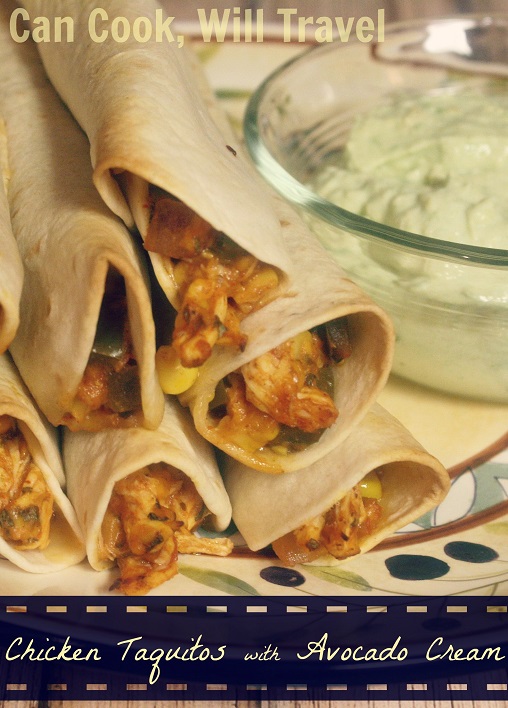 Then the taquitos get assembled. You want 6-inch tortillas and you'll put a couple of spoonfuls of filling down the center. Tightly roll up the tortillas. Once you've got them all rolled up (you'll probably get 8-10 total with 1 recipe), you'll pack them into a baking dish that you either brush with melted butter or spray liberally with cooking spray. Finally brush more butter (or spray with cooking spray) over the top of the taquitos. This will help them brown a bit while they bake.
Once they're baked, serve them with this amazing avocado lime cream sauce. It's super simple to whip up with 1 avocado, some sour cream, lime juice and a little salt. The tartness of the lime juice and creaminess of the sauce make it a perfect companion to the spicy, warm taquitos.
I cannot wait for you to cook this Chicken Taquitos with Avocado Cream dish. Easy, packed with flavors, and it's super filling. What's not to love?! Click that link to get the recipe along with step by step instructions. Happy taquito eating!
A look back:
One year ago: Pumpkin Waffles – Welcome Back Fall!
Two years ago: Not Yo Mama's Chicken Noodle Soup
Three years ago: Cabbage + Bacon = A Very Good Thing
Four years ago: Hooray for Stuffed Shells!
0