I totally asked for this cookbook on a whim for Christmas. There I was going through a list of cookbooks on Amazon, and of course I was curious what Freddie Prinze, Jr. was up to. I did the whole "Look Inside" the book and turns out Freddie was up to making some seriously yummy food in the Back to the Kitchen Cookbook.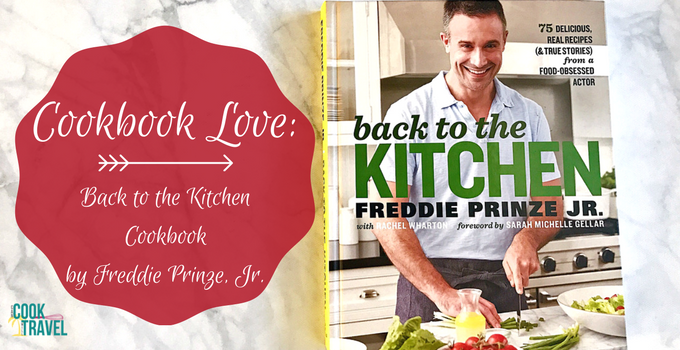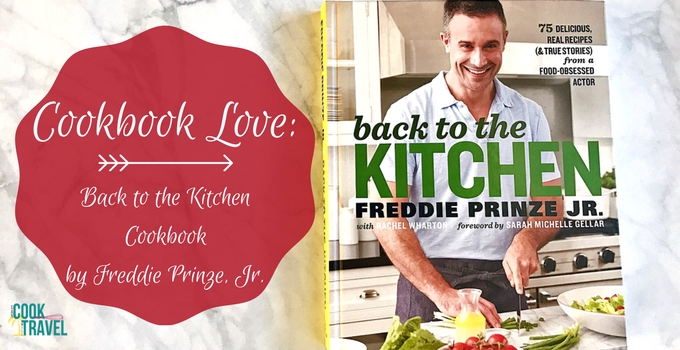 This cookbook has been staring me down on my coffee table for weeks, and as soon as I opened it up, I was hooked. Freddie has some serious cooking chops and that's clear to see from the beginning.
On my journey to dairy free eating this year, I think I was avoiding this cookbook. I thought it was going to be packed with recipes filled with milk products. But as I started reading, I found that this was so not the case. And something interesting started happening along this journey . . . I started seeing recipes that did include dairy and not discounting them but thinking of ways I could make them work. I've done that recently (last week's Chicken Tikka Marsala is a perfect example of that), and it's really freeing.
Why Freddie?
I love learning about a different side of someone you thought you knew. After all, I can't see Freddie Prinze, Jr. and not think of the movie She's All That. I mean talk about taking me way back.
But what's fun with this cookbook is that you really learn a lot about who Freddie is through his food. This book is a perfect example of how the food we grow up on totally shapes our lives. Freddie grew up in New Mexico and cooking with his mom was a huge part of his childhood, and I can totally relate to that.
He takes all of the spices and flavors from New Mexico and gives his own twist to his recipes. With his acting career, he's been able to travel all over and experience so many different cuisines. His recipes are a blend of those culinary experiences with his New Mexican twist.
Having been to New Mexico years ago, it's really fun to get that view point to cooking. And I love a bit of spice!

Back to the Kitchen Cookbook Organization:
Back to the Kitchen starts off with a forward by Sarah Michelle Gellar. It certainly doesn't hurt that Freddie is married to her, being a big Buffy fan for a LONG time. And to say she sings his cooking praises is an understatement. You know you are in good hands with the recipes you're about to dive into.
After that you dive right into the intro, and you get a chance to understand why food and cooking is a passion of Freddie's. And it's fun to see that he cooks up a storm for his family and is striving to bring his kids into the kitchen too. I really enjoyed getting to help my mom in the kitchen as a kiddo, so I see why it's important to Freddie to do the same.
Now it's onto the food. You have 6 chapters, half of which are focused on meat. But first you start off with Eggs & Breakfast, naturally, and there are so many breakfast recipes I'm excited to try. And while I'm a carnivore, I'm not someone to cook with meat all the time. But this cookbook may just change my mind. HE works with so many different proteins. From burgers to pulled pork to tons of veal and flank steak and lots of seafood, there's a ton of amazing recipes to experiment with.
And then Freddie moves onto soups, stews, and one dish meals followed by sides and snacks. I found it so touching that at the end he even included a recipe his daughter Charlie created. A great cook & father! Kinda makes you like him even more.
And then happily there is an index at the end.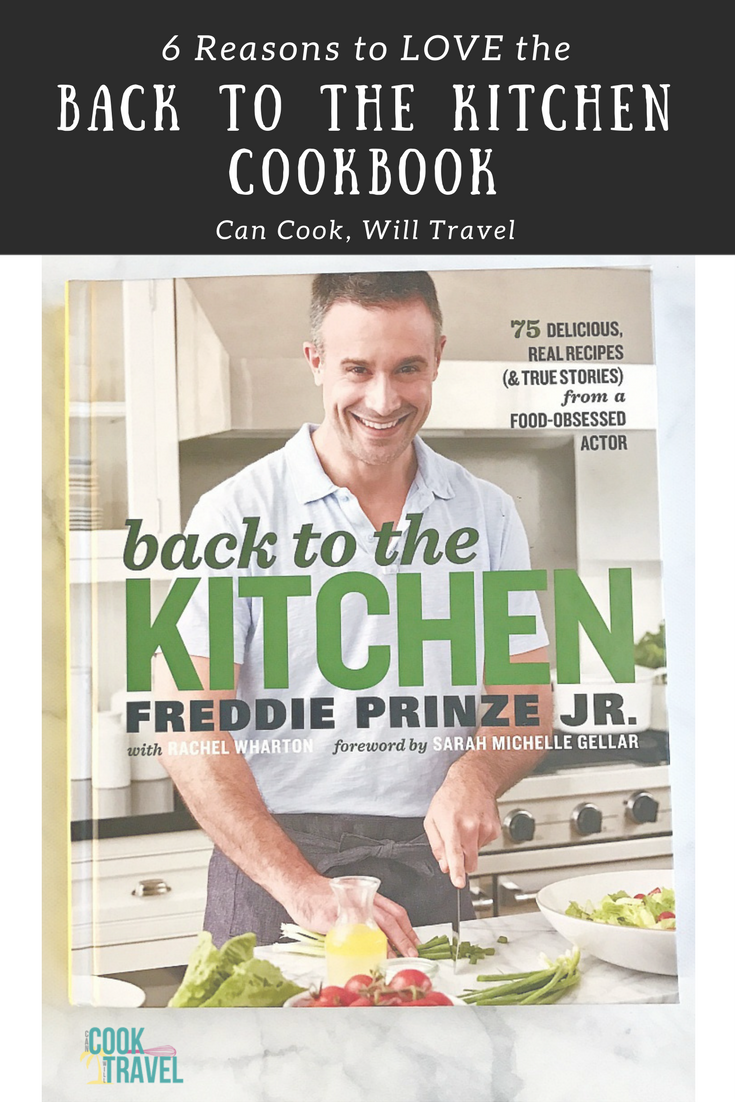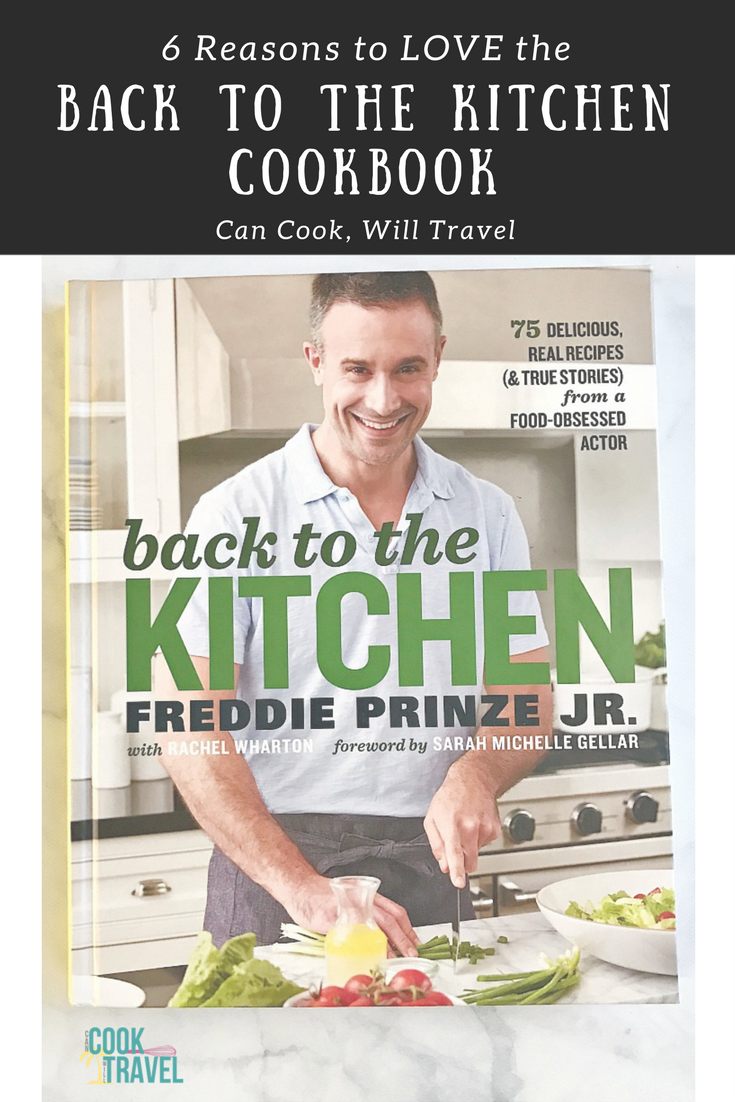 What's to Love About the Back to the Kitchen Cookbook?
The Passion – You can tell immediately how much Freddie Prinze, Jr. loves to cook, and there is no doubt these recipes are filled with that love.
All the Stories – The added stories before each recipe are so fun to me, because you get a sense of who he is and what he's done. And it's pretty great, since sometimes the stories are longer than the recipe. I love hearing the history behind a dish or inspiration for it, so it's a fun book to read!
Secret Tricks – Freddie isn't holding anything back, and he will share secret tricks at the end of some recipes to take it even a step further. There were some fun tips that I learned, for sure!
Stories and Tips Sprinkled Throughout – You'll find a bright citron-colored page here and there throughout the book, and these pages have stories, tips, favorite ingredients, and more that he couldn't squeeze in anywhere else. It's a fun way to break up the cookbook.
Simplicity of the Recipes – Not only do these recipes look easy with only a few ingredients, but they are also pretty healthy for the most part. His whole goal is to encourage you to get back in the kitchen and play, eat well, and have fun! Which I can totally get on board with, as it's something I love encouraging people to do here on my blog.
Great Photos – As always, photography in a cookbook is super important to me. The food looks delicious and begs you to eat it up. And you also get a glimpse into his family life with Sarah and their 2 children, which makes it a fun book to flip through.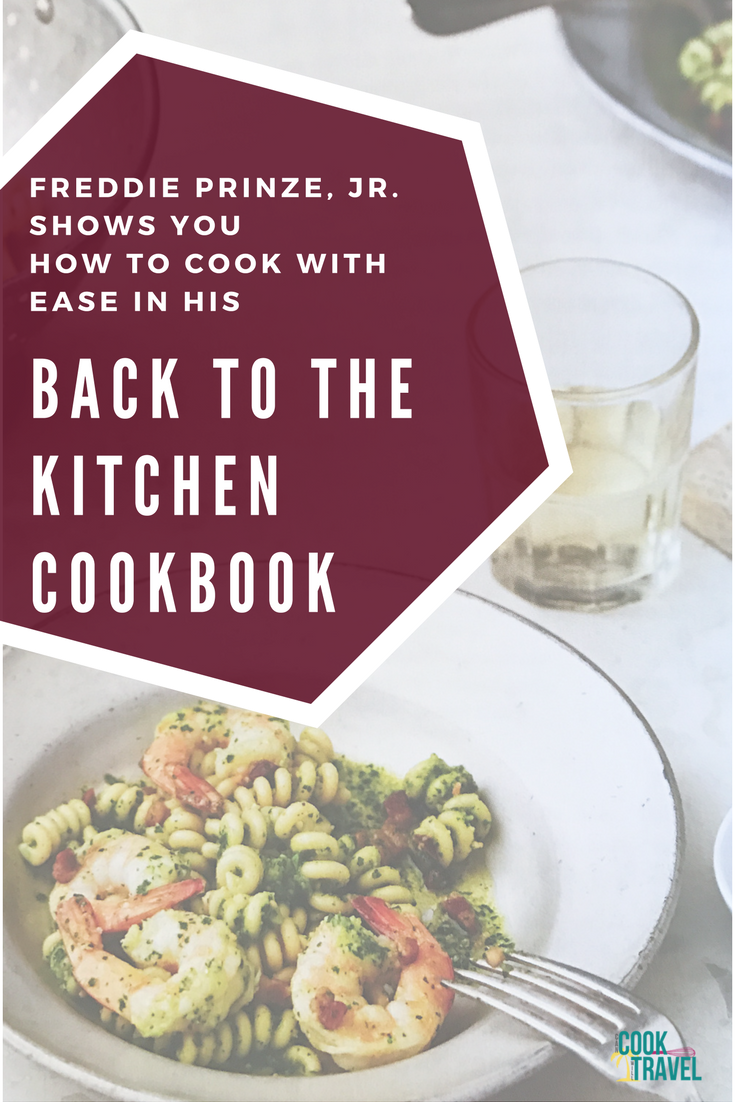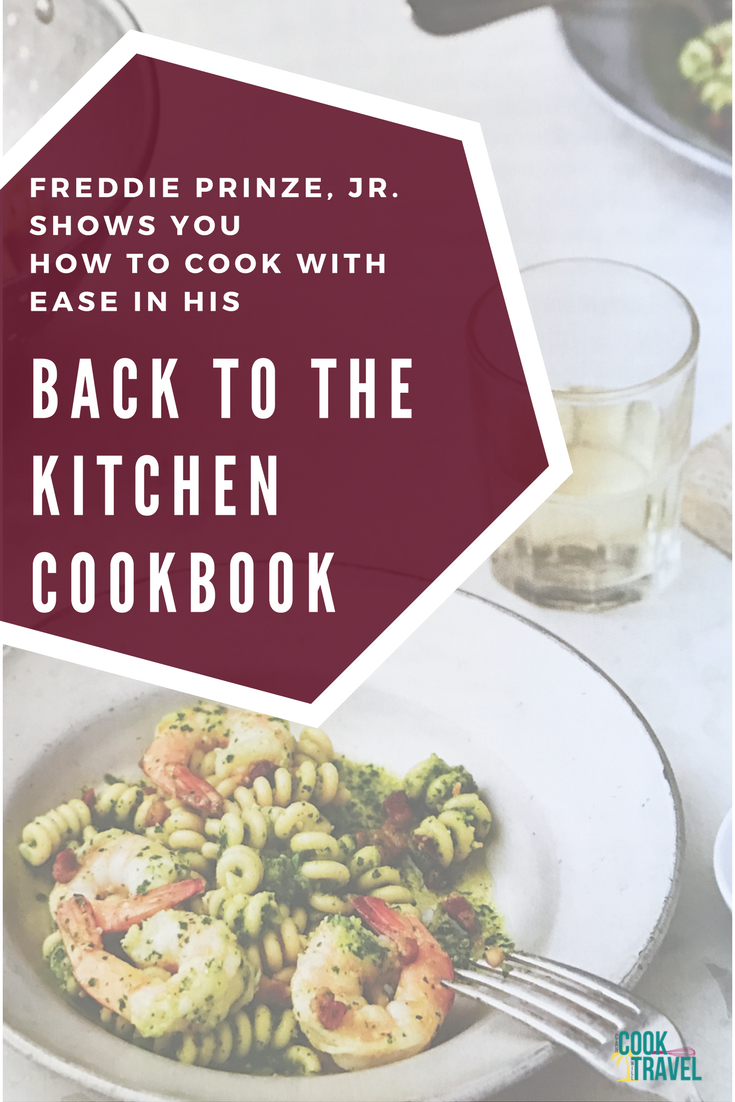 Crave-Worthy Back to the Kitchen Recipes:
Grand Marnier French Toast – Because, duh!
The Green Sauce – Freddie said this is a staple in his house and he uses it in tons of recipes. Basically New Mexico green chiles and avocado as a base, which says how can this not be amazing?
Honey-Cayenne Grilled Chops – Yes. Yes to ALL of this!
Holy $#!% Pulled Pork – Take me to a BBQ restaurant, and I'll probably order pulled pork.
The Stalker Pasta – I mean with a name like that, how could you not want to make this??
Roasted Chicken with Lemon, Lime, Orange & Mexican Beer – Lime and beer means this recipe is a go for me. 🙂
Linguine with Clams – Um, yum! Nuff said, right?
Spicy Fish Tacos – I totally love fish tacos, so this is a no brainer!
Thai Chicken Curry Soup – This is the recipe that probably stuck out the most to me for whatever reason. Sounds delicious, right?
Artichokes of Death – I adore artichokes, and I can happily make a meal out of them. This recipe looks simple and delicious!
These recipes are only a handful I found that sound seriously so good. I have to hand it to Freddie that his dishes look amazing and I'm so excited to start diving into this cookbook. Thai Chicken Curry Soup, you're right at the top of my list!
Let me know what you think below? Have you had a chance to check out the Back to the Kitchen Cookbook yet? I have a feeling you won't regret it at all, especially if you're a carnivore!
Stay inspired & happy reading!
~Kelli


0