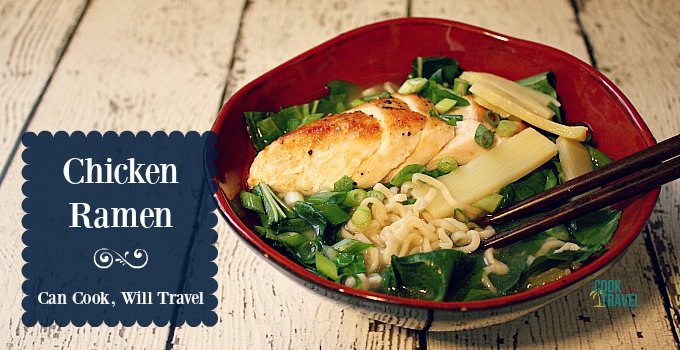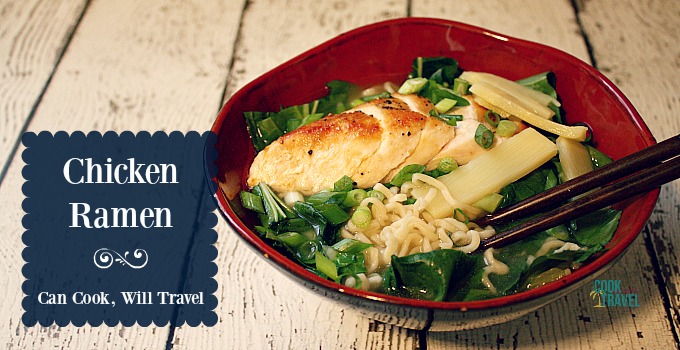 (This Chicken Ramen recipe can be found in the Wagamama Cookbook.)
Step by Step Instructions:

Get ready to enjoy this Chicken Ramen for yourself. You'll love it when it's chilly out or if you're under the weather. Here's what you'll need: 4 cups of Chicken Broth (I made this the day before), 9 ounces of cooked Ramen Noodles (cook, rinse with cold water and drain, then toss with oil and set aside so they don't dry out), Grapeseed Oil (or preferred cooking oil), chopped Bok Choy (washed, stems cut out and roughly chopped), Salt & Pepper, 4 Scallions sliced finely on a diagonal, can of Bamboo Shoots, and 2 Chicken Breasts.

The key with this recipe is having all of your prep work done before you start cooking. So make your stock, cook your noodles, and chop your veggies. And when you're ready to get cooking, start off by heating up your stock so it's nice and hot when you're ready for it.

Heat a nonstick skillet over medium heat. While the skillet heats, trim your chicken. Then rub with a little oil and season both sides with salt and pepper.

Add a little oil to the hot pan.

Add the chicken to the hot pan and cook at least 4 minutes on each side or until it's cooked through. My chicken was fairly thick, so it was closer to 8 minutes on each side. (But then again, I always over cook my chicken a bit to be safe, and it's still nice and juicy.)

Once the chicken is cooked through, let it rest for 5 minutes. As you can see, I always slice into my chicken to make sure it's cooked all the way through.

Once the chicken rests a bit, slice both breasts on the diagonal.

Finally it's time to put the Chicken Ramen together! Grab your serving bowls for each person, and start off by adding a nice pile of noodles.

Then add a handful of bok choy to the dish.

Ladle the hot chicken stock over the noodles and bok choy, so that the stock can warm up the noodles and will help to soften the greens a bit. Finally top with the sliced chicken, some sliced scallions, and 6 or so bamboo shoots per bowl. That's it, my friend. Grab some chopsticks and dig in! Happy ramen eating!!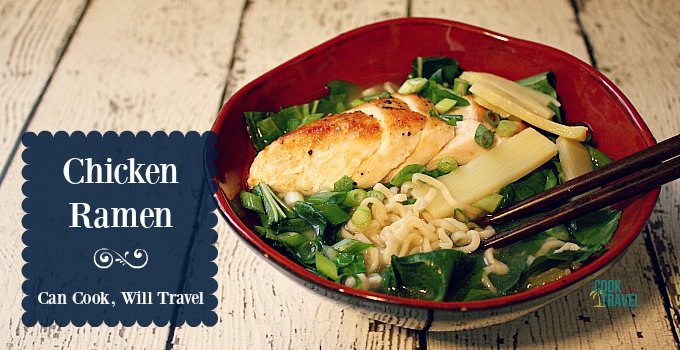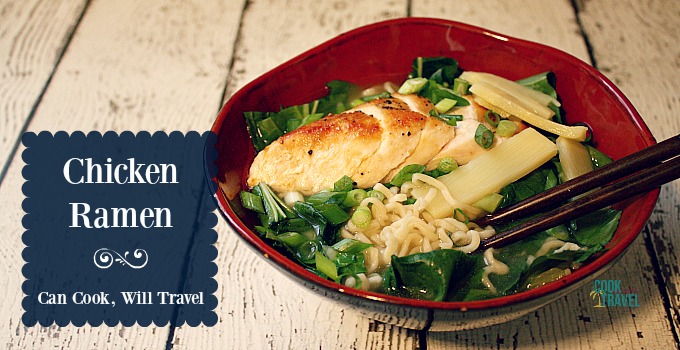 Chicken Ramen
Whether you're healthy or sick, chicken noodle soup is ALWAYS a good thing. And this Chicken Ramen dish is officially my favorite way to enjoy chicken noodle soup as it's simple and packed with healthy ingredients.
Ingredients
2 boneless, skinless Chicken Breasts
Oil of choice (Grapeseed Oil, Vegetable Oil, or a light oil for cooking)
Salt & Pepper
9 ounces Ramen Noodles (cooked and drained)
4 cups Chicken Stock (or Vegetable Stock)
2 Bok Choy, cleaned, trimmed, and chopped (1 bok choy will suffice if it's large or you can use baby spinach)
12 pieces Bamboo Shoots, canned & drained
4 Scallions, washed and sliced
Soy Sauce, low sodium (optional)
Sriracha (optional)
Preparation Instructions
You'll want to do your prep work ahead of time. I made my stock the day before. Cook the noodles per package instructions. Then drain them and rinse with cold water. Toss with a little oil to keep them from drying out. Cut your bok choy and scallions.
Now you're ready to cook! Heat the stock in a saucepan. While the stock heats, trim your chicken. Rub the chicken with a little oil and season with salt and pepper. Then cook in a pan for 4 minutes on each side over medium heat or until it's cooked all the way through. Let the chicken rest for 5 minutes once it's cooked. Then slice it on a diagonal and place it to the side until you're ready for it.
Now it's time to build your bowl. Place a pile of noodles in the center of your bowl. Add some of the chopped bok choy (a handful or so depending on the size of your bowl), and then ladle the hot stock over the noodles and greens.
Top with sliced chicken, scallions, and bamboo shoots. Additionally you can season your dish with some soy sauce for a little added salty flavor, and if you want some heat, a few drops of Sriracha will do the trick. Enjoy!!
4