BLT Avocado Summer Rolls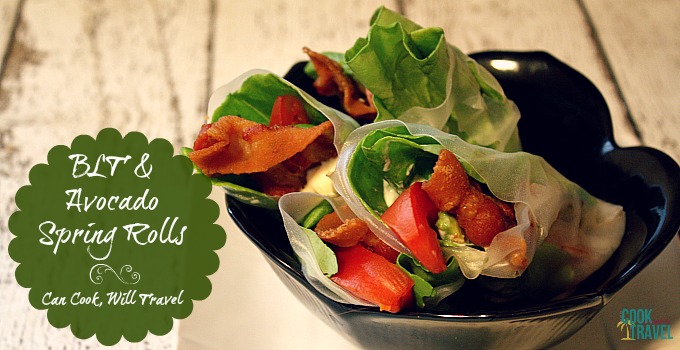 8 slices Bacon
1 large Tomato, sliced
1 Avocado, sliced
4 Rice Paper Wrappers
4 large Butter or Bibb Lettuce Leaves (double if the leaves are smaller)
8 teaspoons Mayo
Hot Sauce, Optional
Start off by cooking your bacon using your preferred method. I used my NuWave oven.
While the bacon cooks, wash your lettuce leaves (depending on your leaf sizes, you'll need 1-3 pieces of lettuce per roll. Then slice your tomato.
When your bacon is cooked, drain it on a plate lined with paper towels. And then you'll soak your rice paper wrappers according to the package instructions. I did mine for about 30 seconds per wrapper in a large dish filled about half full with water.
Transfer the wrapper to a plate. Layer the lettuce across the center of the roll. Then add the mayo. You can either mix in some hot sauce or sprinkle hot sauce over the mayo if you'd like a slight amount of heat. Finally add a layer of lettuce and avocado slices and top with 2 slices of bacon.
Gently pull the bottom of the wrapper over the filling and roll it as tightly as you can without ripping the wrapper. Once your rolls are wrapped, slice them in half with a sharp knife and eat them right away. Enjoy!