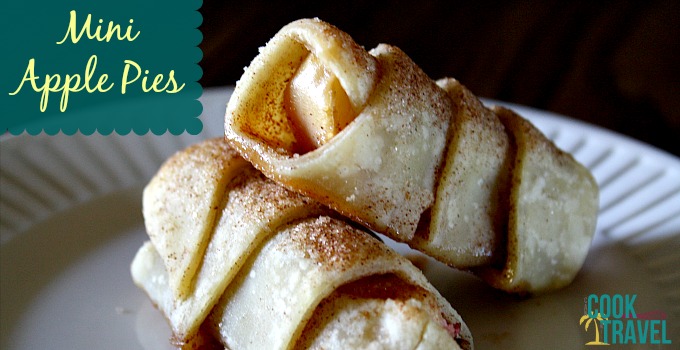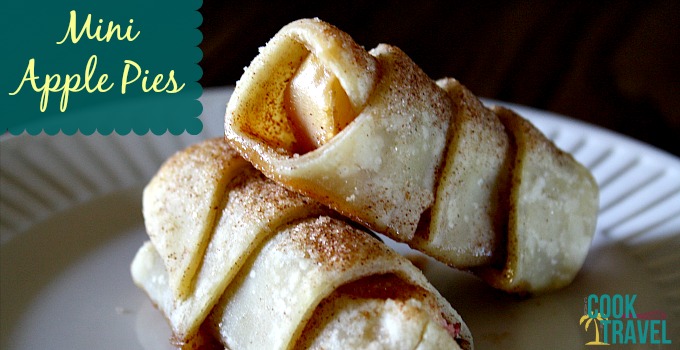 (Recipe can be found on the site Cookin Up North here.)
Step by Step Instructions:


This simple and easy dessert comes together in a snap with the following ingredients: 1 package of refrigerated Pie Crust, Cinnamon, Sugar, 2 Baking Apples (I used Braeburn apples), and 3 tablespoons of melted butter (divided into 1 tablespoon and 2 tablespoon amounts).

Begin by preheating your oven to 425 degrees. Then combine 1/2 cup of sugar and 2 teaspoons of cinnamon. Then set aside 1 tablespoon of cinnamon sugar.

Unroll the pie crusts on a lightly floured surface. Here's the part where you want to be better than me…Brush the 2 tablespoons of melted butter and cinnamon sugar mixture over each of the two pie crusts that come in the package. Then begin cutting each sheet into 8 one-inch strips that are about 8 inches long. You'll end up with a total of 16 strips.

Here is what it looks like if you don't butter and sugar the crust first before cutting. This photo = messy. Don't be like me. 🙂

Then cut both apples into 8 wedges. I used an apple slicer, which worked like a charm. Taking one apple wedge and one pie crust strip, wrap the apple with the pie crust so that the cinnamon sugar side is against the apple and the apple is fully wrapped in pie crust. Then place the apples on a lined baking sheet and brush the outsides of each mini apple pie with the remaining 1 tablespoon of melted butter and sprinkle the remaining tablespoon of cinnamon sugar over the top.

Bake the apples for 13-15 minutes or until the pastry is golden brown. I was in a rush and needed to take these out of the oven. I wish I'd had a couple more minutes so that these would get more brown…next time, next time.

These should be served warm, and if you want to go crazy and add a little vanilla ice cream, then go for it! It would be fabulous. Enjoy!!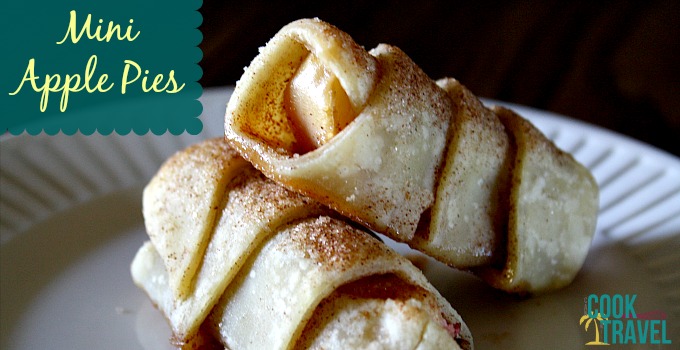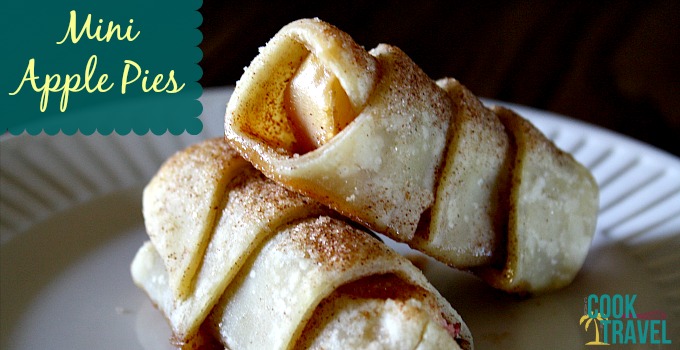 Bite Size Apple Pies
For a dessert that is a sweet treat yet also a way healthier apple pie alternative, then these Mini Apple Pies are right up your alley!
Ingredients
½ c. sugar
2 tsp. cinnamon
1 pkg. (14.1 oz..} refrigerated pie crust
3 tbsp. melted butter, divided
2 medium tart apples, each cut into 8 wedges
Preparation Instructions
In a small bowl, combine the sugar and cinnamon. Set aside 1 tablespoon of the mixture.
On a lightly floured surface, unroll the pie crust. Brush the crust with 2 tablespoons of melted butter, sprinkle with the cinnamon sugar (except the 1 tablespoon you set aside).
Cut each pastry sheet into 8 one-inch strips, each will be about 8 inches long. Wrap one strip around each apple wedge, placing sugared side of pastry against apple.
Place the wrapped apples on a parchment paper (or Silpat) lined baking sheet. Brush the top of each mini apple pie with melted butter and sprinkle with the remaining cinnamon sugar. Bake at 425 for 13-15 minutes or until pastry is golden brown. Serve warm.
0